Fishing Holiday in Thailand
Thai Freshwater Fish Species at Leks Fishing Lake Udon Thani
The full list of the 90 + stocked fish species …
Carp Species (the lake holds 19+ different species of carp)
SIAMESE CARP (up to

175lb

)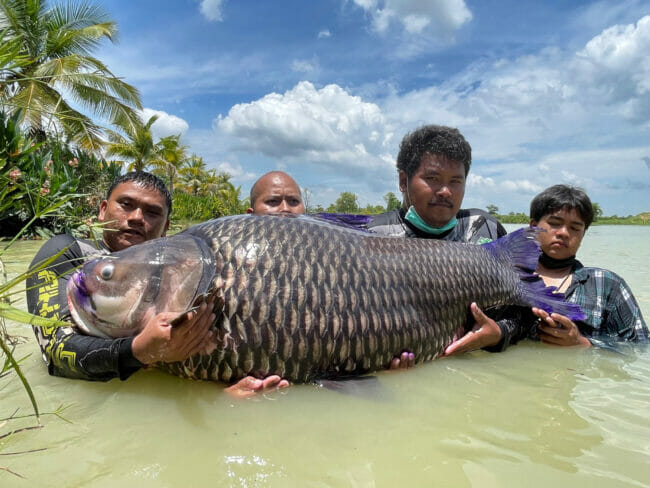 (Please ' CLICK HERE ' or on the photo below for more pictures of our Siamese Carp)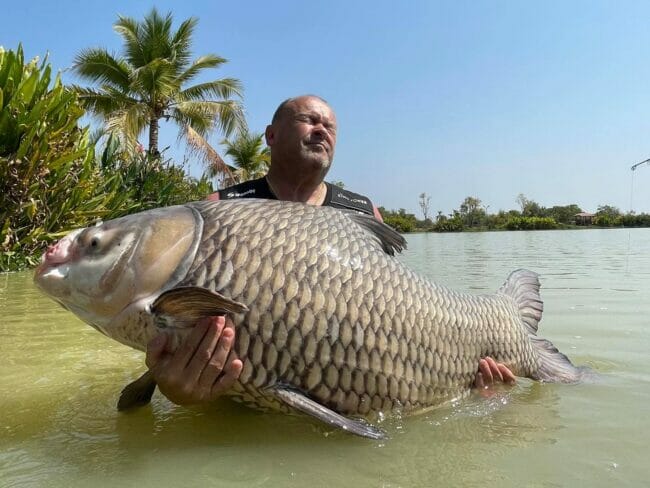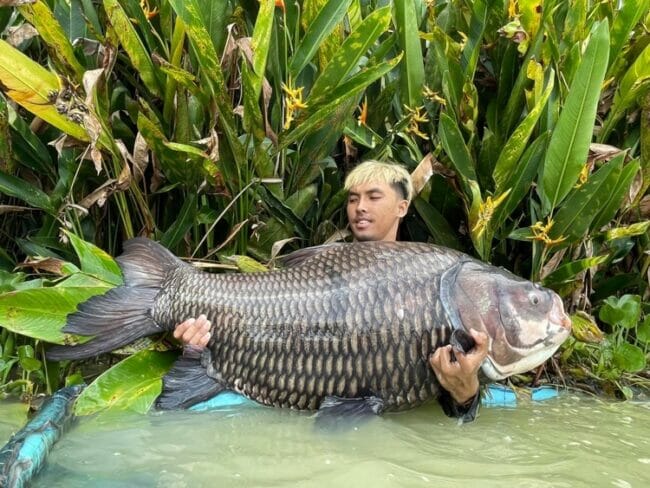 2. Julien's Carp – Pla Yisok (up to 51kg)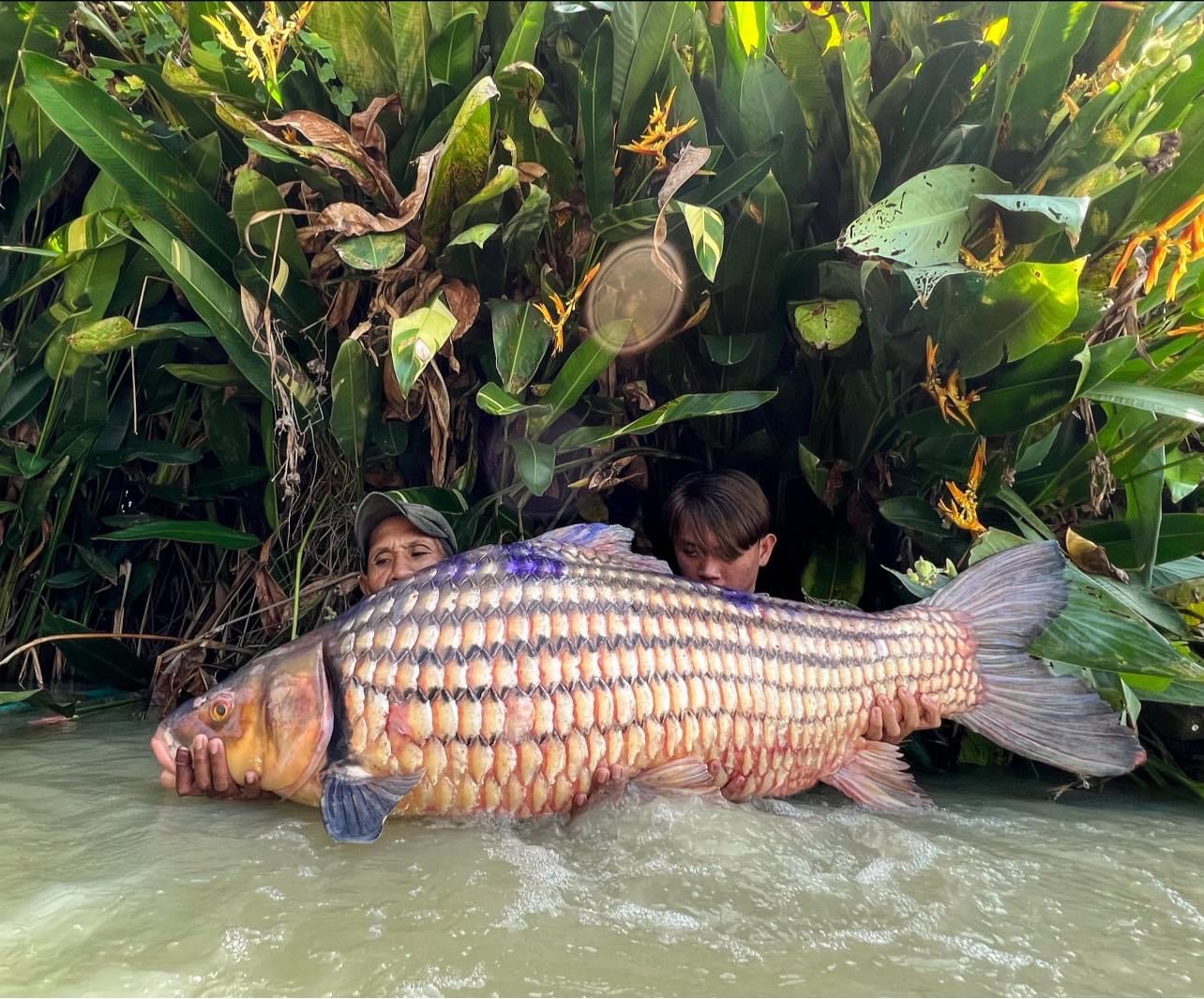 Julien's Carp – Pla Yisok (38kg)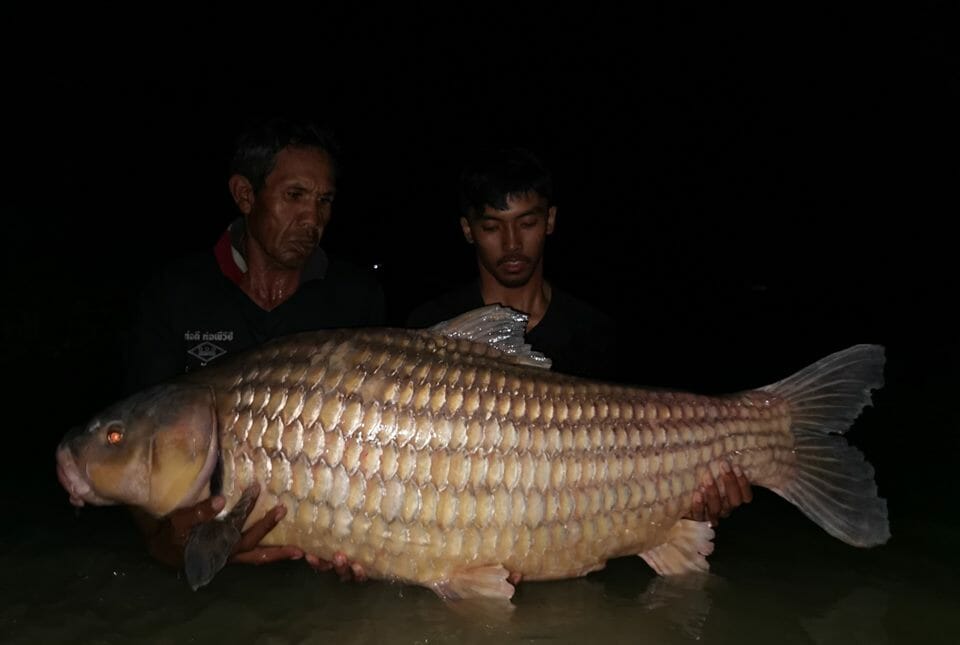 3. Julien's Carp – Pla Yisok San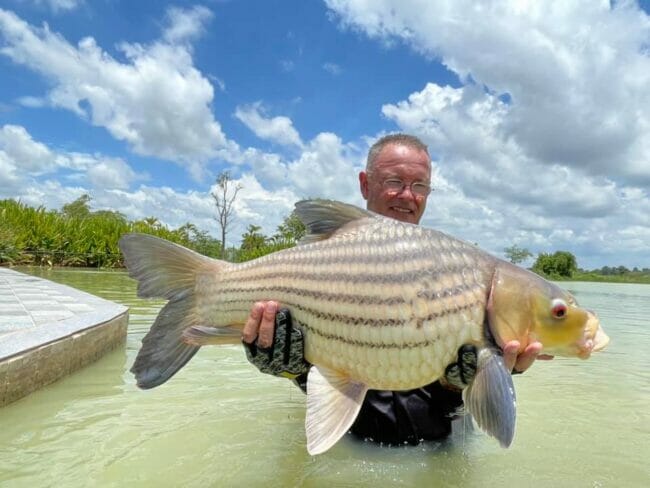 4. Catla Carp – Pla Goho India stock up to 25kg  ( more pics )
5. Asian Grass Carp – Fishing Holiday in Thailand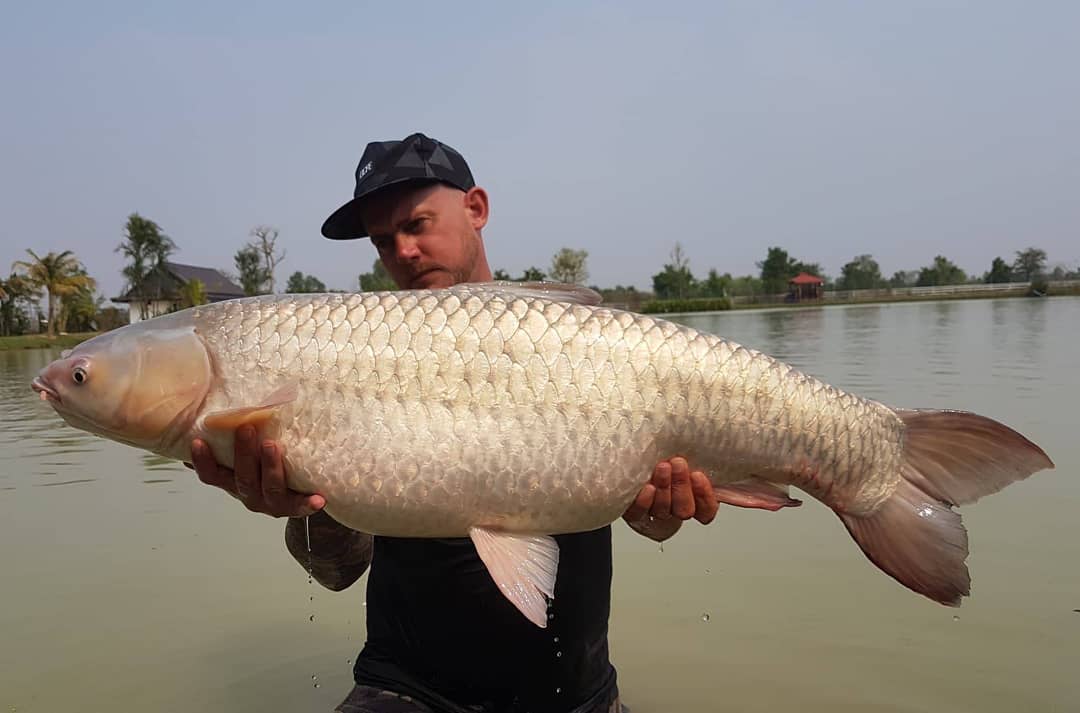 6. Chinese Big Head Carp – Pla Jeen stock up to 25 kg (more pics)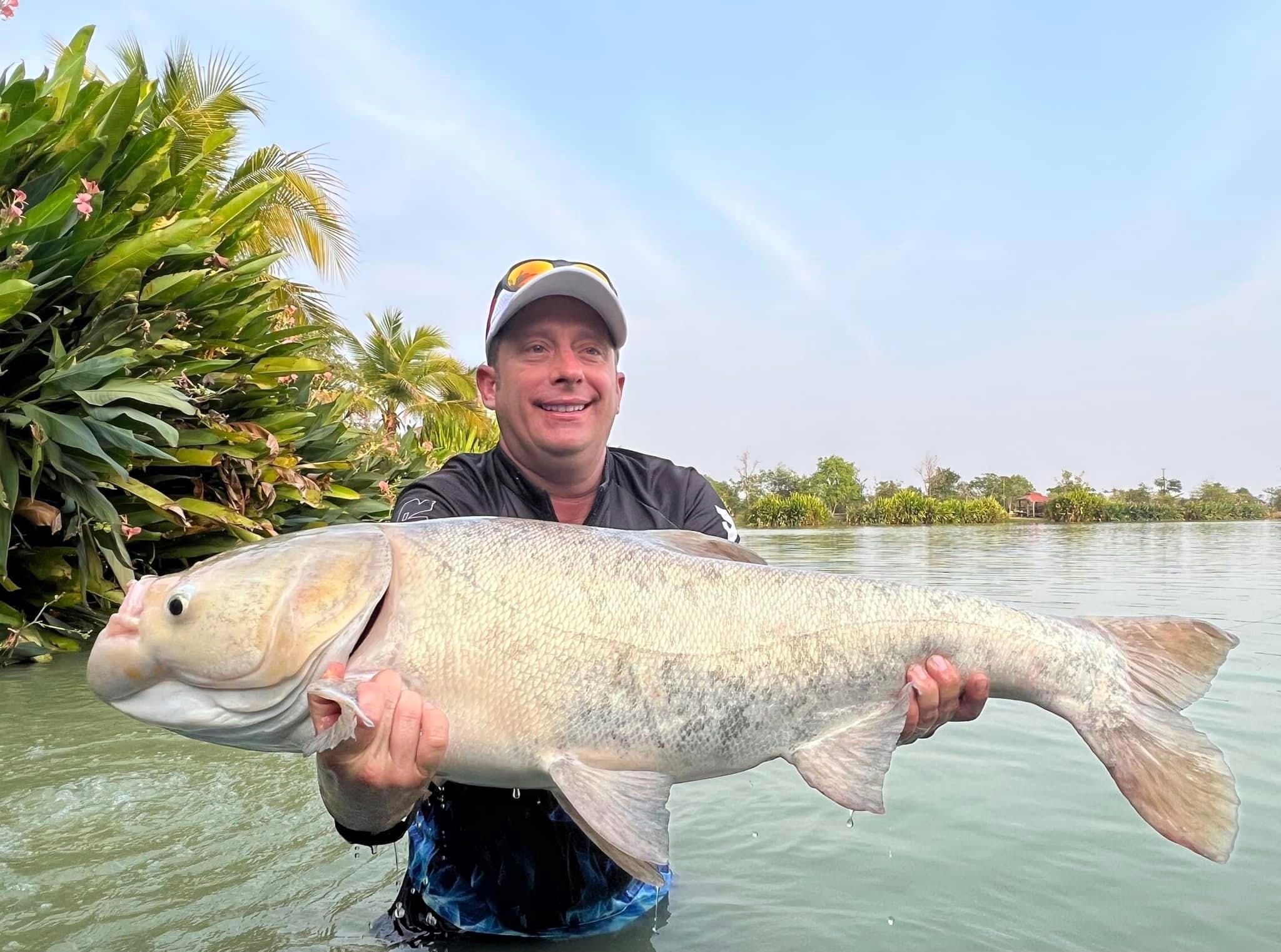 7. Mrigal carp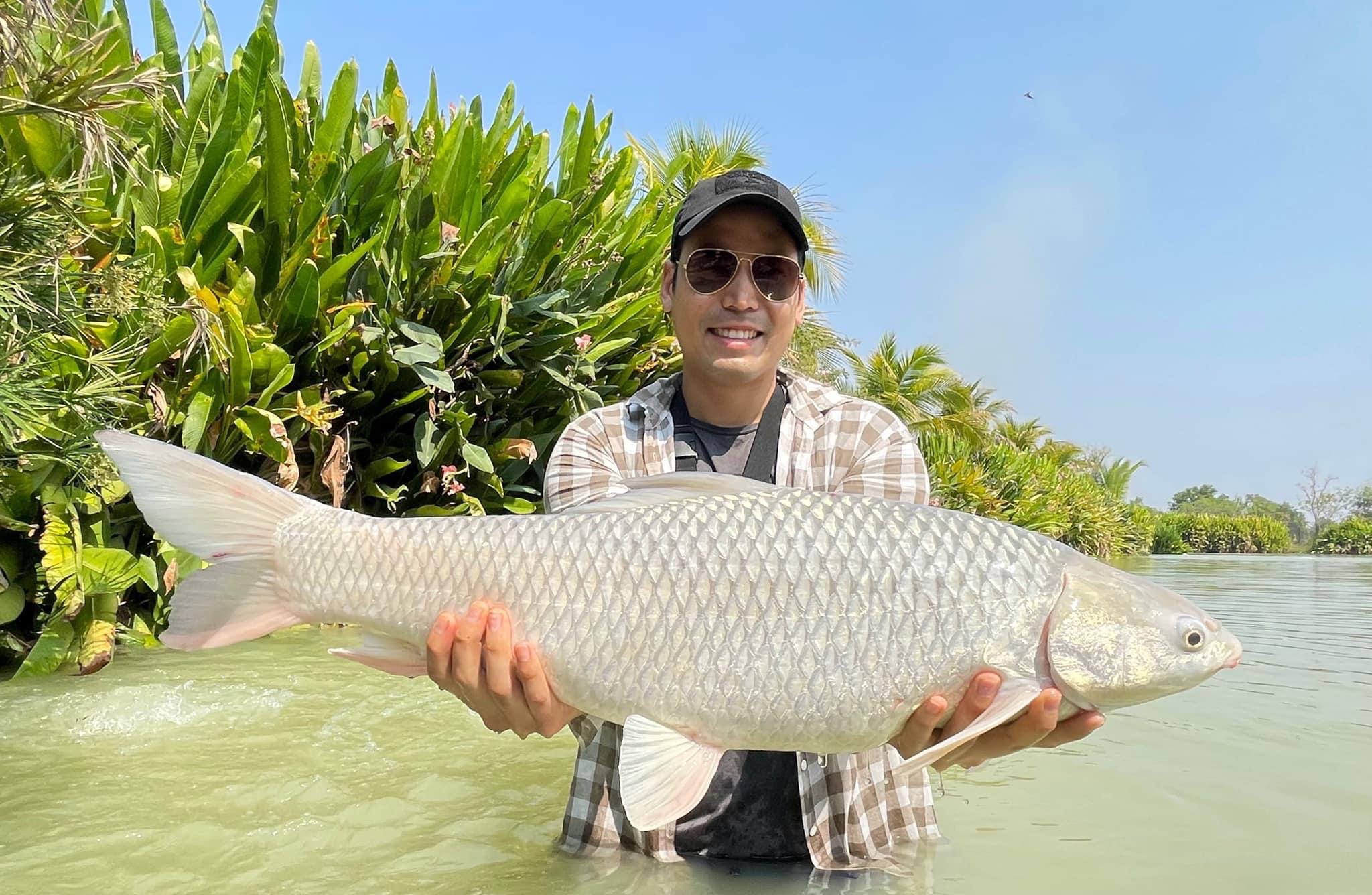 8. Hoven's ' Mad Barb'  Carp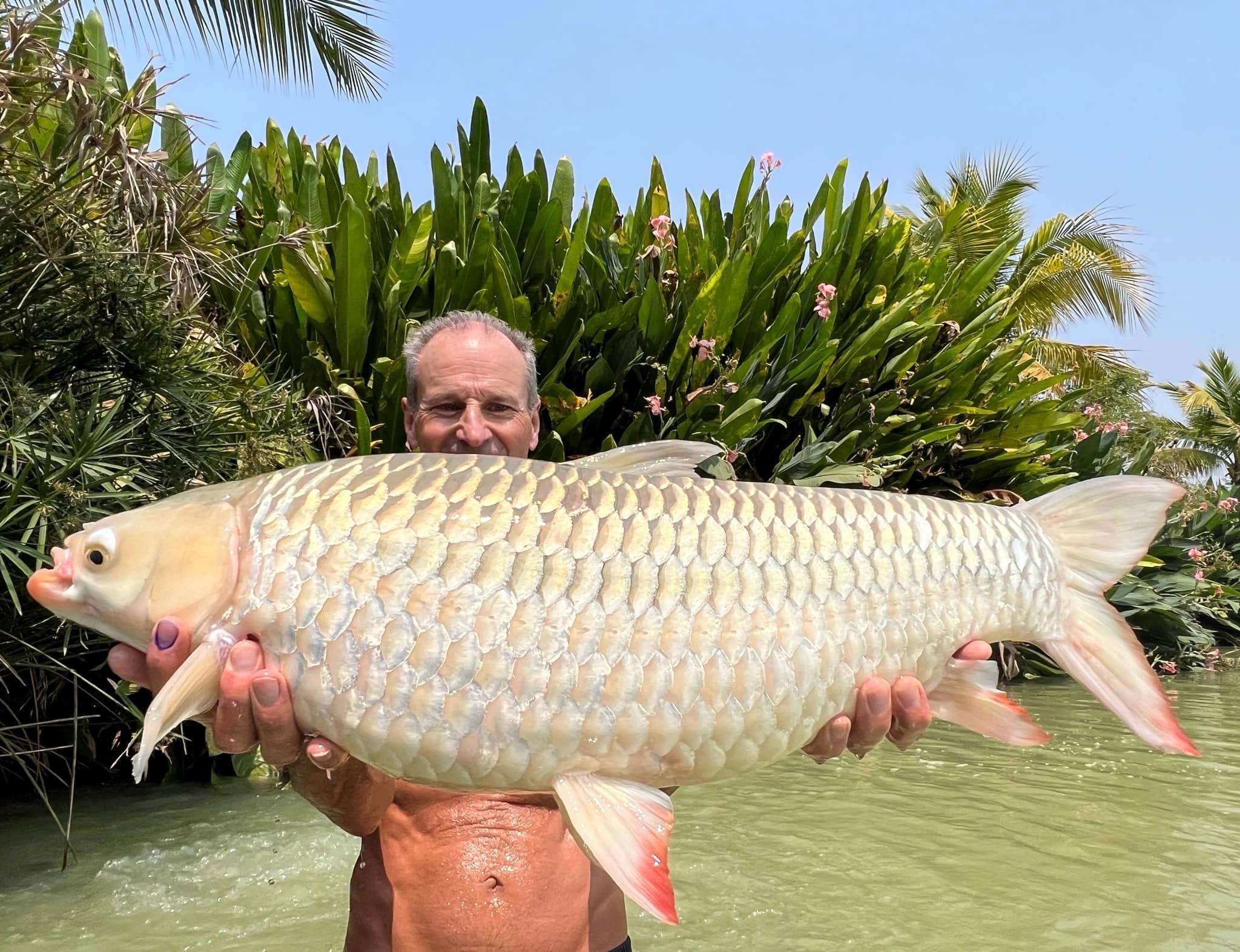 9. Chinese Black Carp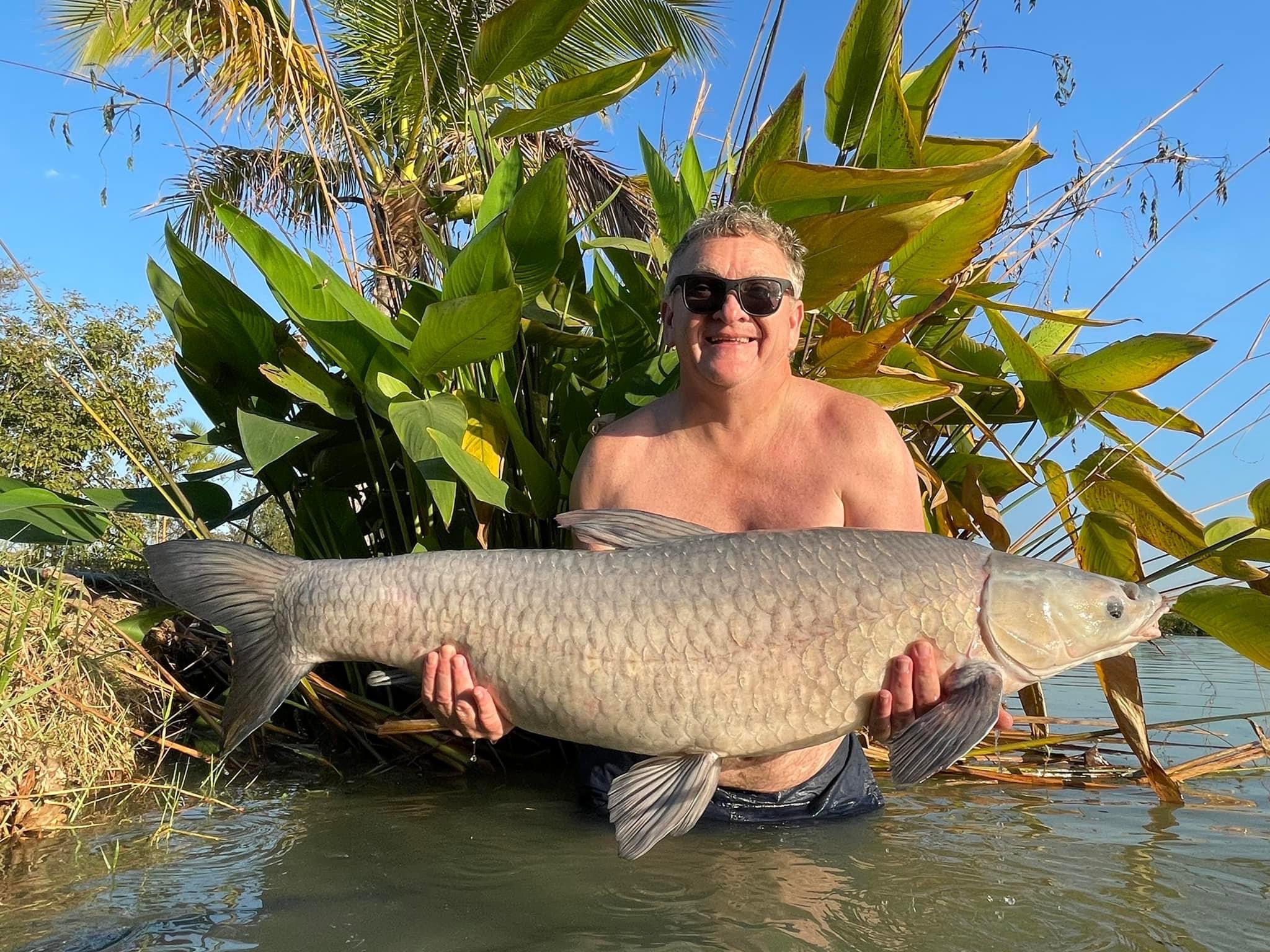 10. Black Shark Minnow Carp (Black Carp)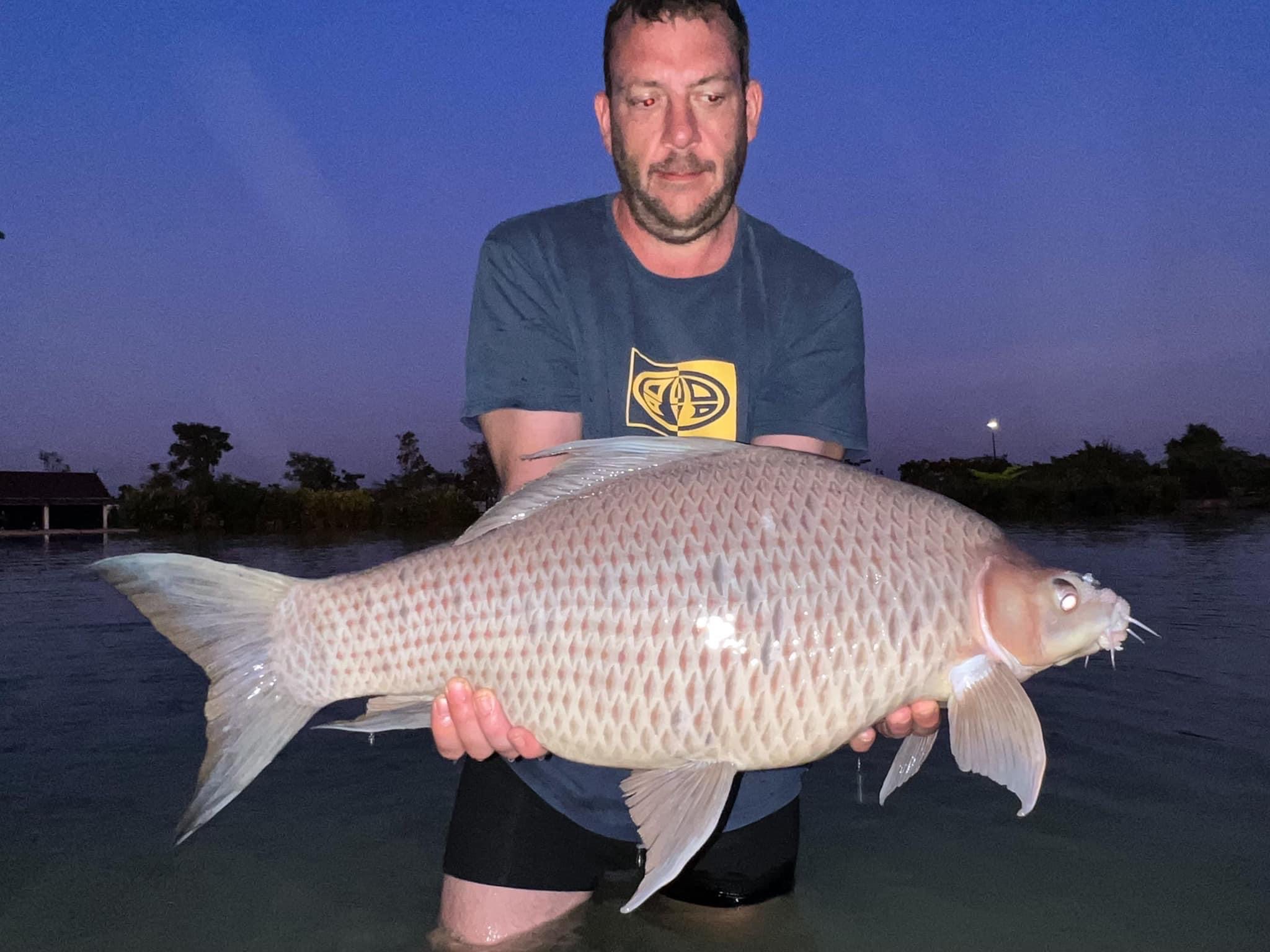 11. Koi Carp up to approx.50 lb (carp shown named Jumbo)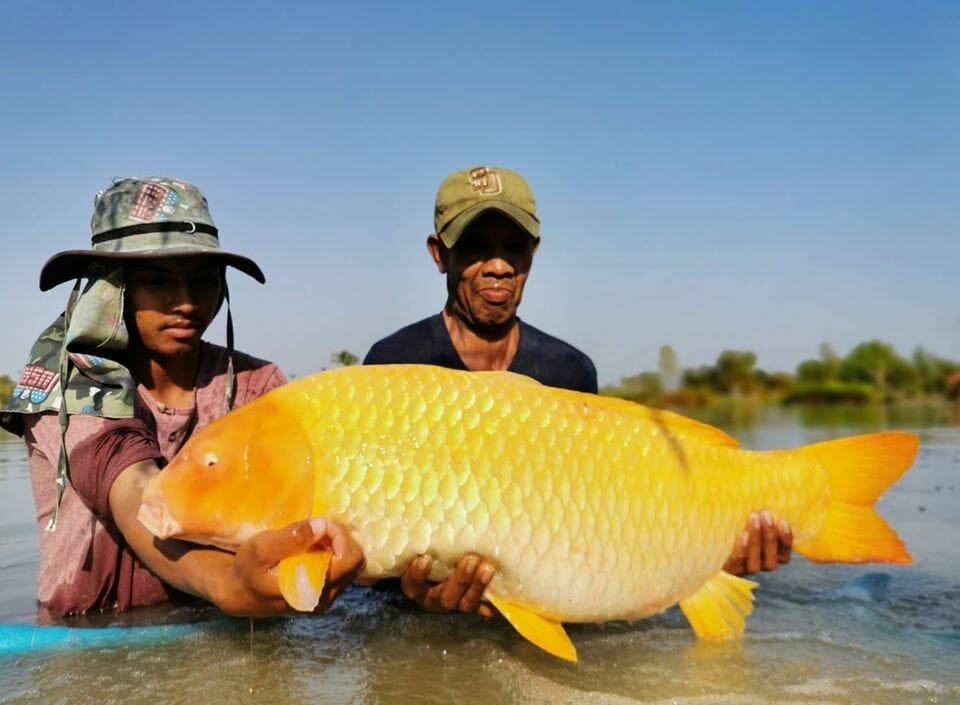 12. Mirror Koi Carp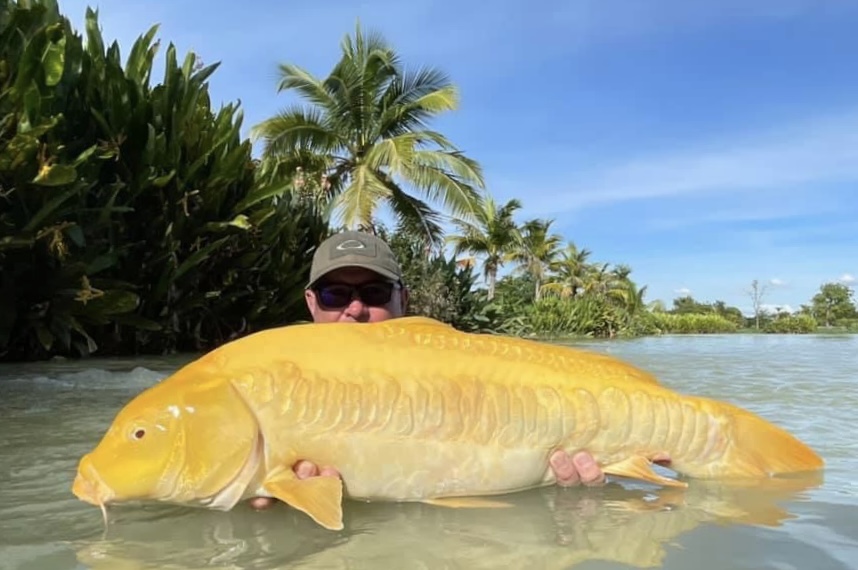 13. Rohu Carp -(Labeo Rohita)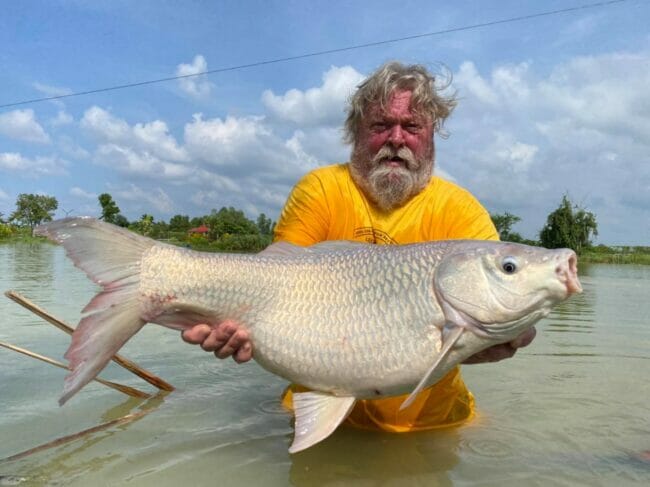 14. Common Carp – Pla Nai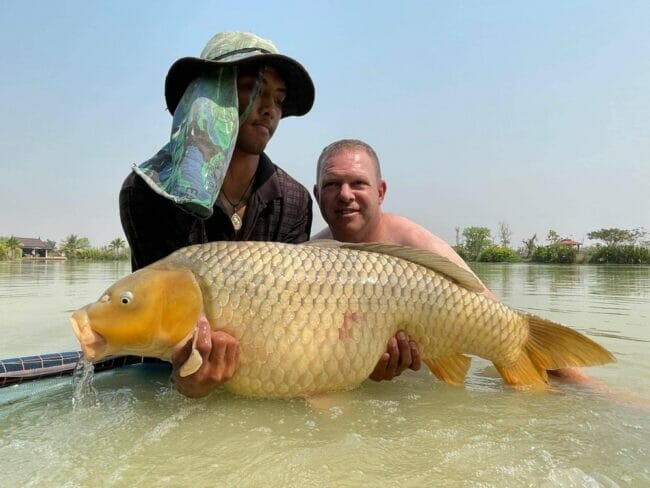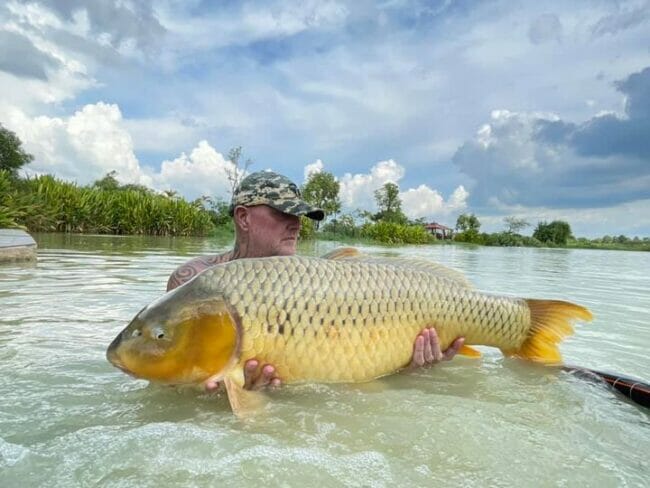 15. Small Scale Mud Carp (Cirrhinus Microlepis)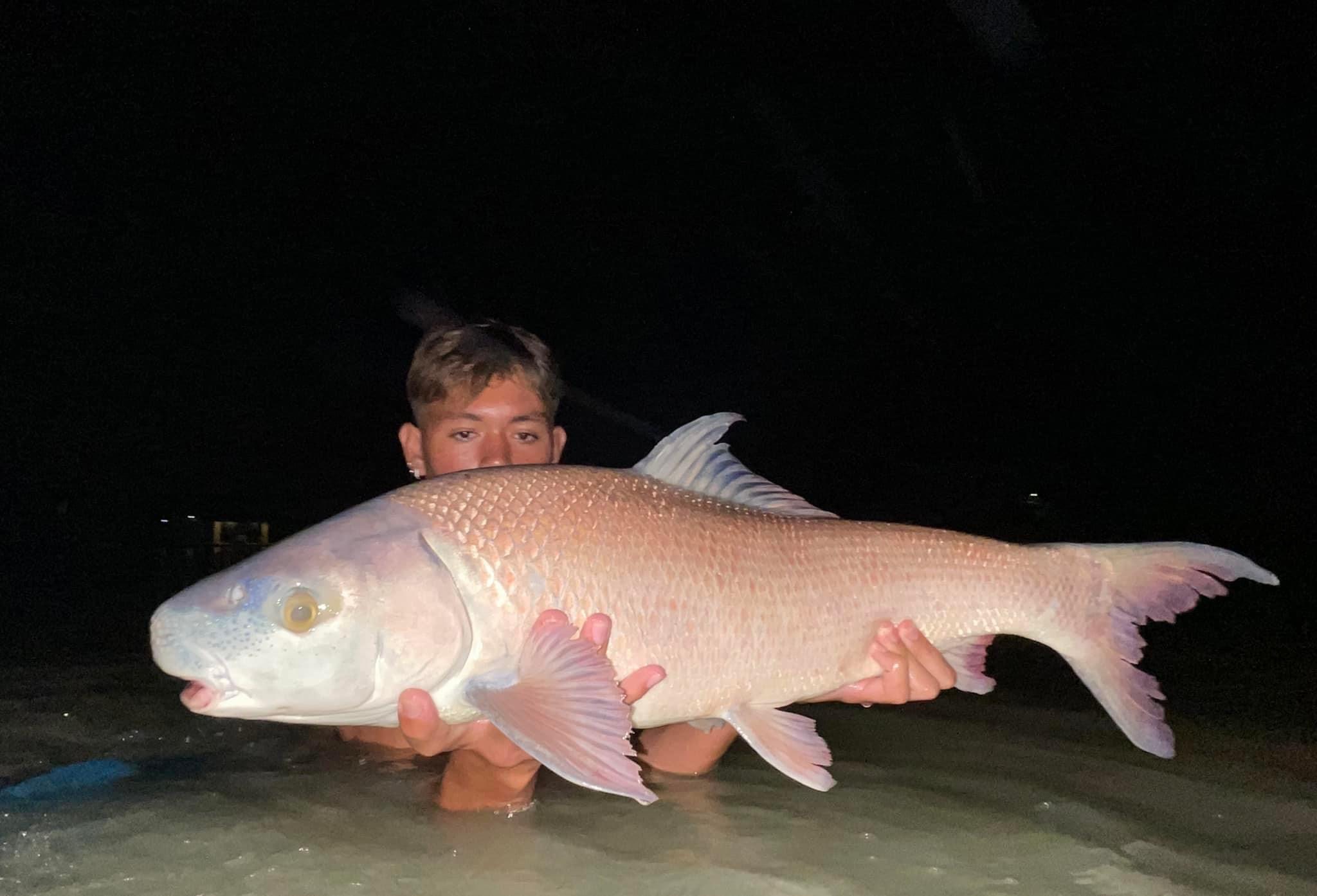 16. Blue Mahseer carp – Fishing Holiday in Thailand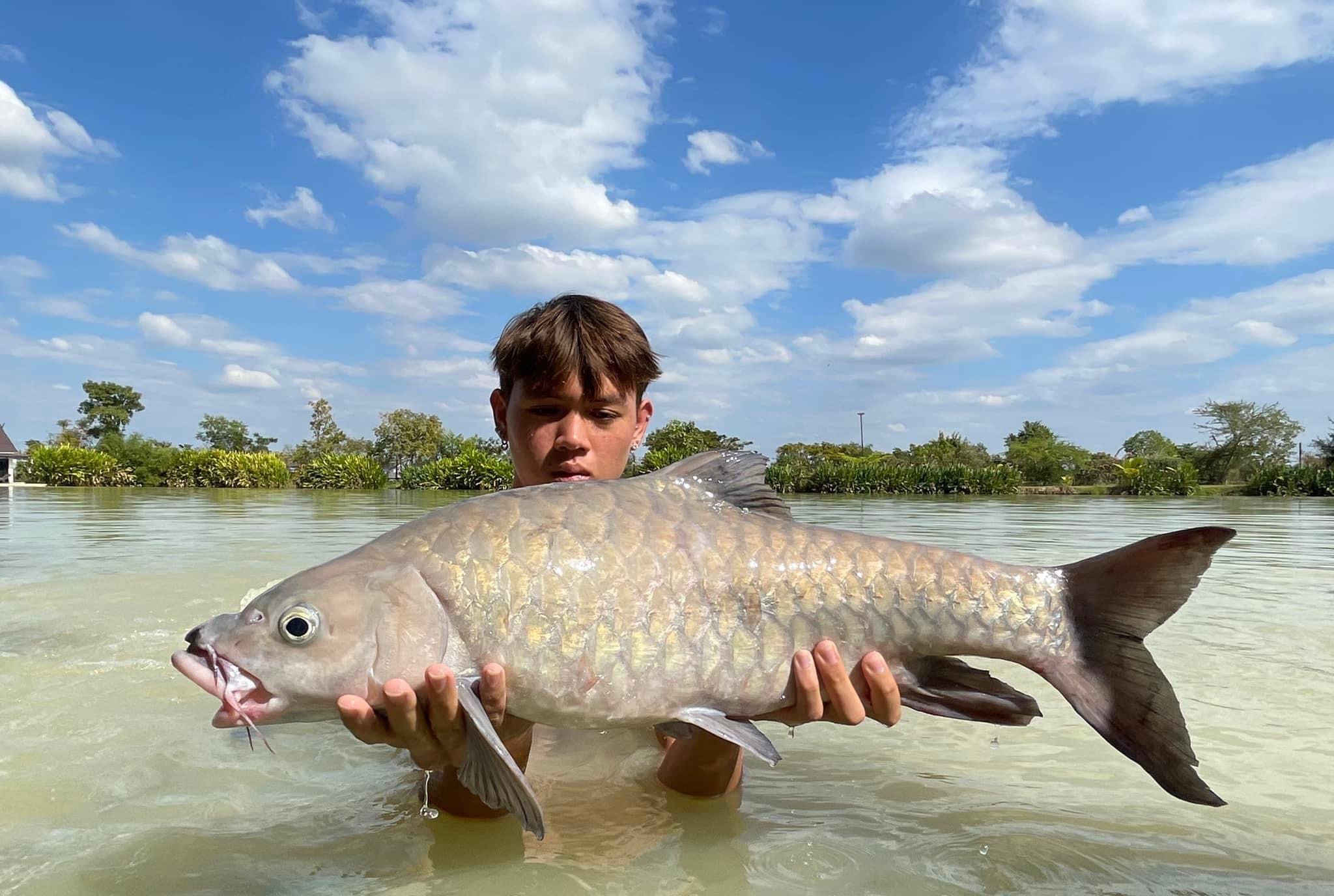 17. Yellow Cheek Carp, Elopichthys Bambusa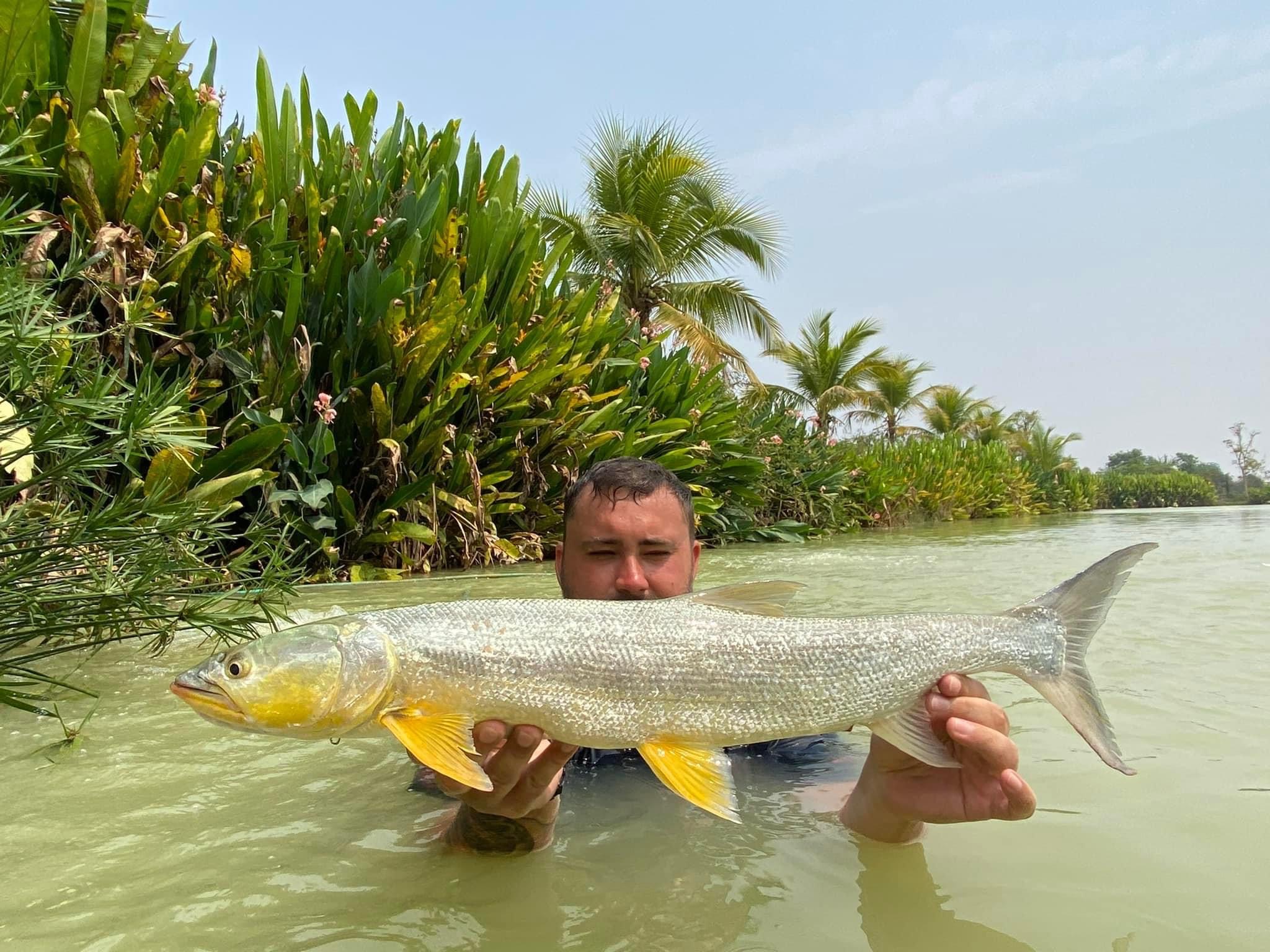 18. Tor putitora – The Golden Mahseer Carp (imports Himalayas)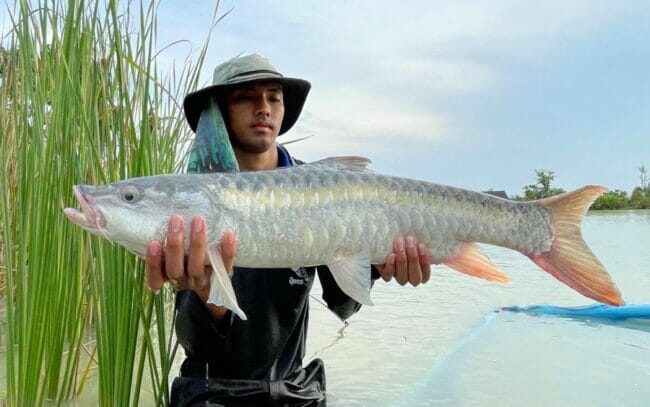 19. Albino Aral Barbel (Luciobarbus brachycephalus)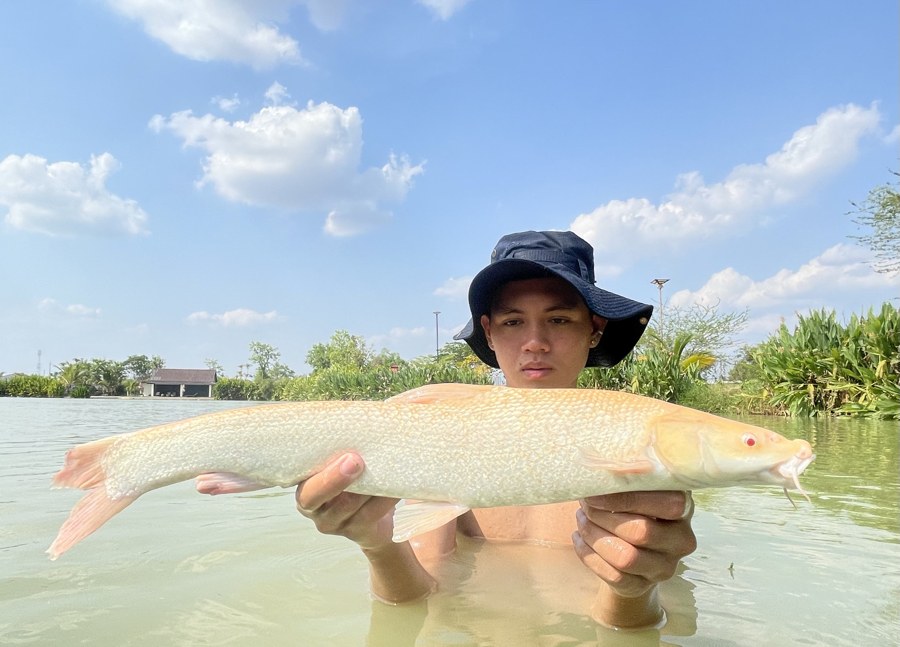 20. Soldier River Barb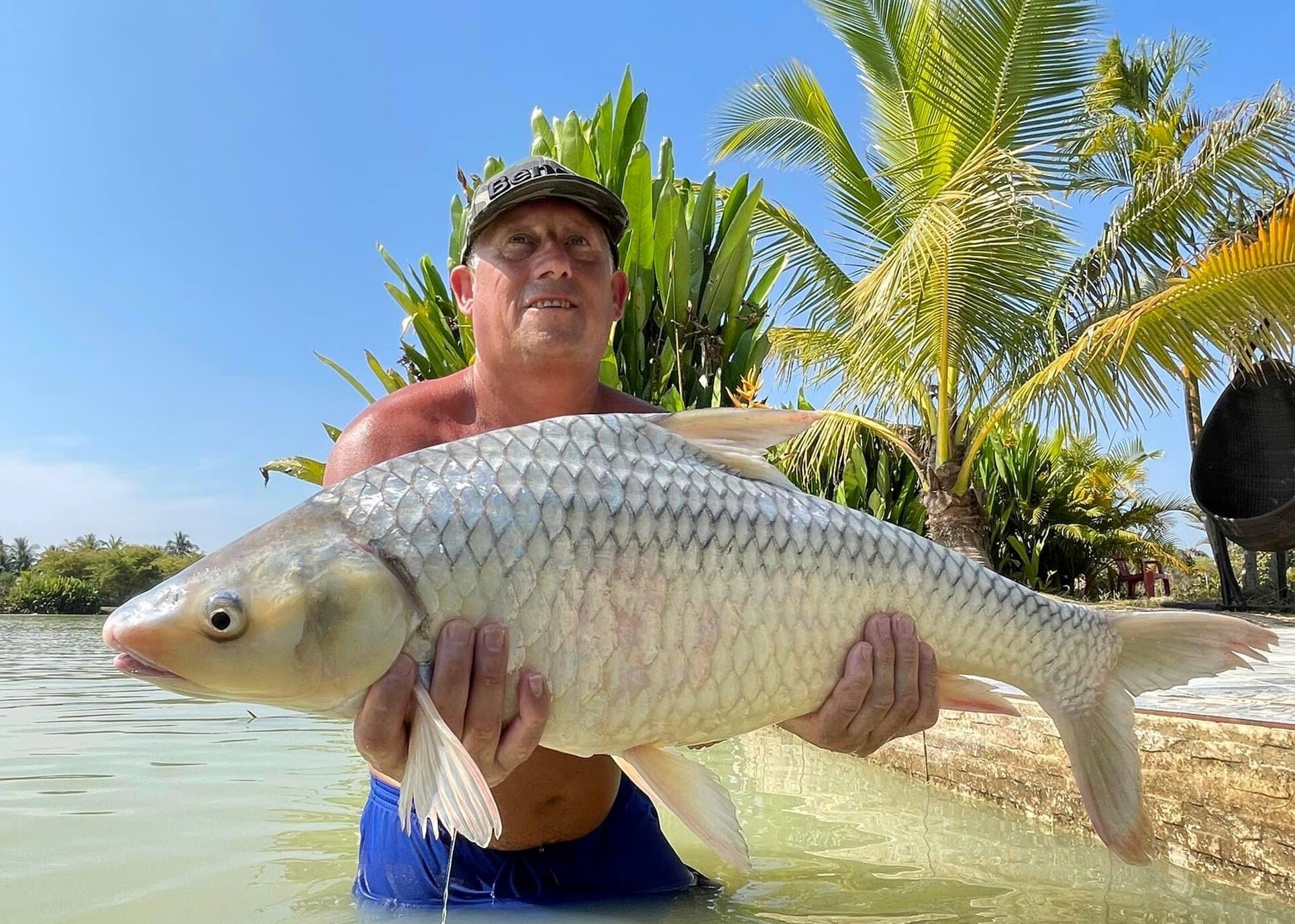 21. Chinese High Fin Banded Shark (Myxocyprinus asiaticus)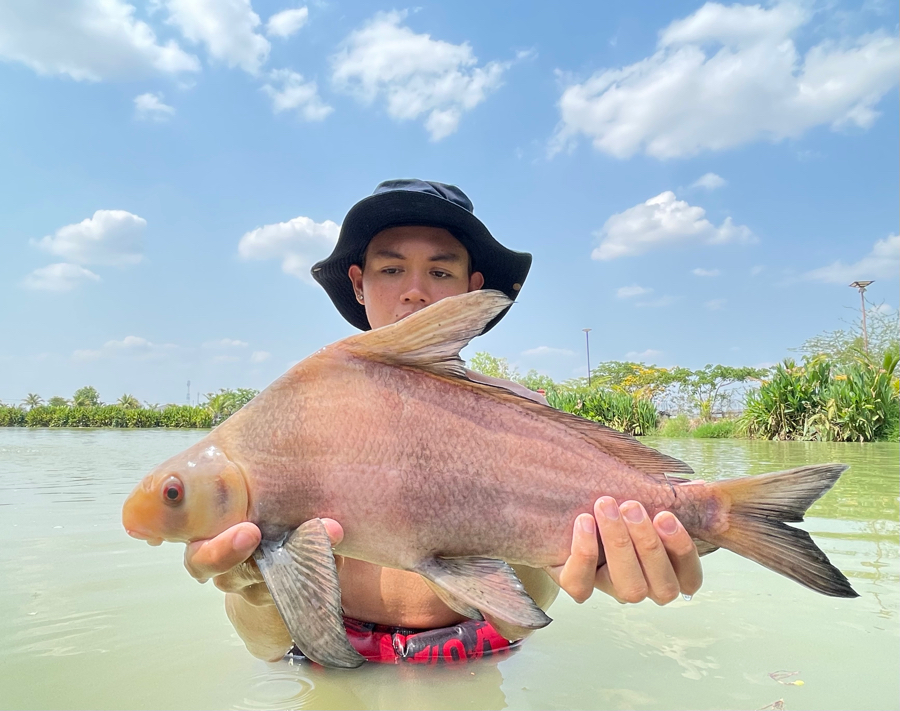 22. Jungle Perch – (Hampala Barb)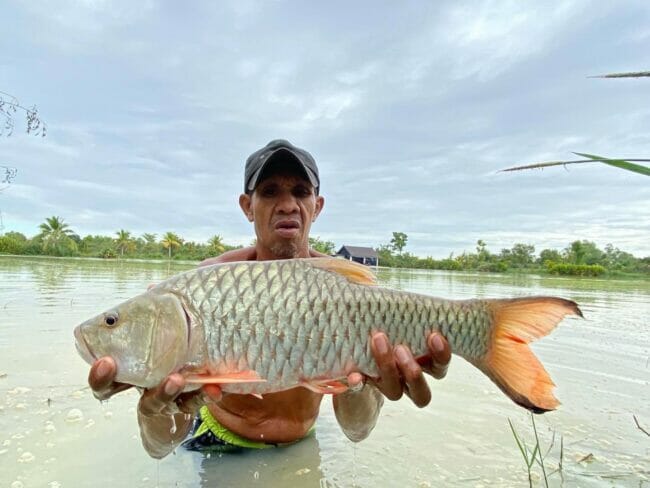 23. Giant Raphael Talking Catfish (Megalodoras Uranoscopus) Click Here More Info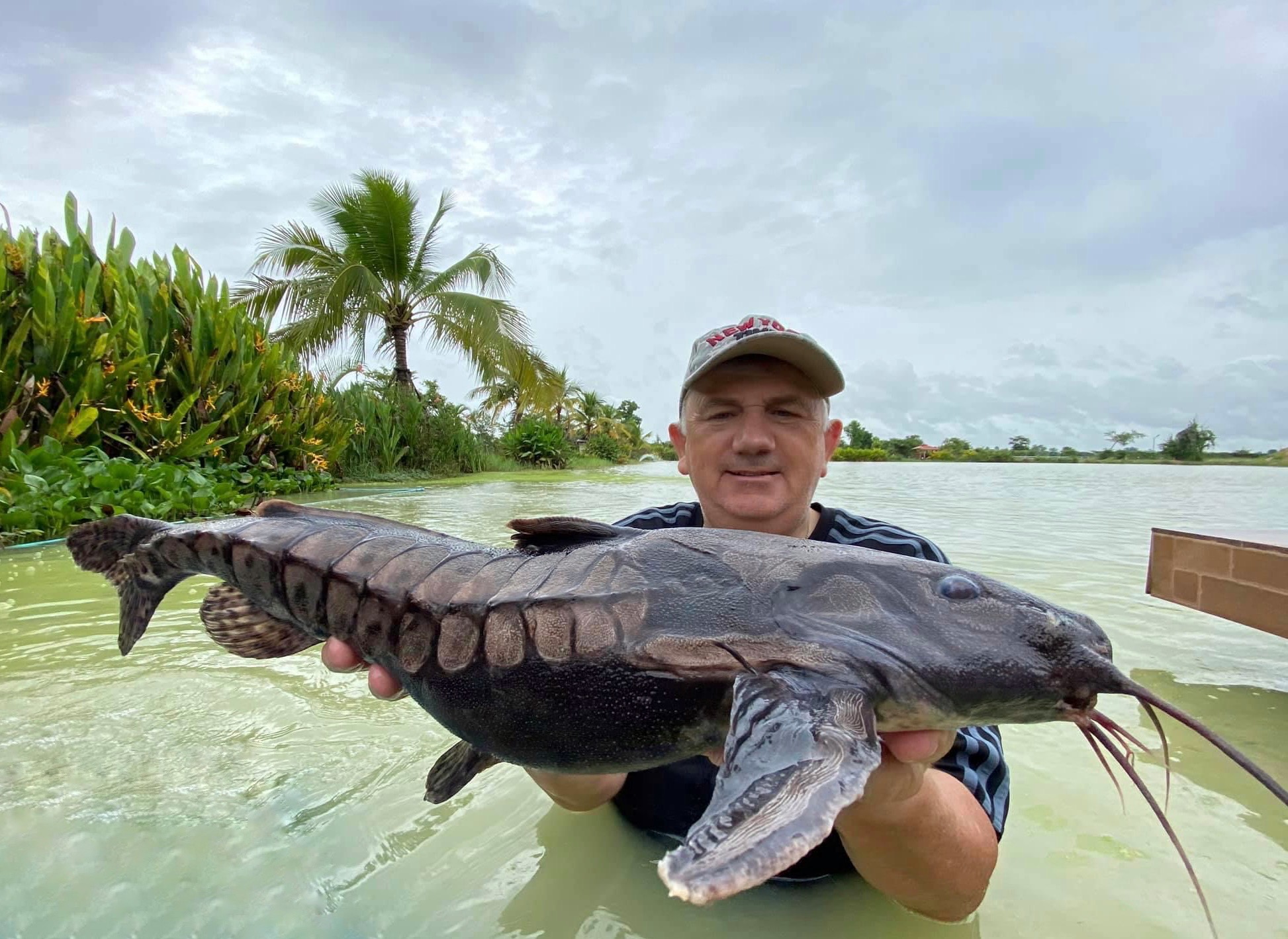 24. Incisilabeo Behri (Bangana behri, Labeo behri) ปลาหว้าหน้านอ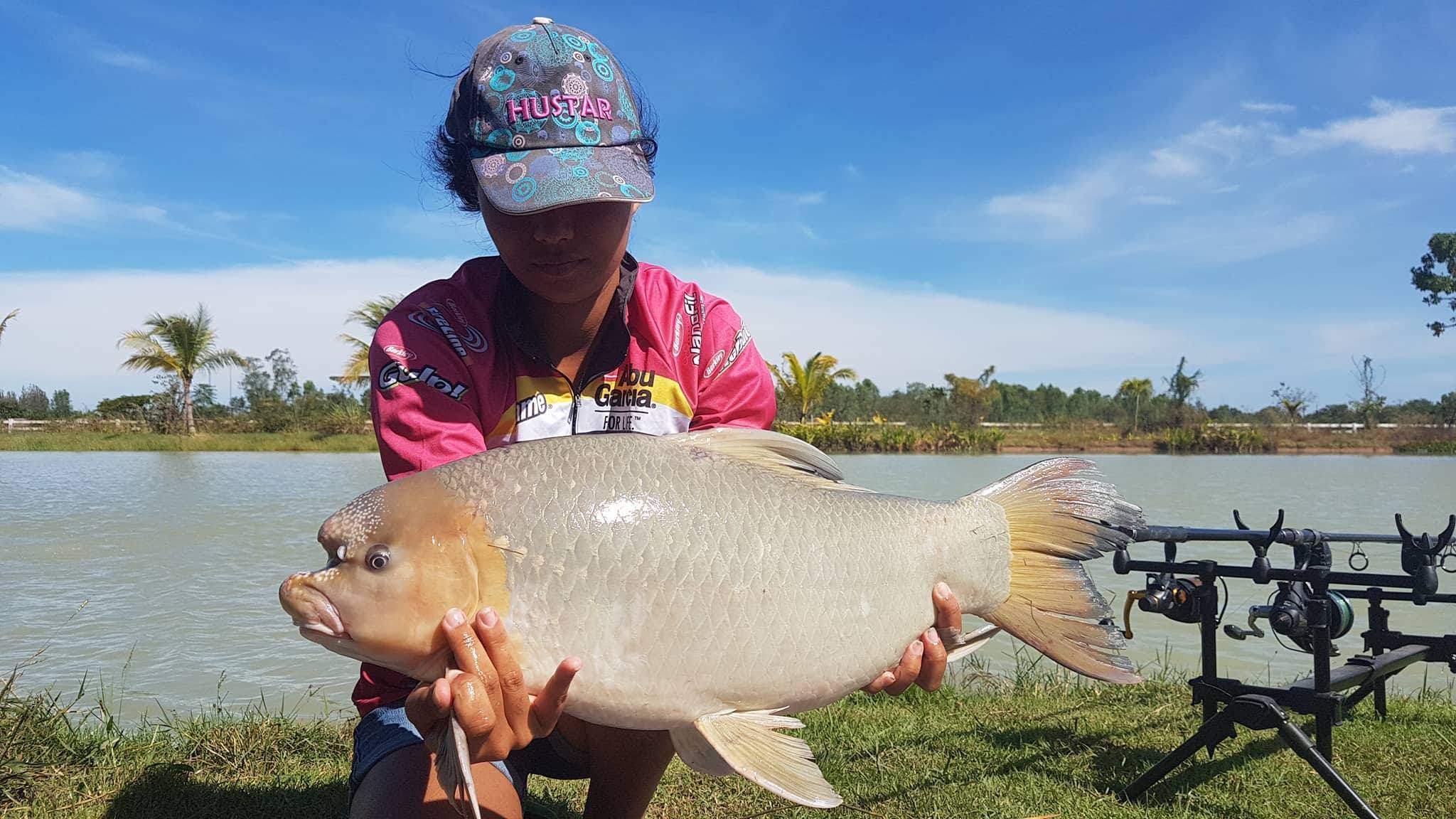 25. Golden Incisilabeo Behri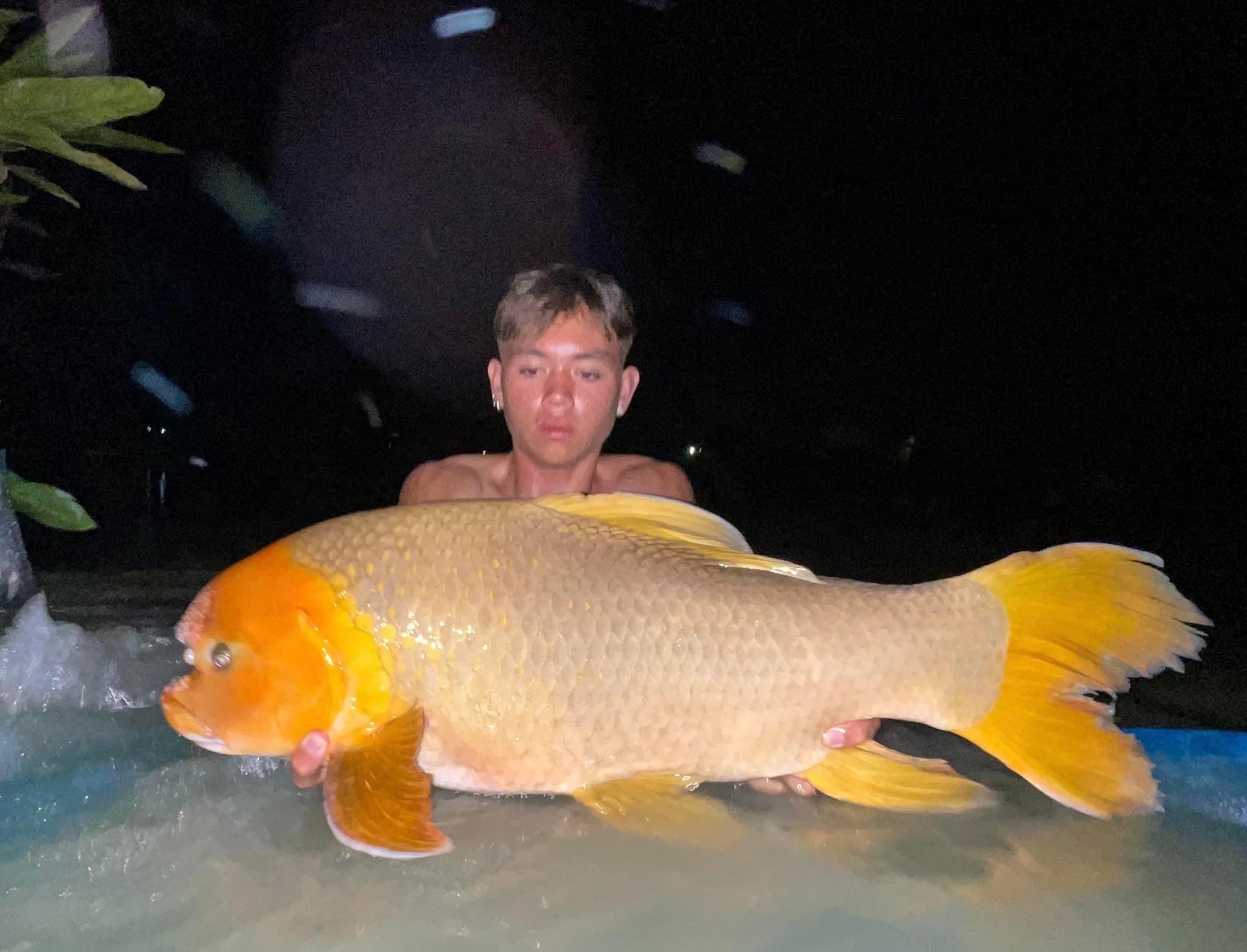 26. Silver Barb, Java Barb – (Thai) Bla Tapien Kow – 8.5kg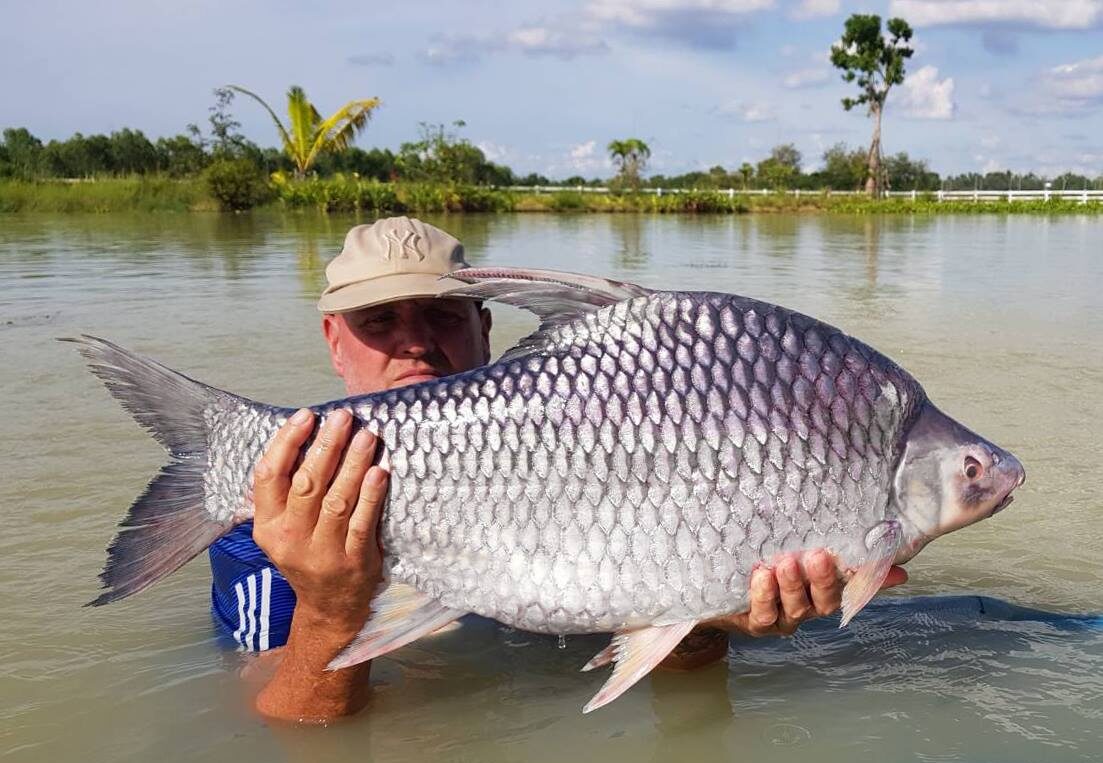 27. Giant Mekong Catfish – Pla beuk  stock up to 350,lb)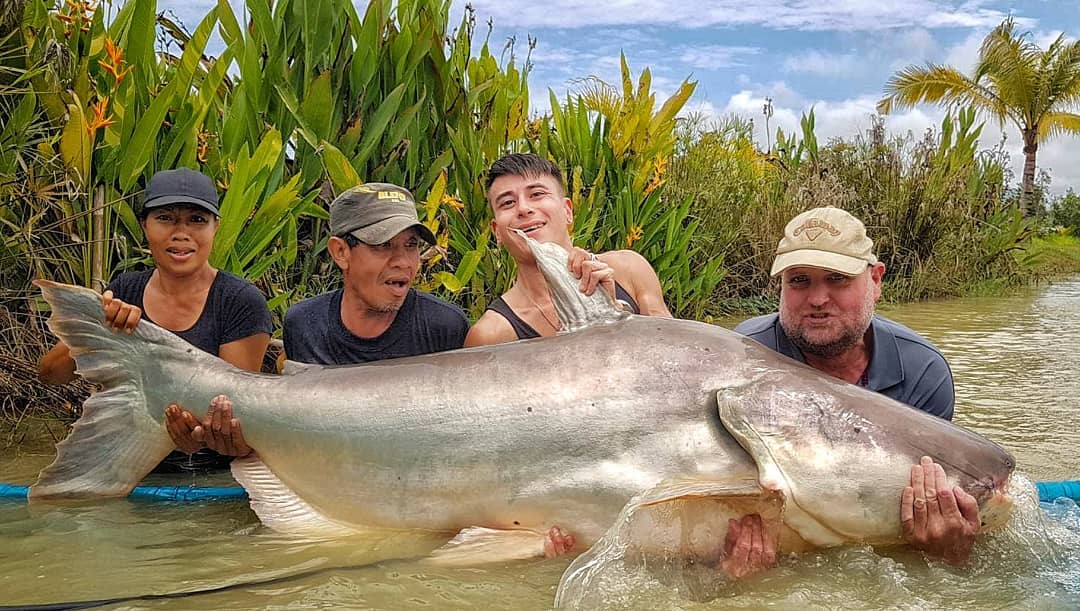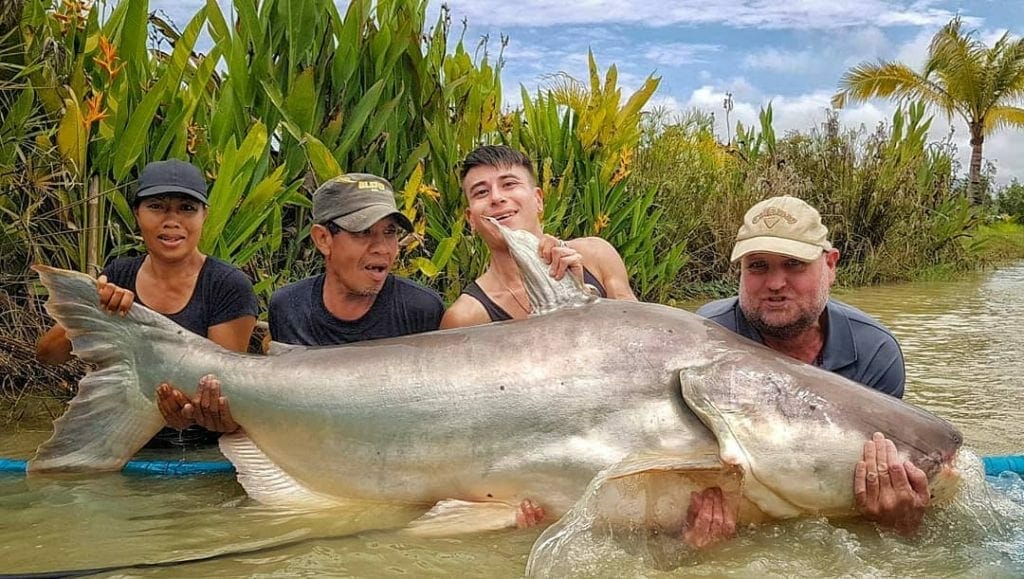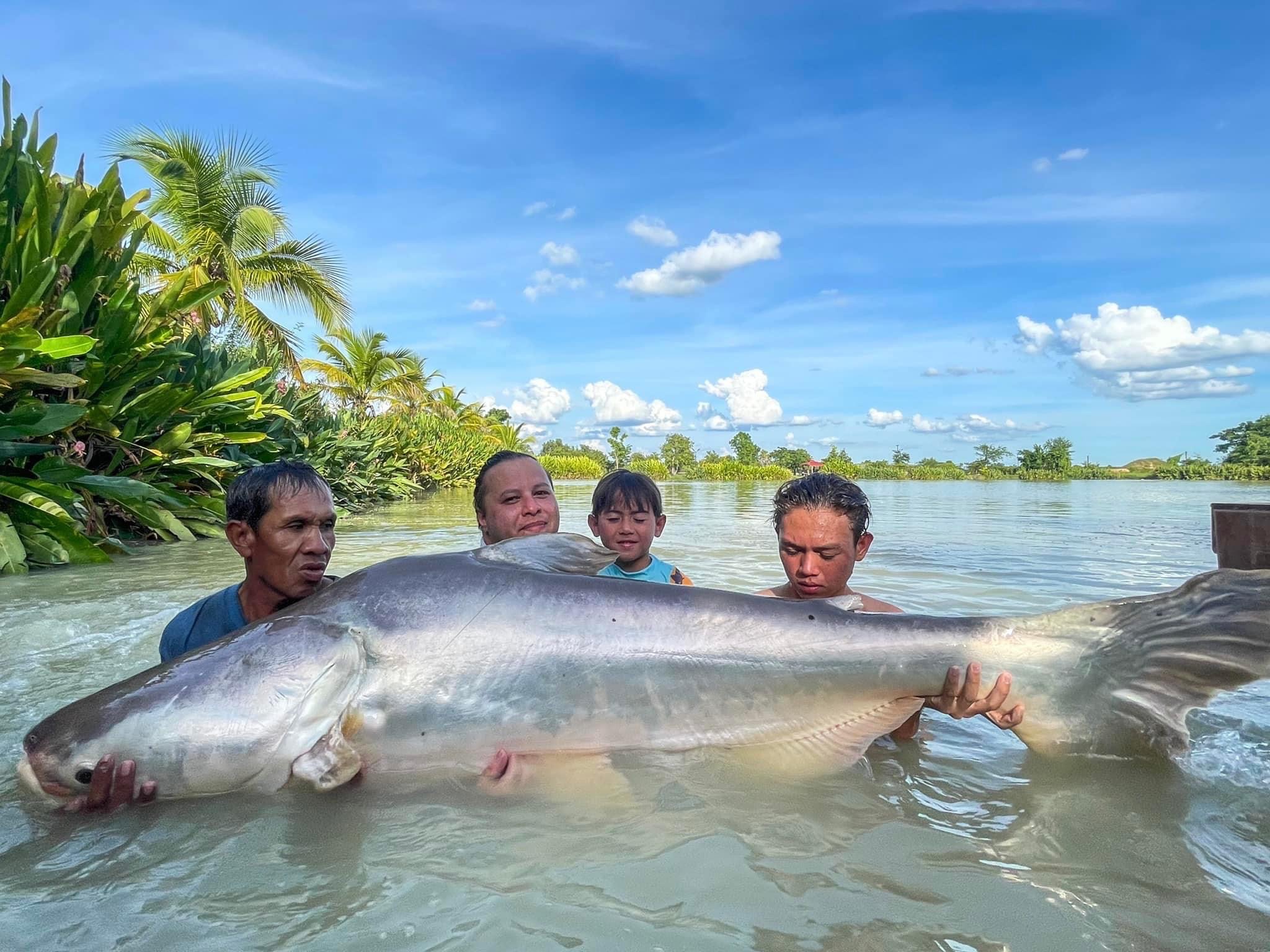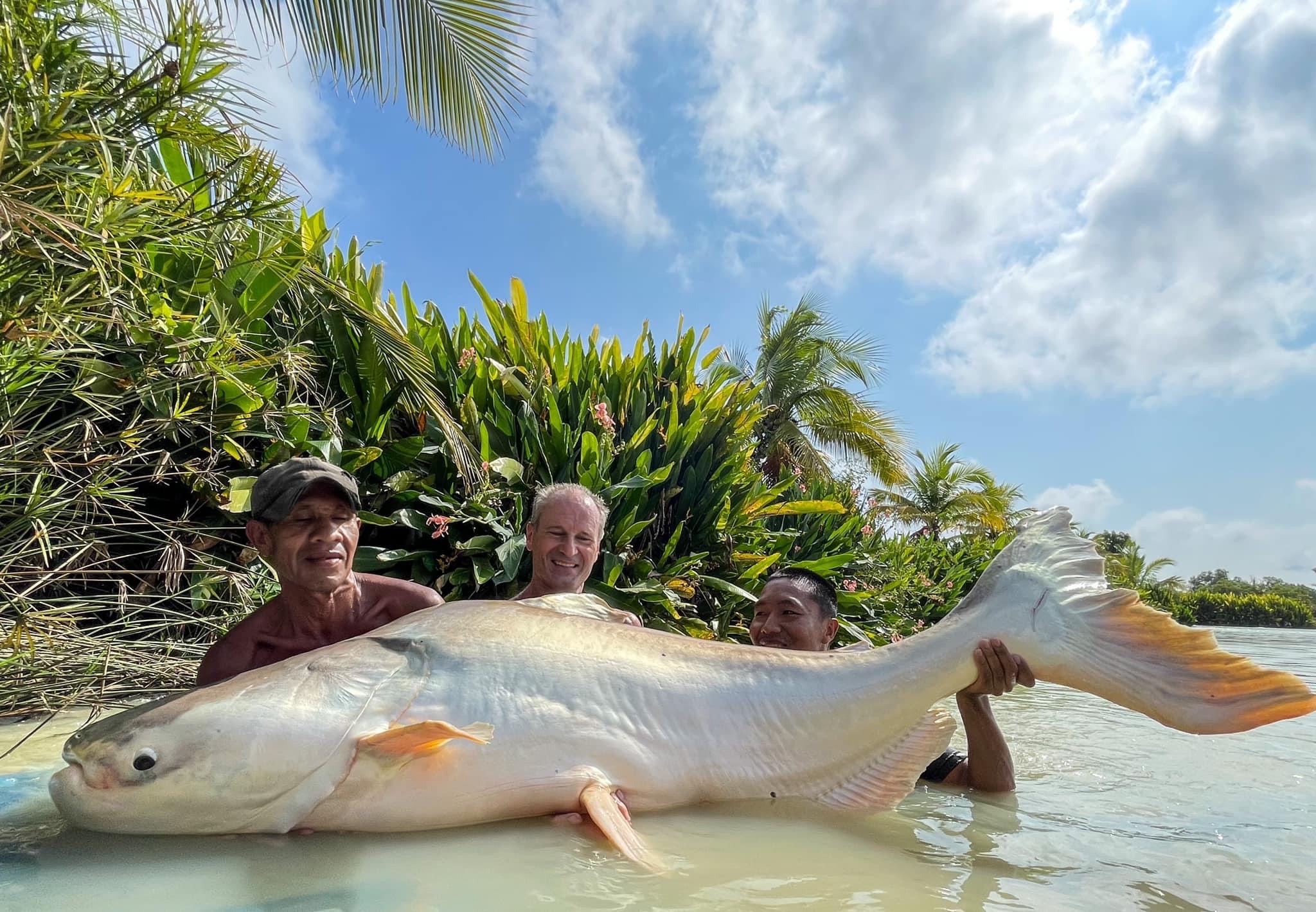 28. Goonch – Devils Catfish –  Giant Bagarius – Pla Kaey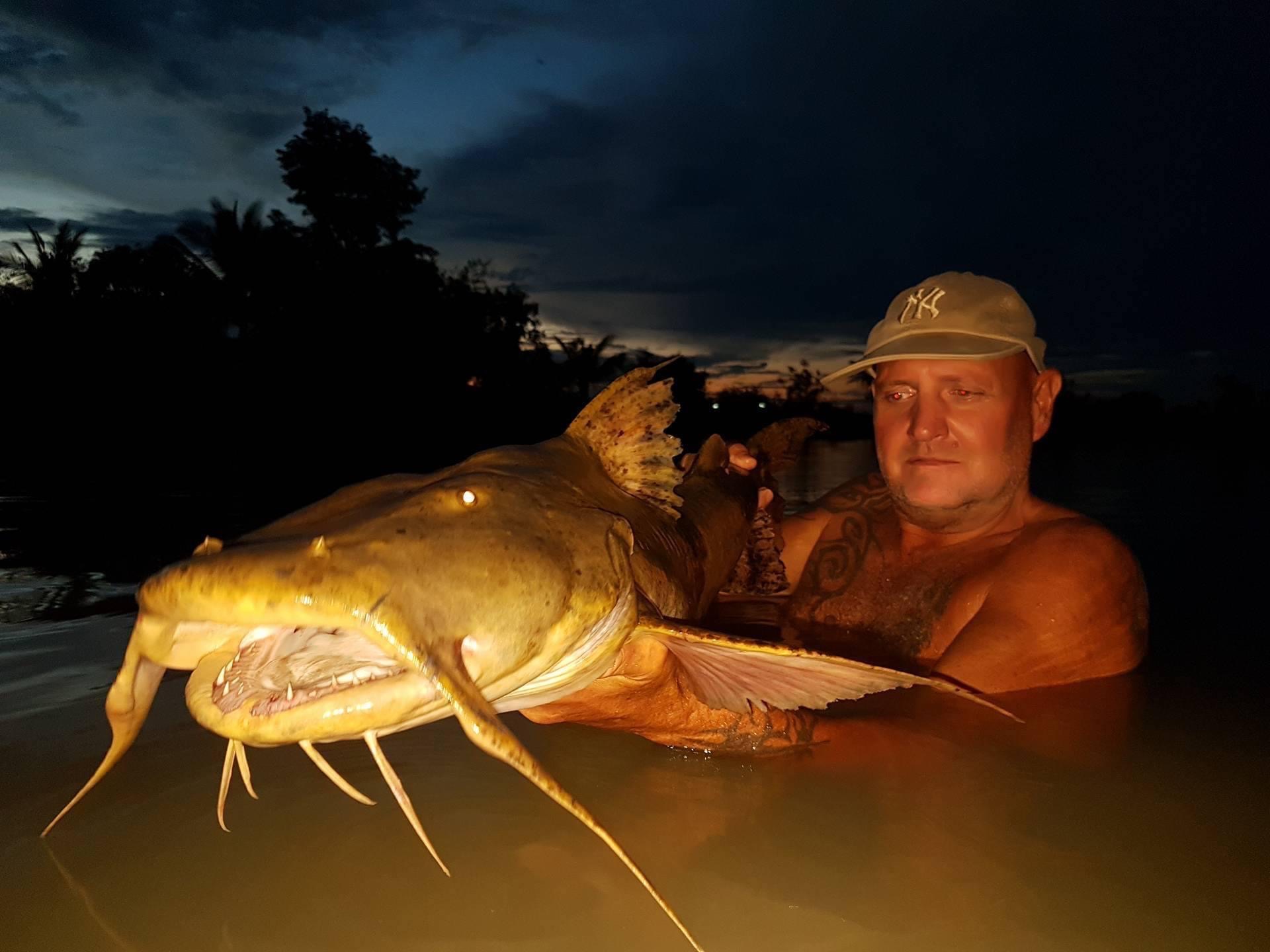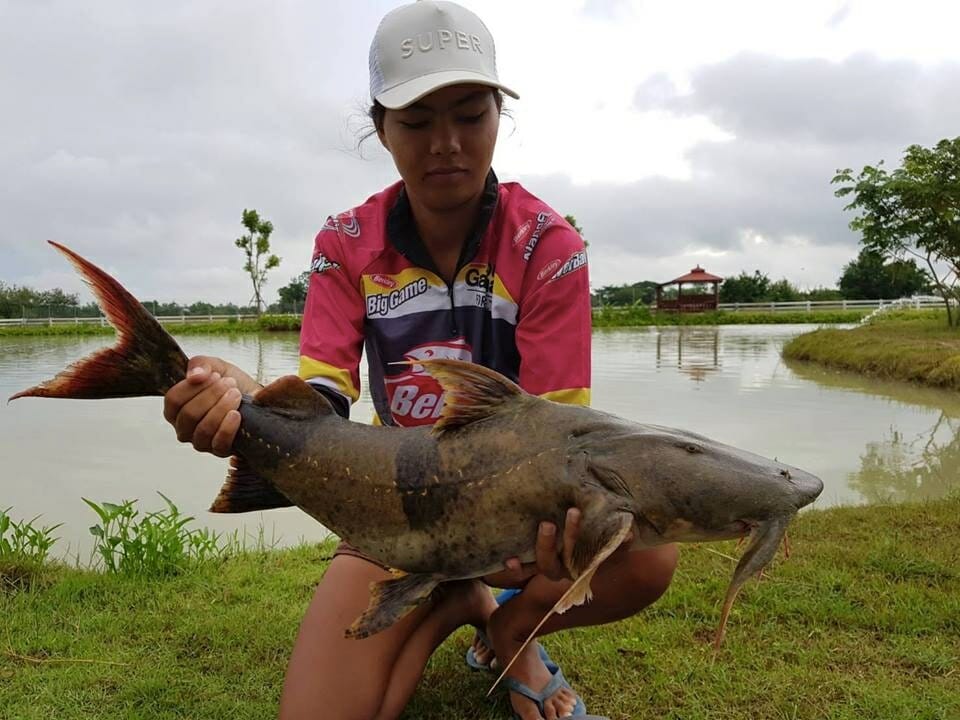 29. Arapaima – Pla Chon Amazon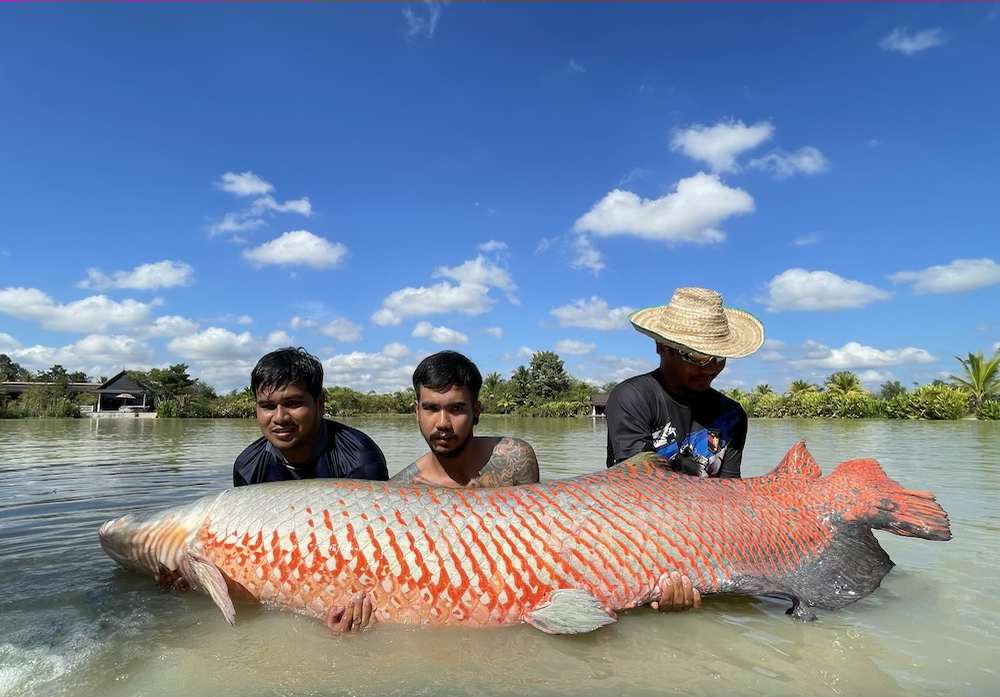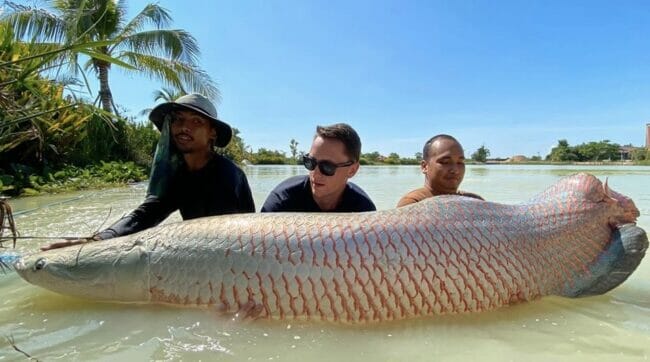 30. African Arowana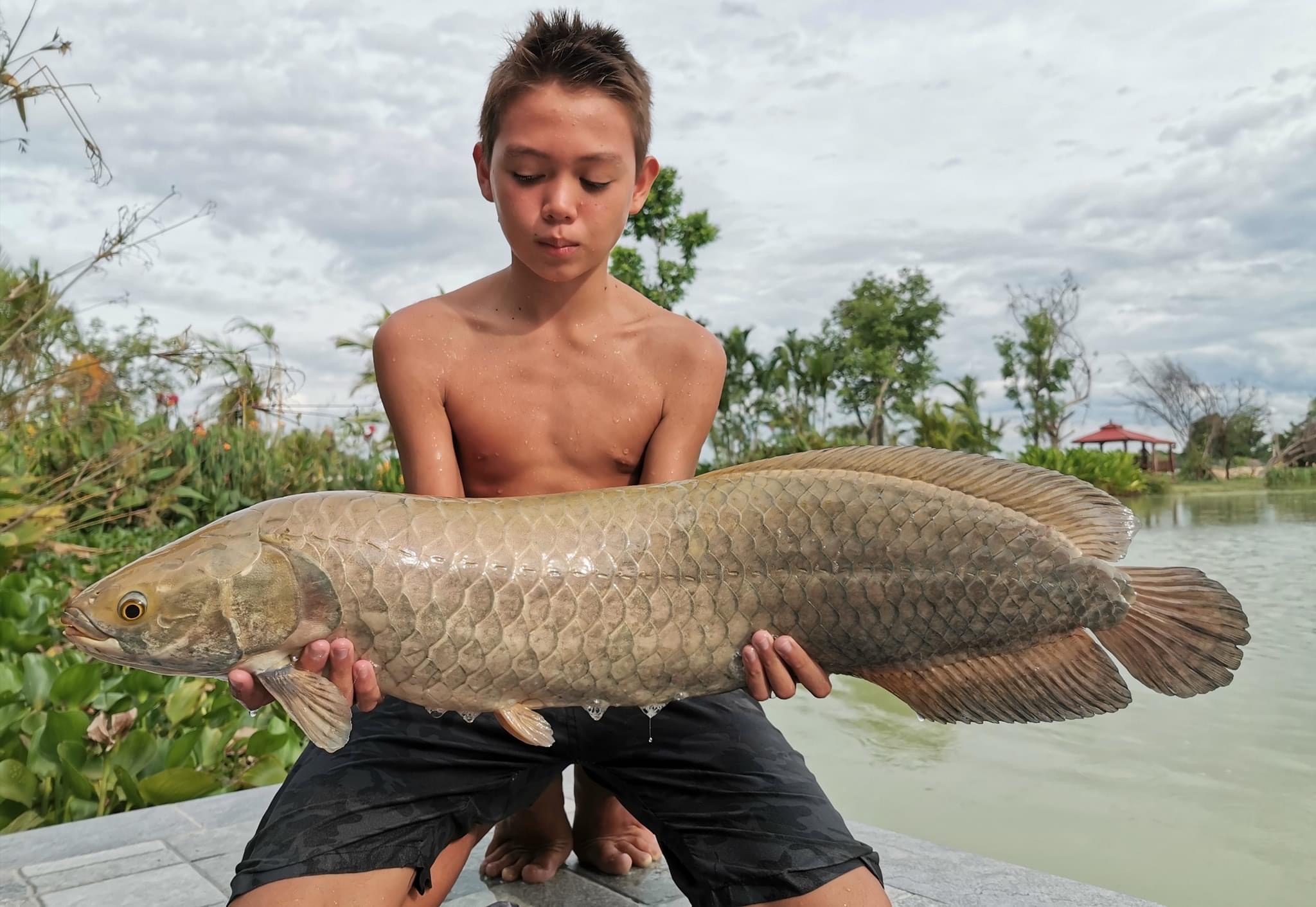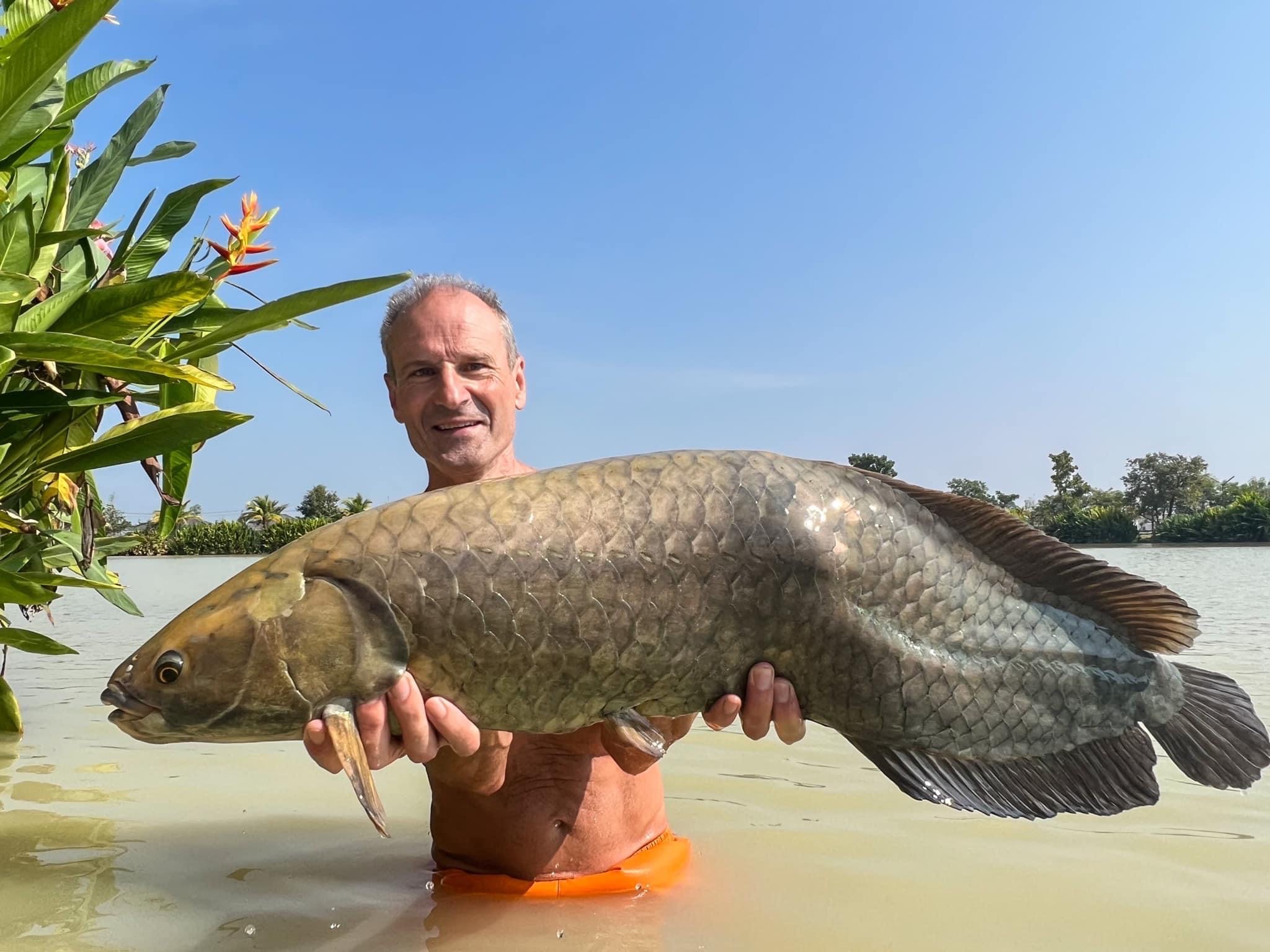 31. Asian Golden Blue Base Crossback Arowana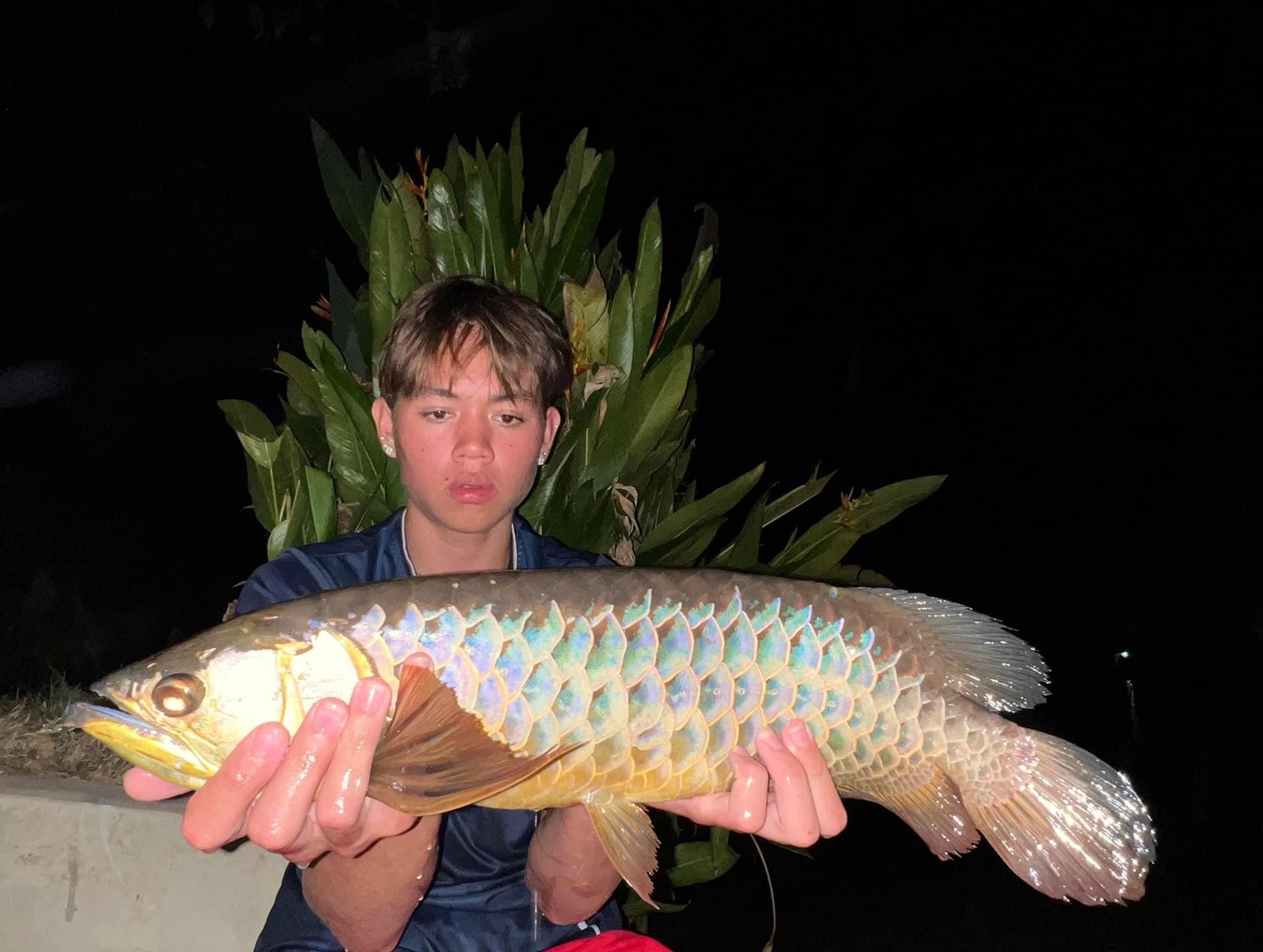 32. Ripsaw Catfish – Pla Niger (stock up to 28kg) – Fishing Holiday in Thailand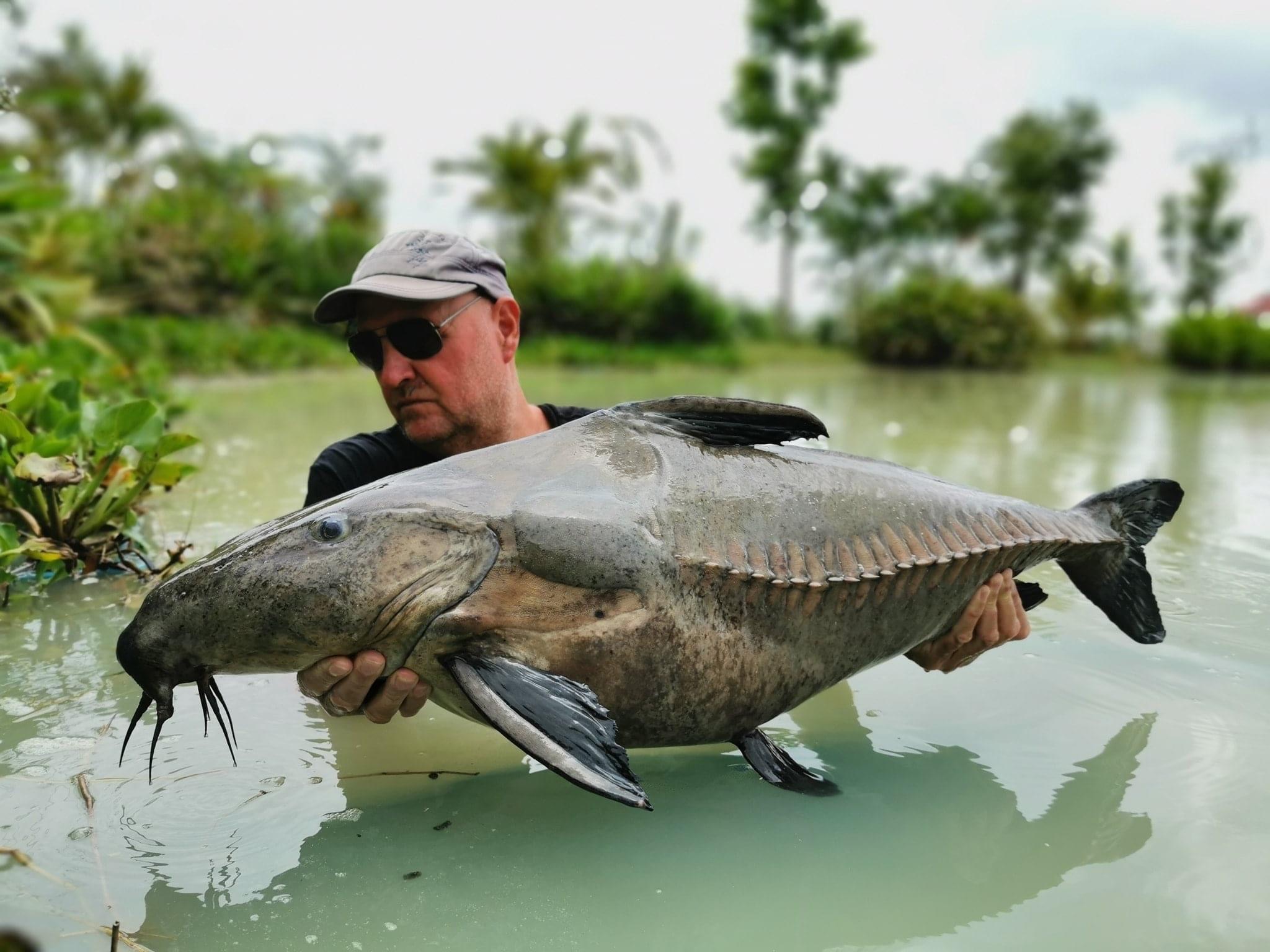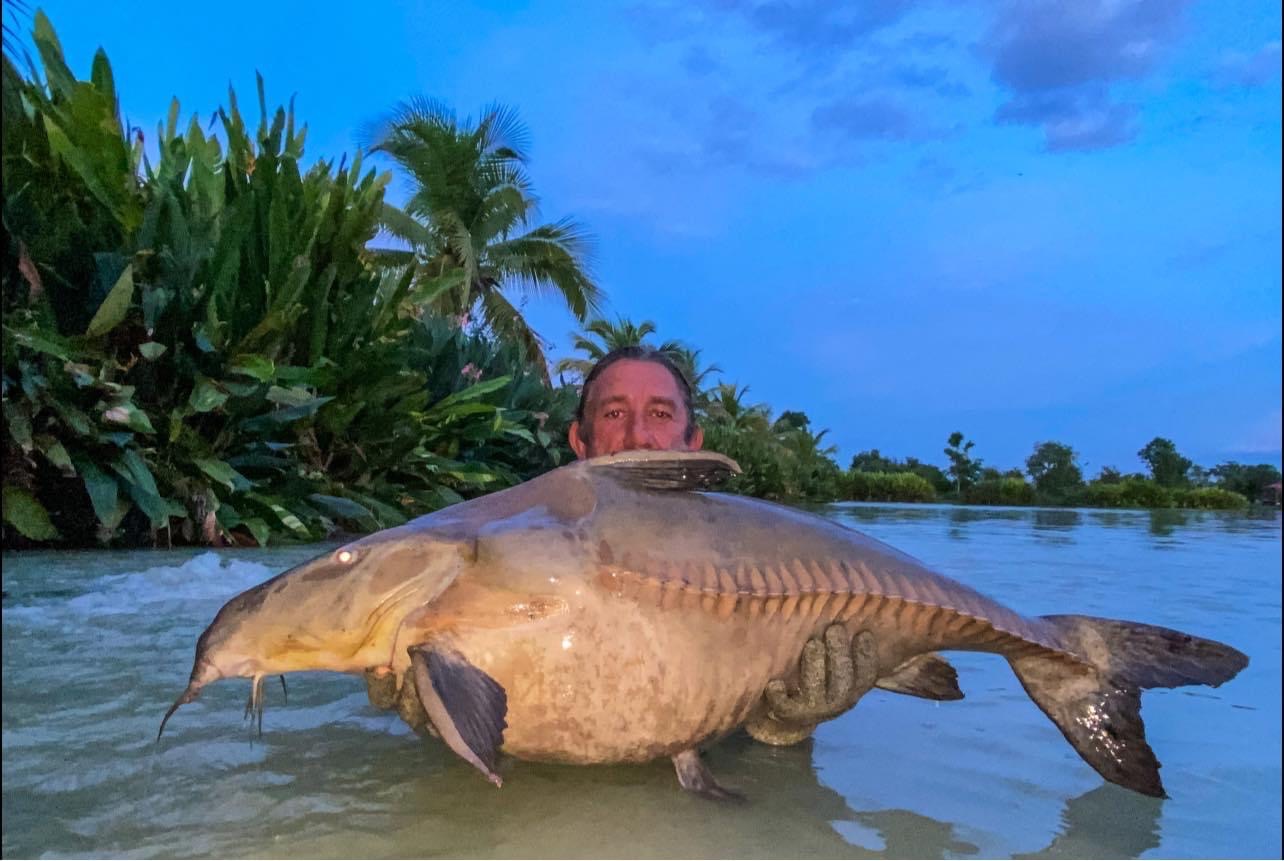 33. Giraffe Catfish  (Please ' CLICK HERE ' or on the photo below for more pictures)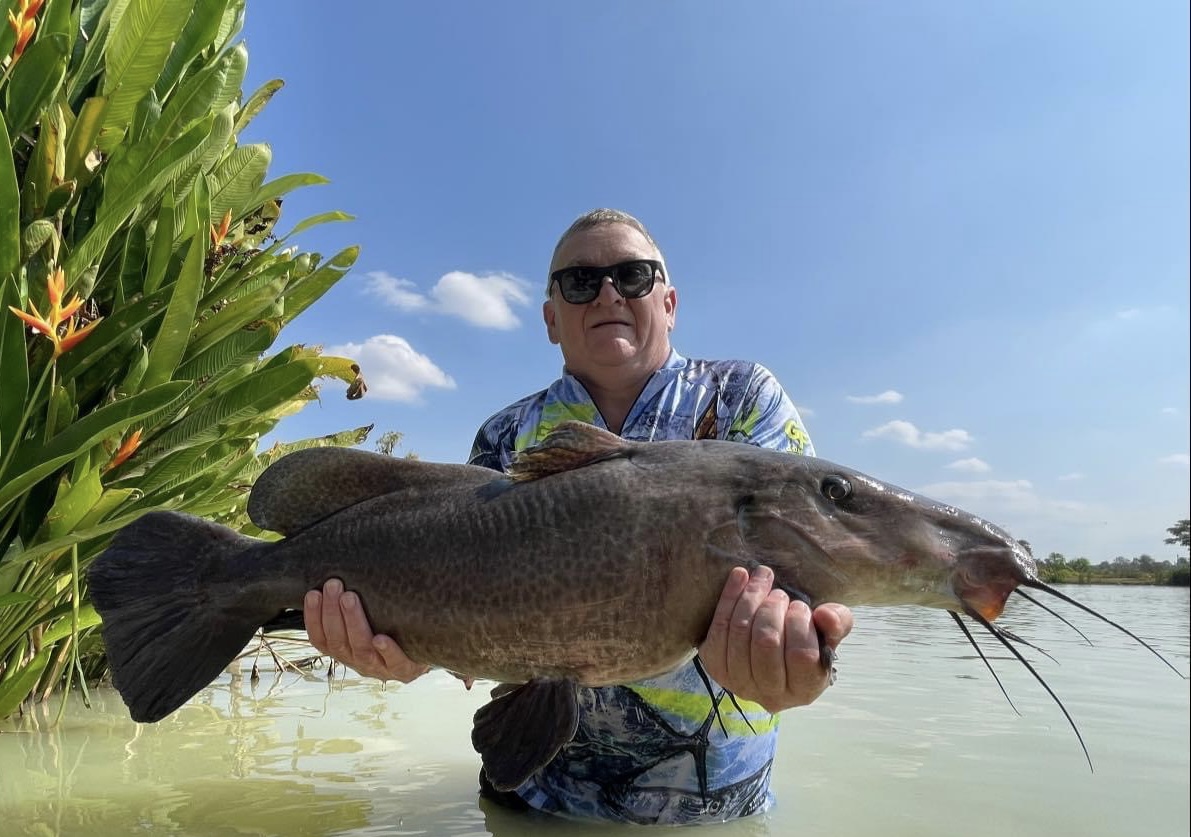 34. Chao Phraya Catfish – Pla Tepa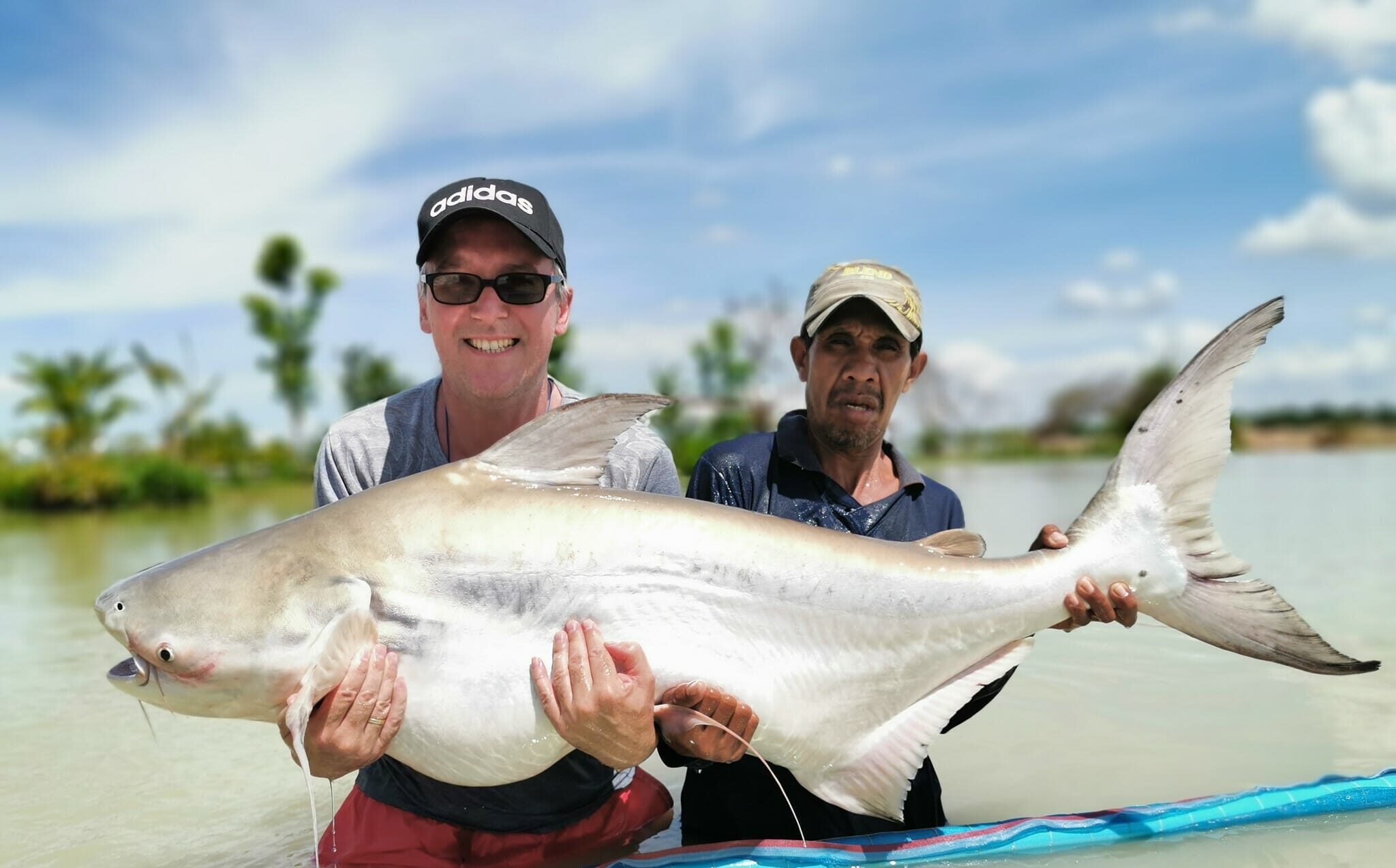 35. Atlantic Tarpon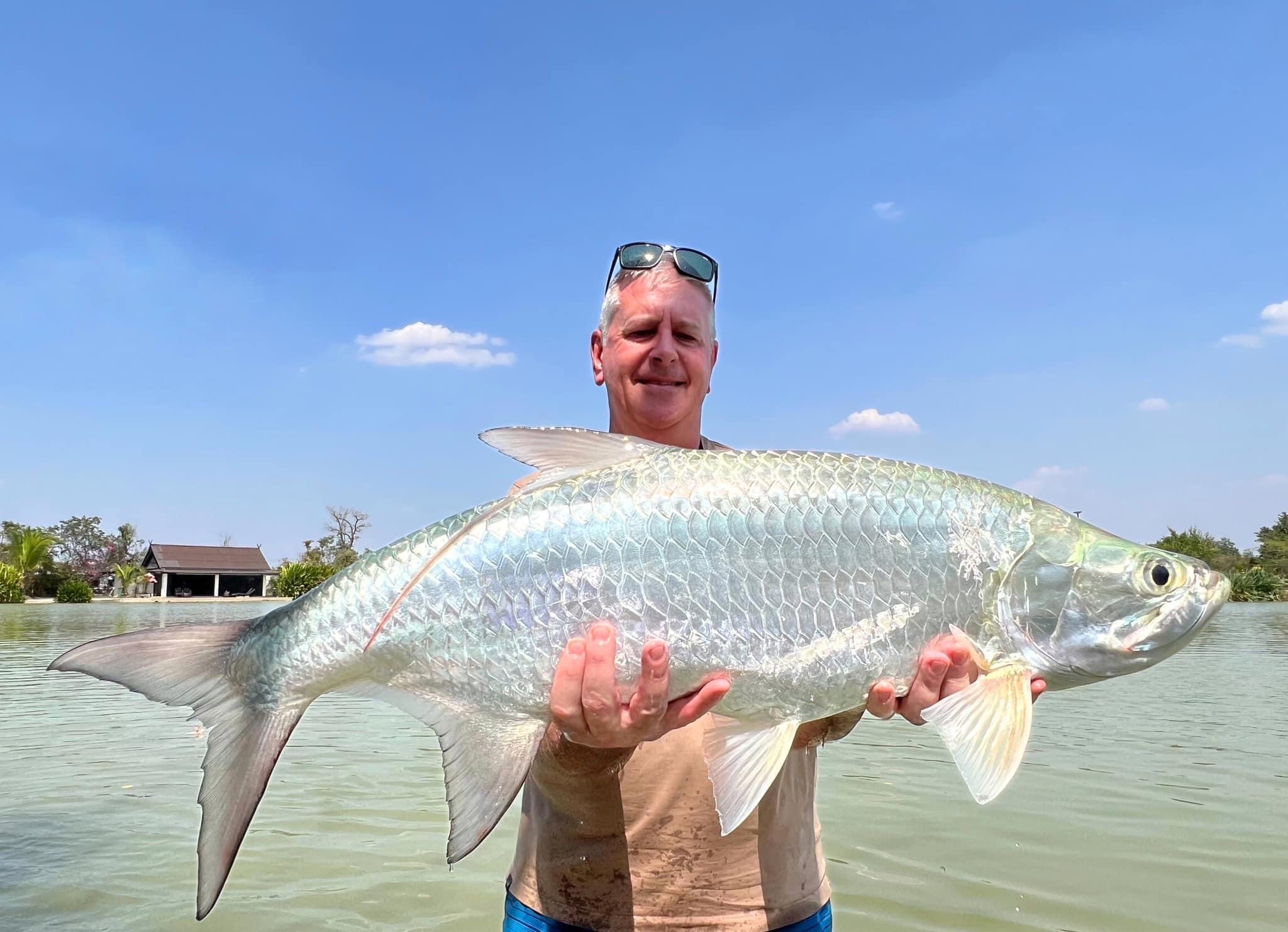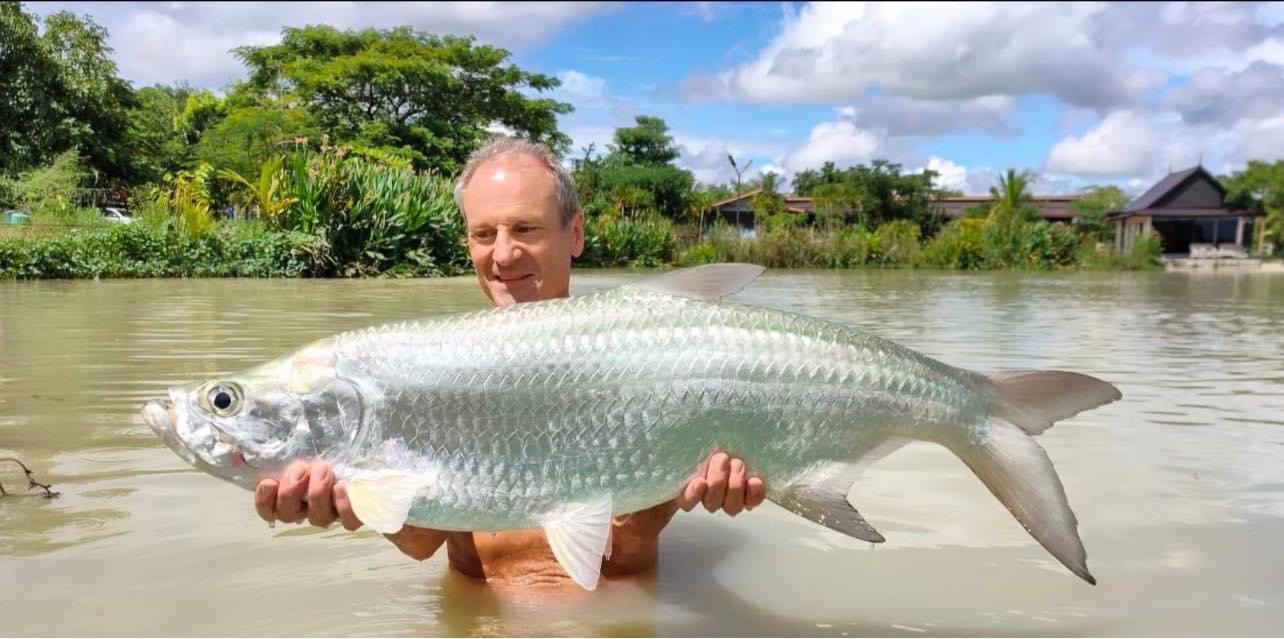 36. Brazilian Pintado – Spotted Sorubim Catfish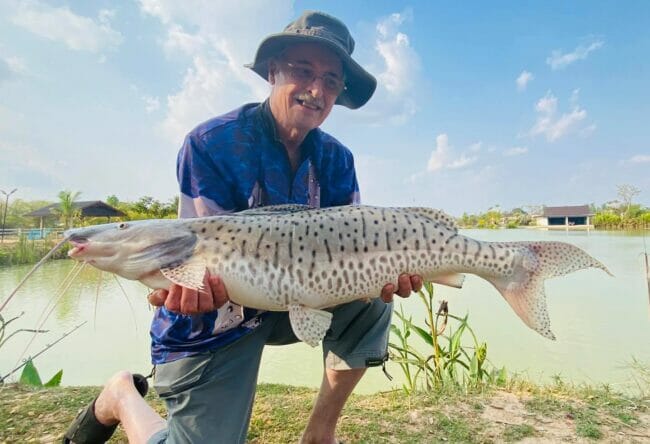 37. Salween Rita Catfish – Bla Moo Rita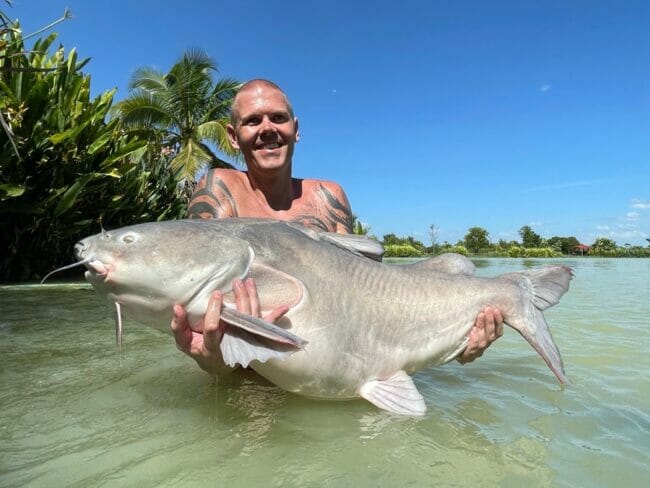 38. Salween Catfish – (Bla Kang Salween 0r Pla Kot Salawin)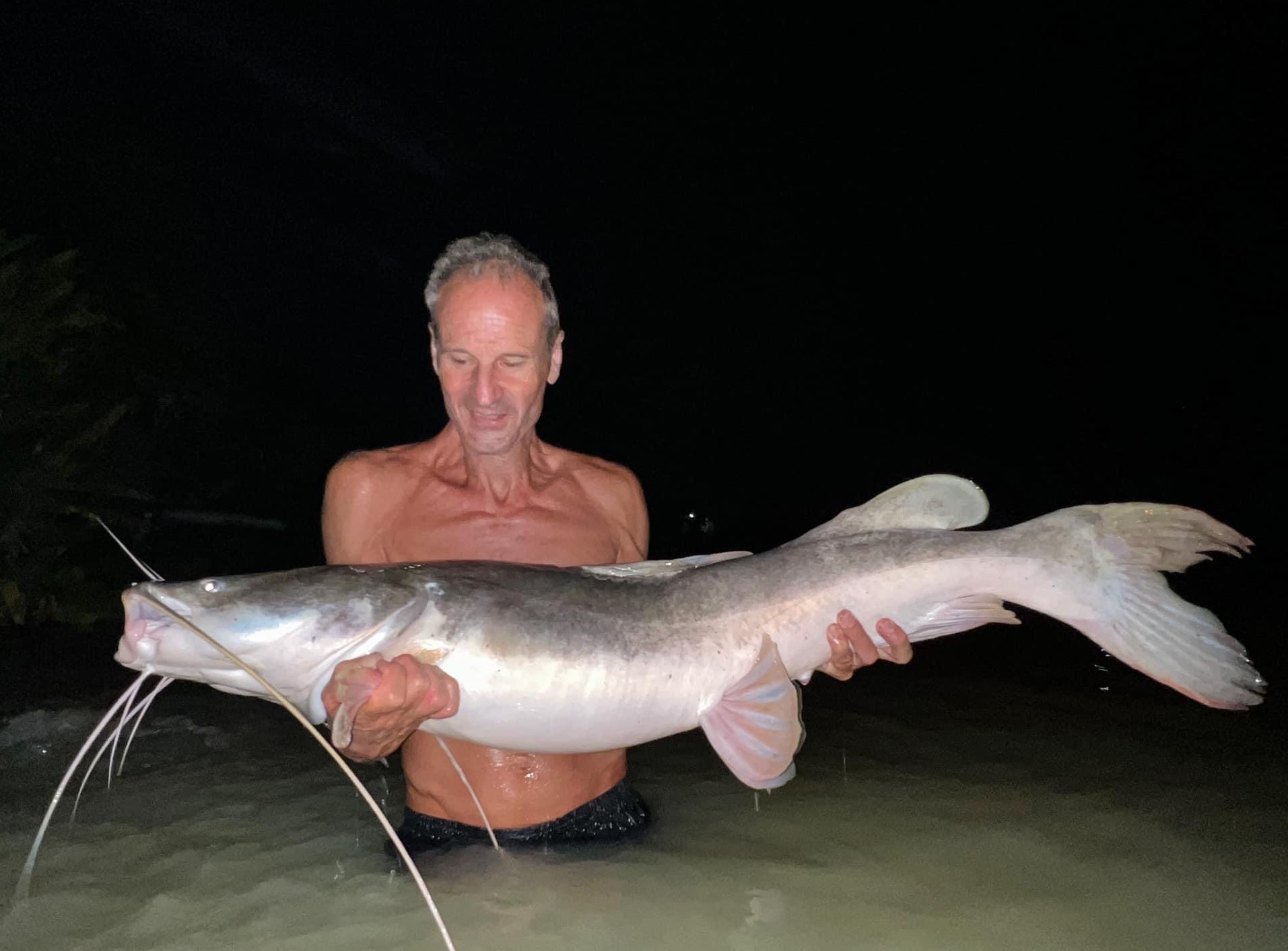 39. Tambaqui (Black Pacu) ( ' CLICK HERE ' or on the photo below for more pictures of our Tambaqui)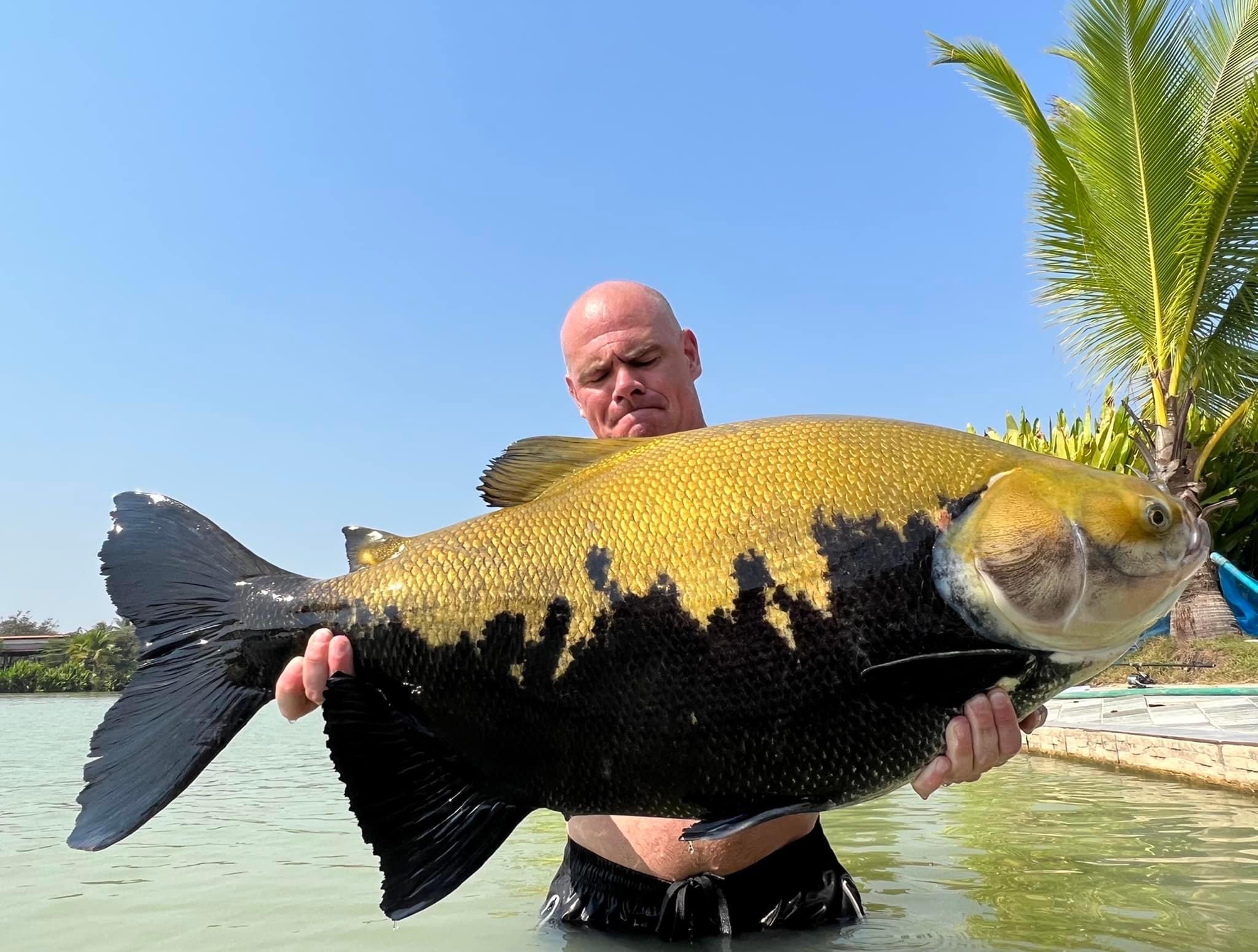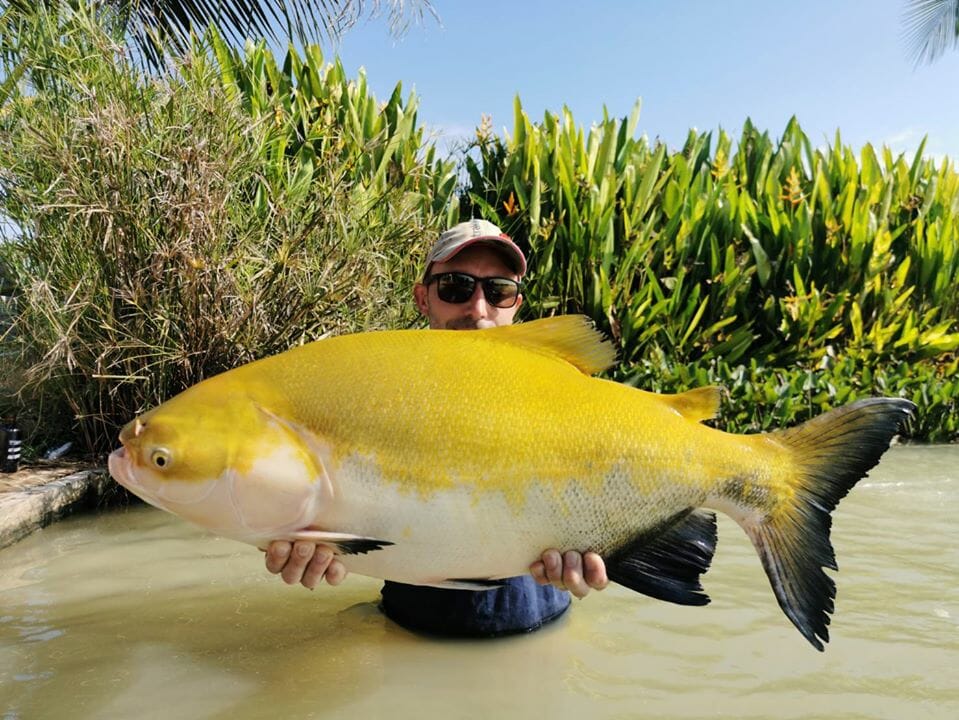 40. African Walking Catfish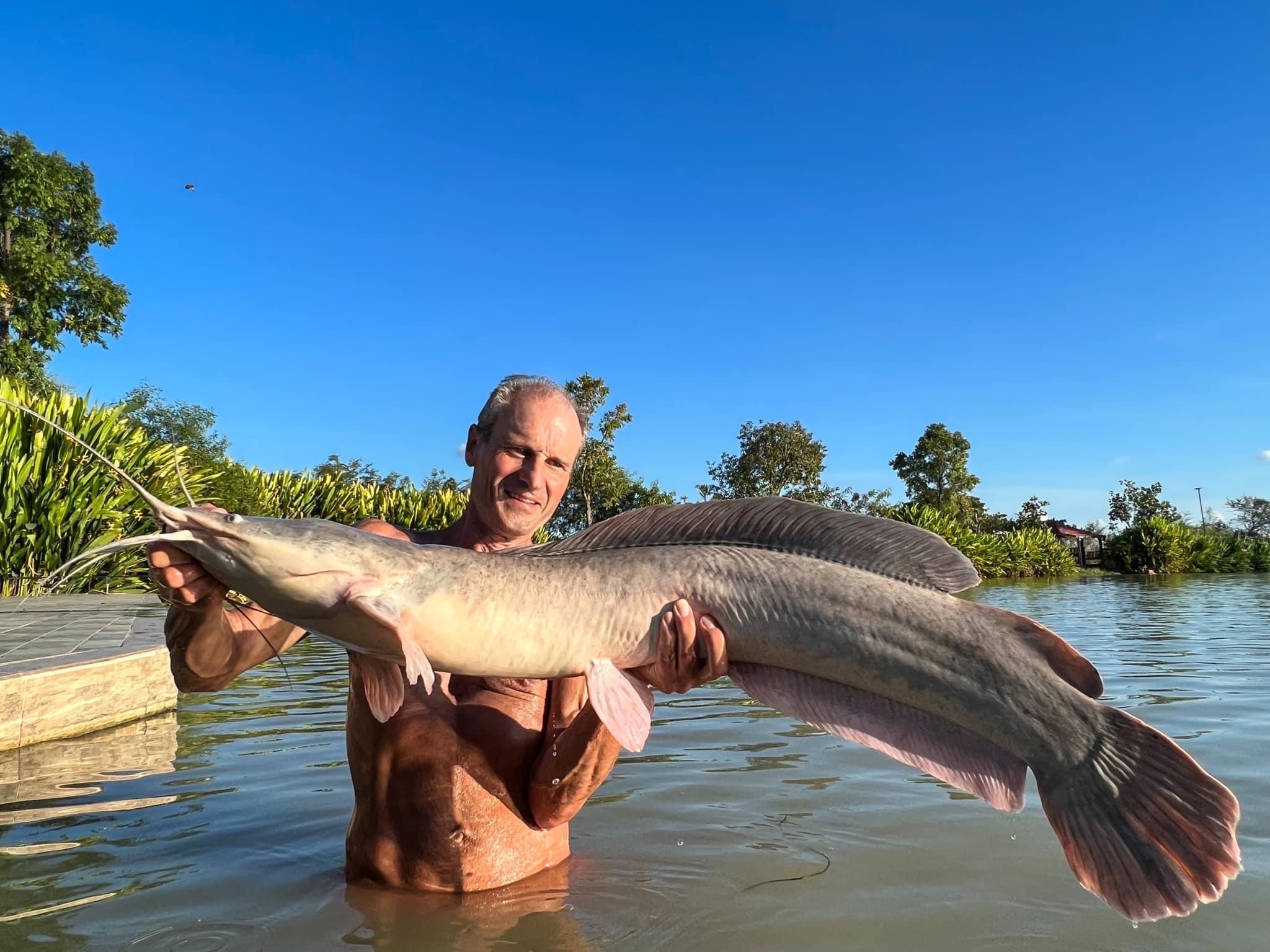 41. Giant Featherback – Fishing Holiday in Thailand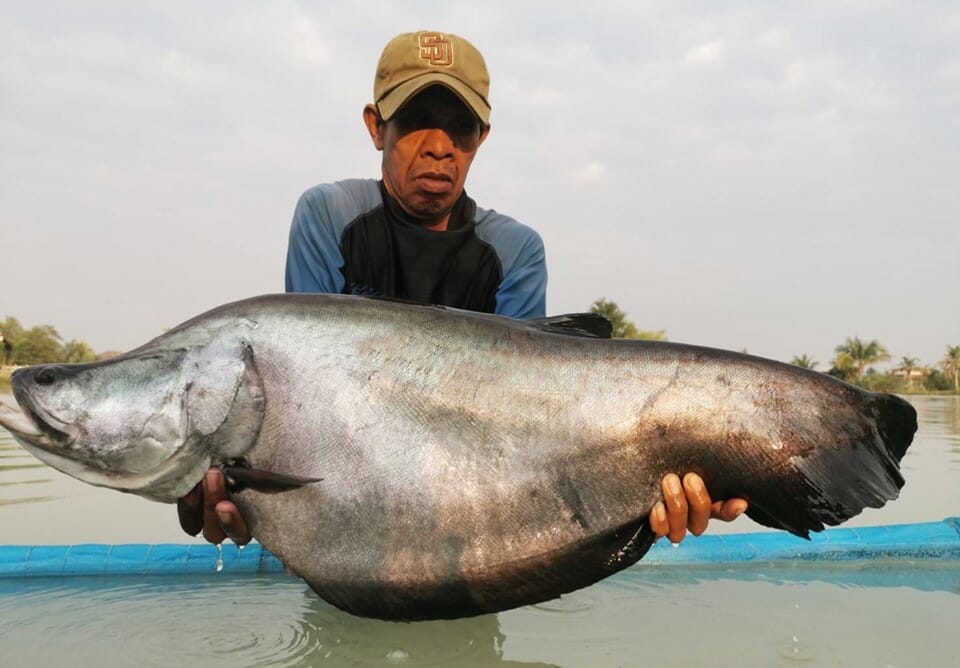 42.Wallago attu – Pla Krao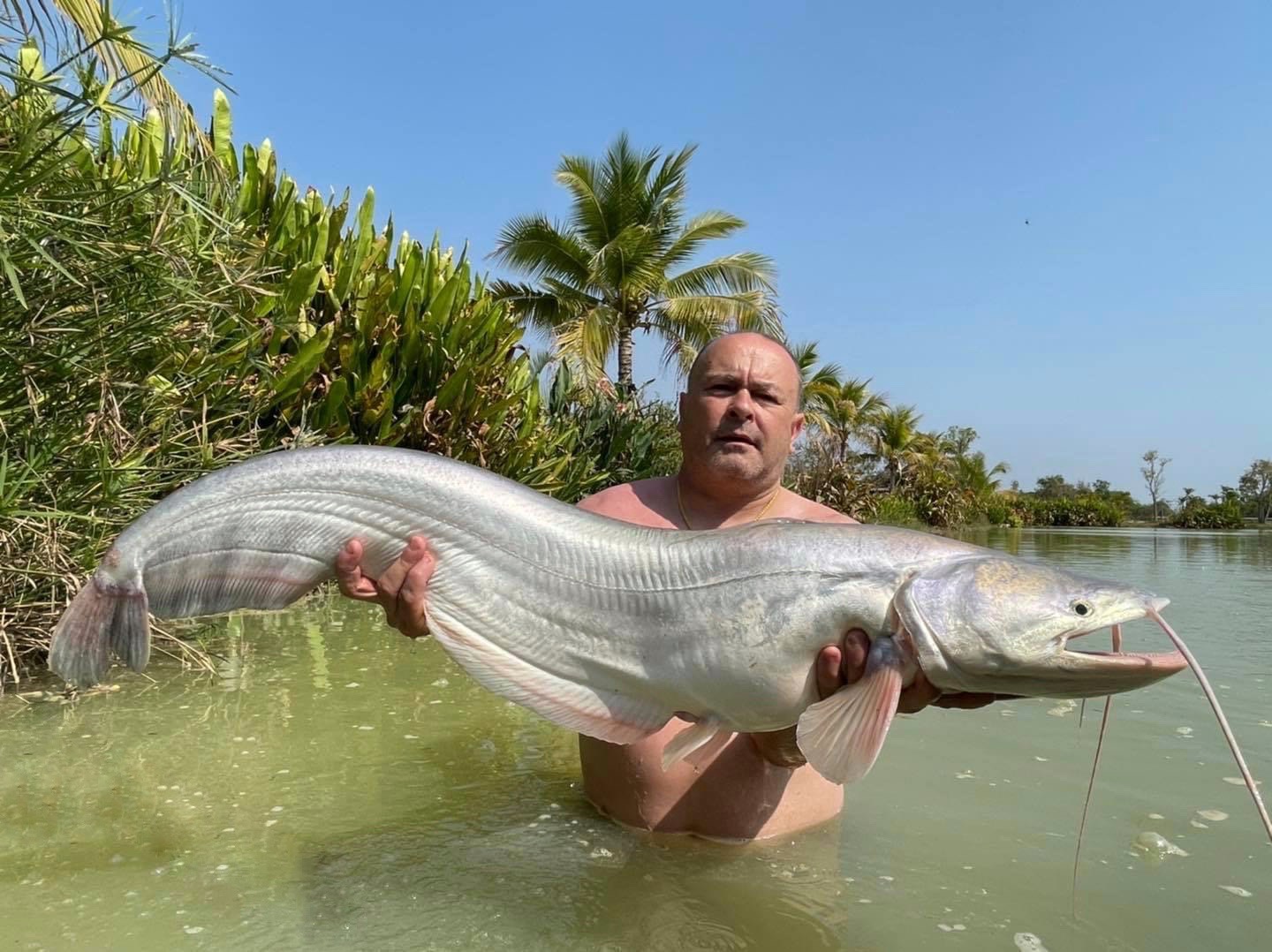 43. Amazon Redtail – Pla Amazon Daeng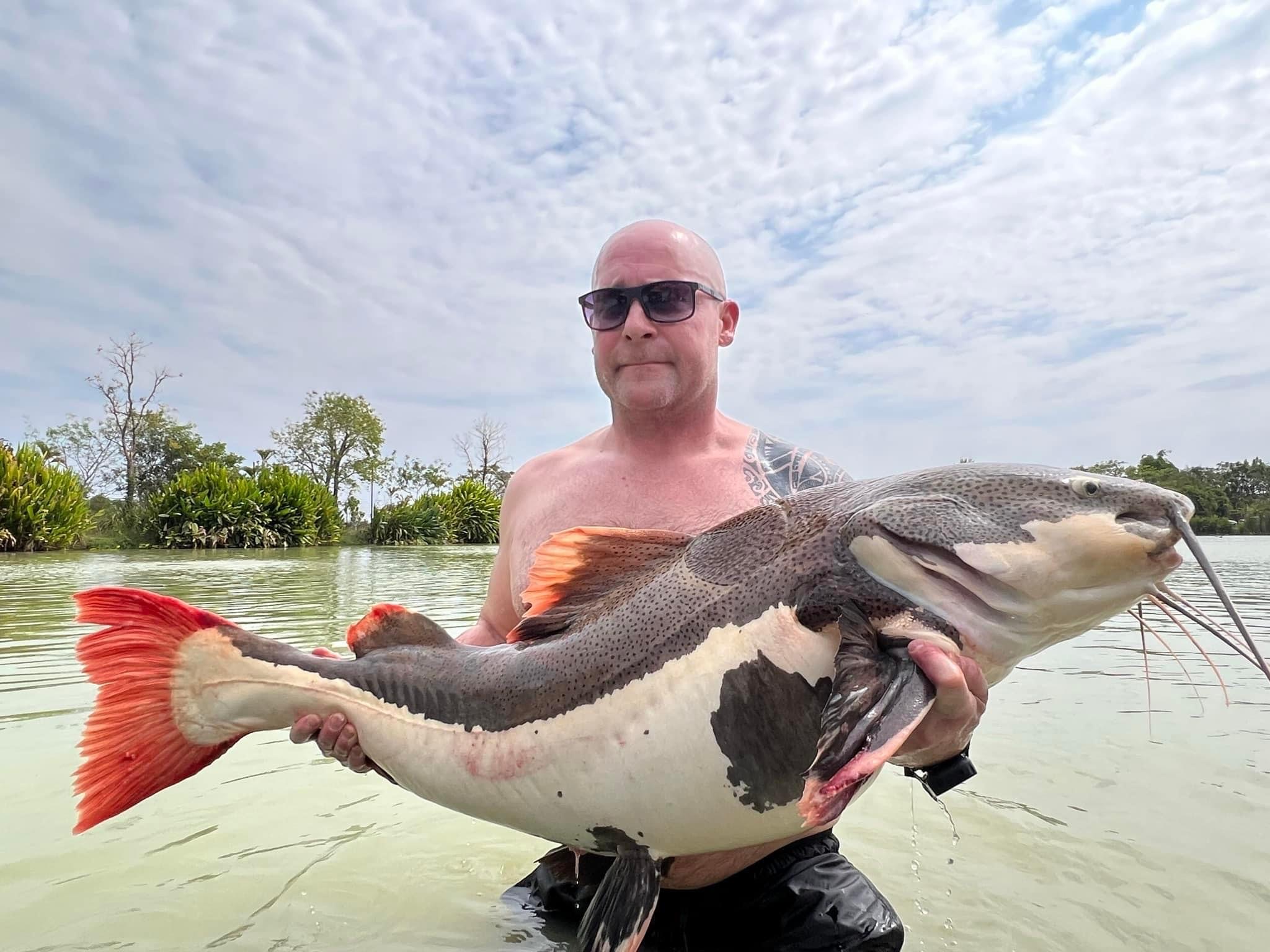 44. Sorubim Hybrid; Red-Tail – Tiger Catfish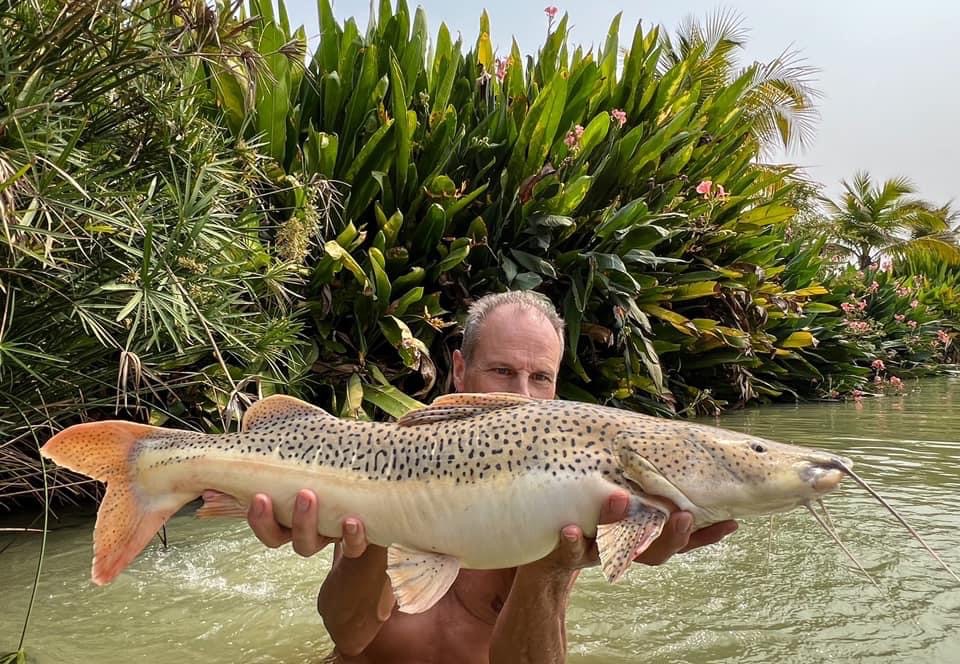 45. Piraíba catfish "lau lau" origin Amazon River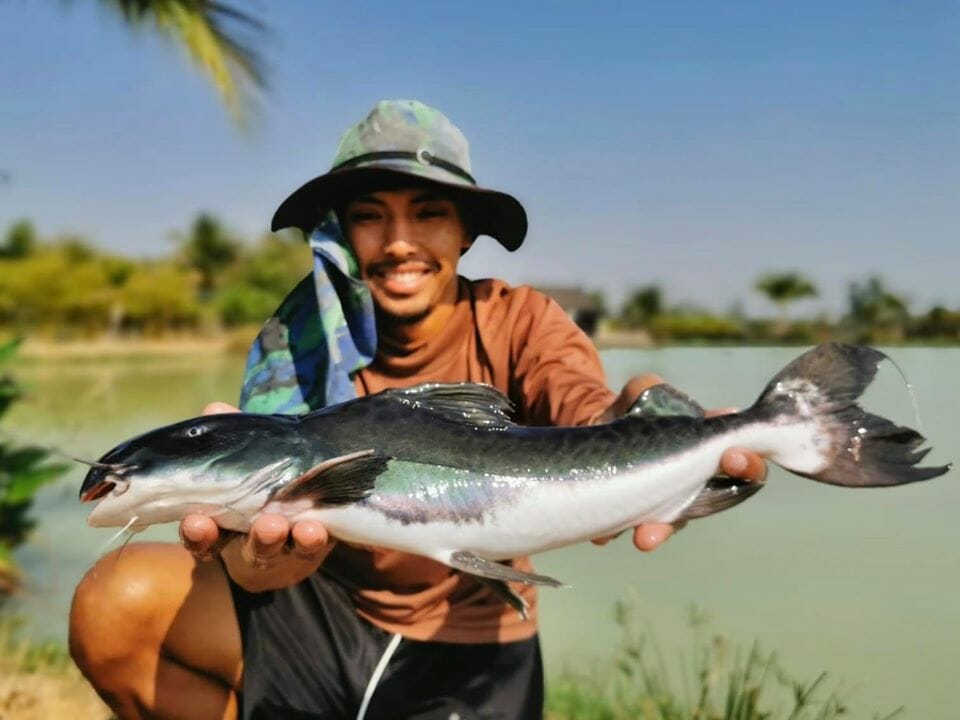 46.  Giant Gourami – Pla Lat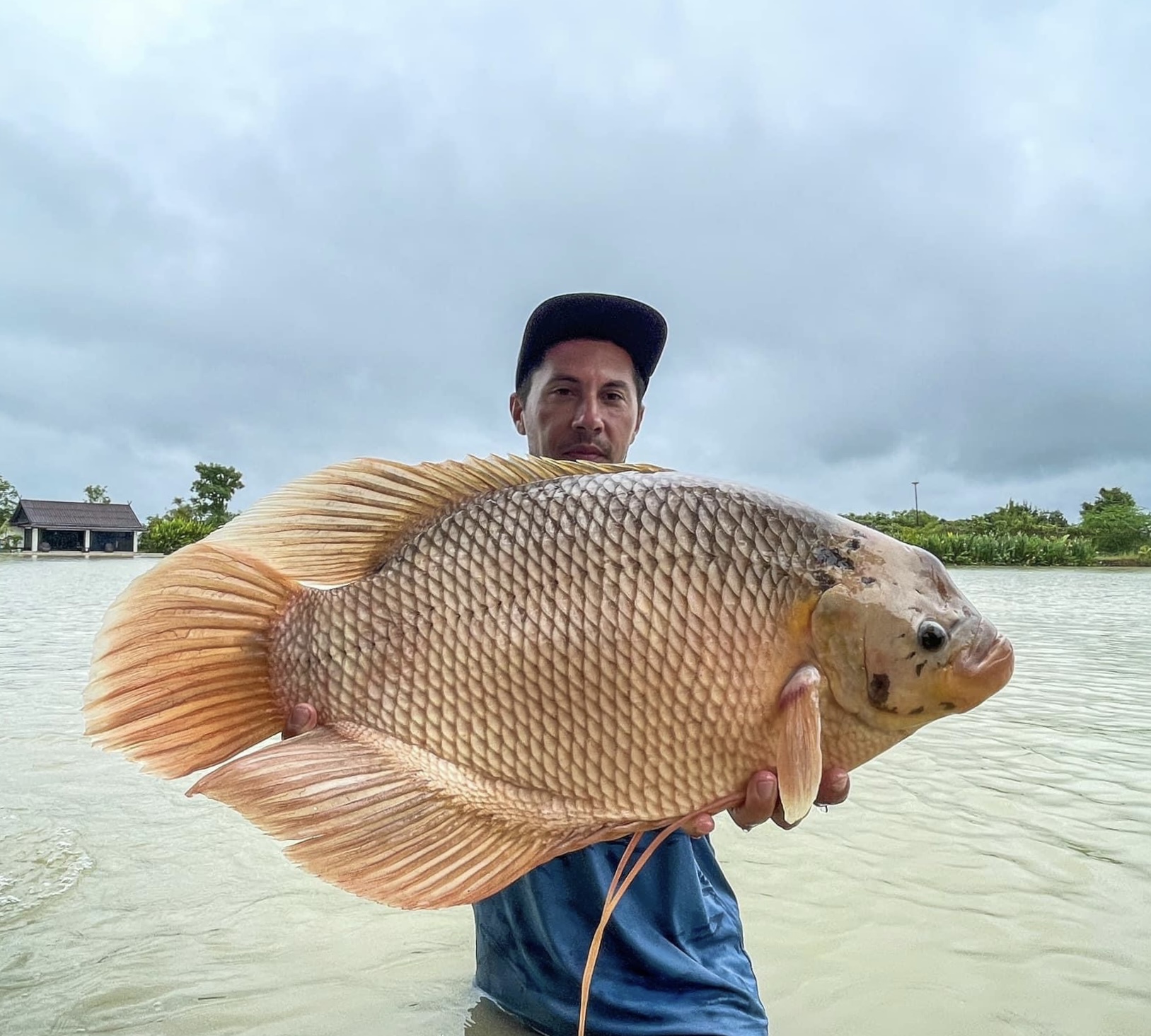 47. Albino Giant Gourami – Pla Lat Puek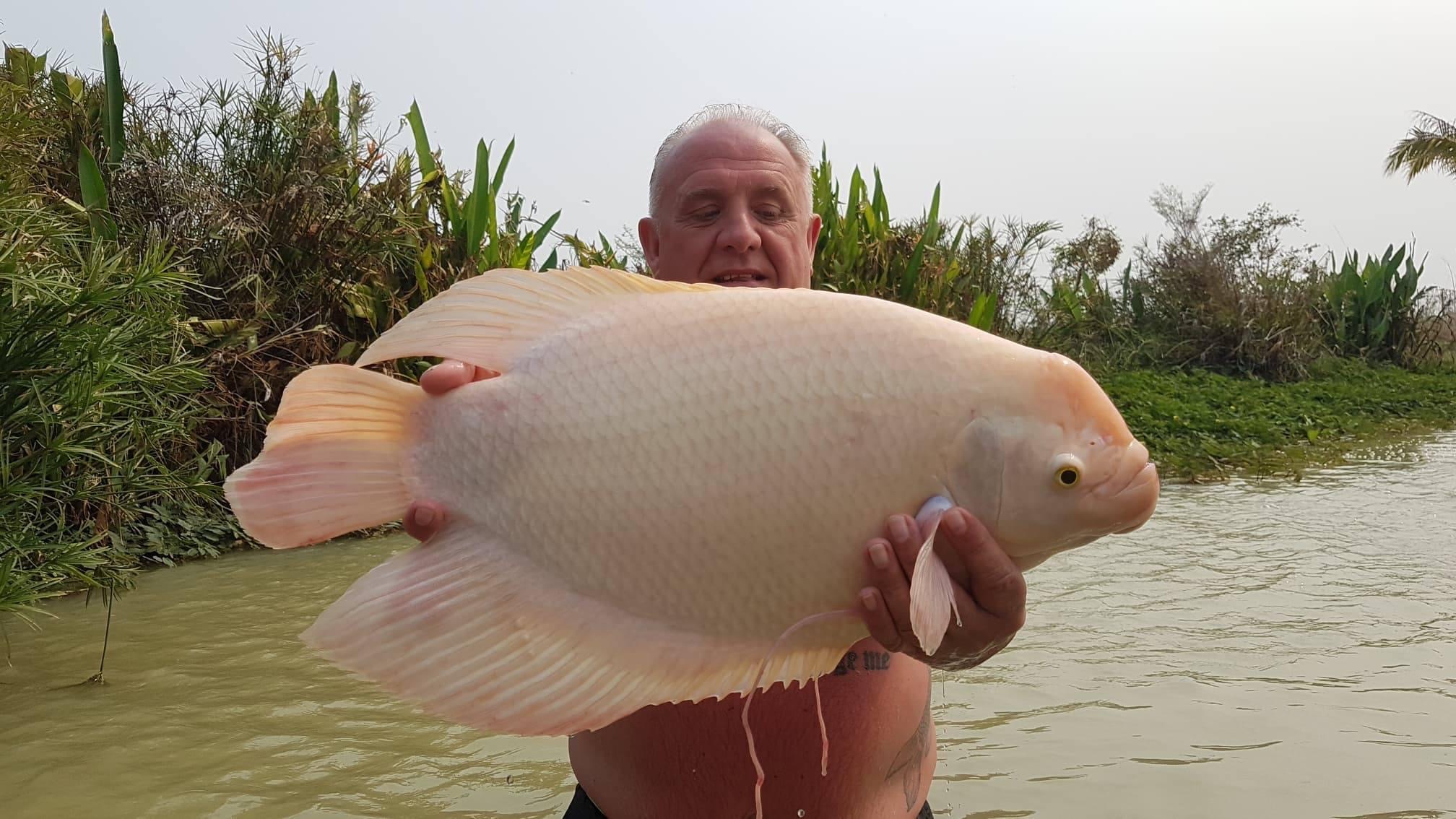 48. Albino Striped Catfish – Pla Sawai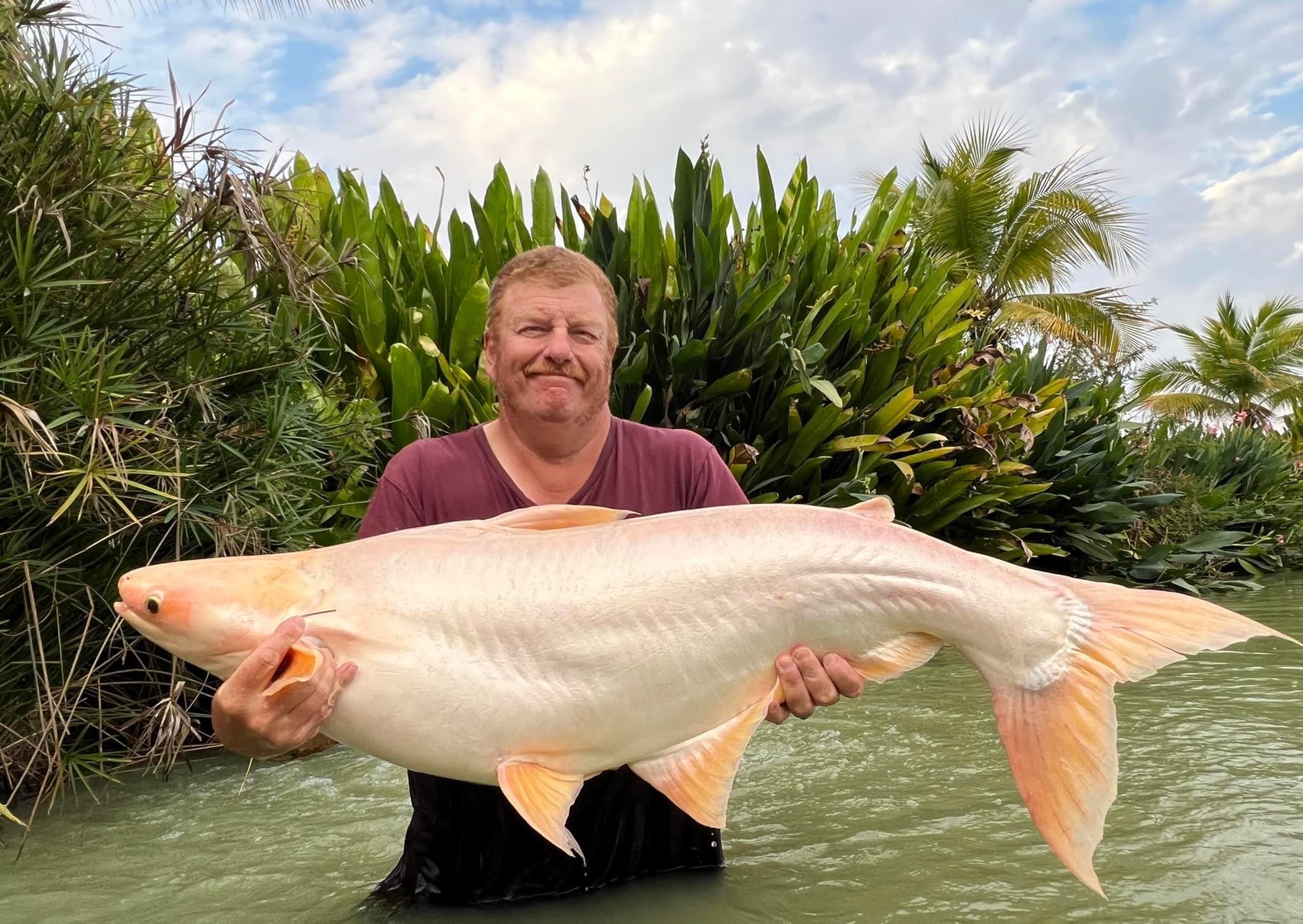 49. Black Ear Catfish (Pla tepo)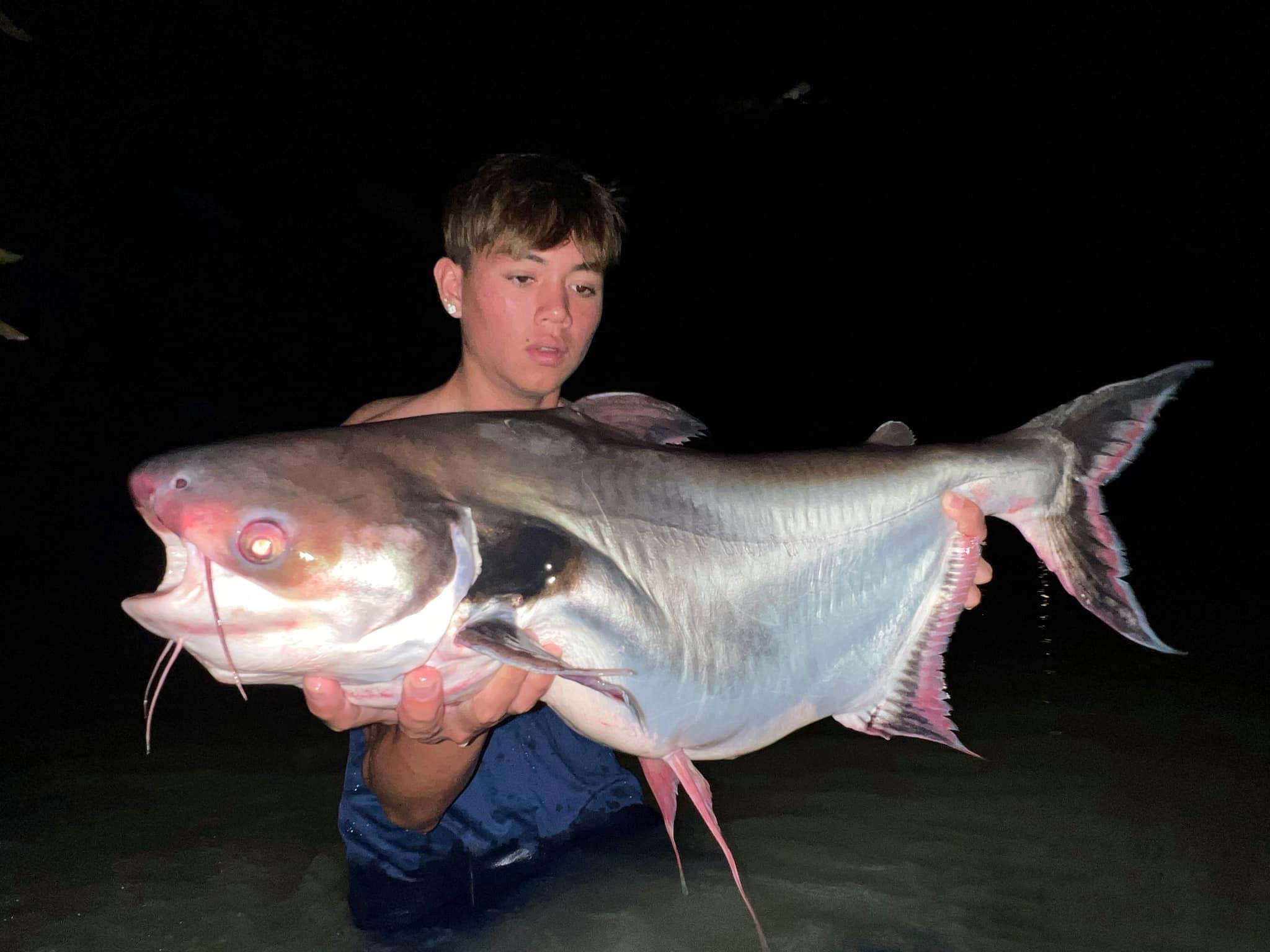 50. Flagtail / Kissing Prochilodus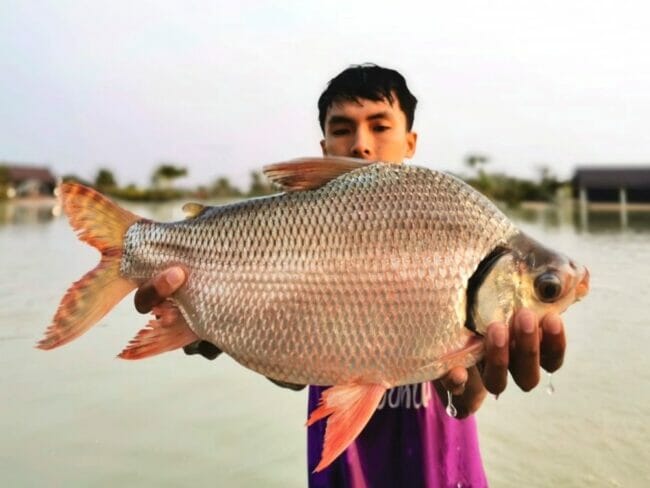 51. Sheatfish – Twisted Jaw – Fishing Holiday in Thailand
52. Walking catfish – Pla Dug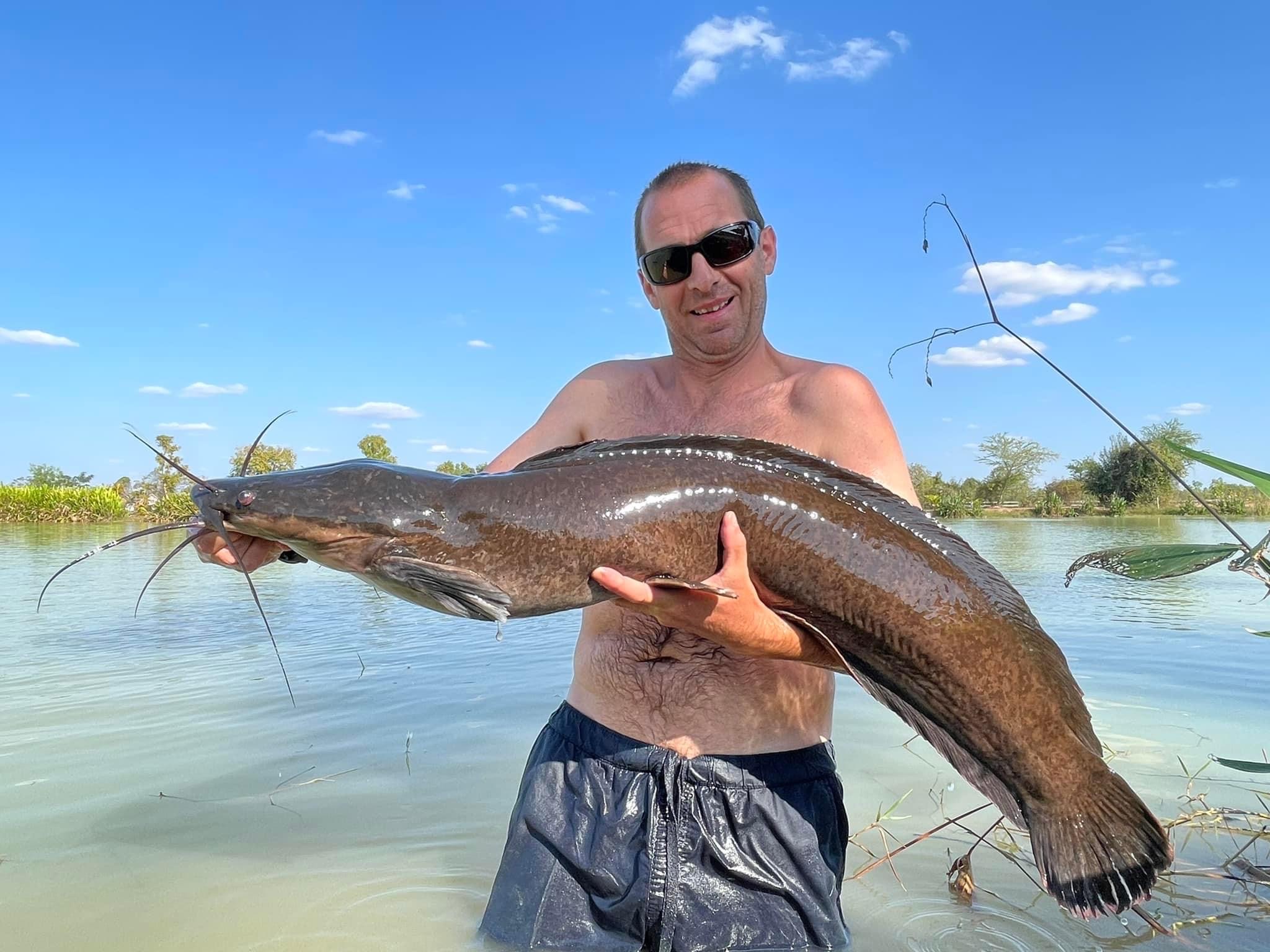 53. Alligator Gar – Pla jarakay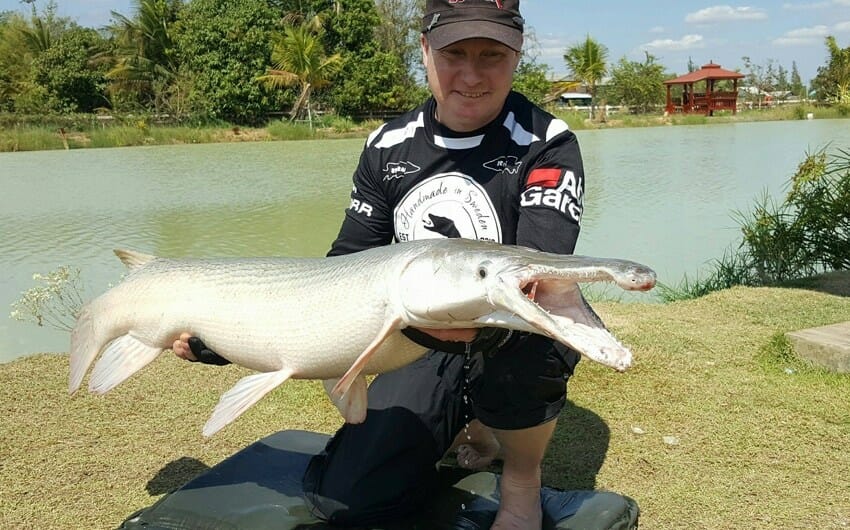 54. Asian Redtail Catfish – Pla hang Daeng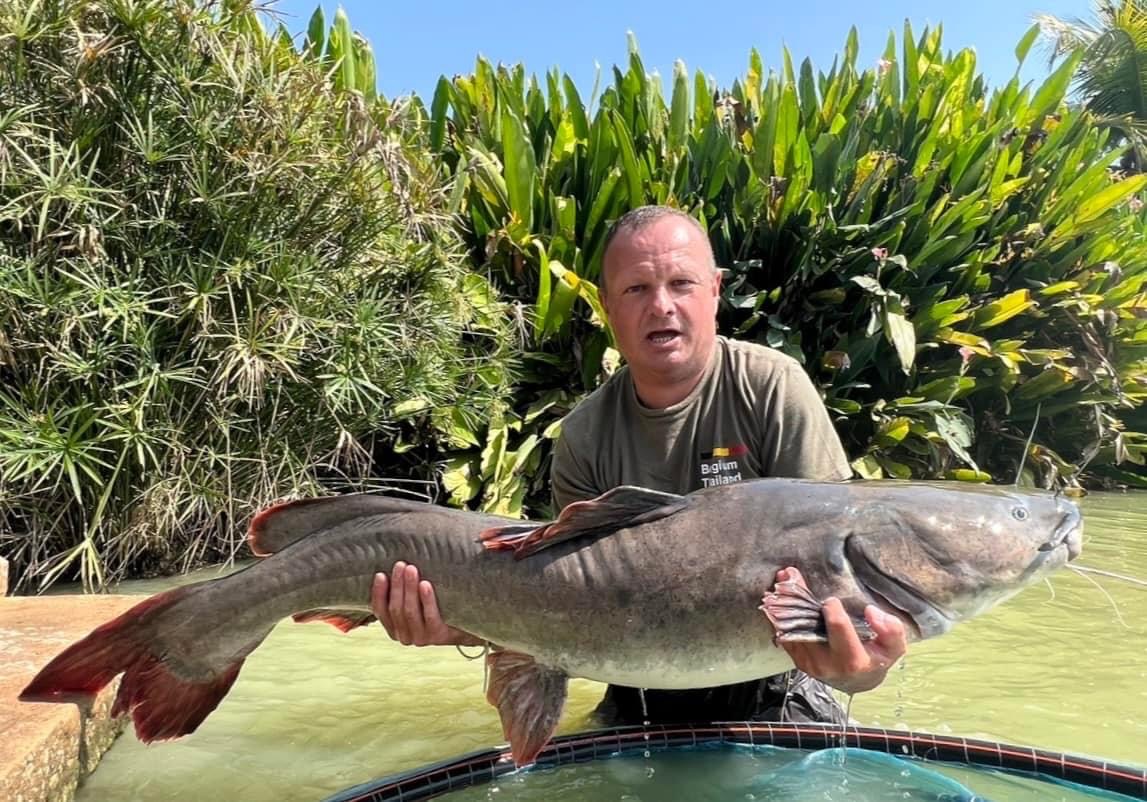 55. Clown Featherback – clown knife fish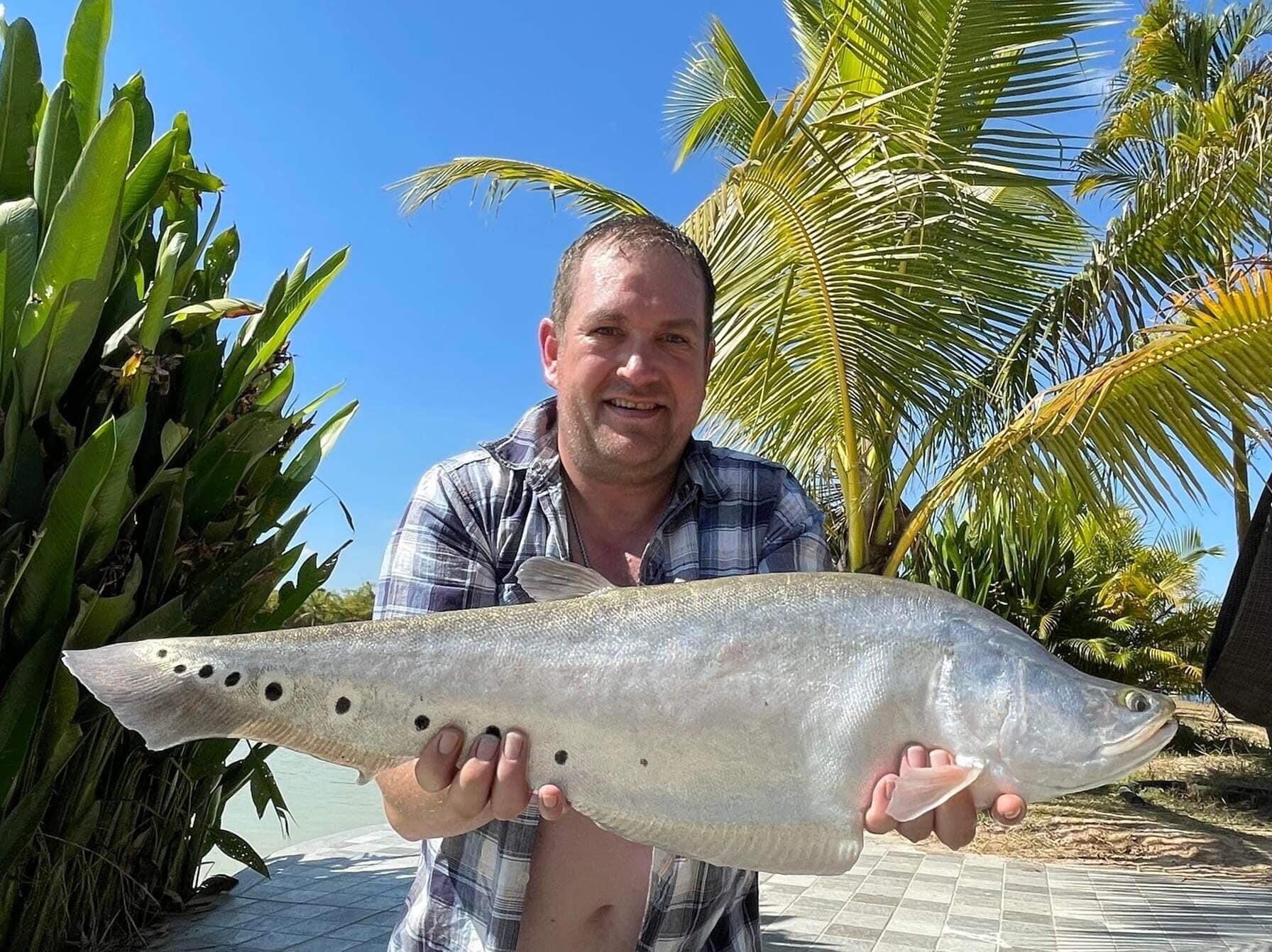 56. Platinum Mekong Knife fish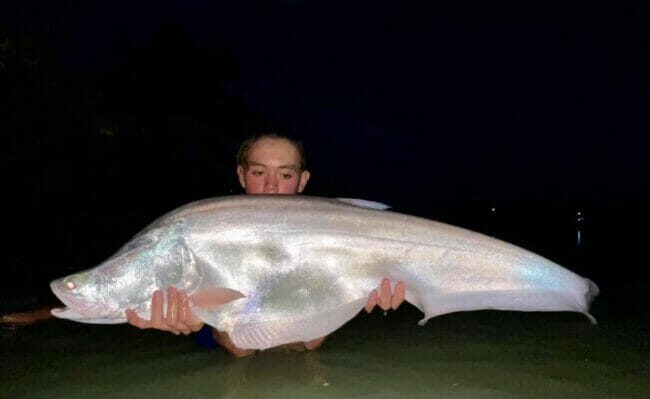 57. Royal Clown Knife (Chitala Blanchi)
58. Striped Catfish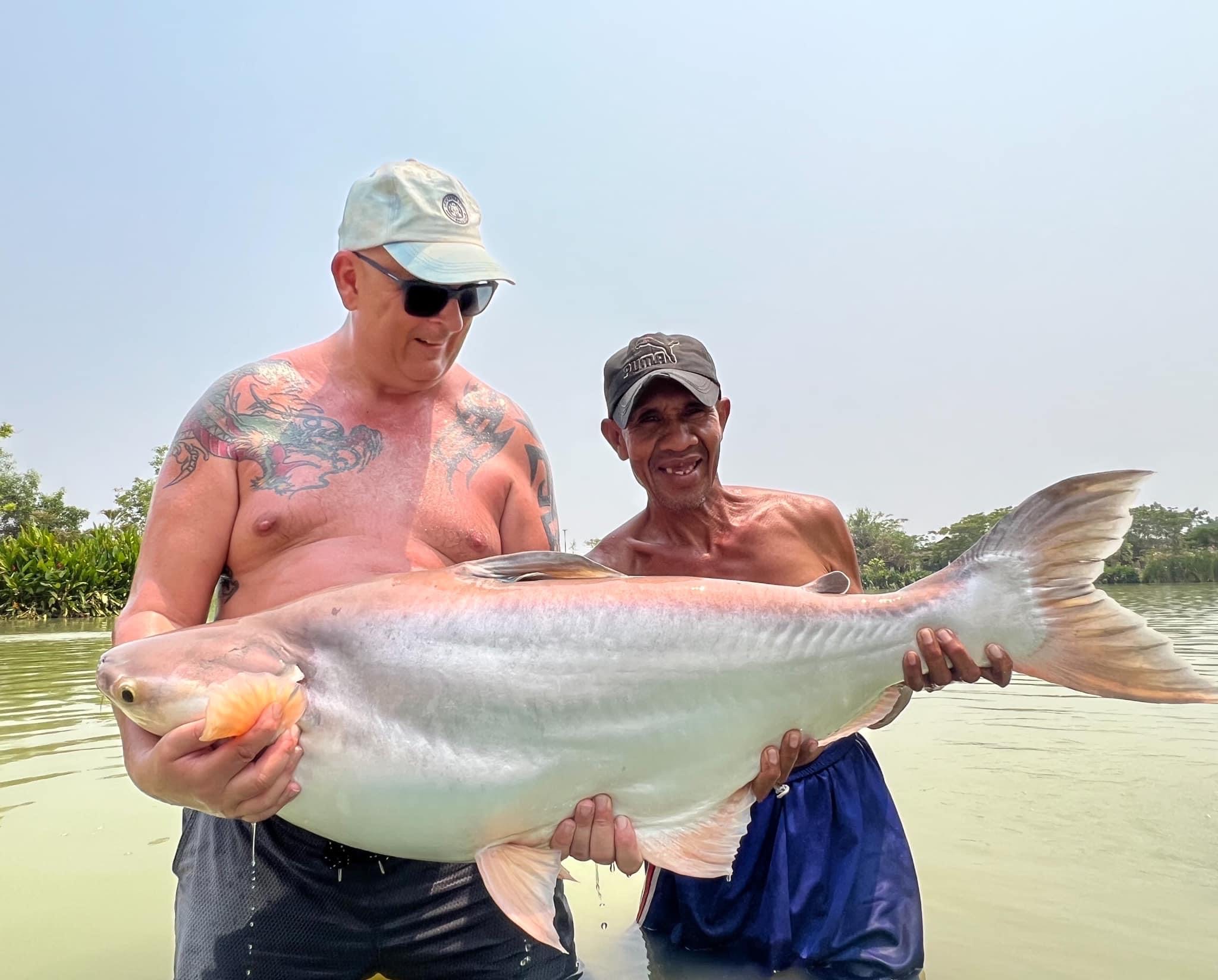 59. Short Boby Striped Catfish
60. Barramundi   – Pla Kapong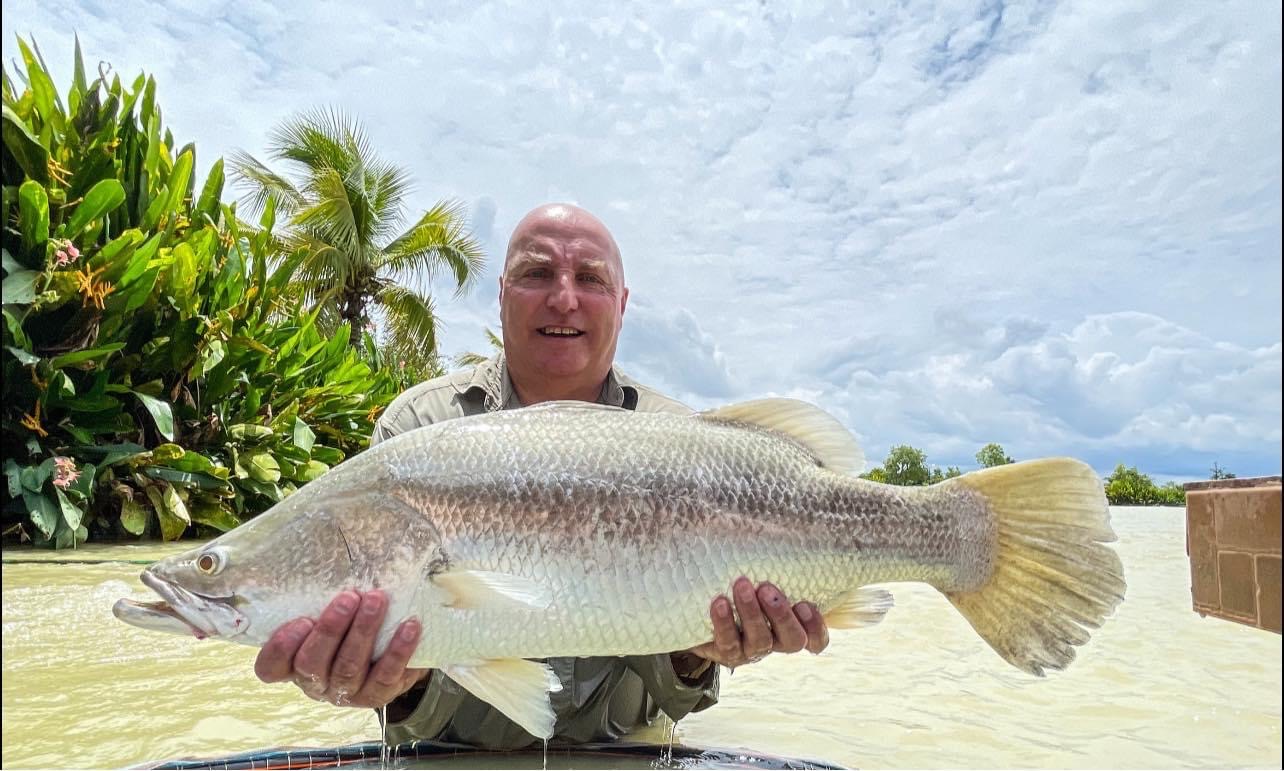 61. Thai Shark Catfish / Mollycot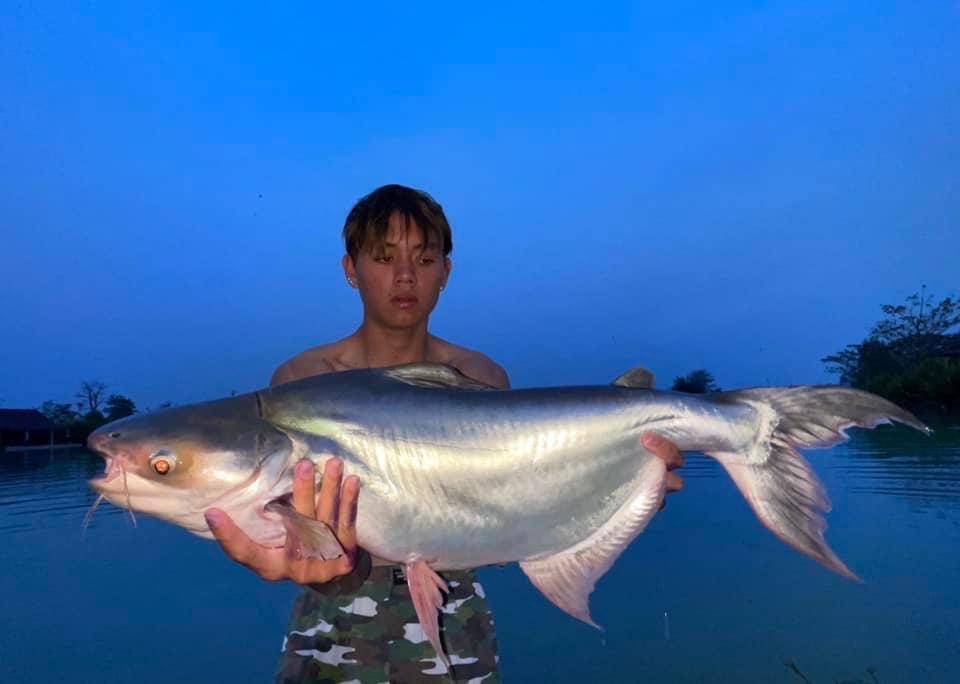 62. Shovelnose Tiger Catfish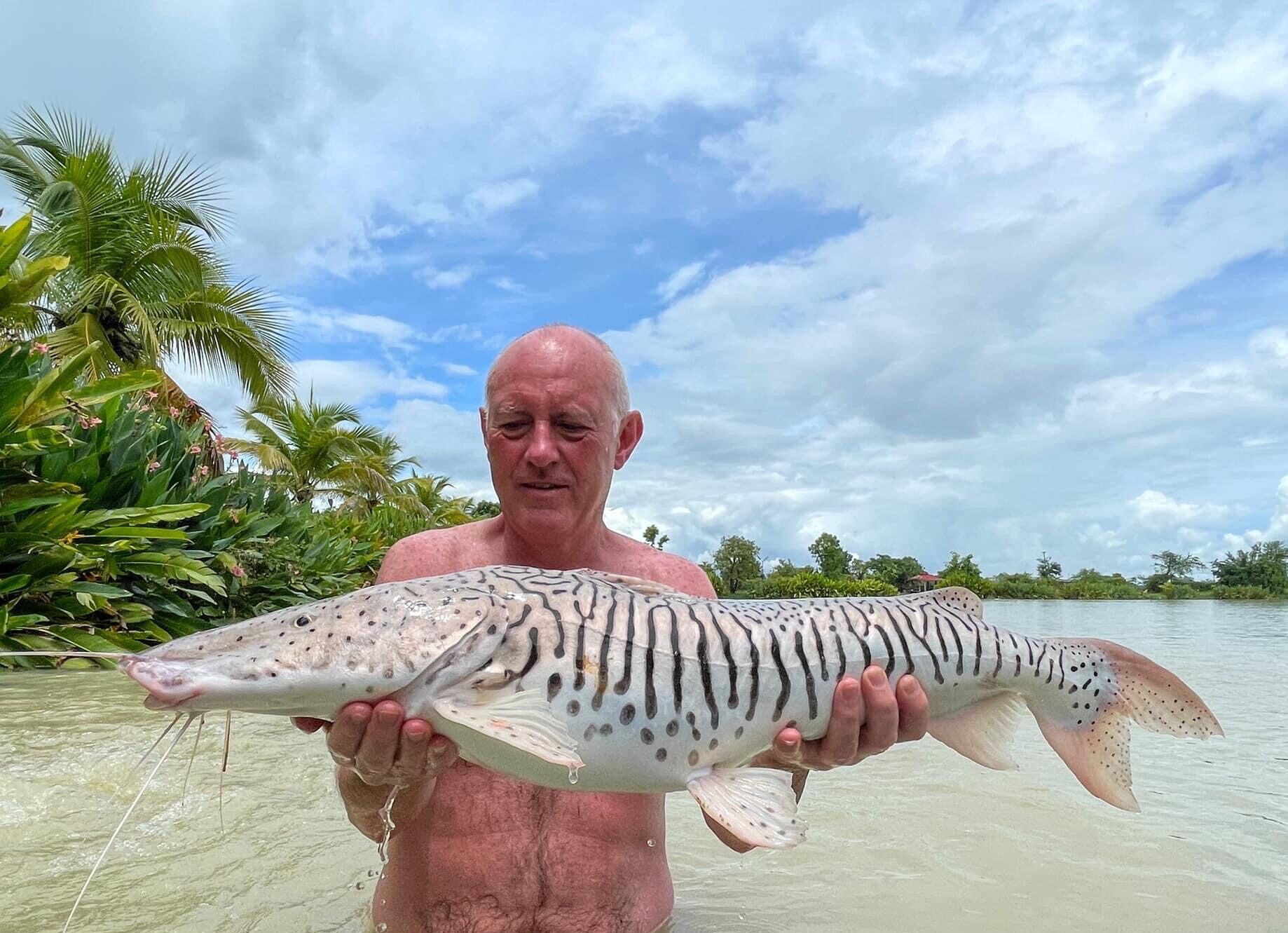 63. Pacu – Pla jaramet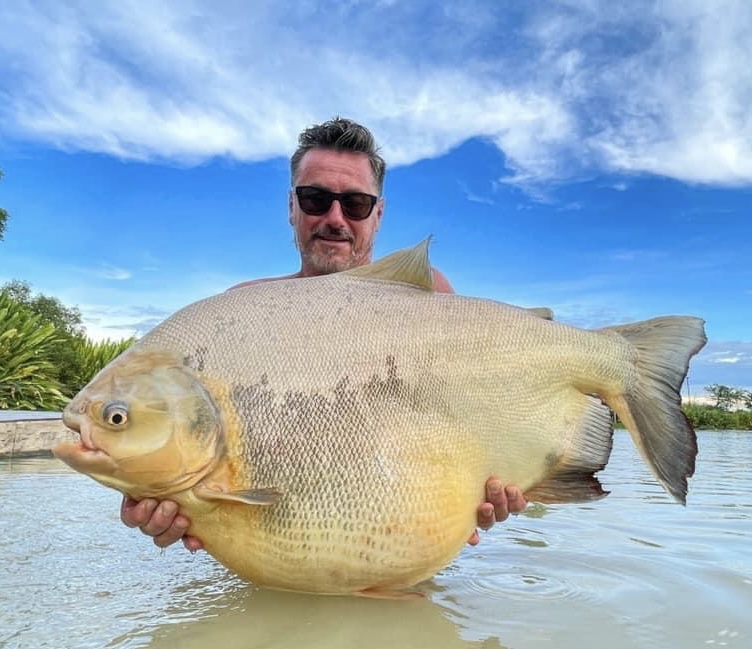 64. Albino Pacu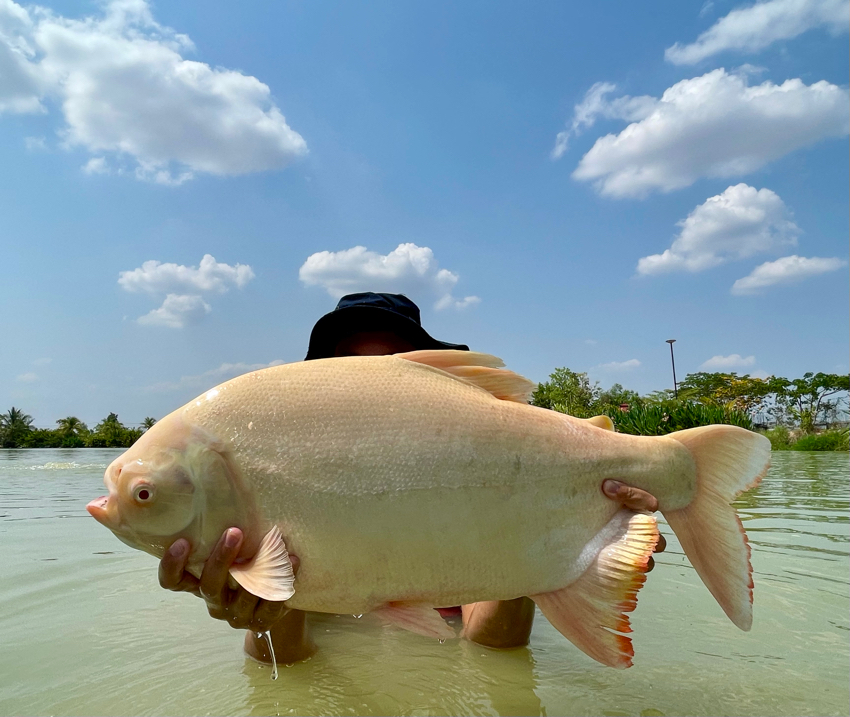 65. Nile Tilapia – Pla Nin (up to 6kg)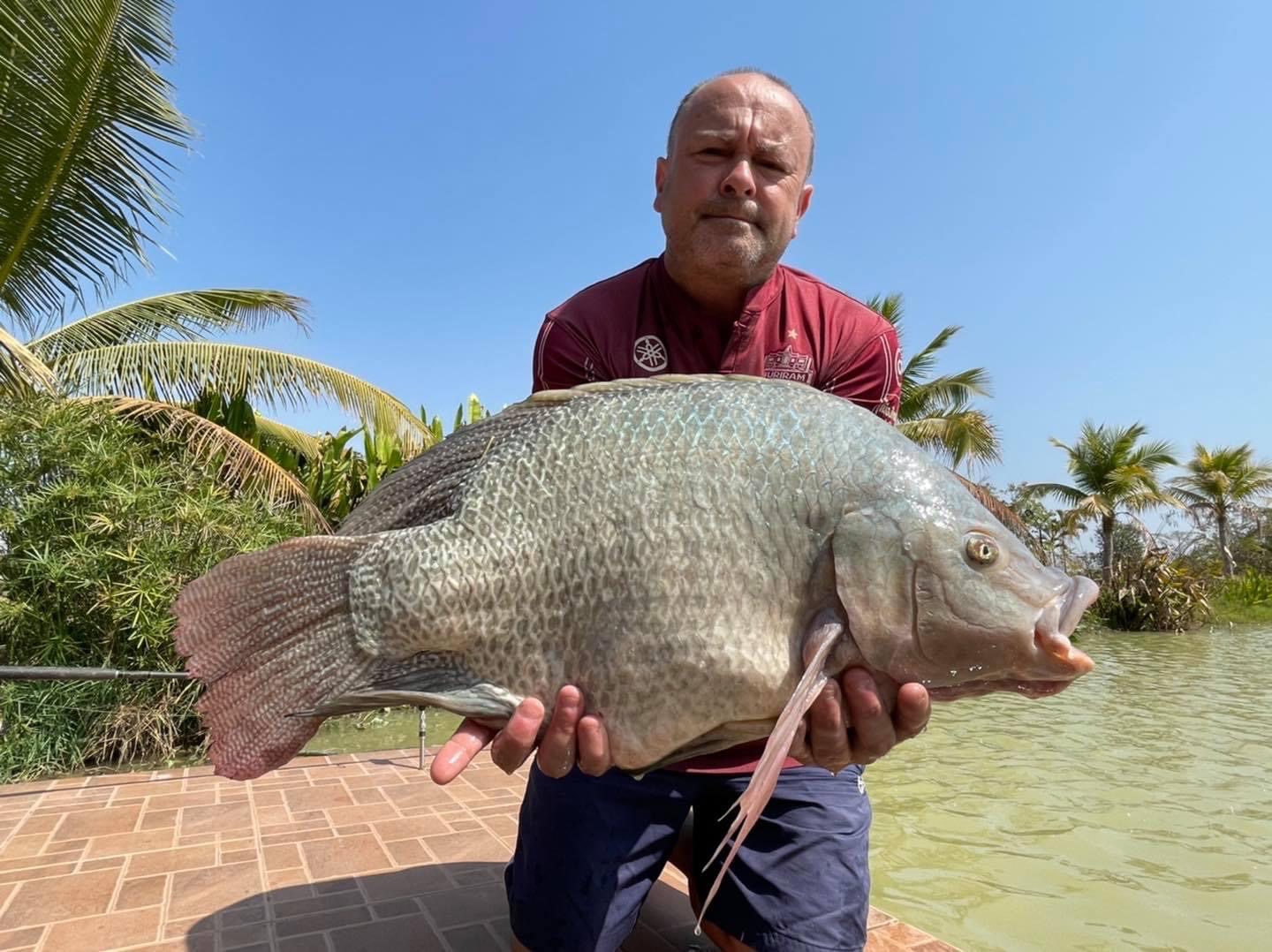 66. Java Barb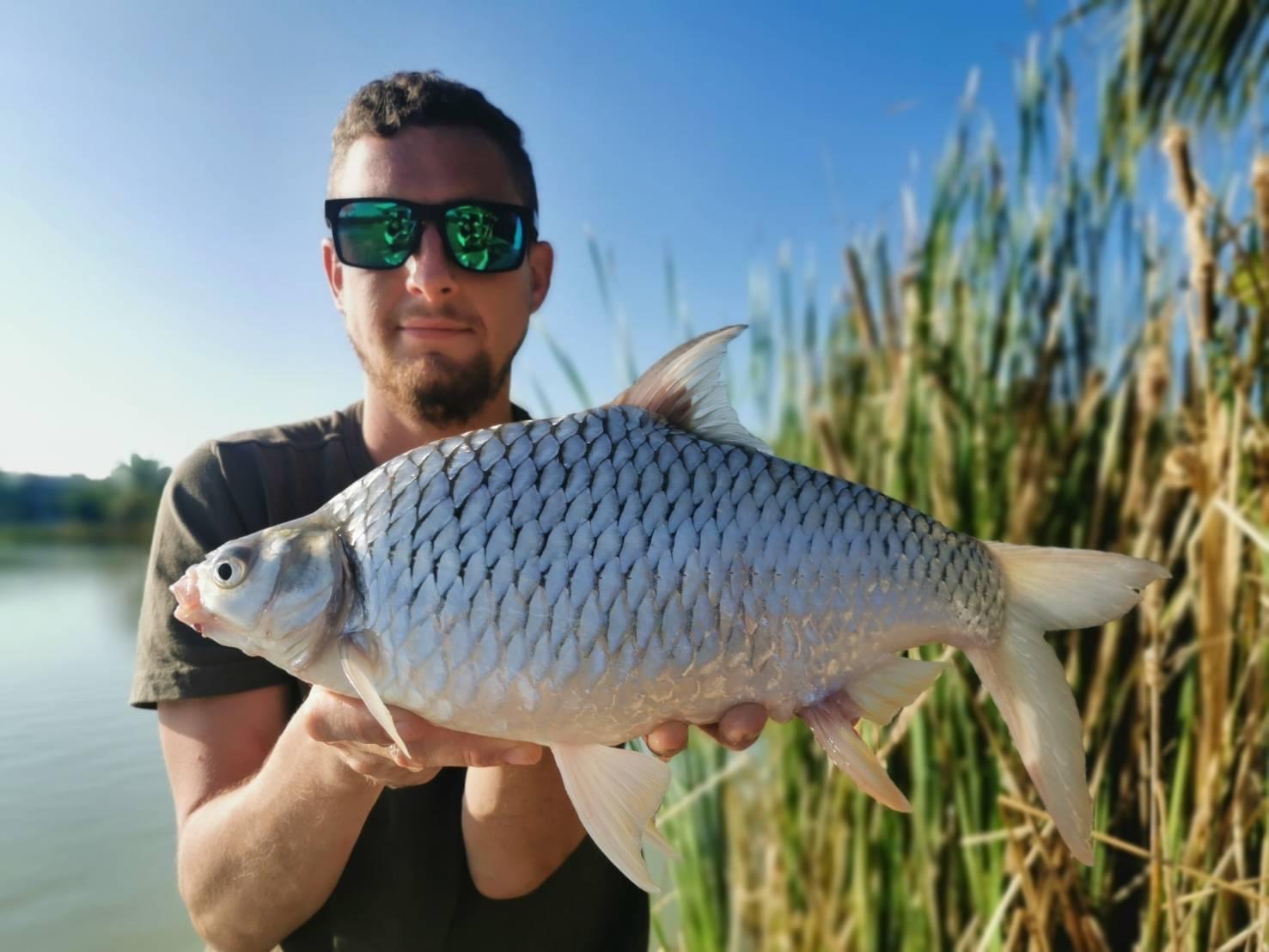 67. Goldfin Tinfoil Barb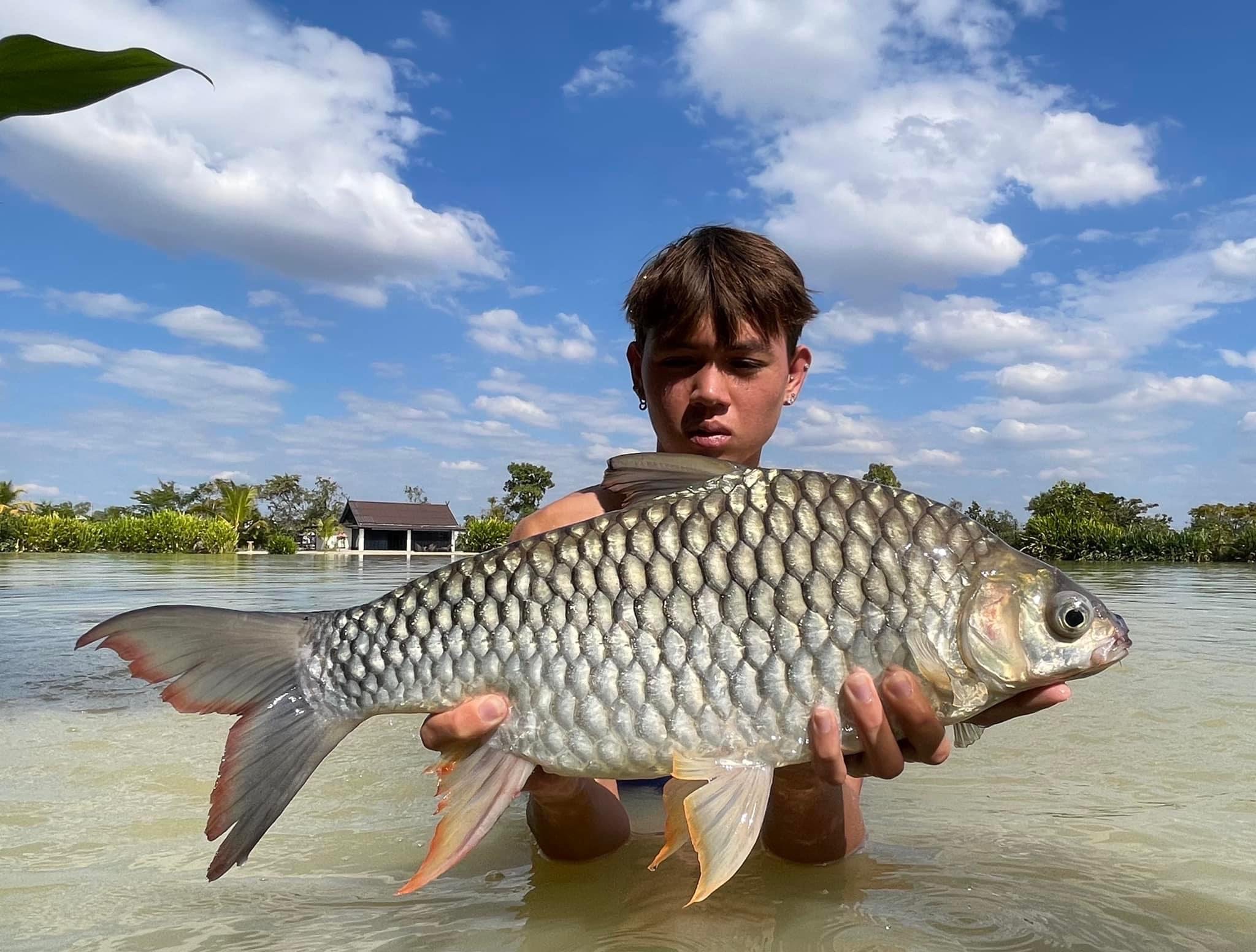 68. Marble Catfish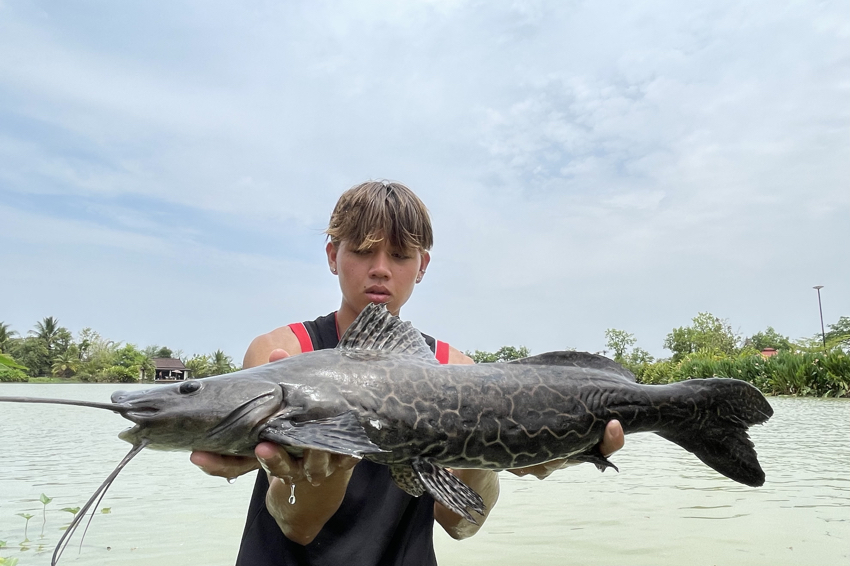 69. Bla Kot – Yellow Catfish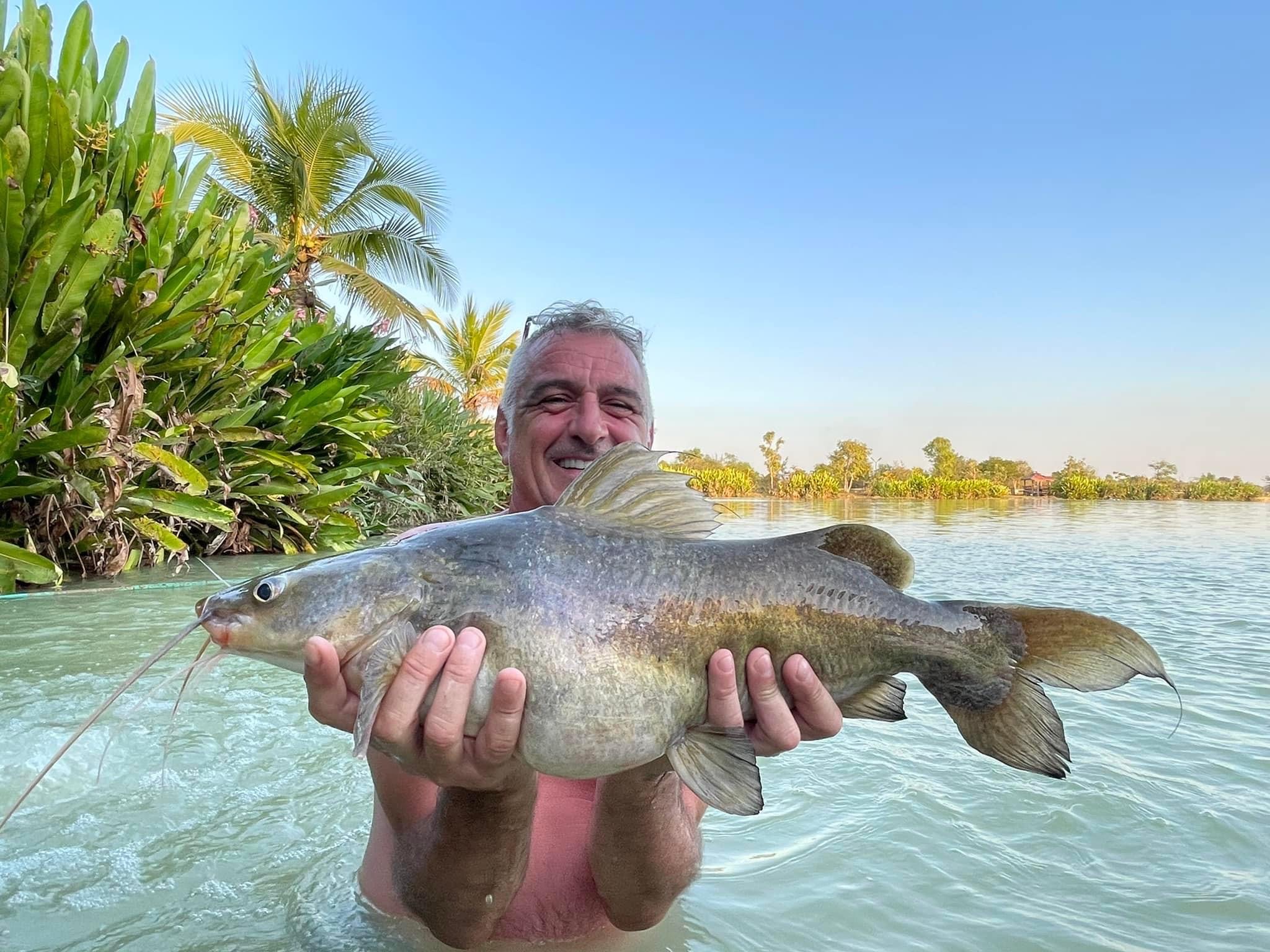 70. Arowana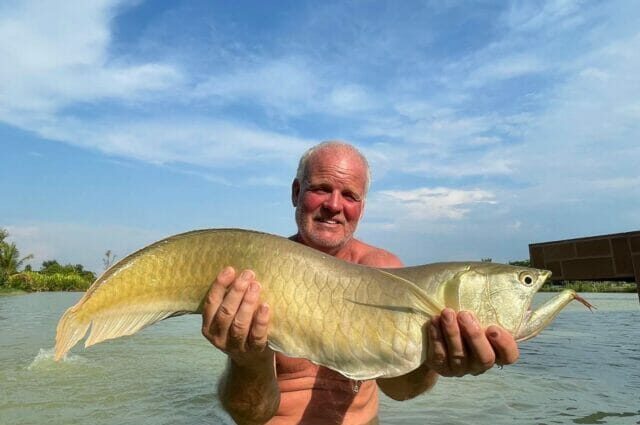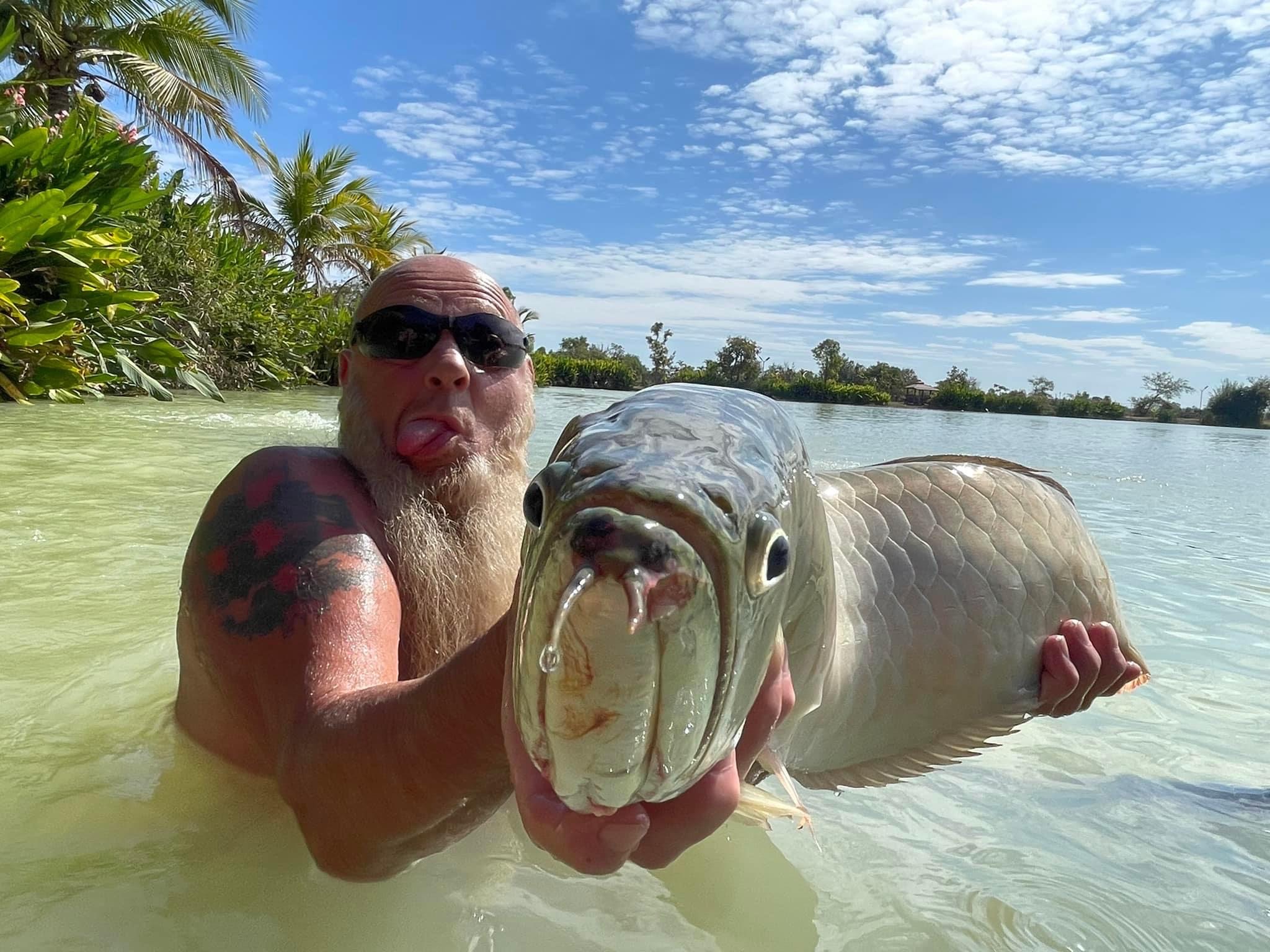 71. Emperor Snakehead – Fishing Holiday in Thailand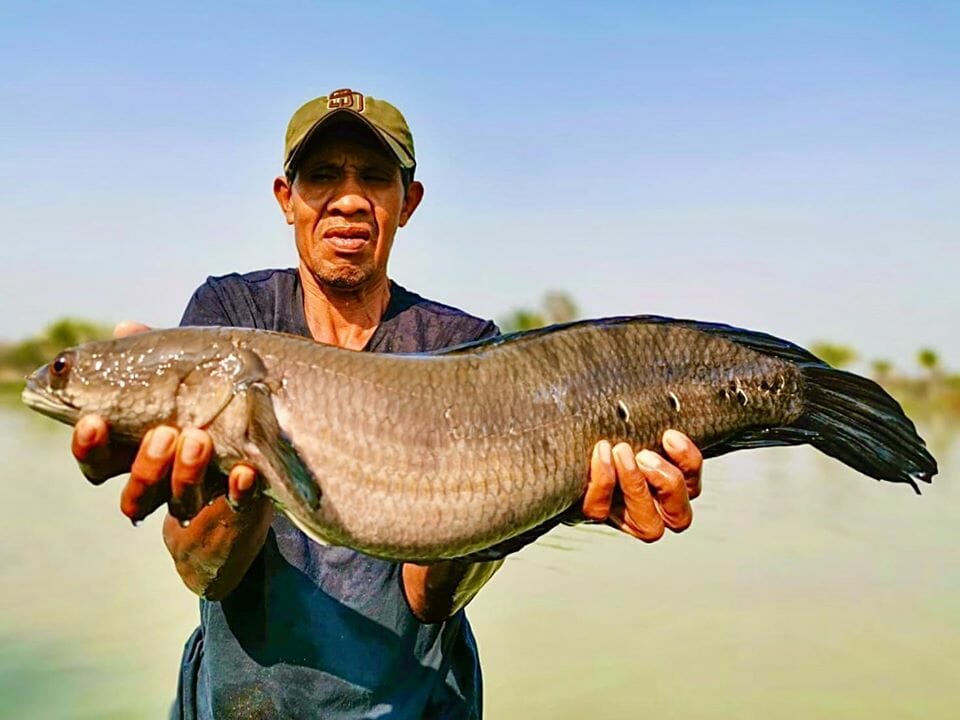 72. Cobra Snakehead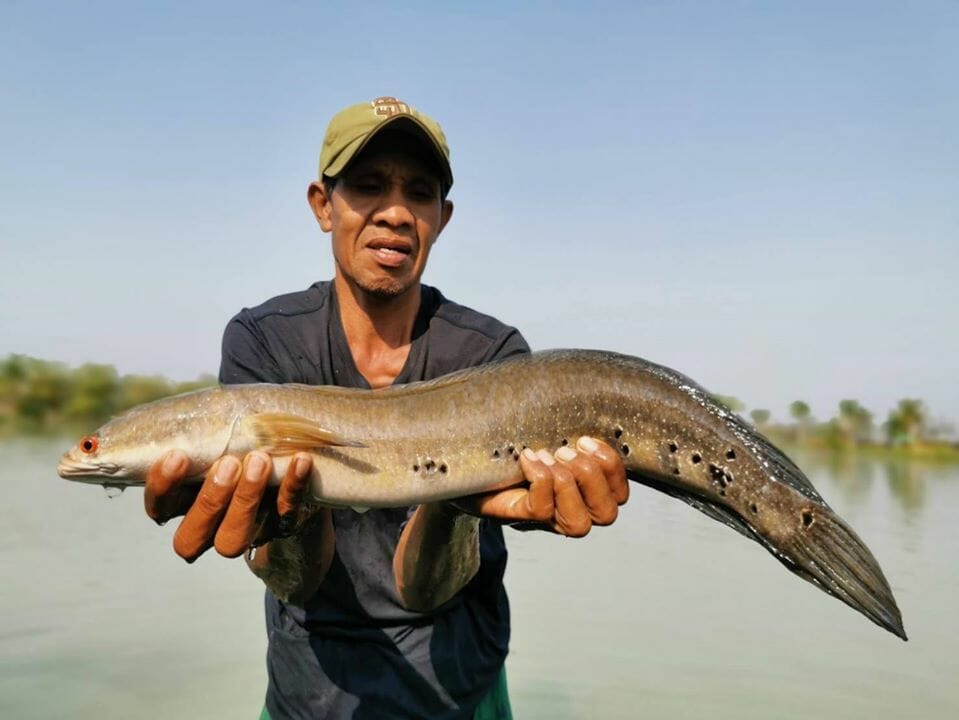 73. Freshwater pufferfish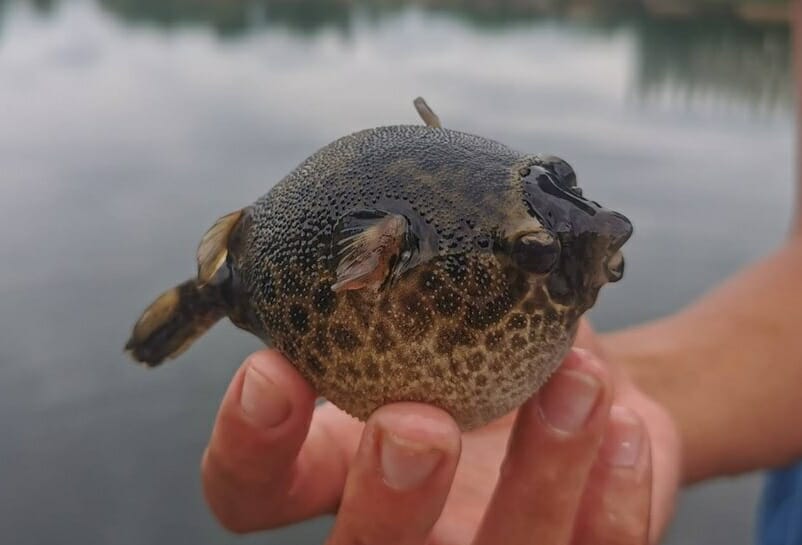 74. Albino Channel catfish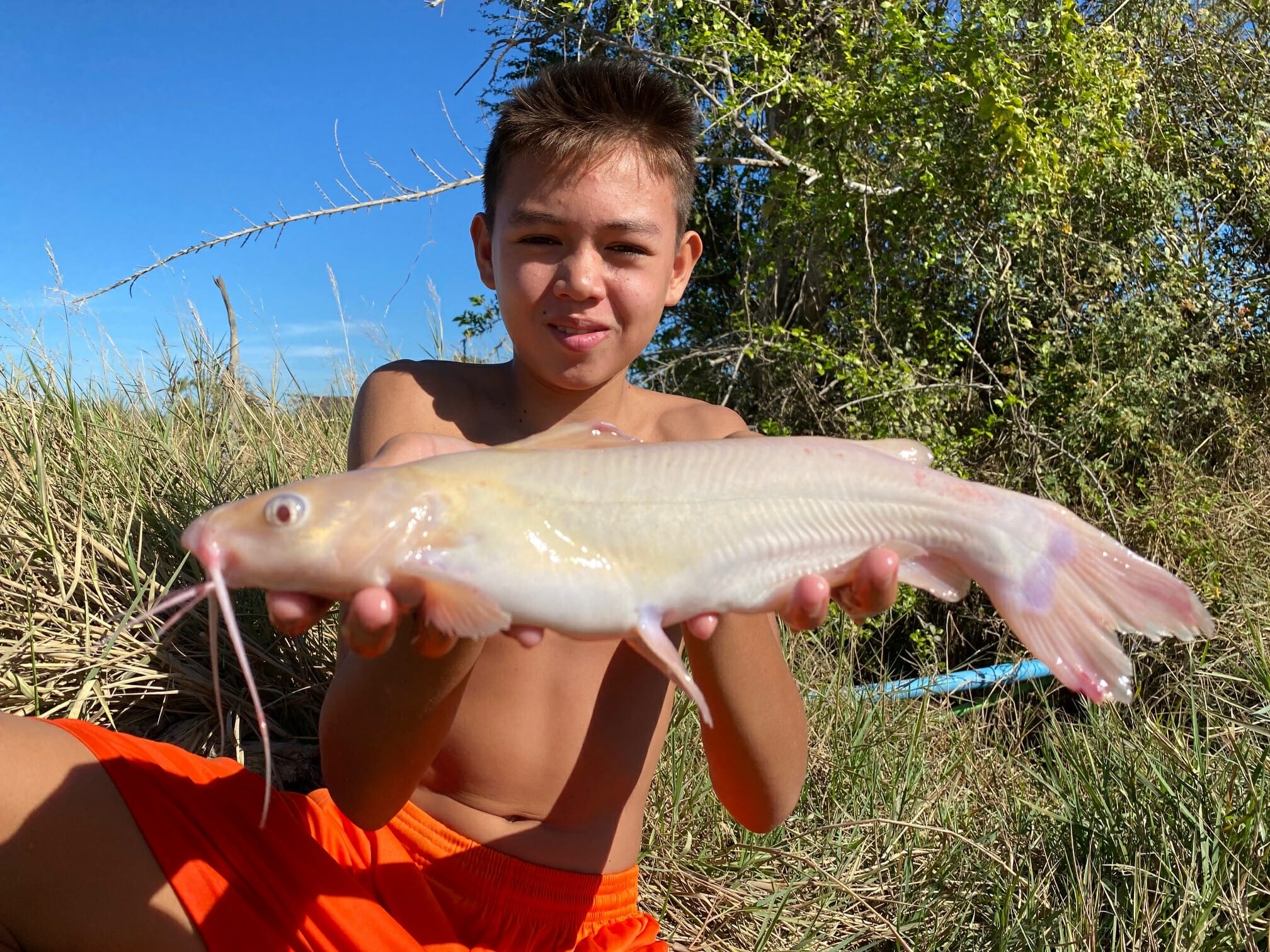 75. Crystal Eyed Catfish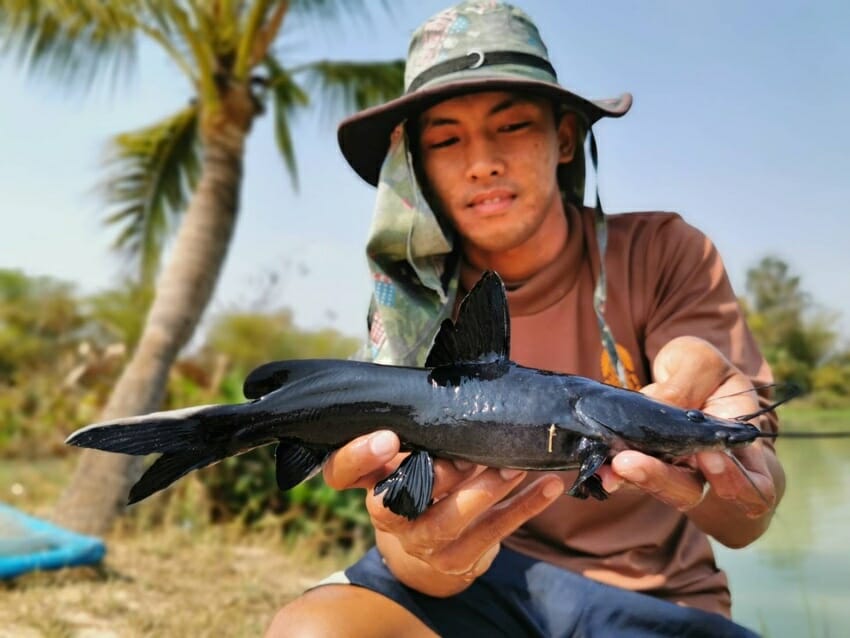 76. Ghost Carp – Hybrid Koi & Pla Nai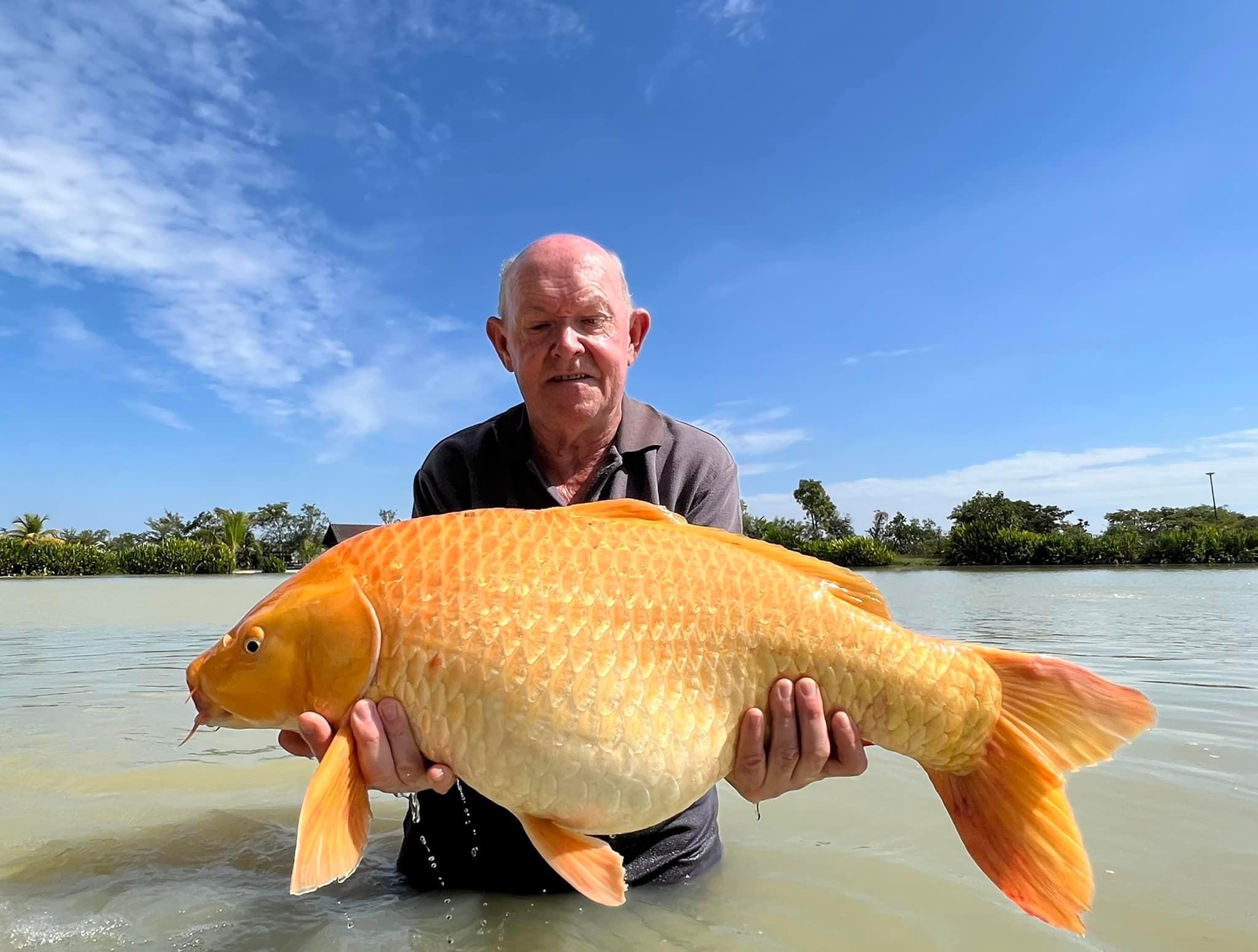 77. Marbled Goby – Bla Bpoo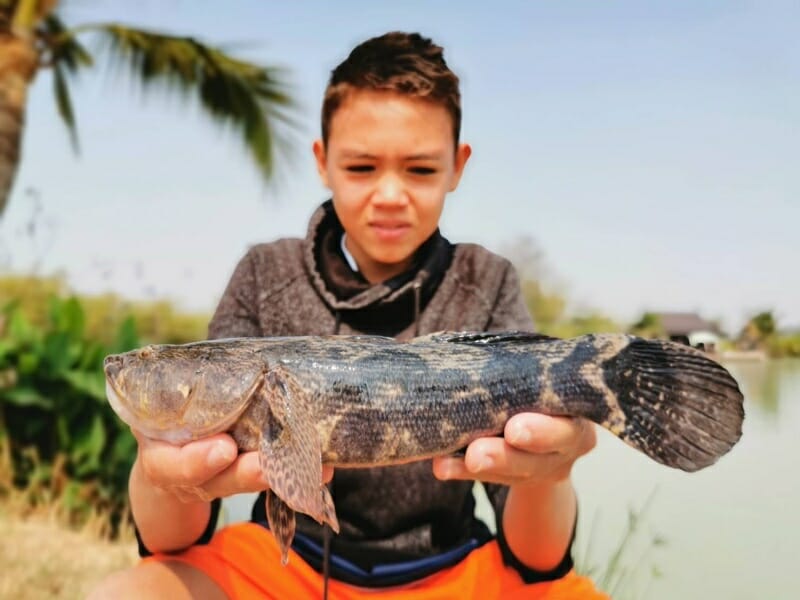 78. Wallago leerii (Striped Wallago Catfish)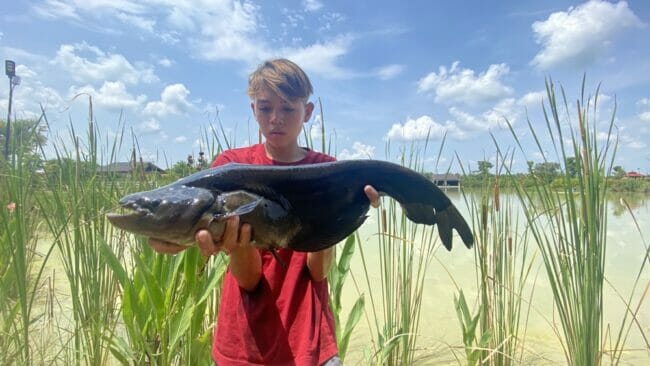 79. Wallagonia Micropogon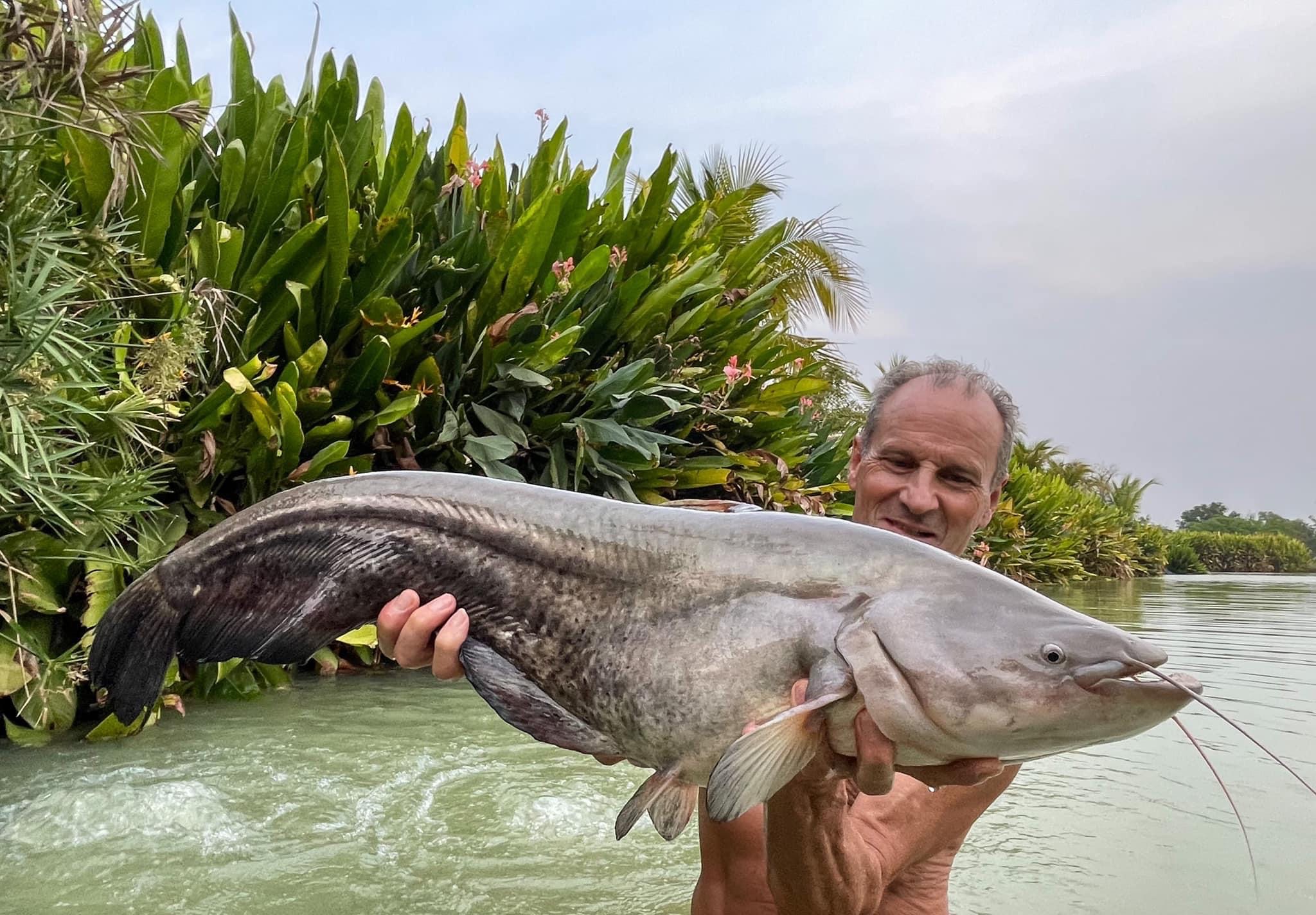 80. Albino wels catfish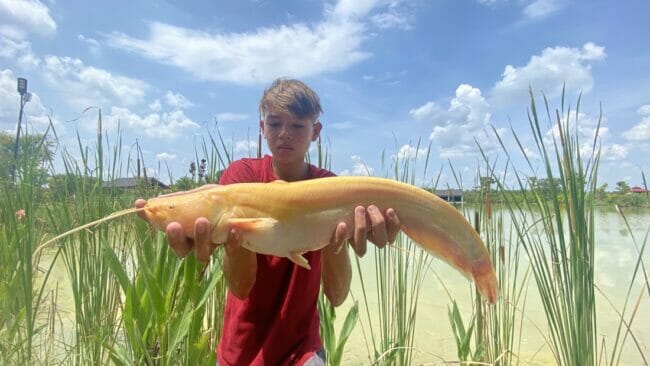 81.  Pleco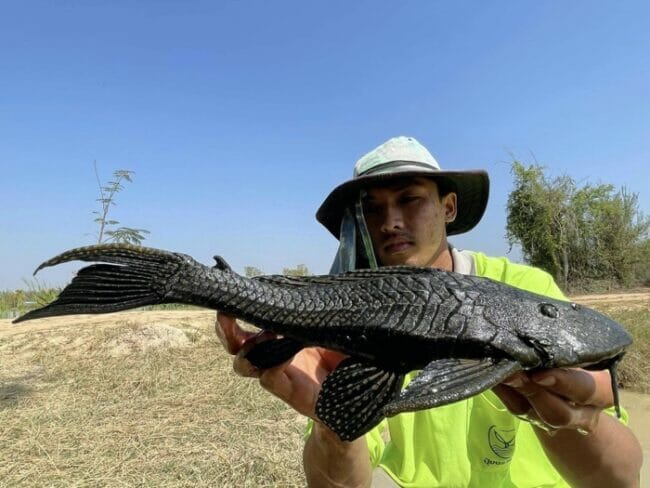 82. Wels Catfish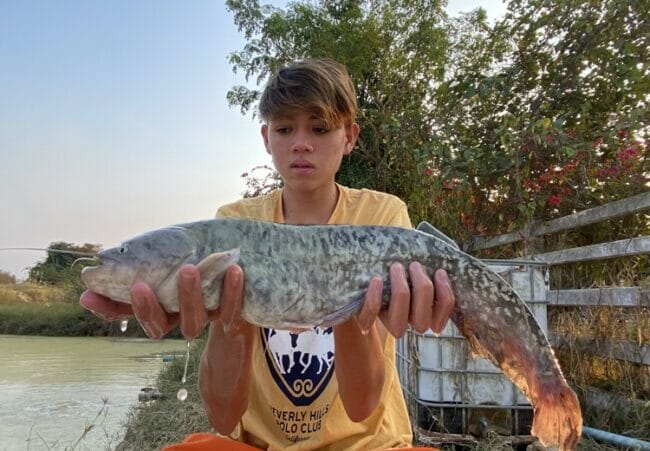 83. Granulated Catfish Pterodoras Granulosus – Read More…..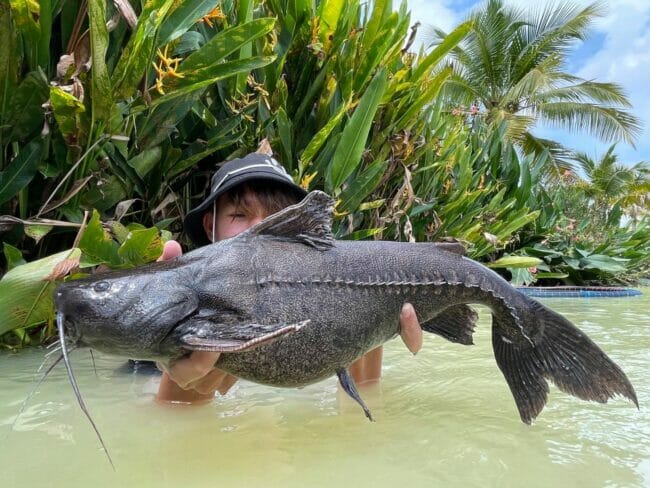 84. Zebra Tilapia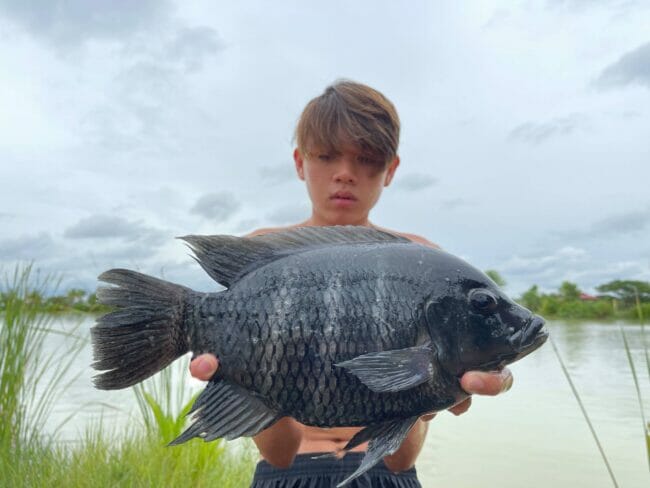 85. Albino short body catfish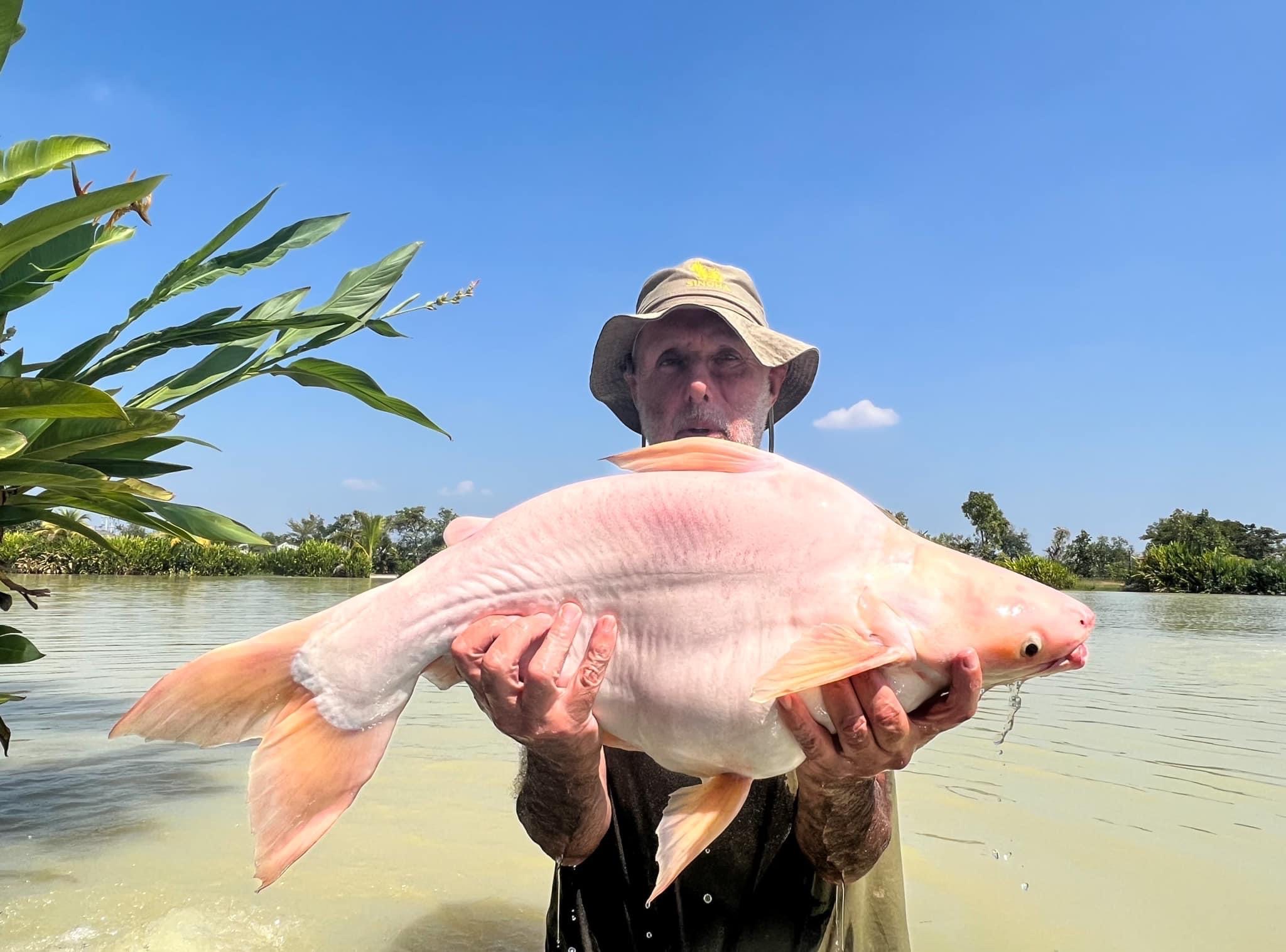 86. North American Blue Channel Catfish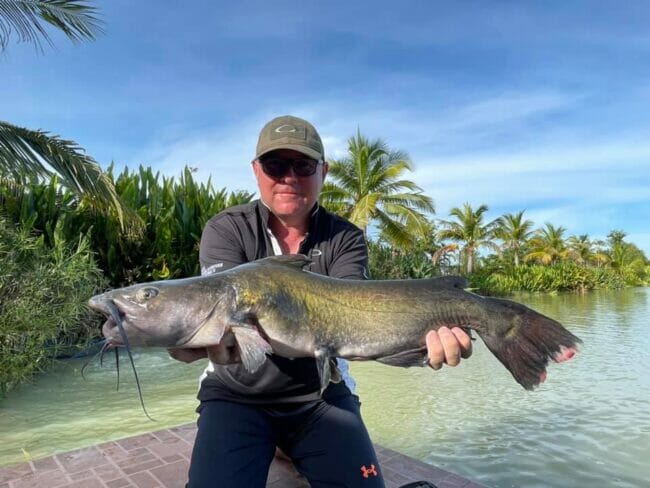 87. Giant Mottled Eel (Anguillidae) READ MORE……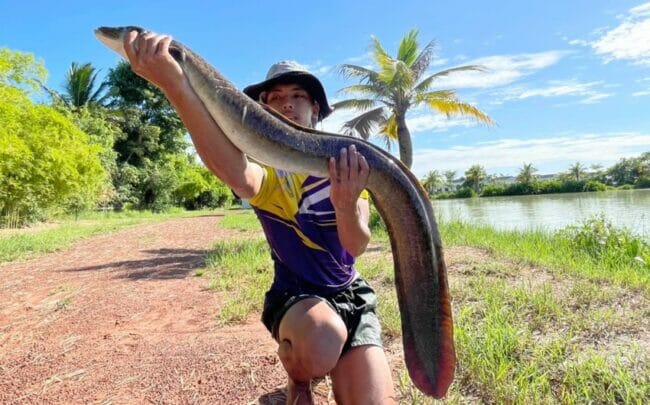 88. Vulture Catfish –  Calophysus macropteru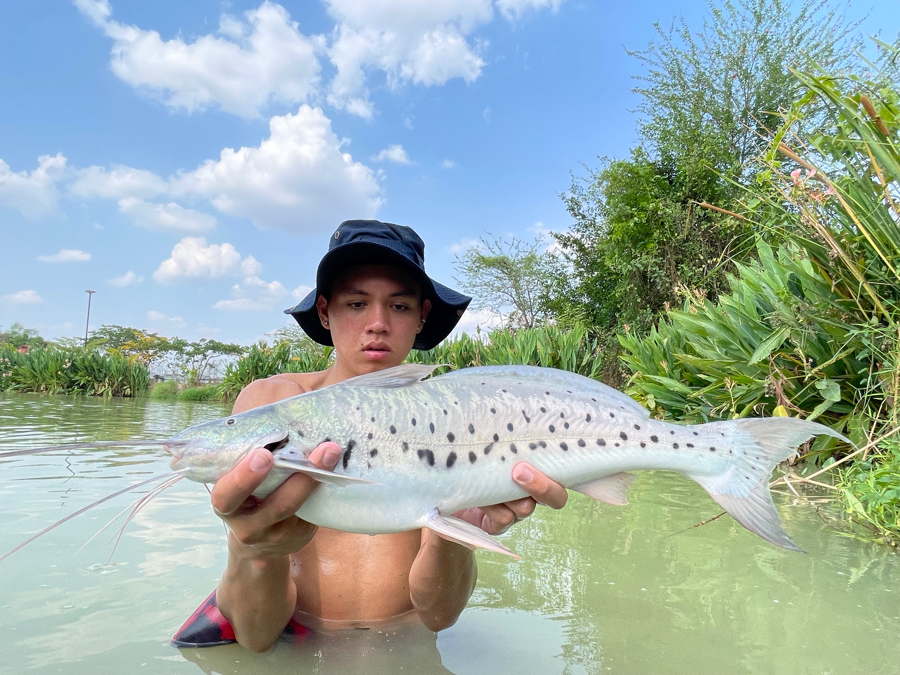 89. Achara Catfish (marbled)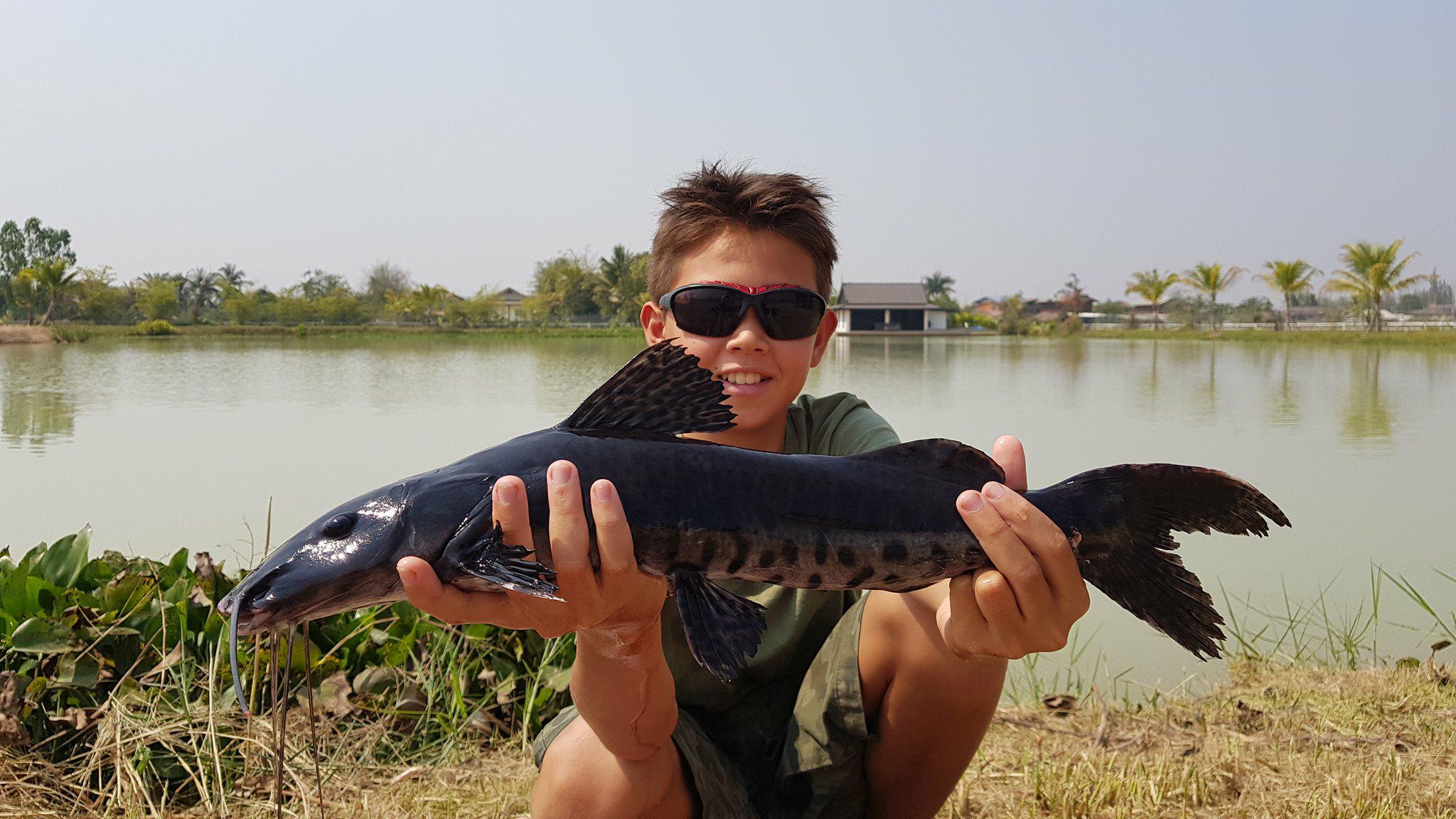 90. Suckermouth Catfish – Bla Joker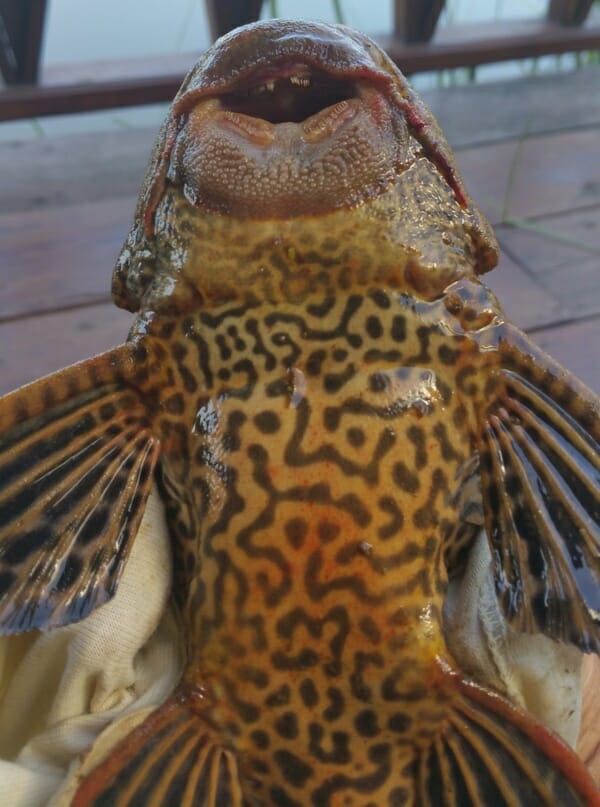 Orange Bla Nin –  Pla tab tim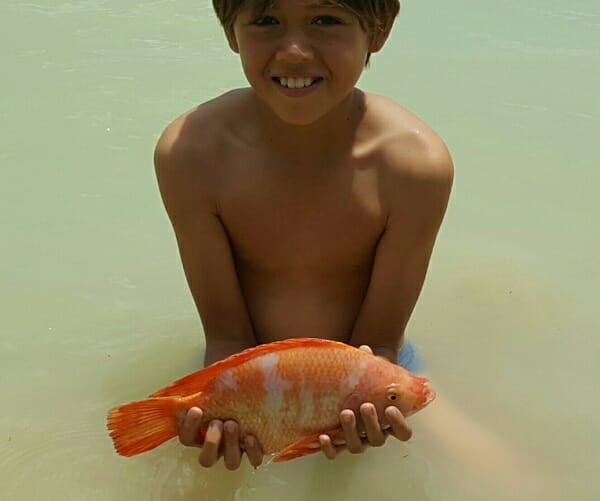 Blah Mor Tep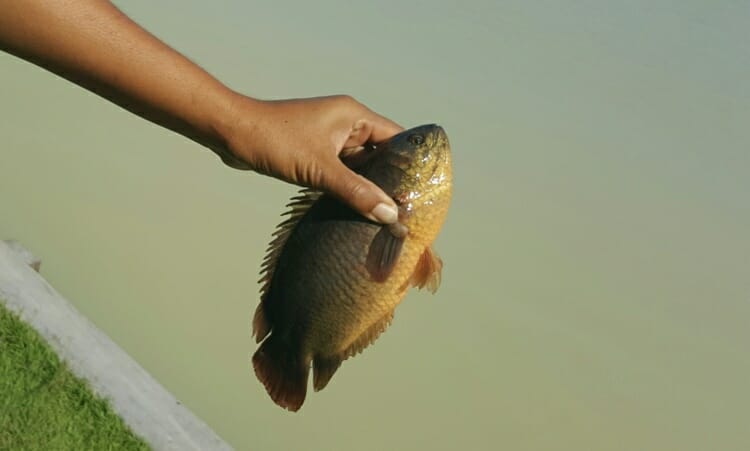 Golden Dorado
Golden Tapien – Tapien Tong
Kissing Gurami – Helostoma teminiskii,
Osphronemus goramy – Albino Silvery
ปลาสร้อยนกเขา  bla sroy Nok kow
__________
Fishing holiday in Thailand
To obtain directions to our lake you can email us for the fastest response on Facebook or call us on: 0860593028 within Thailand or +66860593028 from abroad….
Lek's Ranch & Fishing Park Udon Thani
Tel: 0860593028
Leks Ranch Udon Thani…
Website: https://fishingudonthanithailand.com/
Daily catch reports on facebook: https://www.facebook.com/fishingparkudonthani/
Instagram: https://www.instagram.com/leksfishingparkudon/?hl=en
Twitter: https://twitter.com/leks_fishing
TikTok: https://www.tiktok.com/@juniorfishingthailand
YOUTUBE Please  SUBSCRIBE: https://www.youtube.com/c/Lek%E2%80%99sFishingParkUdonThaniThailand