Fishing Holiday in Thailand
Thai Freshwater Fish Species at Leks Fishing Lake Udon Thani
The full list of the 75 + stocked fish species …
Carp Species (the lake holds 14 different species of carp)
SIAMESE CARP (up to

175lb

)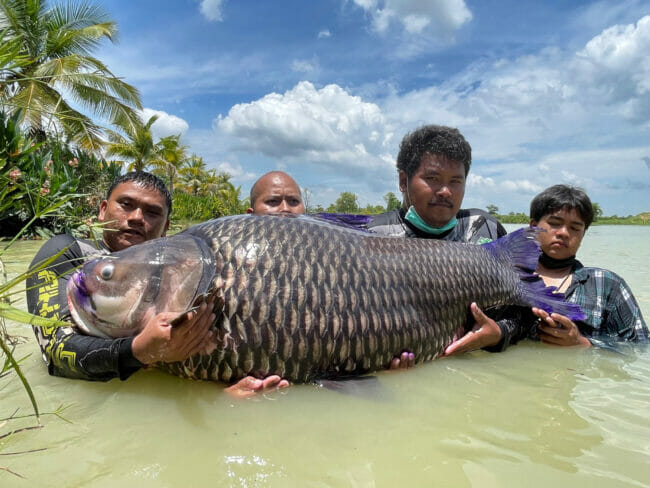 (Please ' CLICK HERE ' or on the photo below for more pictures of our Siamese Carp)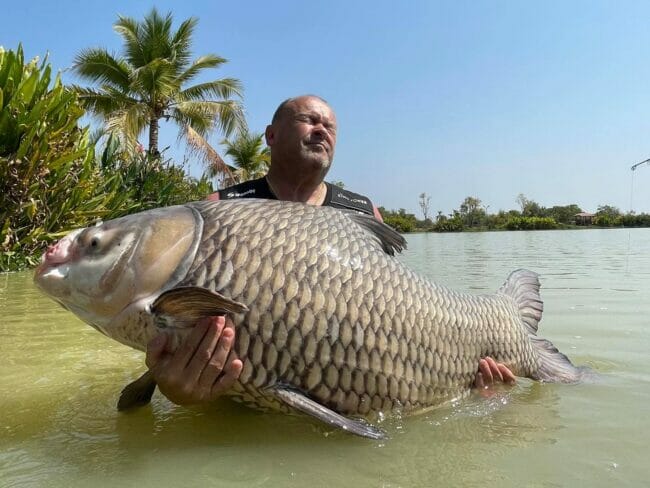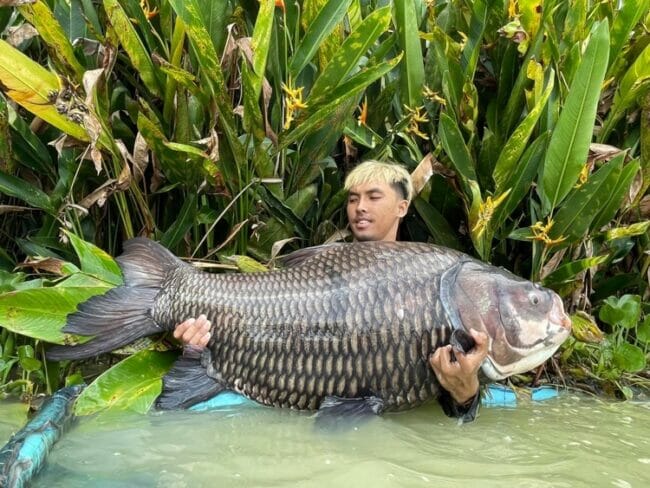 2. Julien's Carp – Pla Yisok (up to 38kg)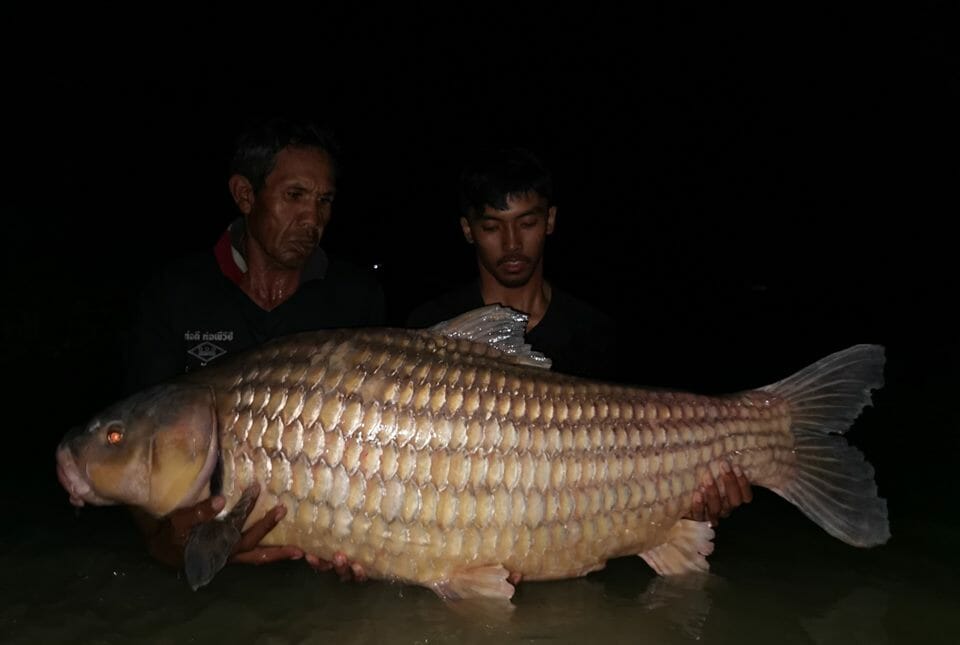 2a. Julien's Carp – Pla Yisok San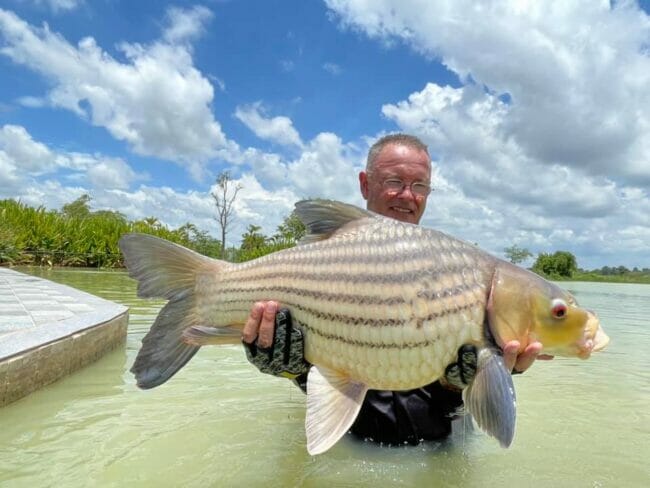 3. Catla Carp – Pla Goho India stock up to 25kg  ( more pics )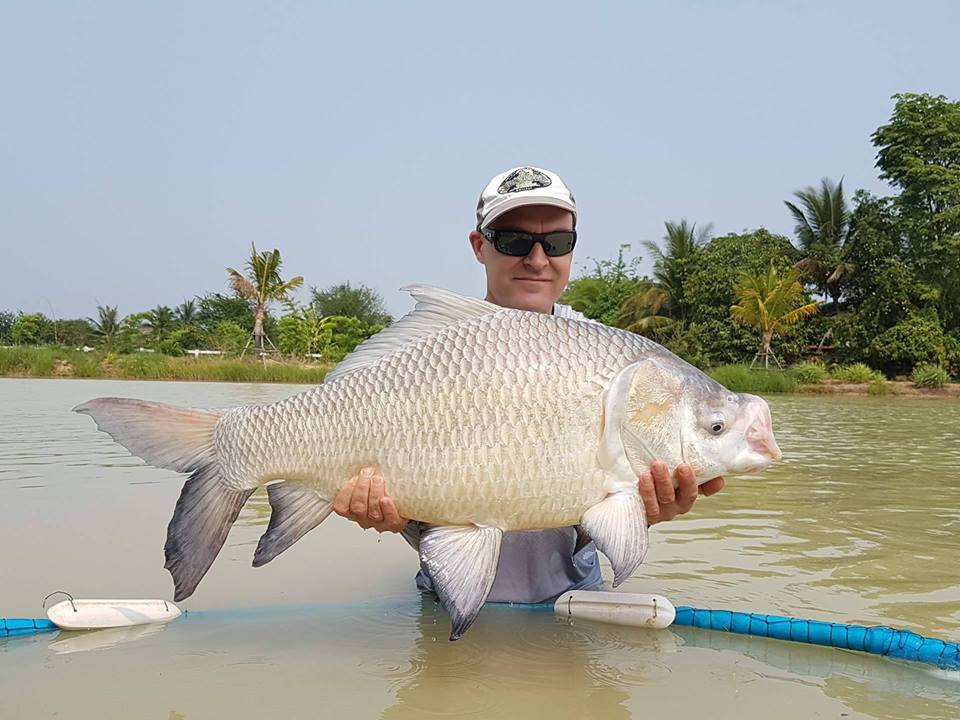 3. Asian Grass Carp – Fishing Holiday in Thailand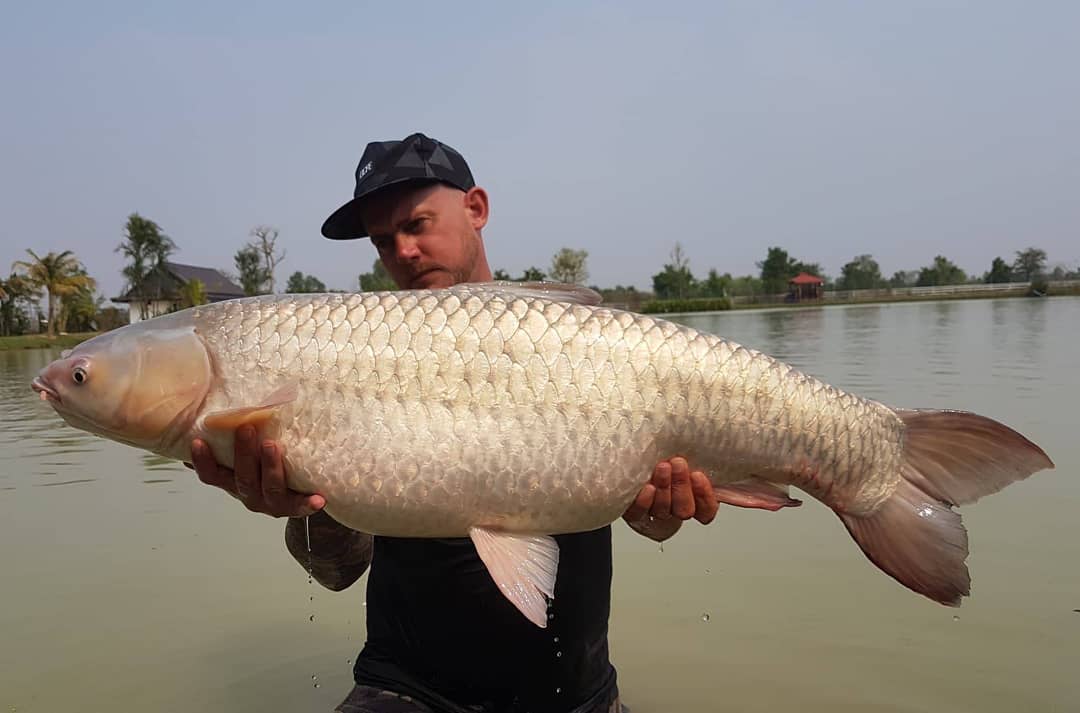 4. Chinese Big Head Carp – Pla Jeen stock up to 25 kg (more pics)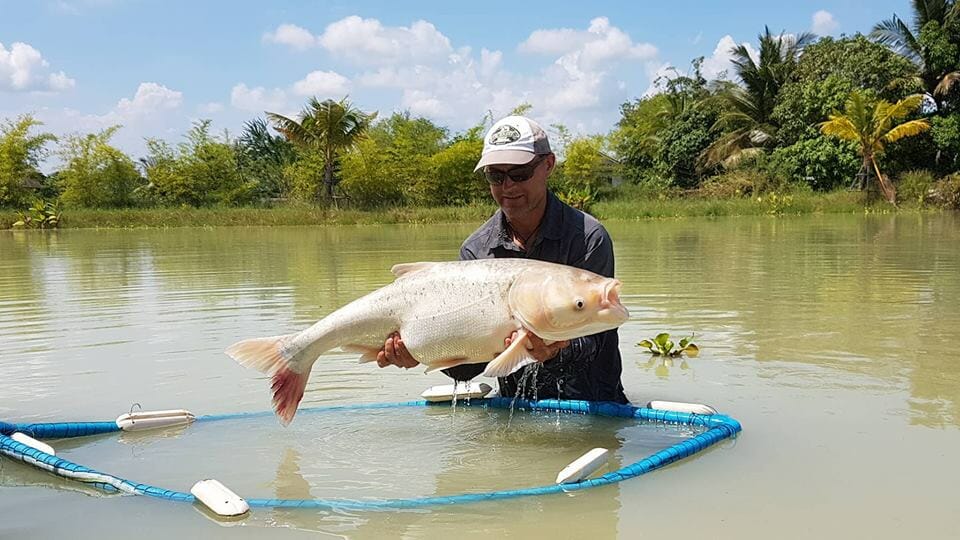 5. Mrigal carp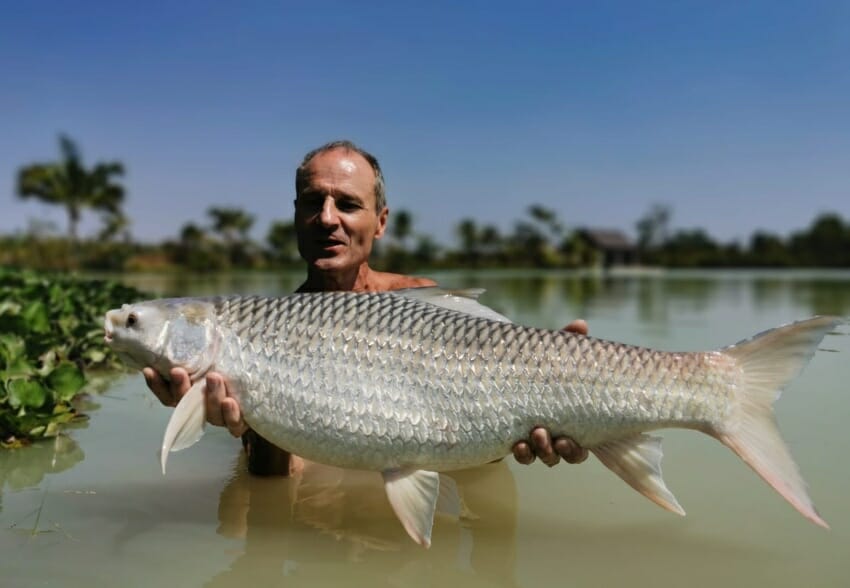 6. Hoven's ' Mad Barb'  Carp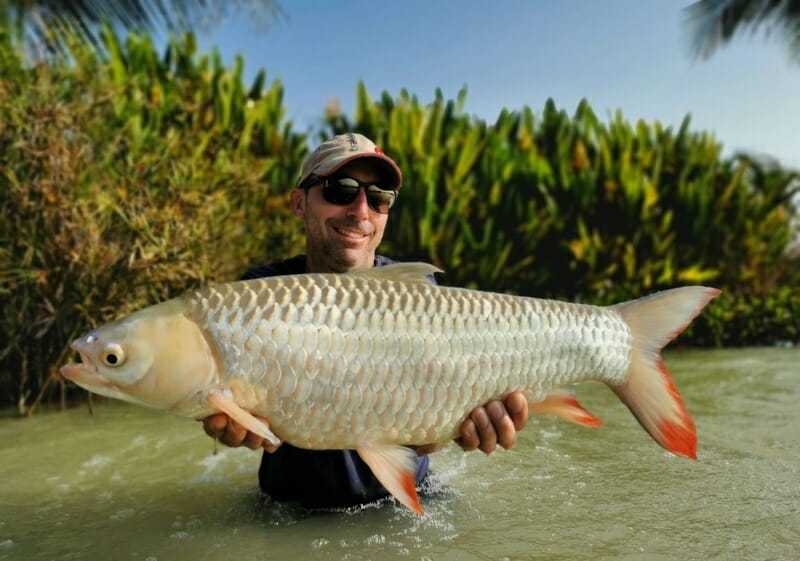 7. Chinese Black Carp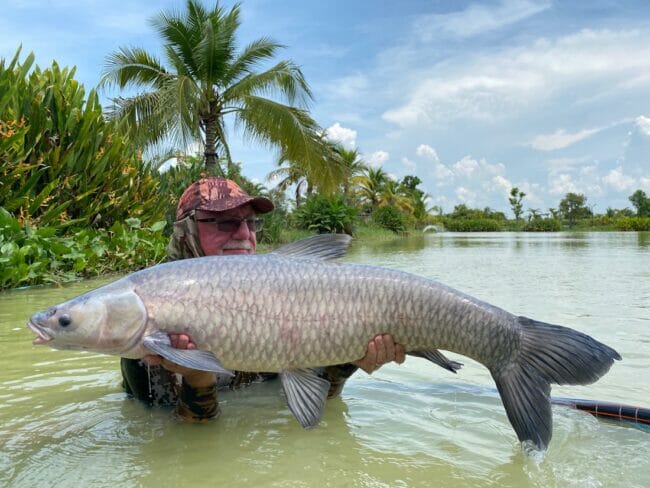 8.Black Shark Minnow Carp (Black Carp)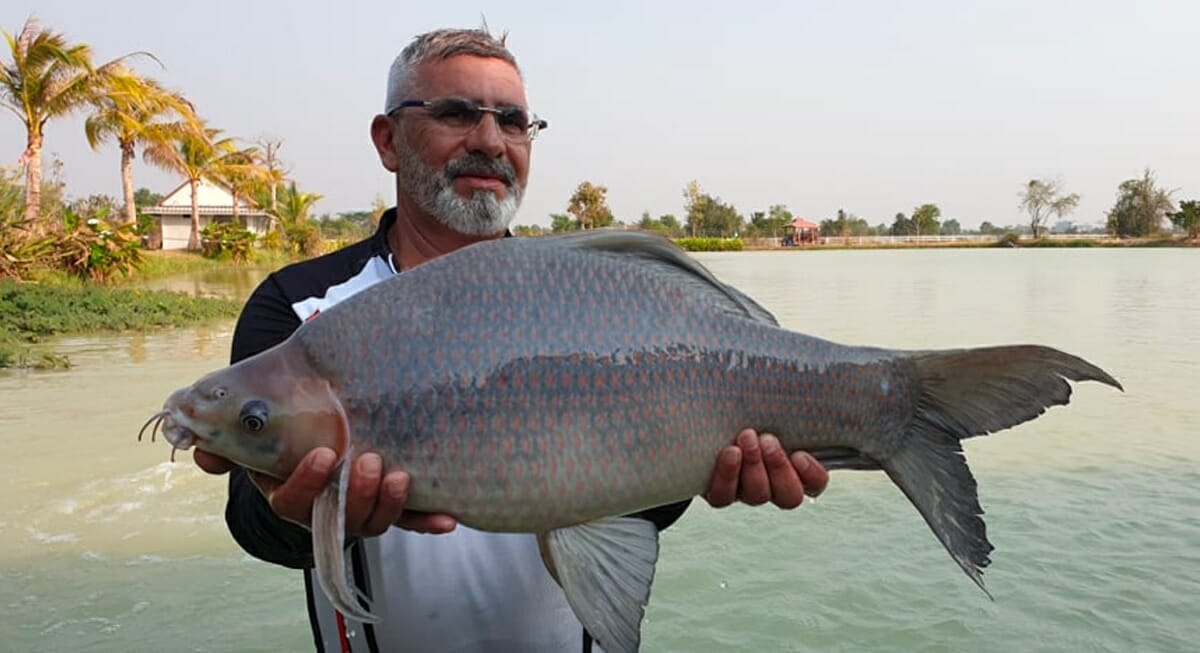 9.Koi Carp up to approx.50 lb (carp shown named Jumbo)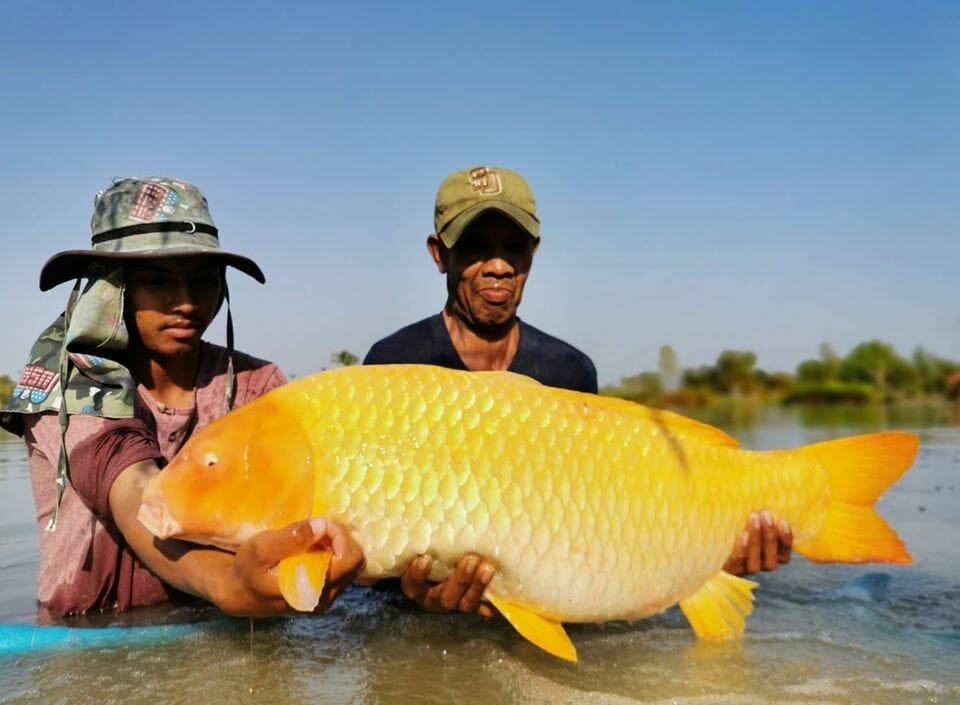 10. Rohu Carp -(Labeo Rohita)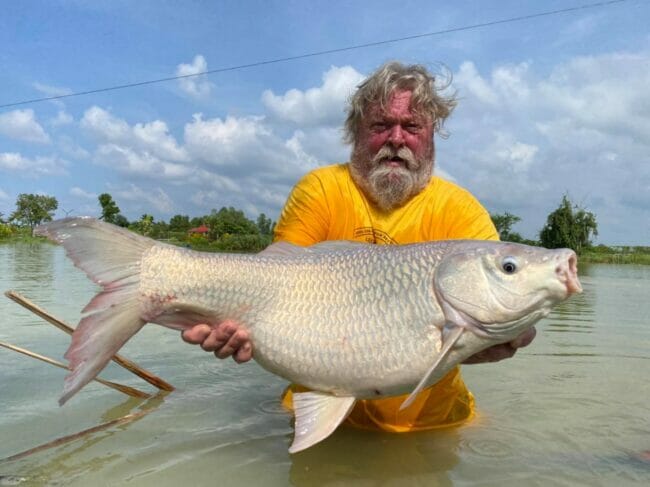 11. Common Carp – Pla Nai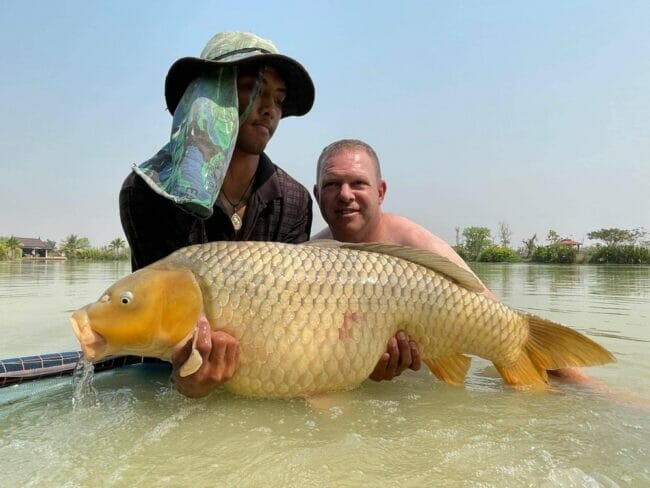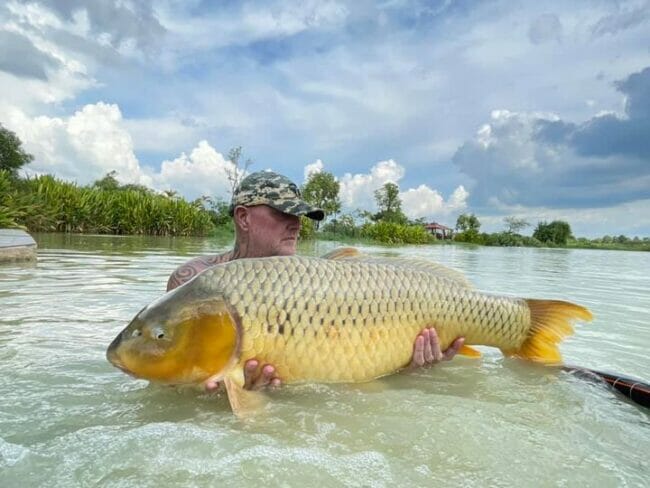 12. Blue Mahseer carp – Fishing Holiday in Thailand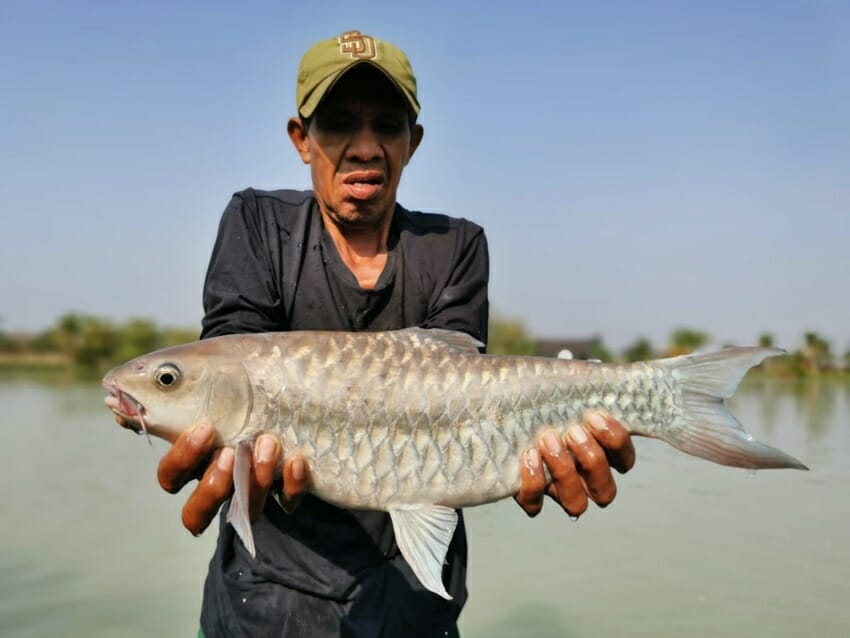 13. Yellow Cheek Carp, Elopichthys Bambusa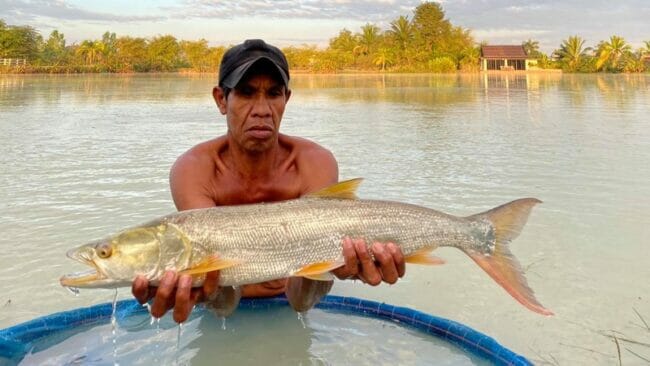 14. Tor putitora – The Golden Mahseer Carp (imports Himalayas)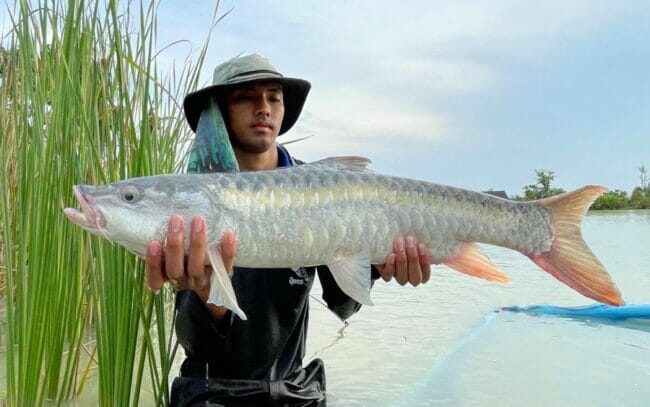 15. Soldier River Barb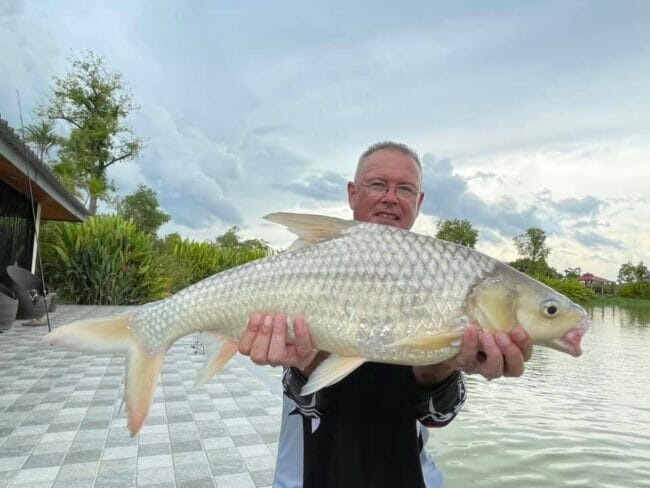 16. Jungle Perch – (Hampala Barb)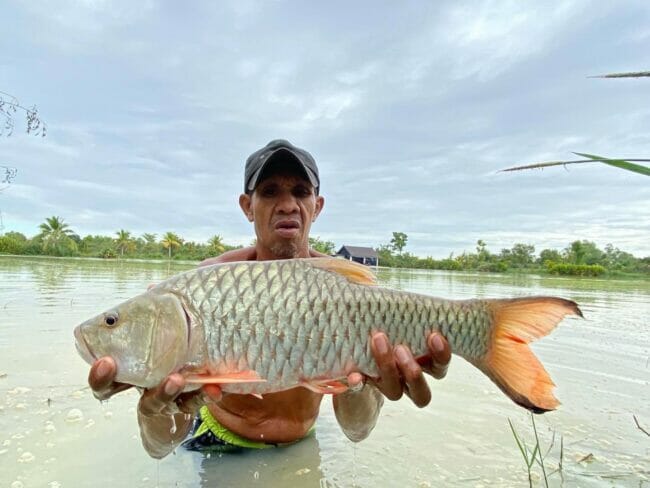 17. Giant Raphael Talking Catfish (Megalodoras Uranoscopus) Click Here More Info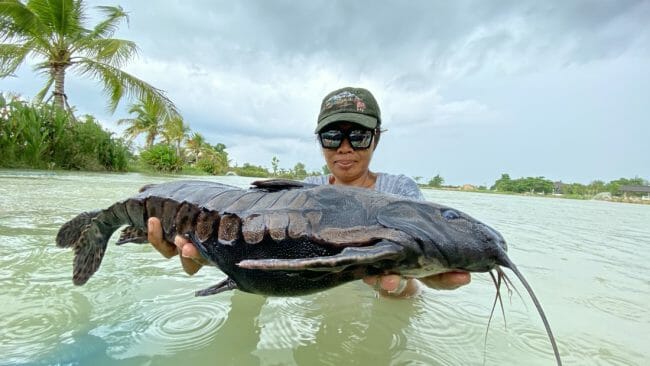 18. Incisilabeo Behri (Bangana behri, Labeo behri) ปลาหว้าหน้านอ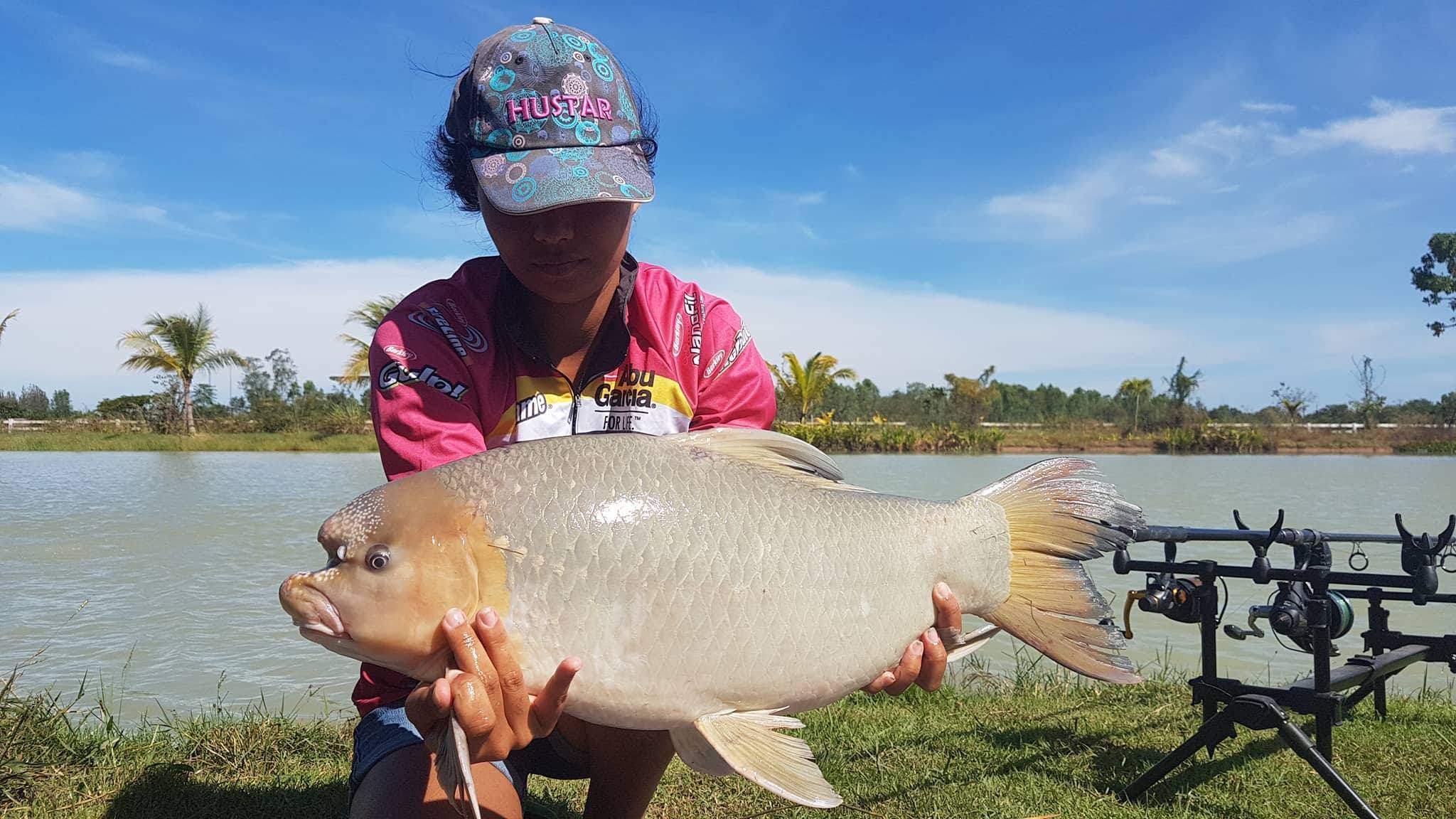 19. Silver Barb, Java Barb – (Thai) Bla Tapien Kow – 8.5kg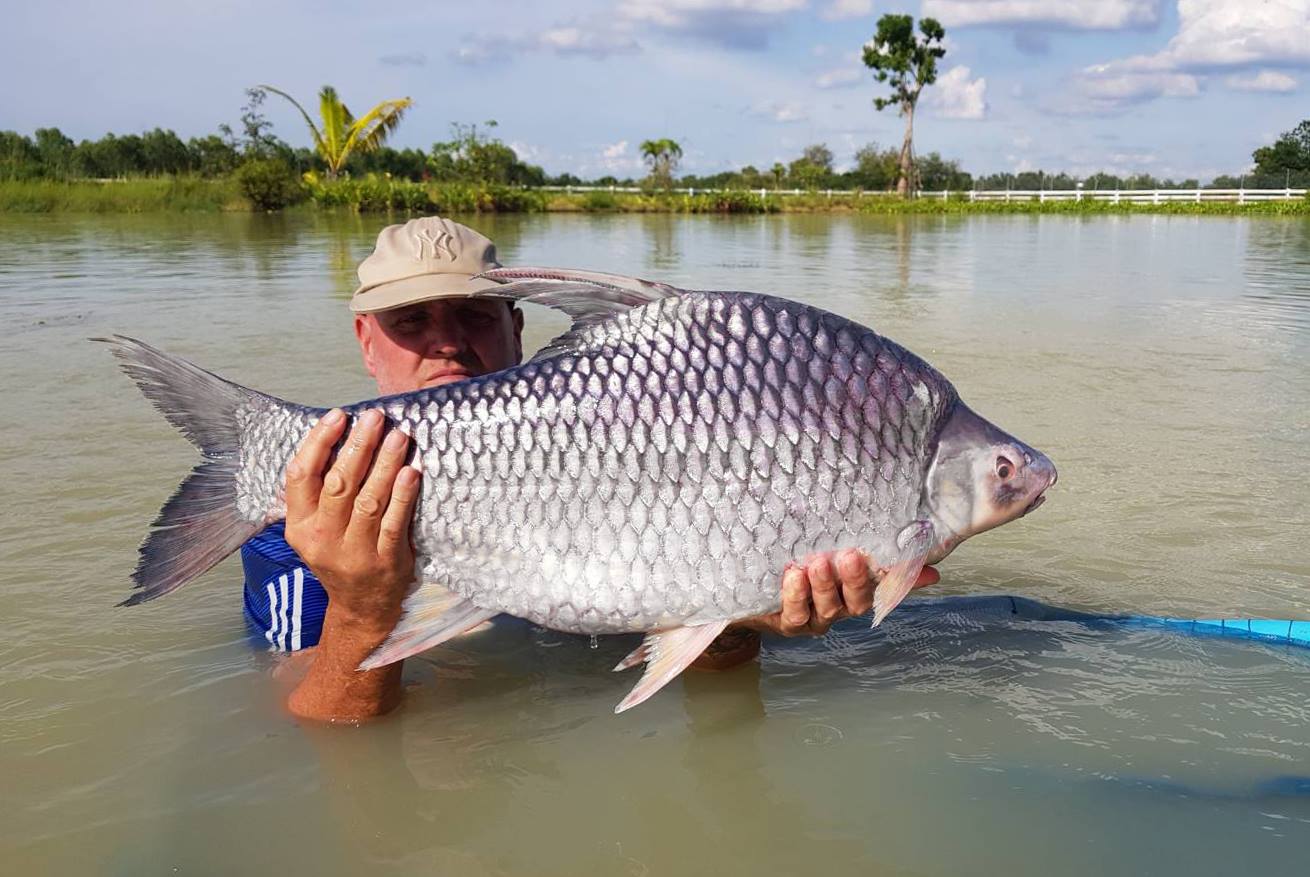 20. Giant Mekong Catfish – Pla beuk  stock up to 350,lb)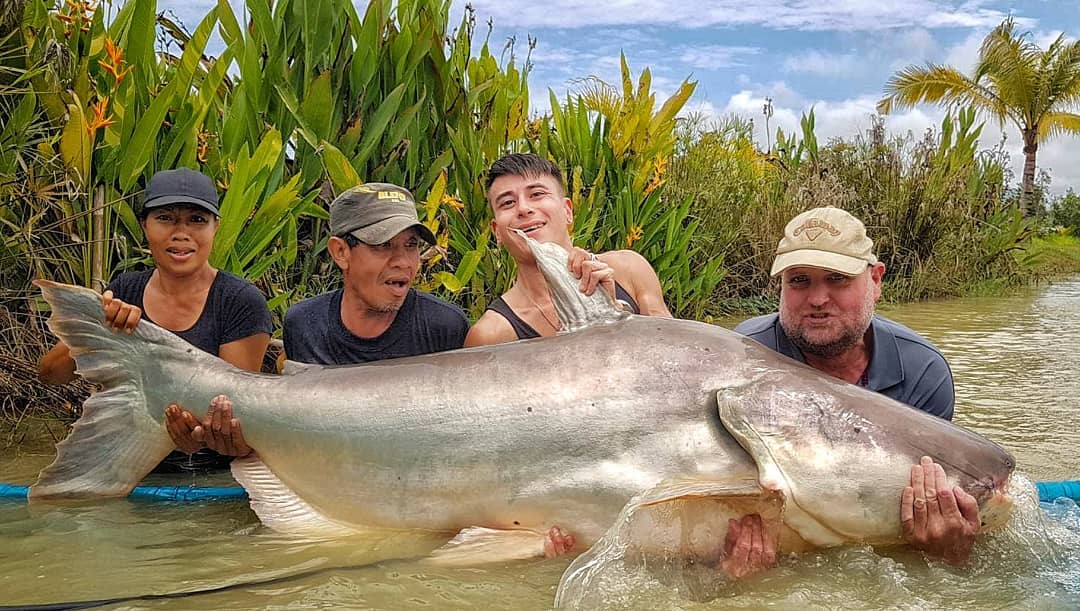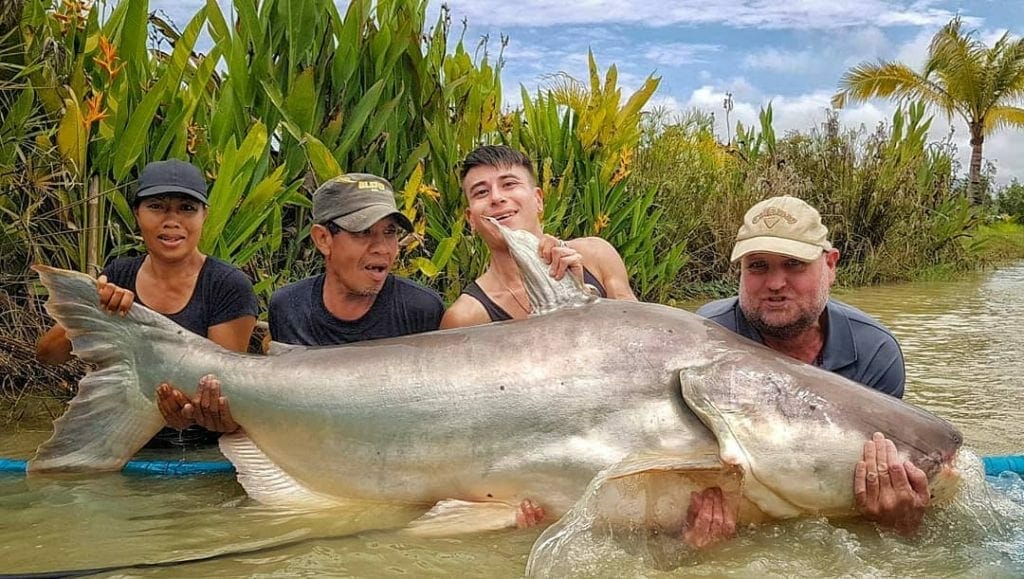 21. Goonch – Devils Catfish –  Giant Bagarius – Pla Kaey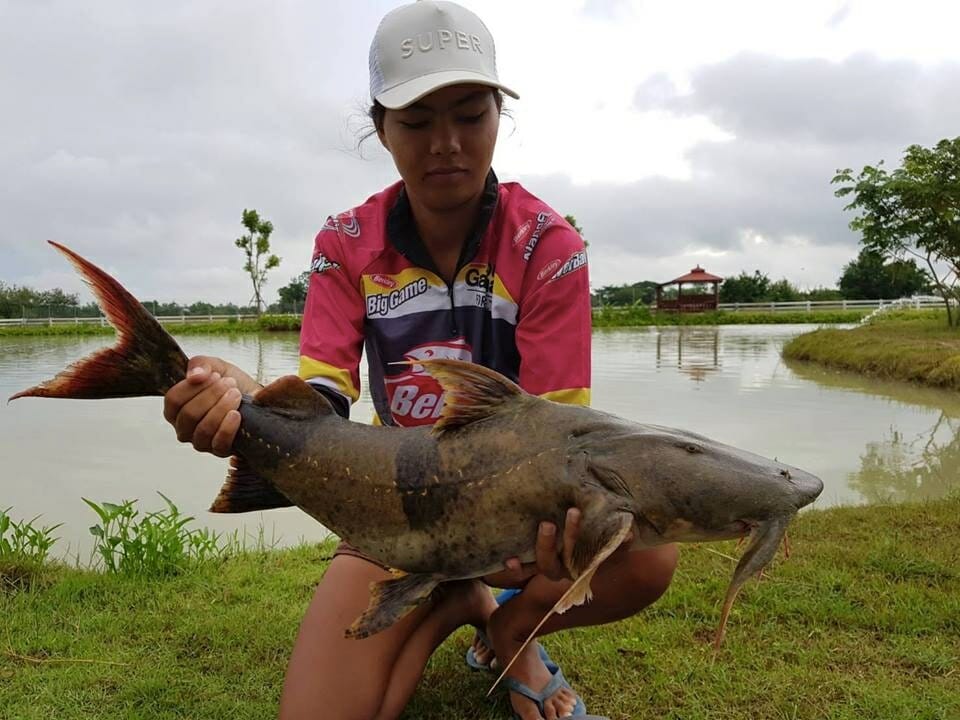 22. Arapaima – Pla Chon Amazon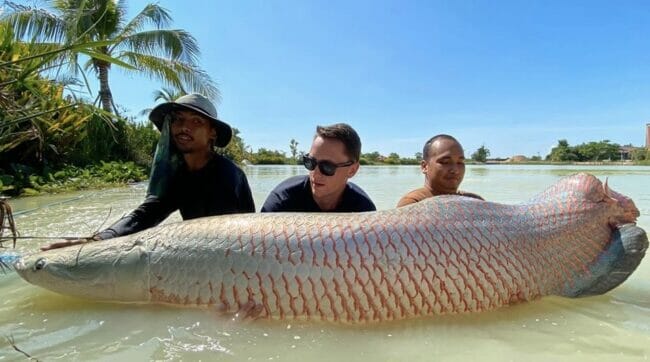 23. African Arowana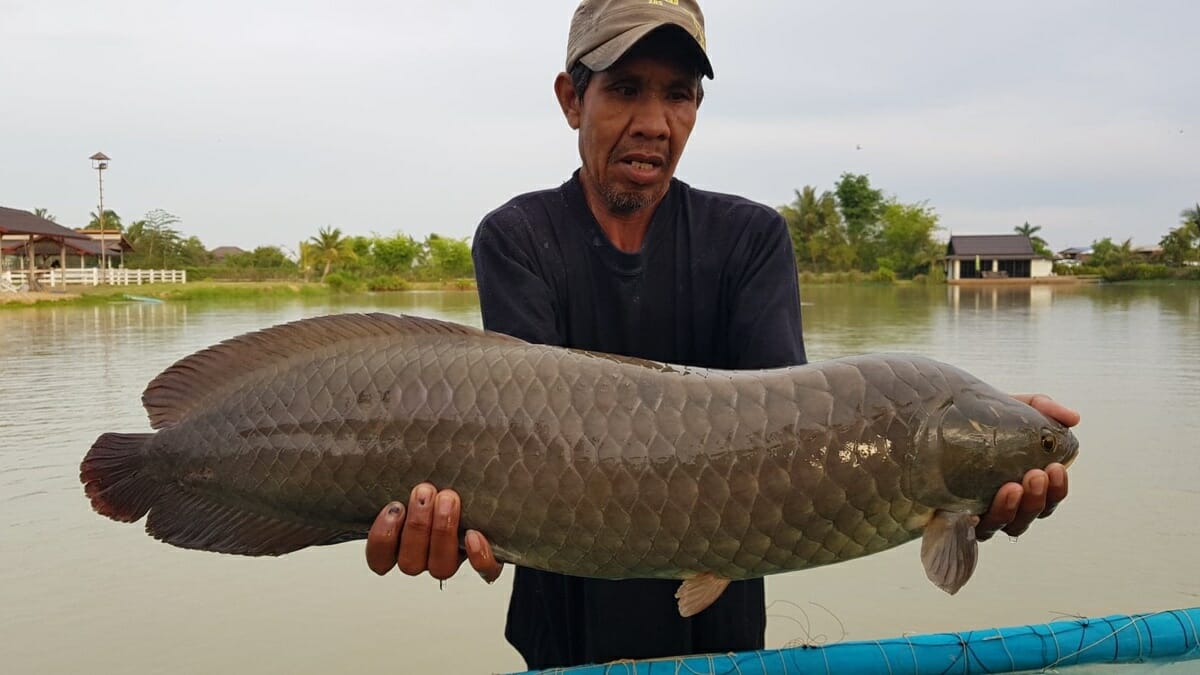 24. Ripsaw Catfish – Pla Niger (stock up to 25kg) – Fishing Holiday in Thailand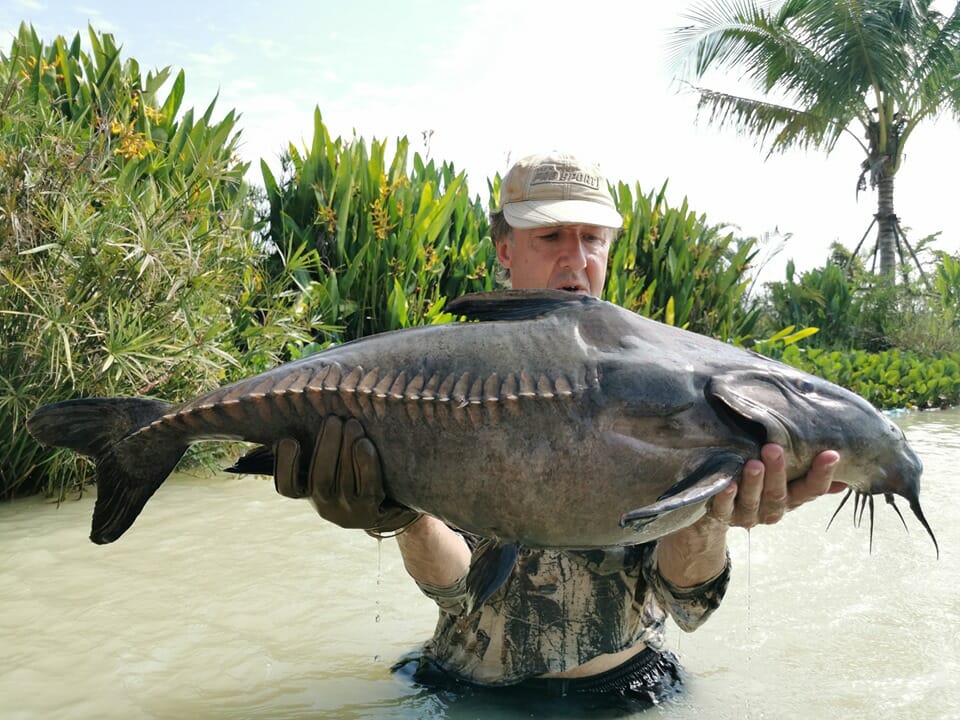 25. Giraffe Catfish  (Please ' CLICK HERE ' or on the photo below for more pictures)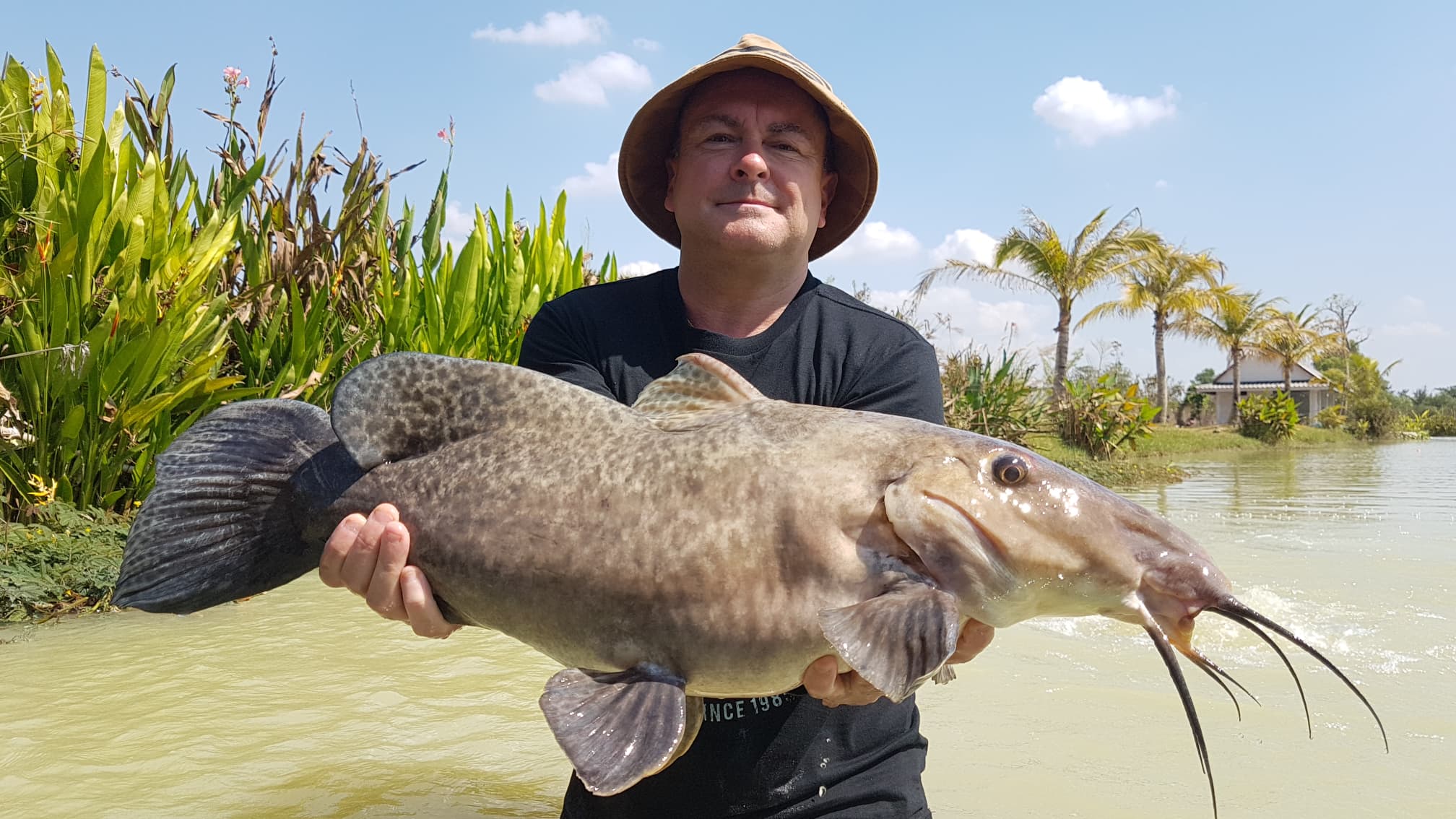 26. Chao Phraya Catfish – Pla Tepa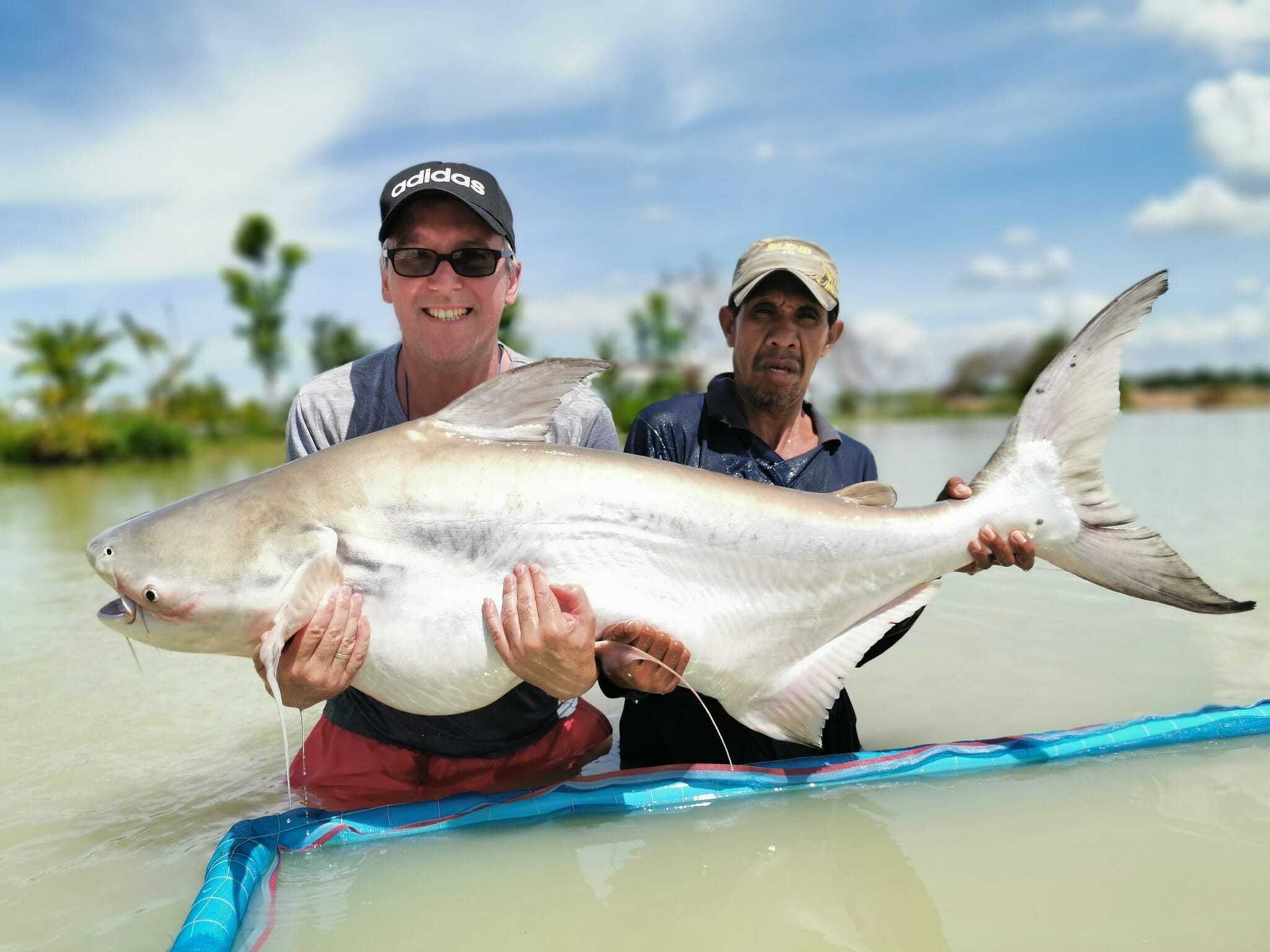 27. Atlantic Tarpon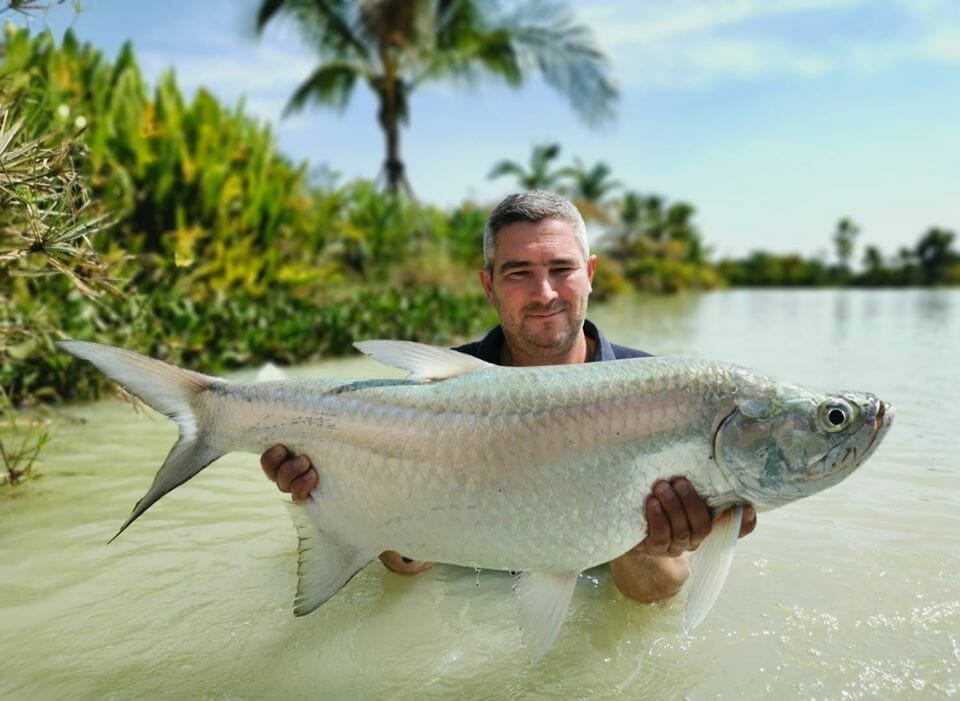 28. Brazilian Pintado – Spotted Sorubim Catfish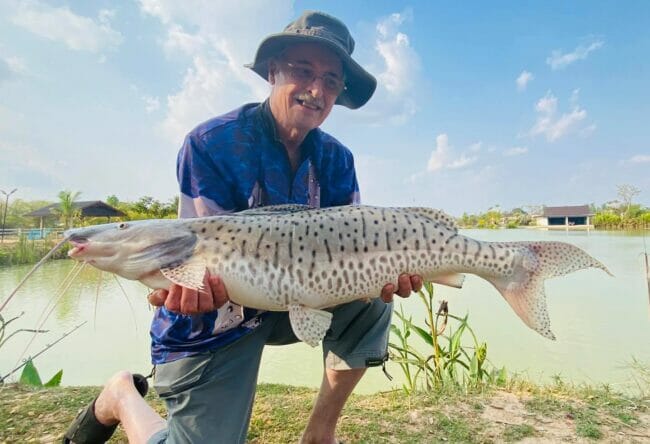 29. Salween Rita Catfish – Bla Moo Rita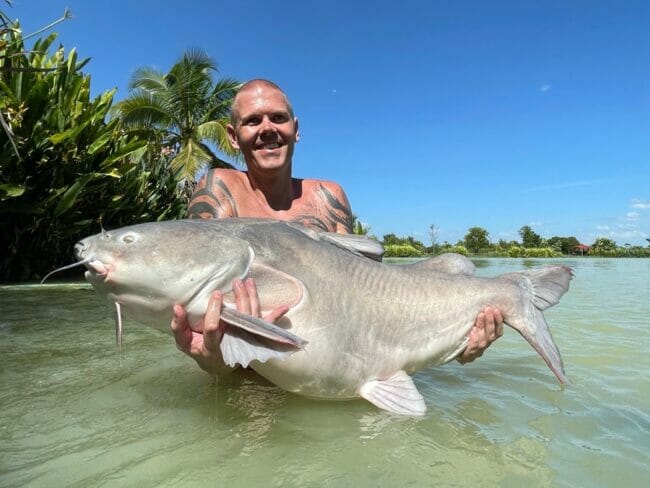 30. Salween Catfish – (Bla Kang Salween 0r Pla Kot Salawin)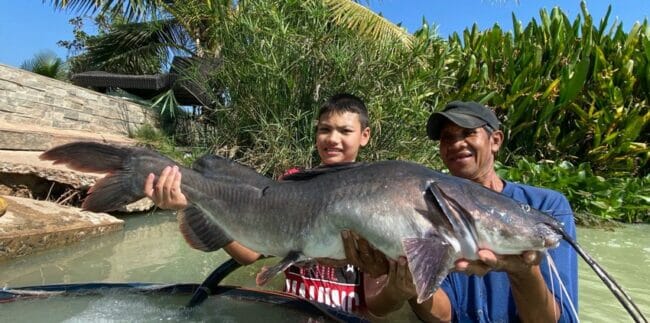 31. Tambaqui (Black Pacu) ( ' CLICK HERE ' or on the photo below for more pictures of our Tambaqui)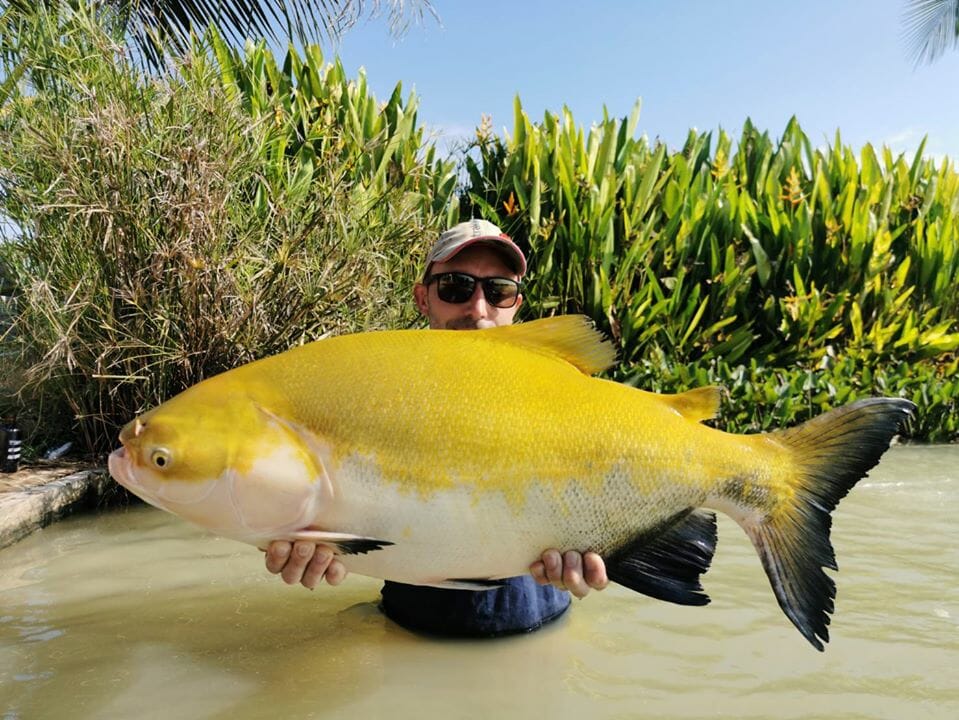 32. African Walking Catfish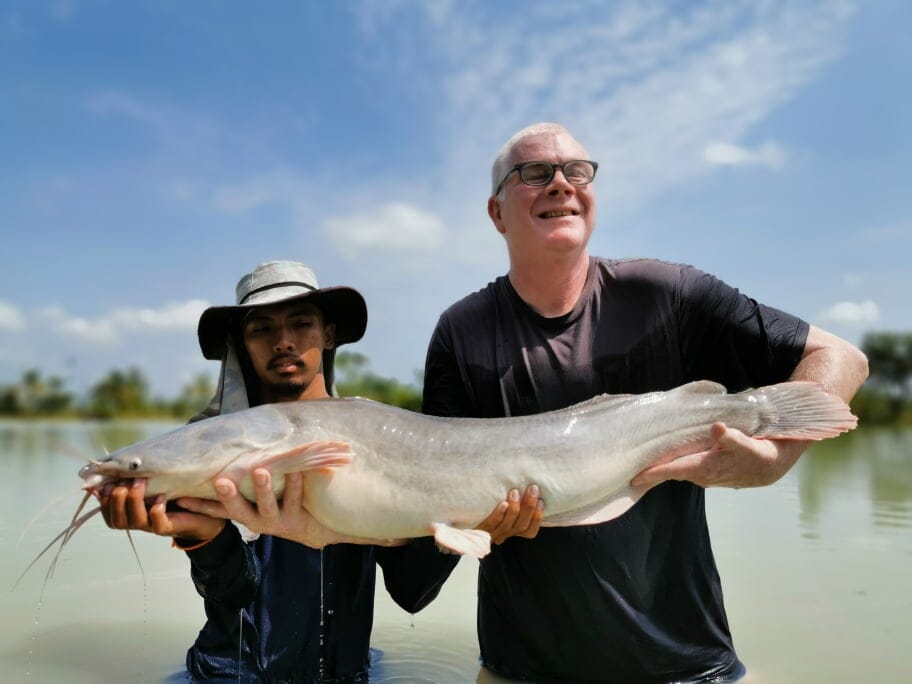 33. Giant Featherback – Fishing Holiday in Thailand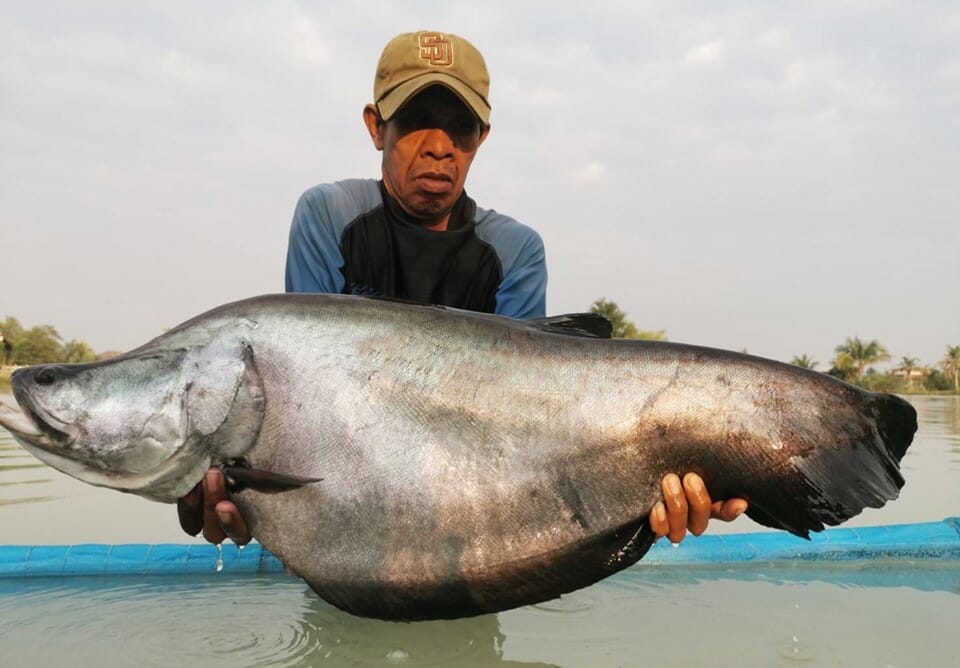 34.Wallago attu – Pla Krao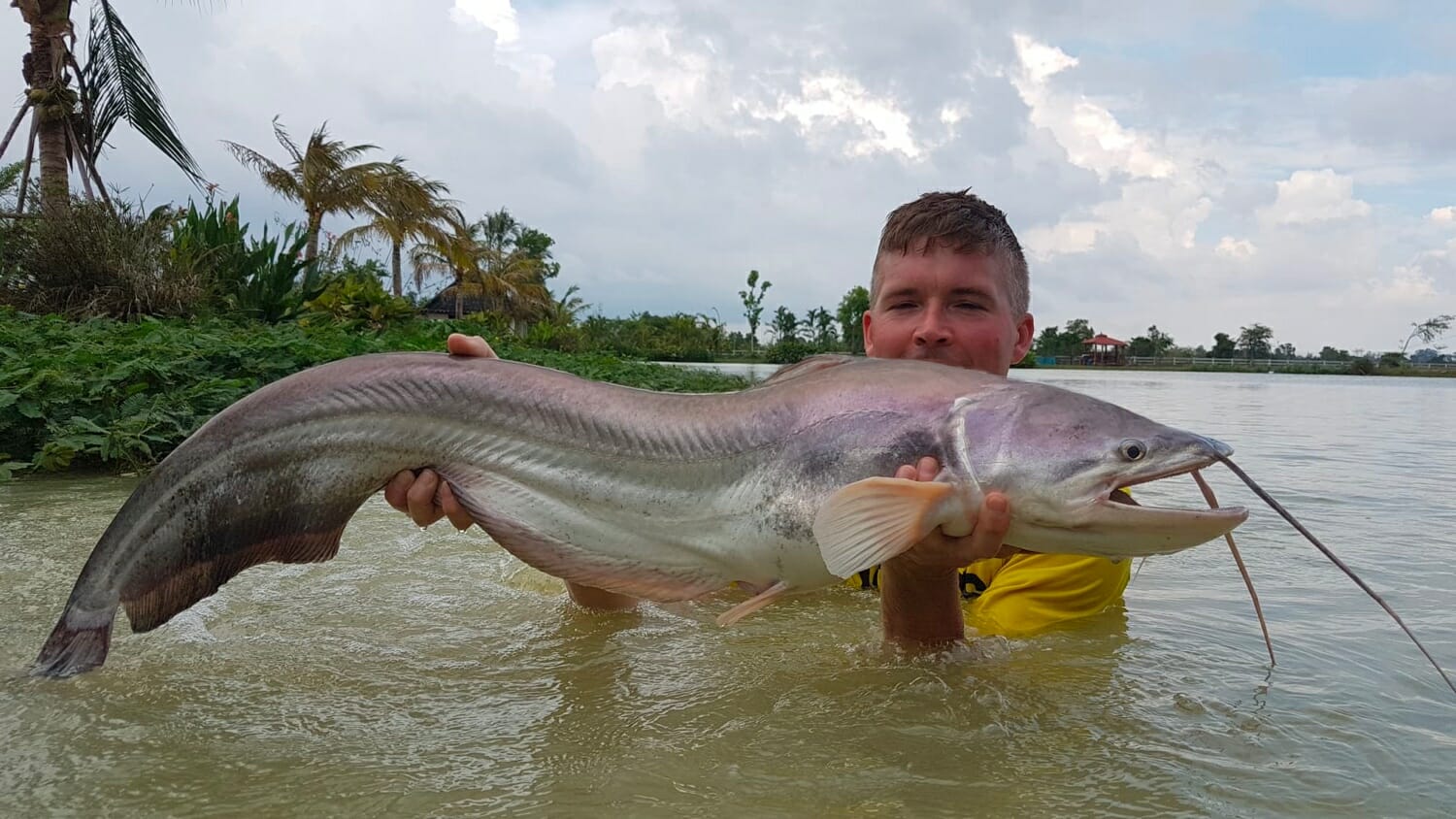 35. Amazon Redtail – Pla Amazon Daeng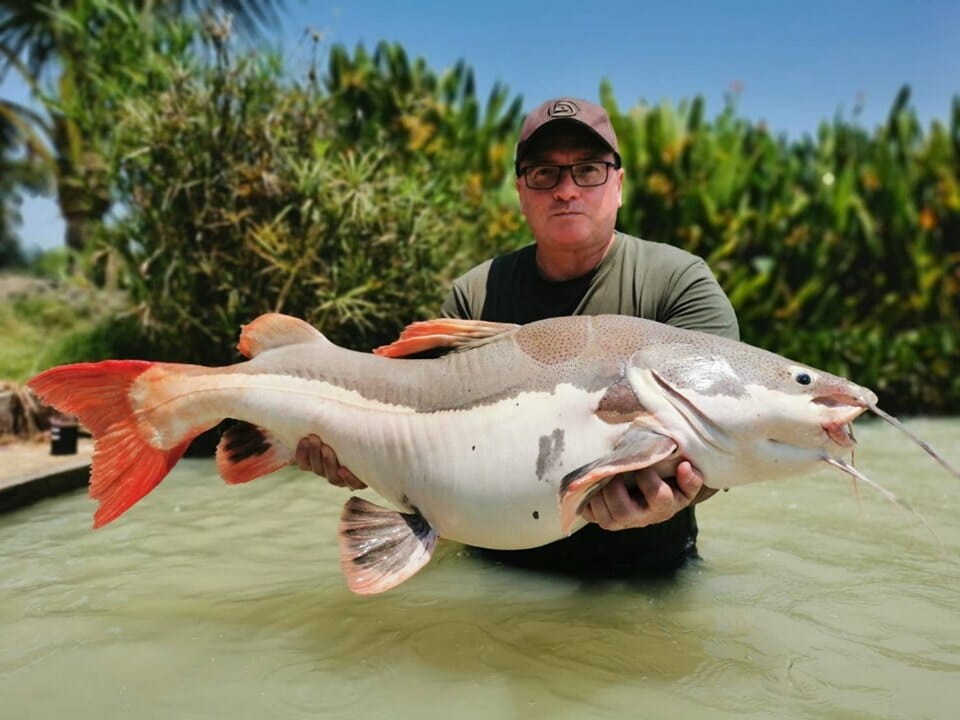 36. Sorubim Hybrid; Red-Tail – Tiger Catfish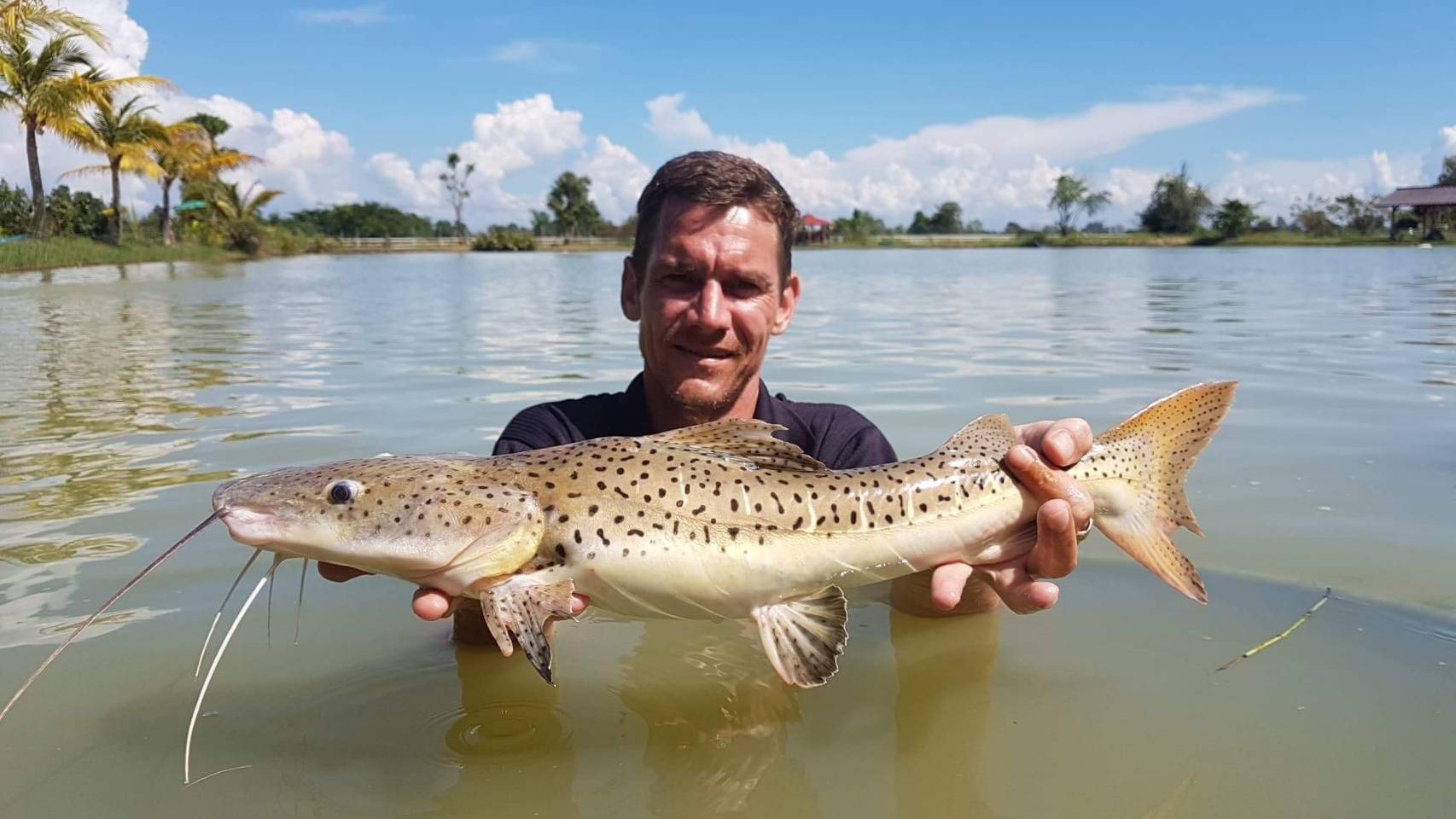 37. Piraíba catfish "lau lau" origin Amazon River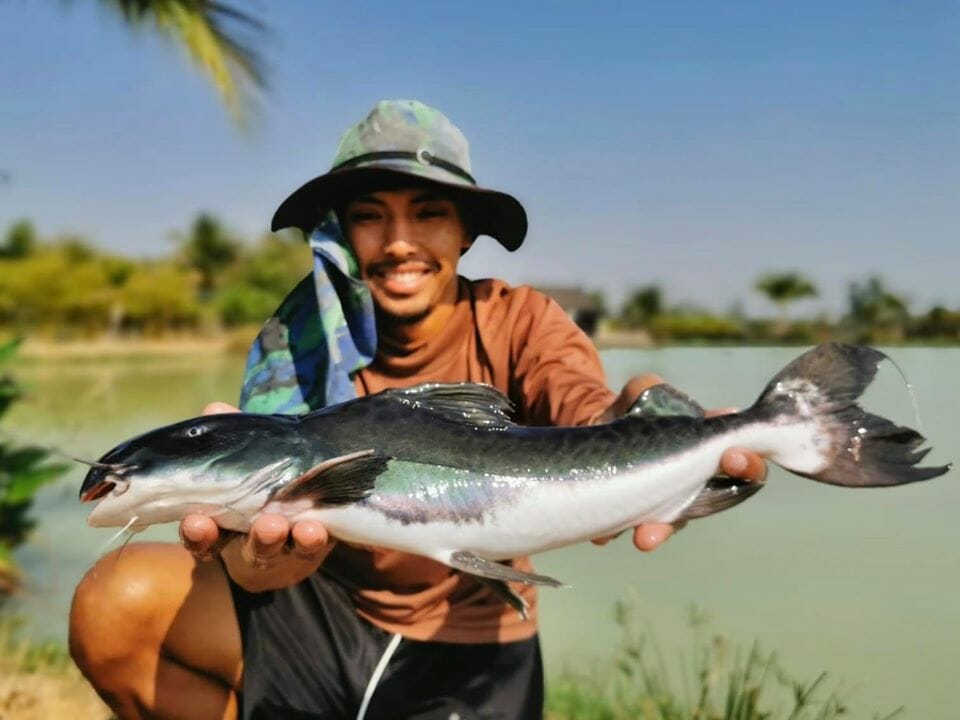 38.  Giant Gourami – Pla Lat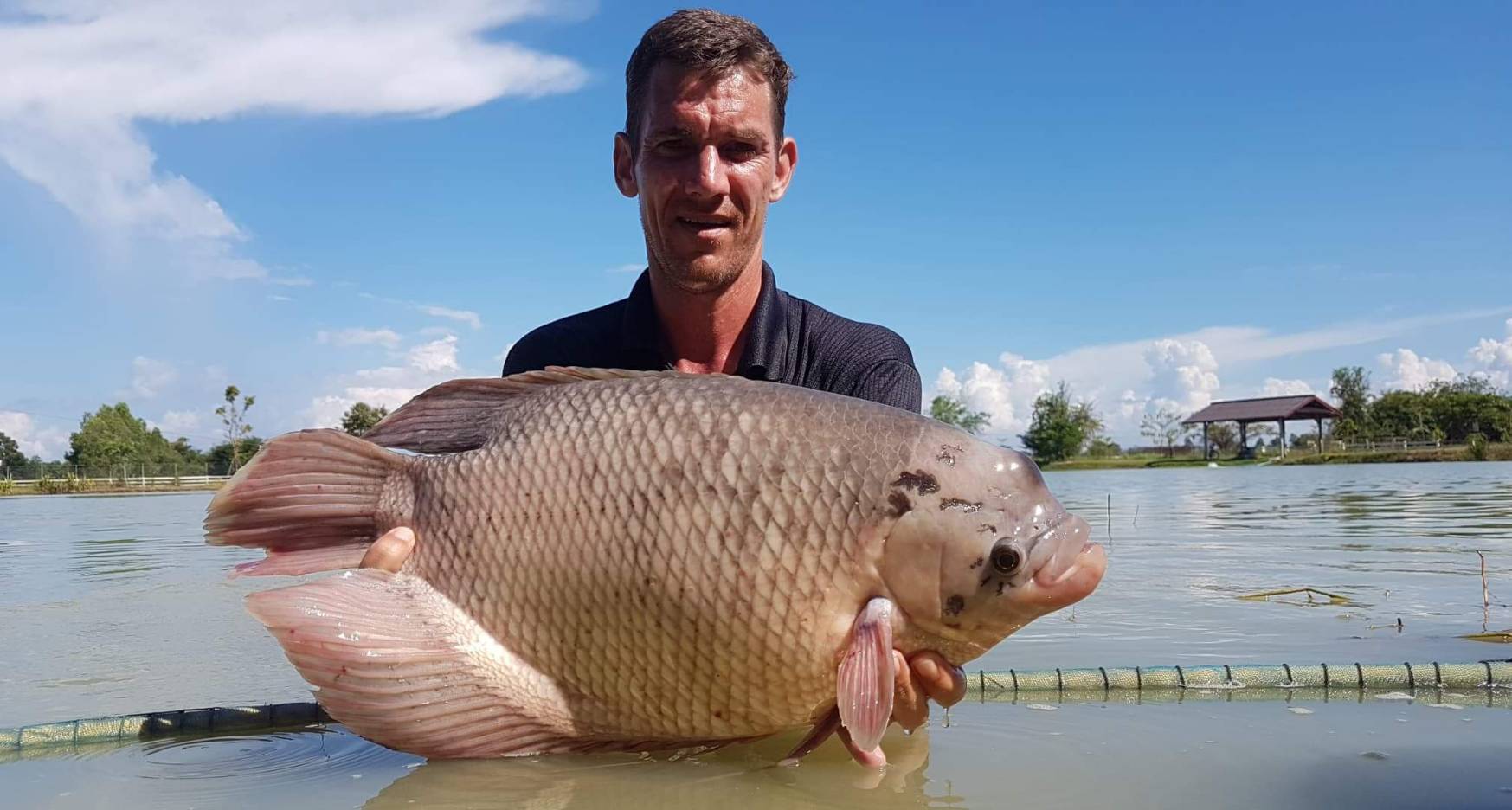 39. Albino Giant Gourami – Pla Lat Puek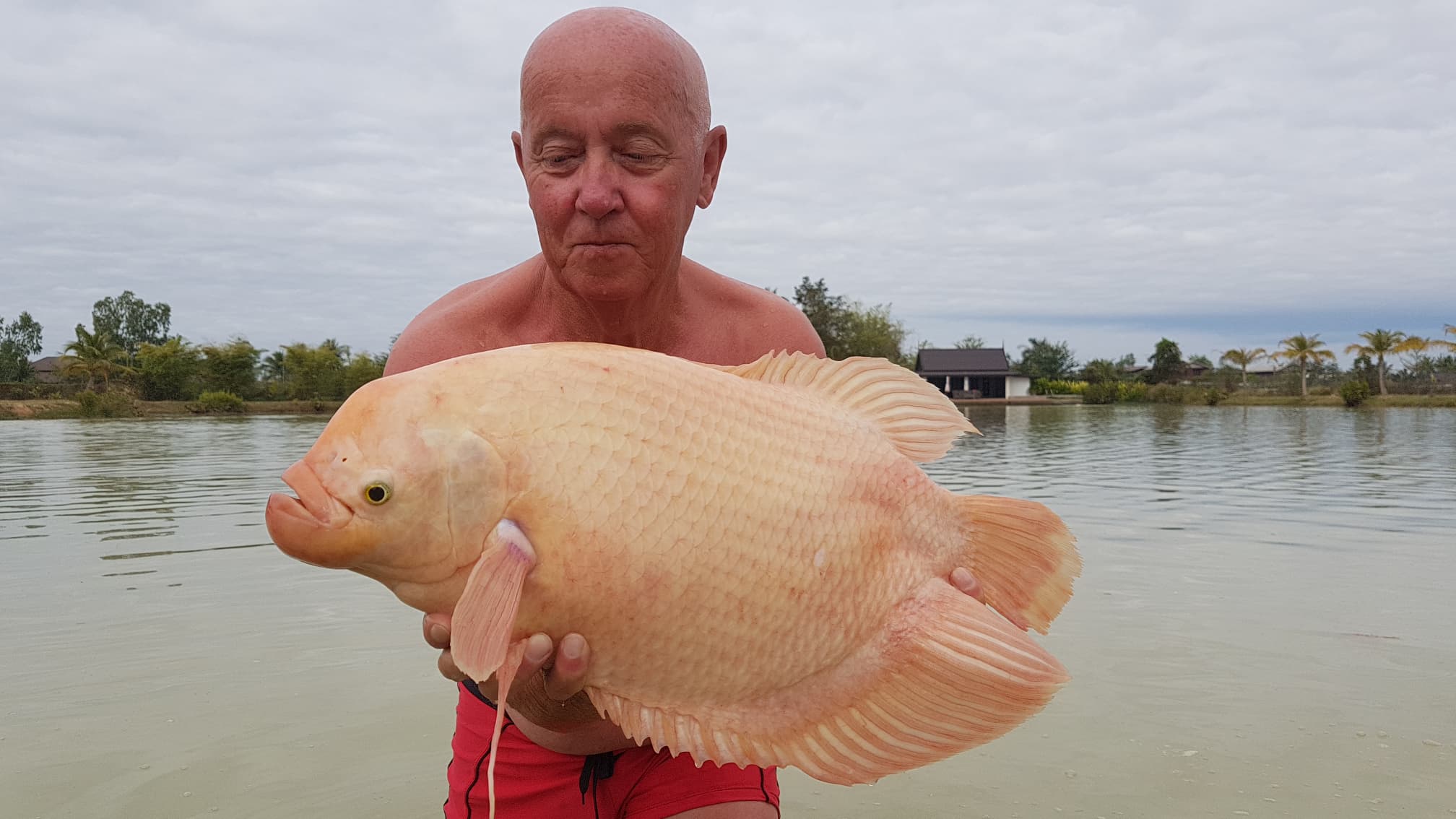 40. Albino Striped Catfish – Pla Sawai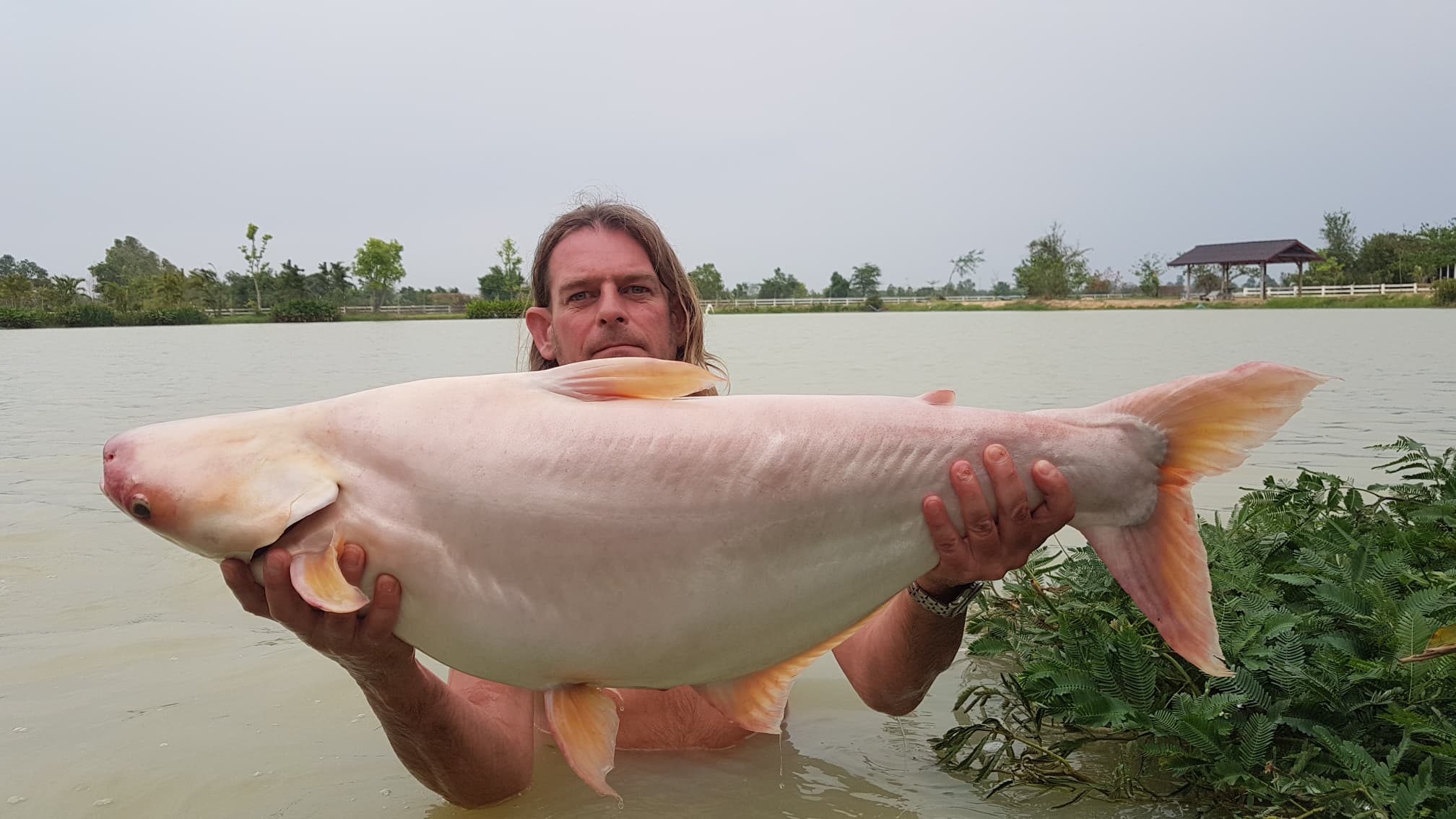 41. Black Ear Catfish (Pla tepo)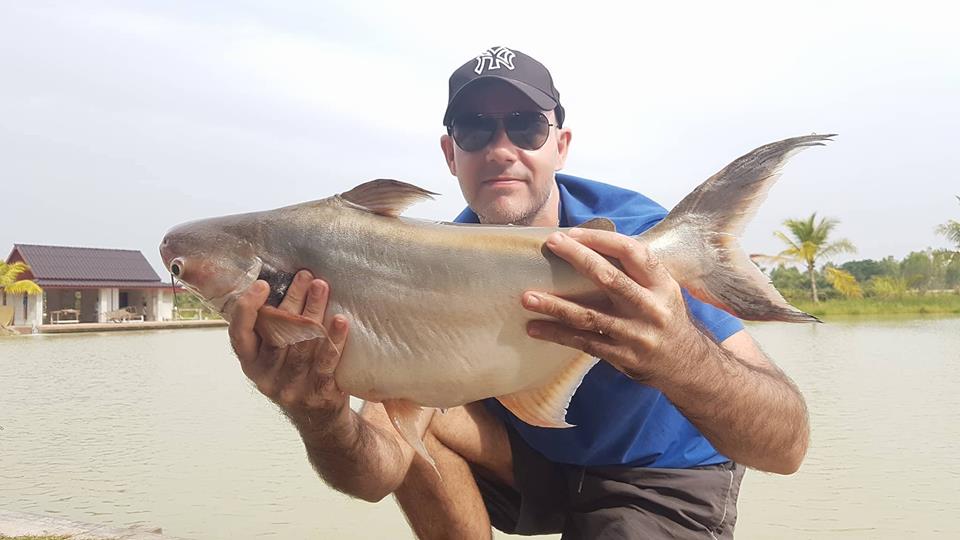 42. Flagtail / Kissing Prochilodus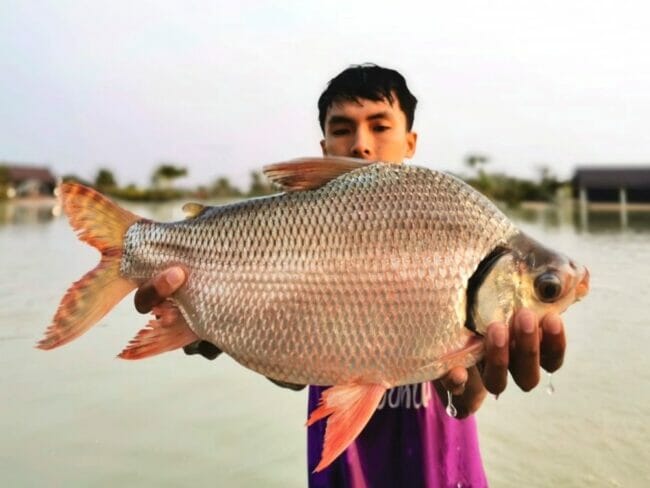 43. Sheatfish – Twisted Jaw – Fishing Holiday in Thailand
45. Alligator Gar – Pla jarakay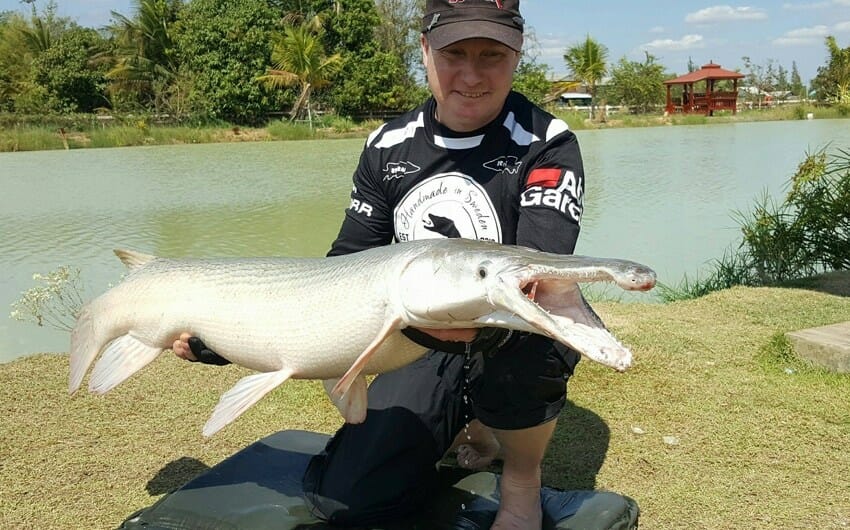 46. Asian Redtail Catfish – Pla hang Daeng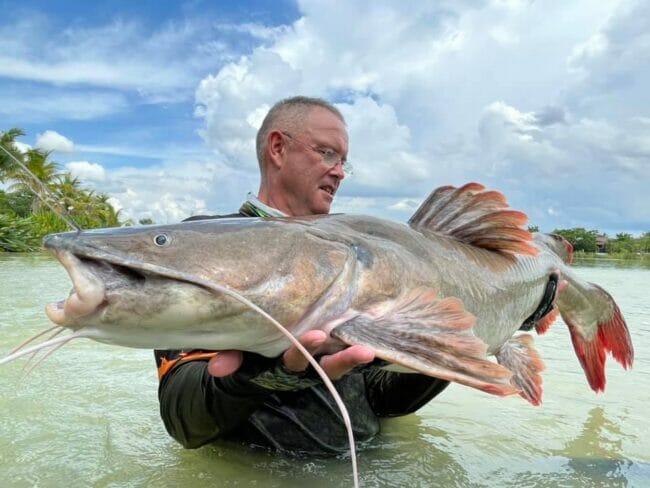 47. Clown Featherback – clown knifefish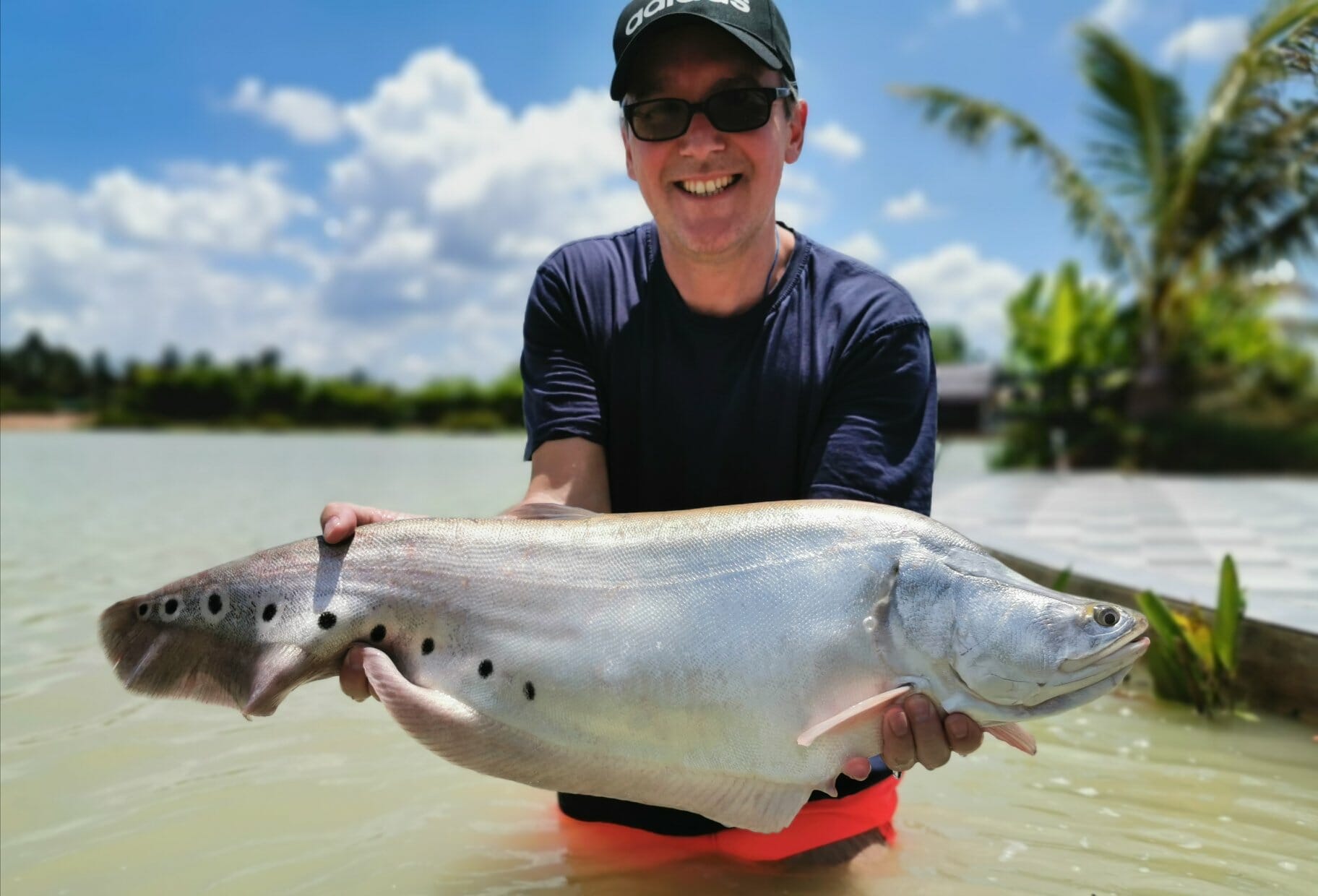 47 a. Platinum Mekong Knife fish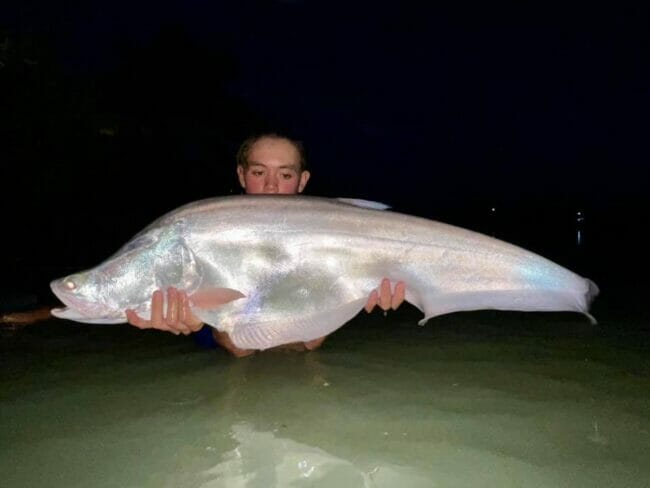 48. Striped Catfish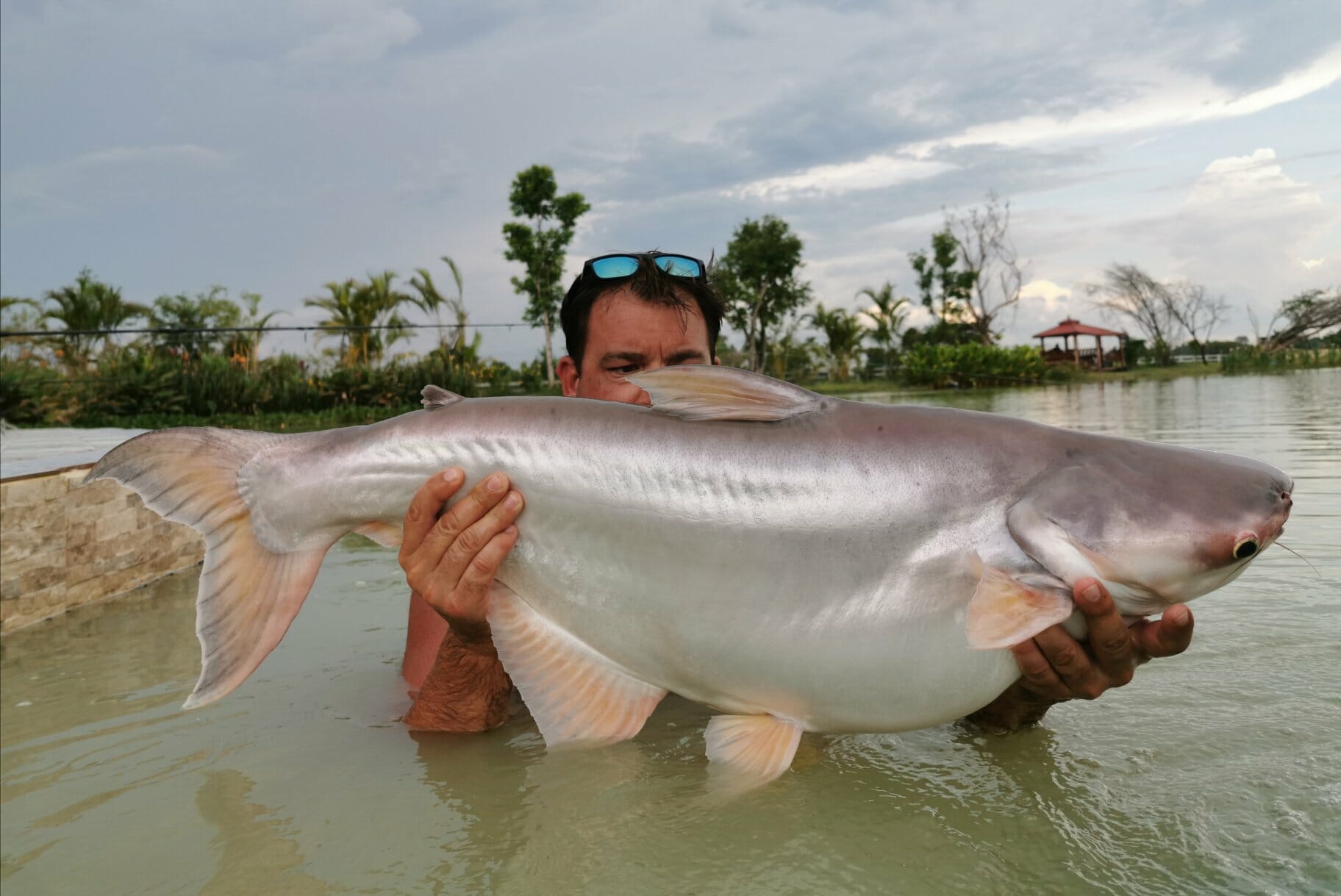 49. Barramundi   – Pla Kapong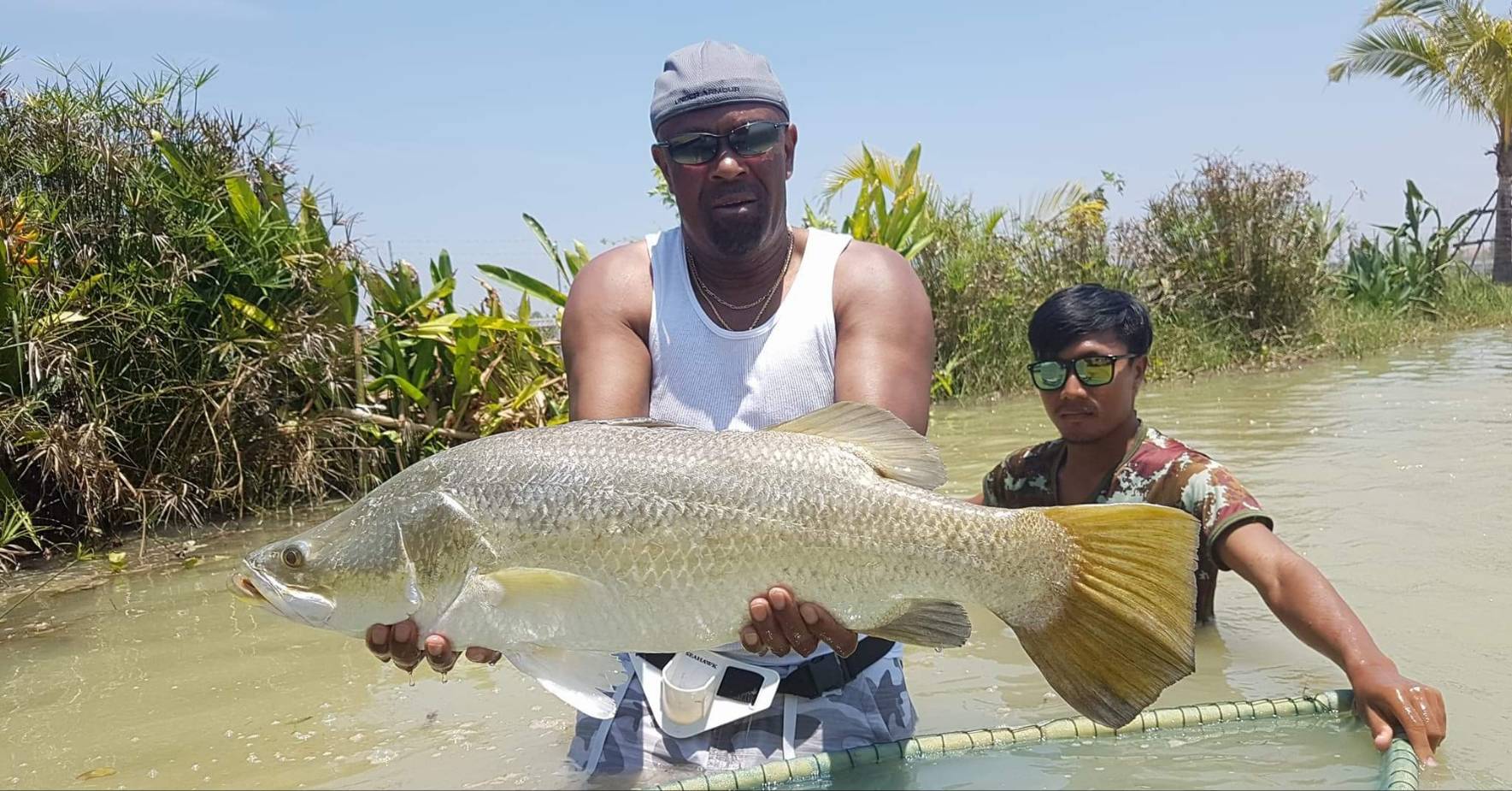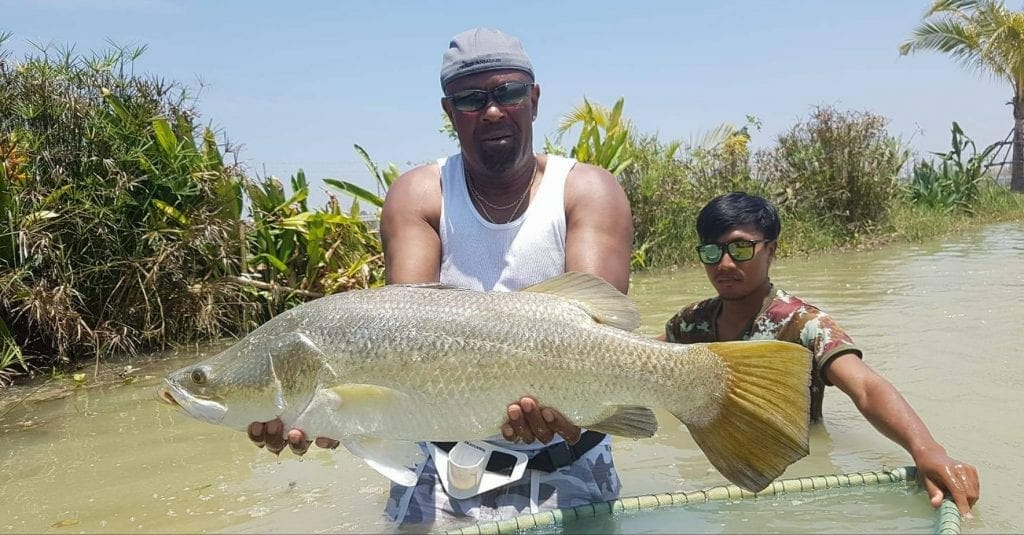 50. Shovelnose Tiger Catfish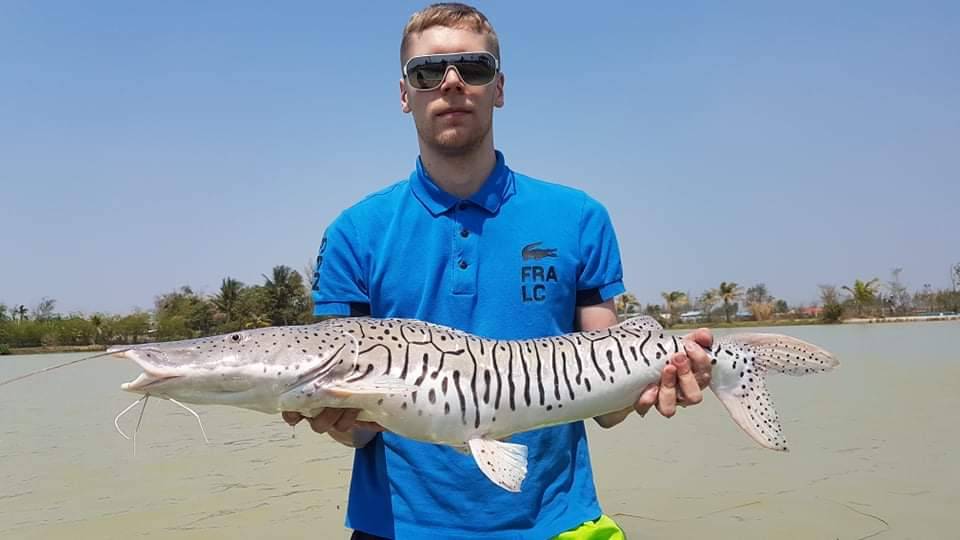 51. Pacu – Pla jaramet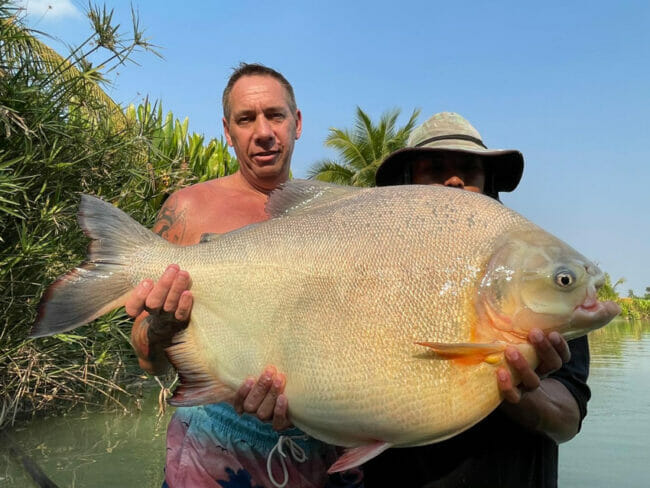 52. Nile Tilapia – Pla Nin (up to 6kg)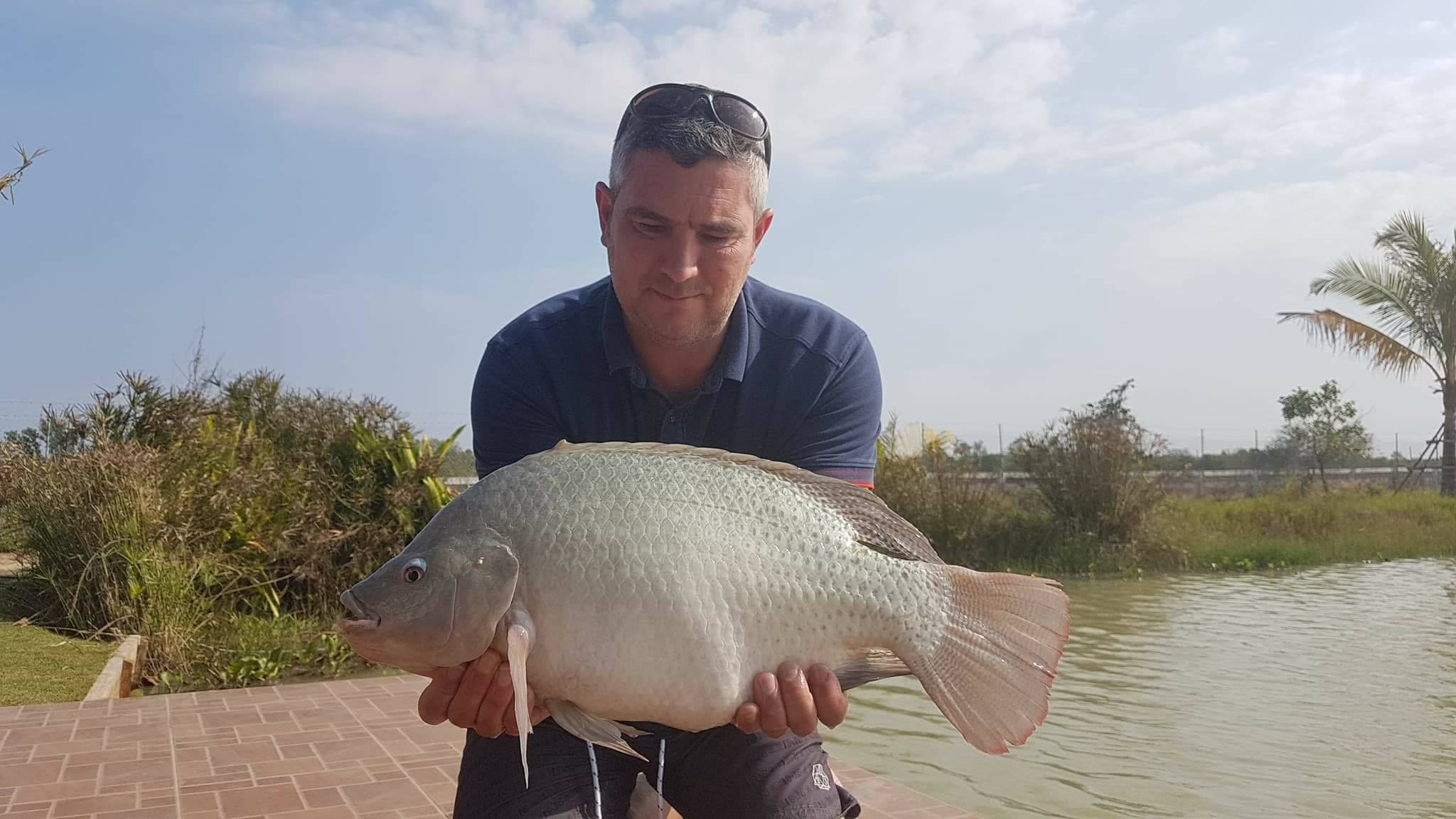 53. Marble Catfish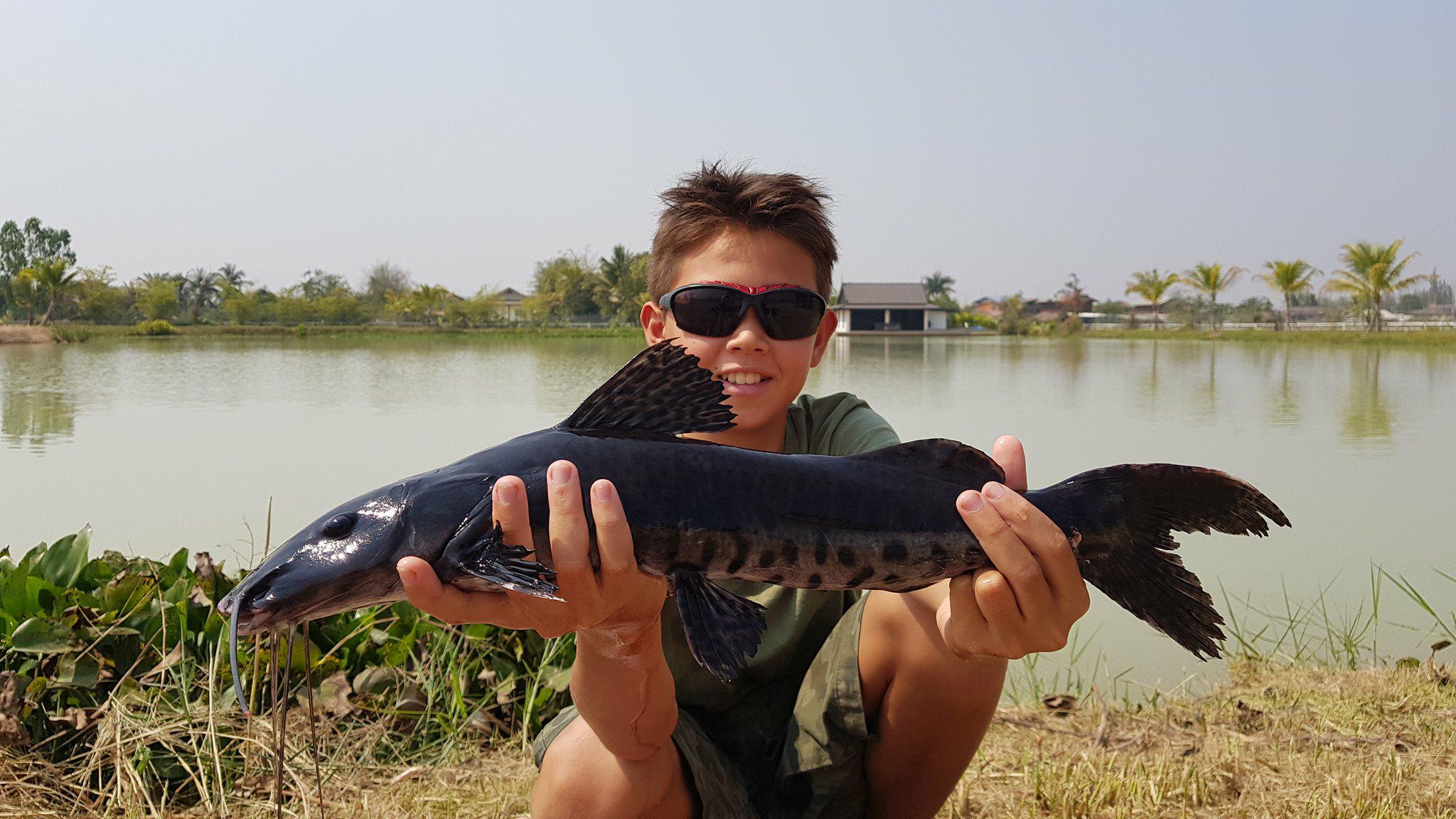 54. Bla Kot – Yellow Catfish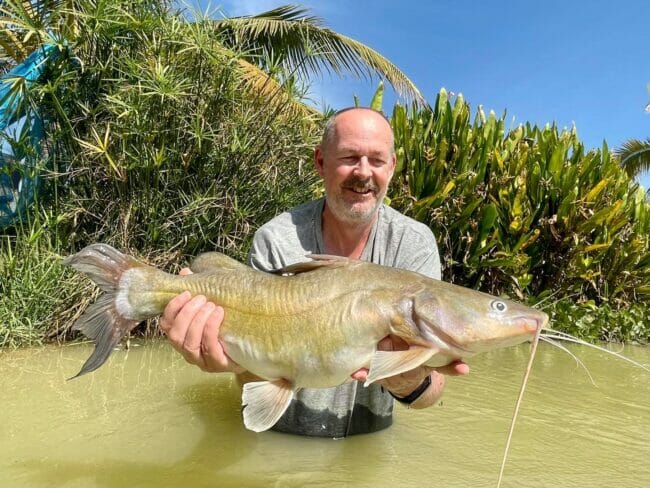 55. Ar0wana – pla taepat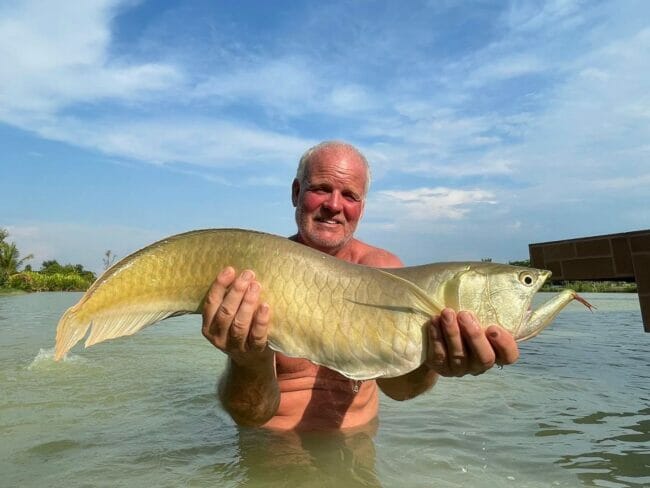 56. Emperor Snakehead – Fishing Holiday in Thailand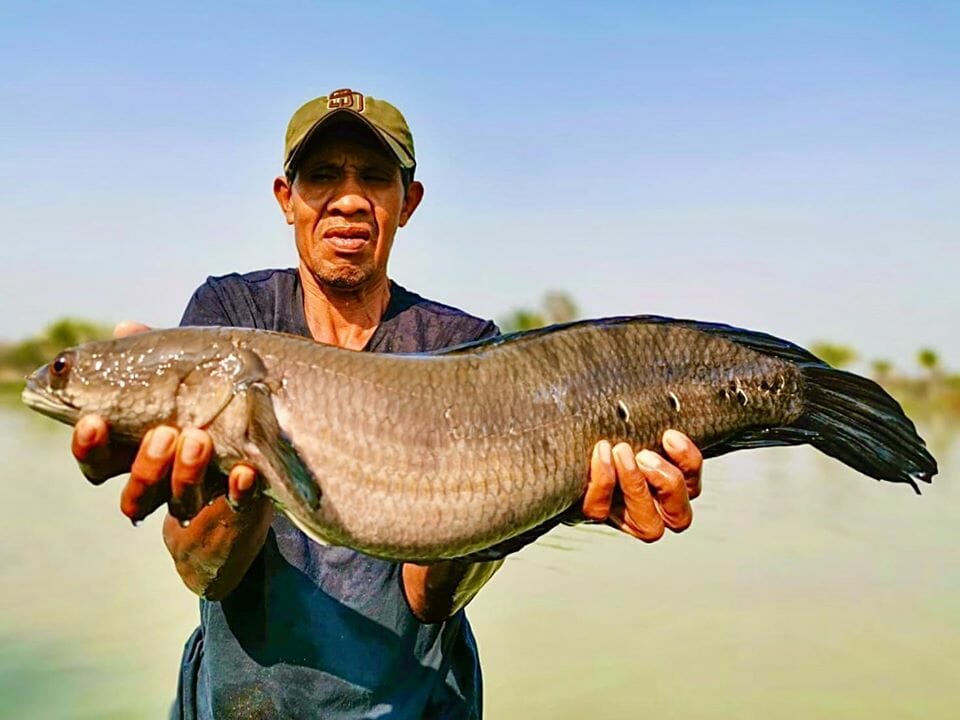 57. Cobra Snakehead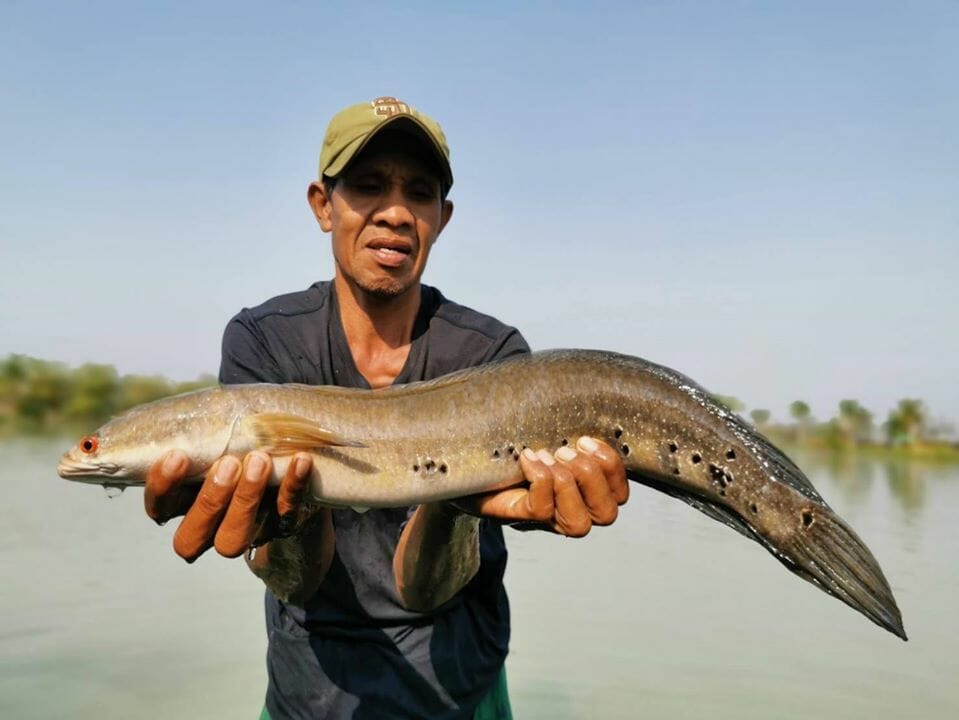 58. Freshwater pufferfish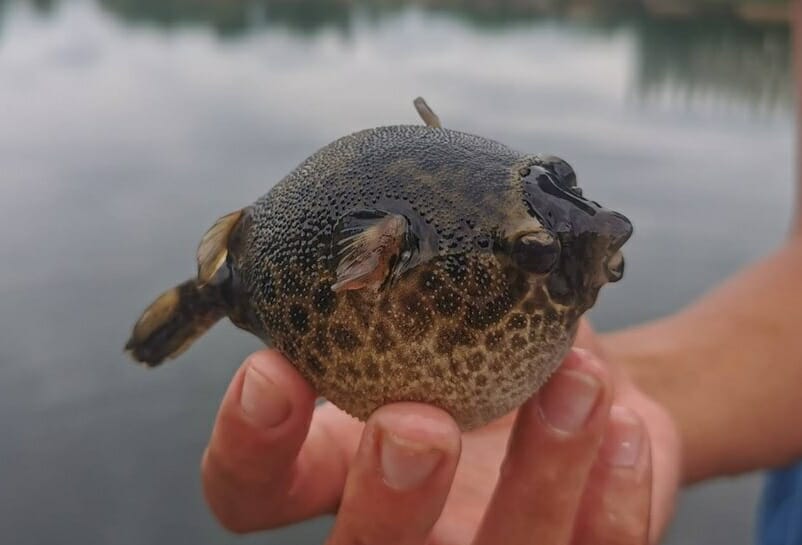 59. Albino Channel catfish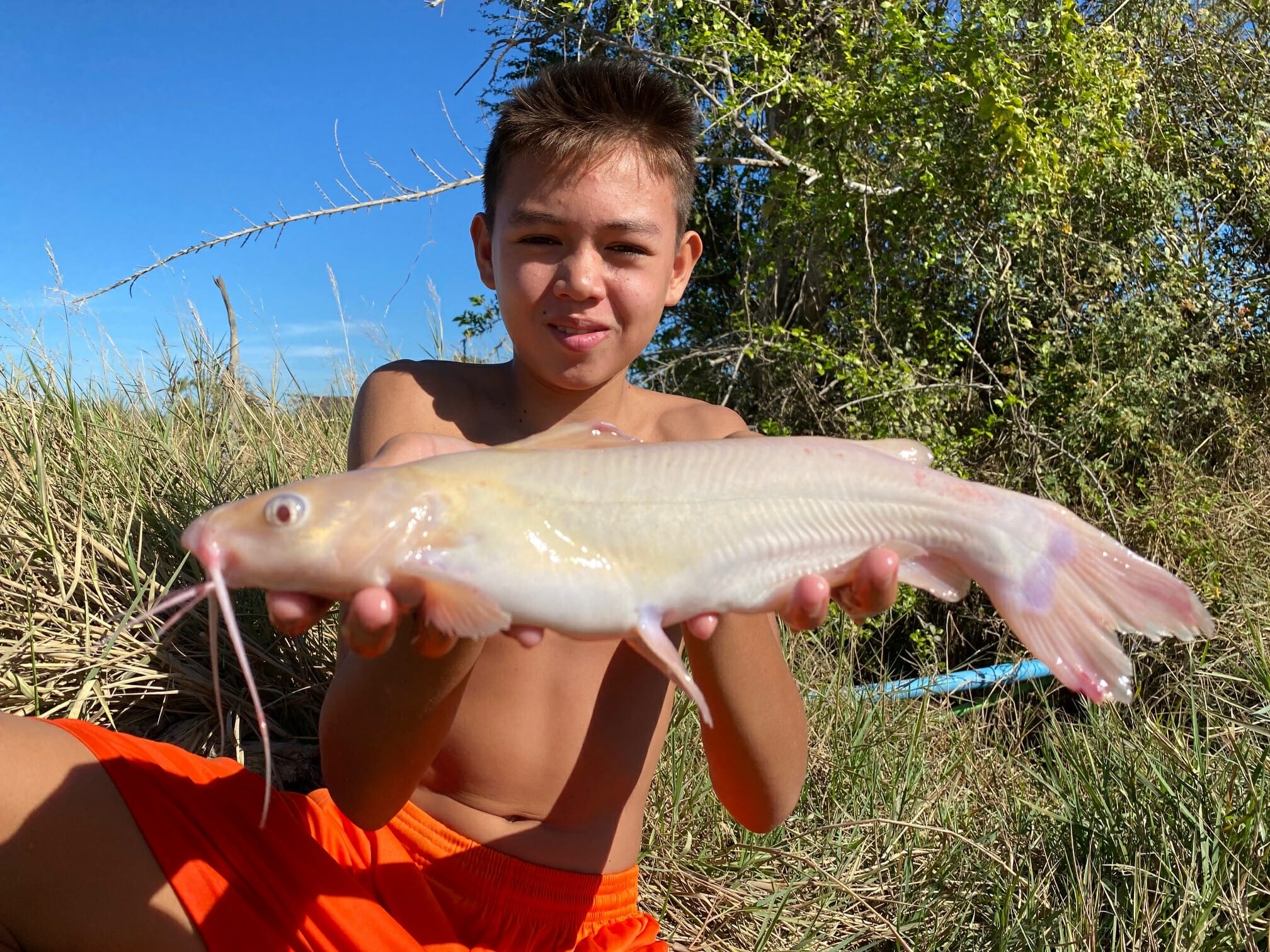 60. Crystal Eyed Catfish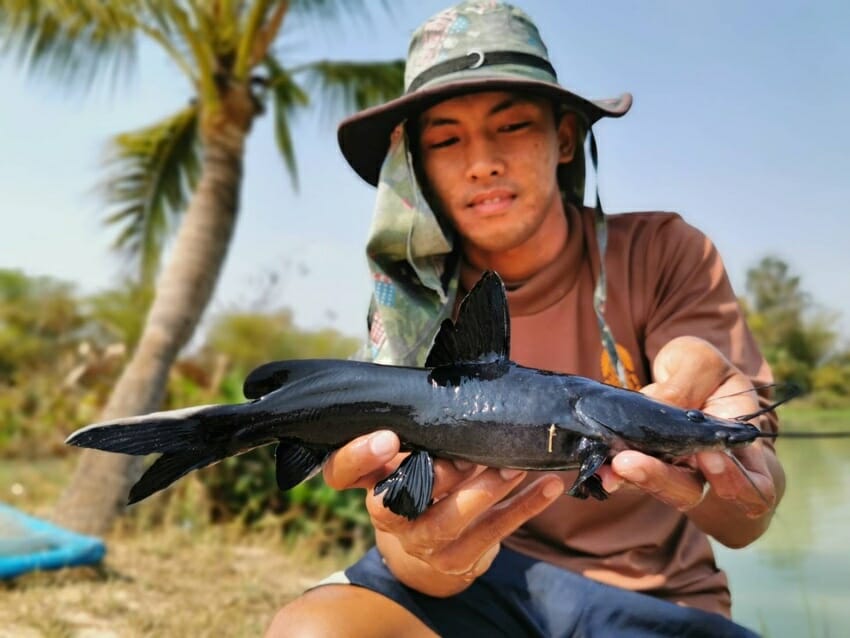 61. Ghost Carp – Hybrid Koi & Pla Nai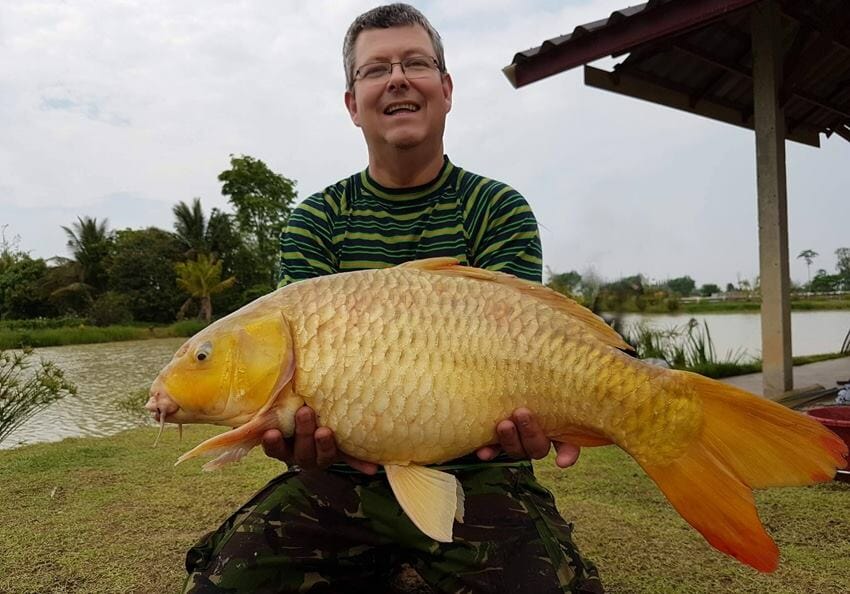 62. Marbled Goby – Bla Bpoo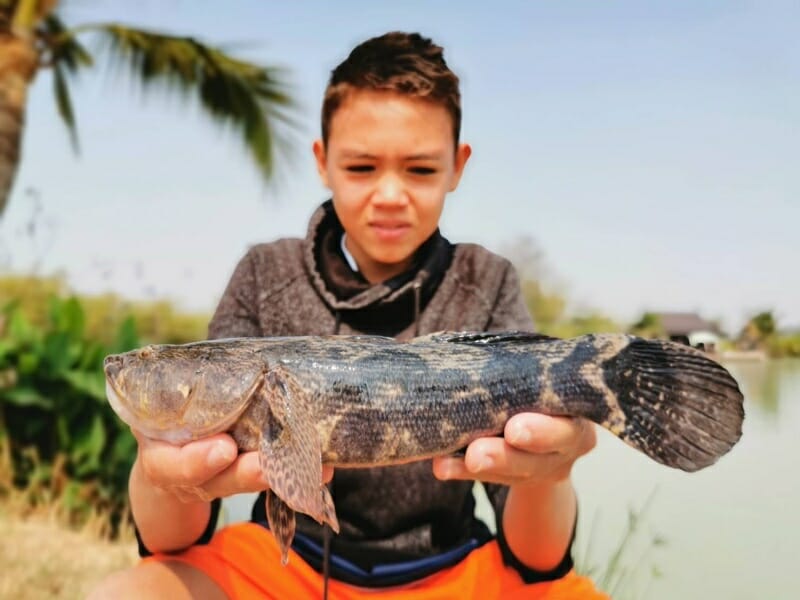 63. Wallago leerii (Striped Wallago Catfish)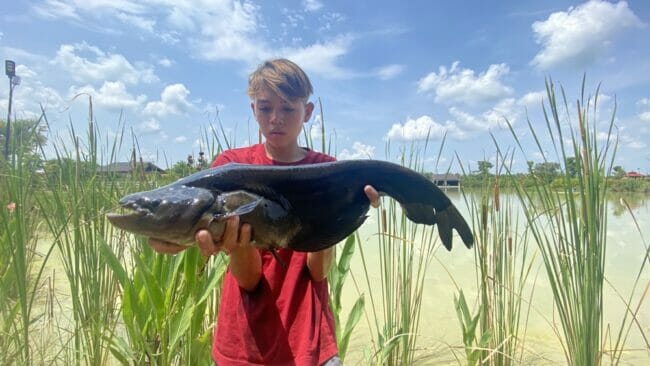 64. Wallagonia Micropogon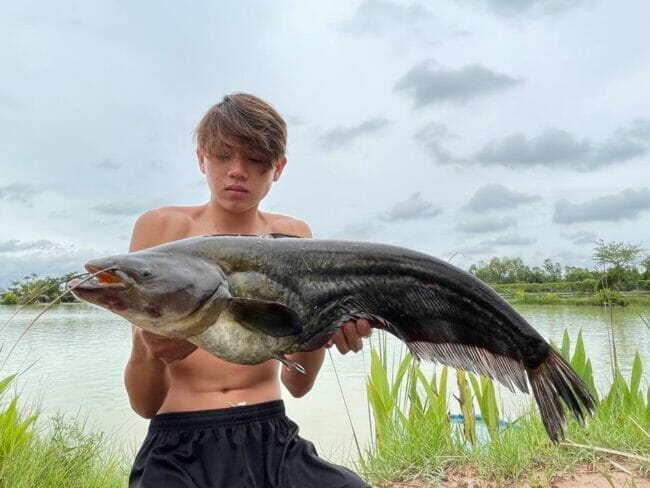 65. Albino wels catfish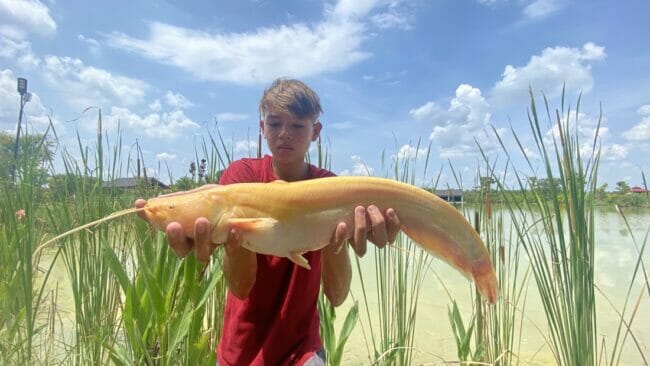 66.  Pleco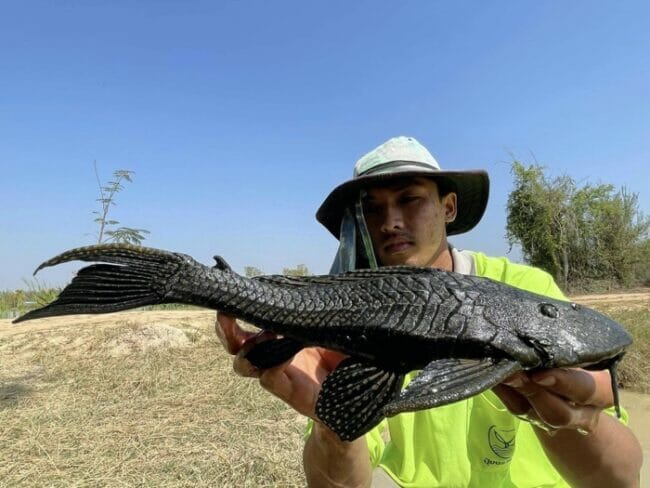 67. Wels Catfish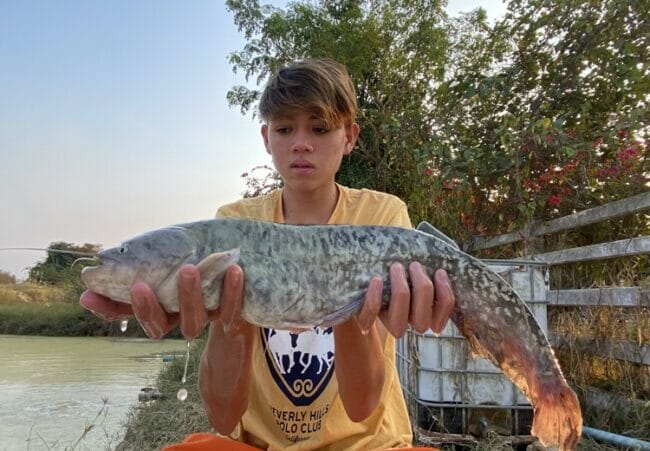 68. Arowana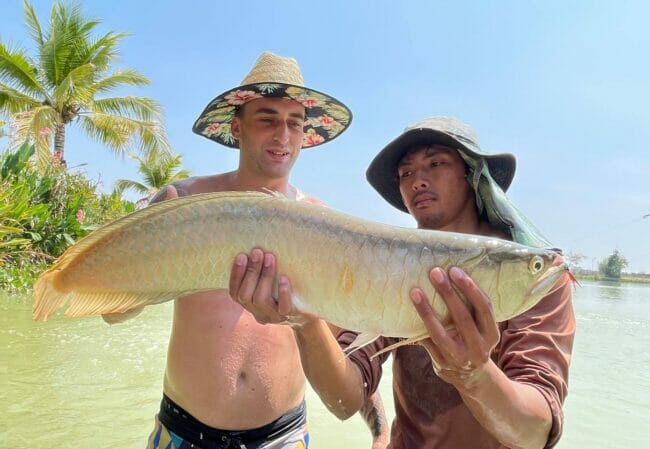 69. Granulated Catfish Pterodoras Granulosus – Read More…..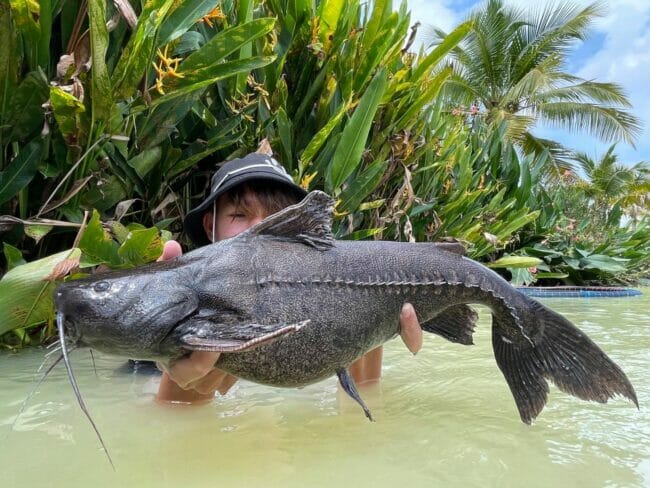 70. Zebra Tilapia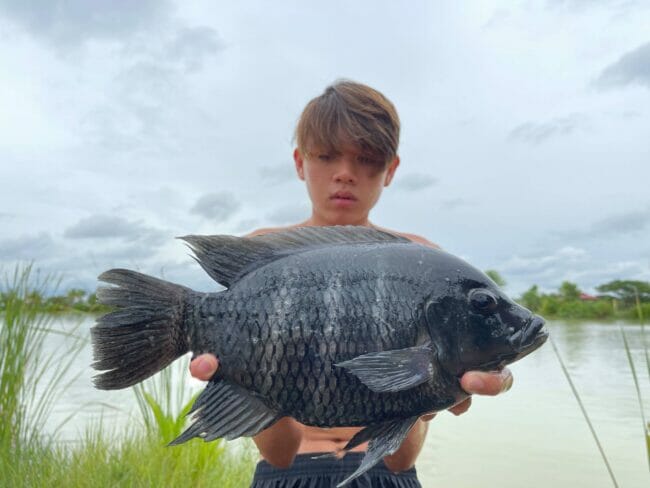 71. Albino short body catfish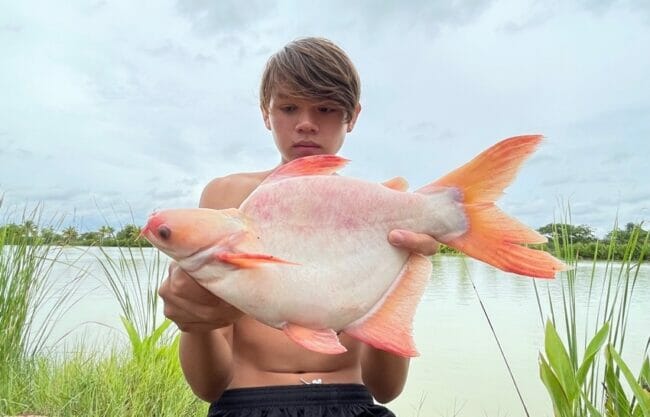 72. North American Blue Channel Catfish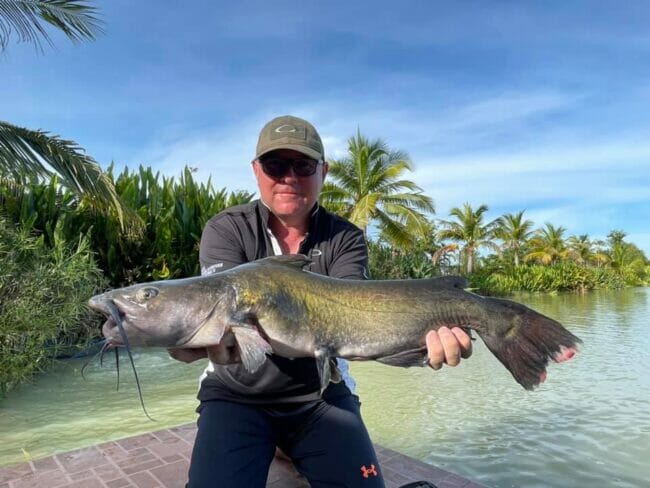 73. Giant Mottled Eel (Anguillidae) READ MORE……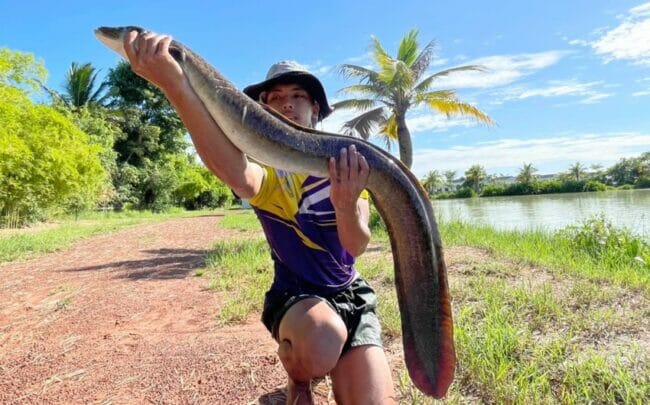 74.Vulture Catfish –  Calophysus macropteru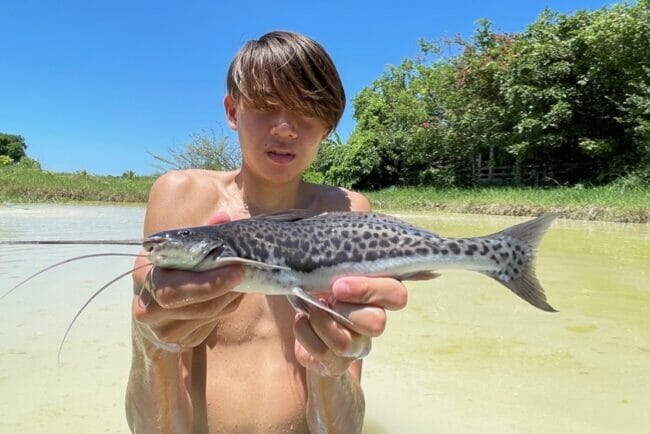 75. Achara Catfish (marbled)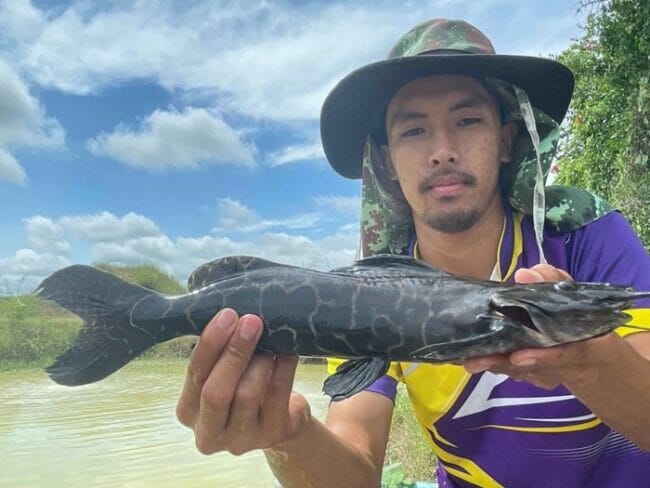 76. Suckermouth Catfish – Bla Joker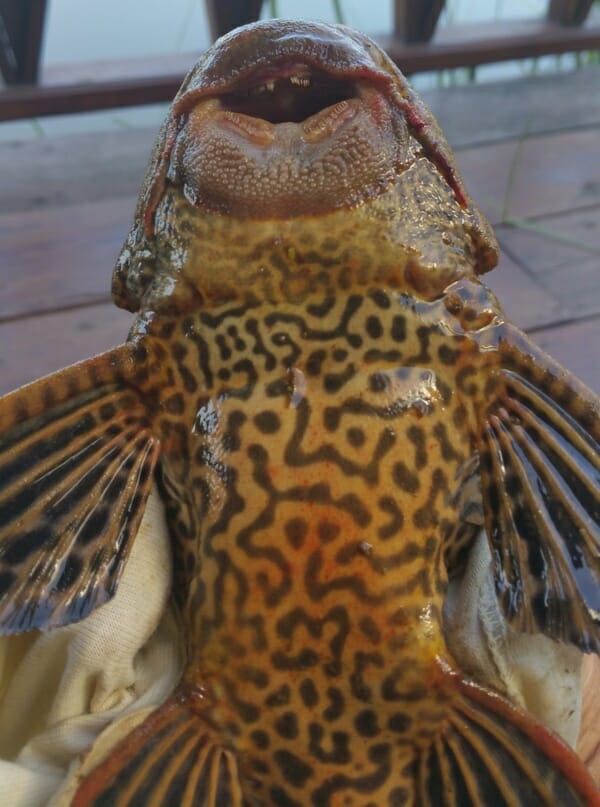 Orange Bla Nin –  Pla tab tim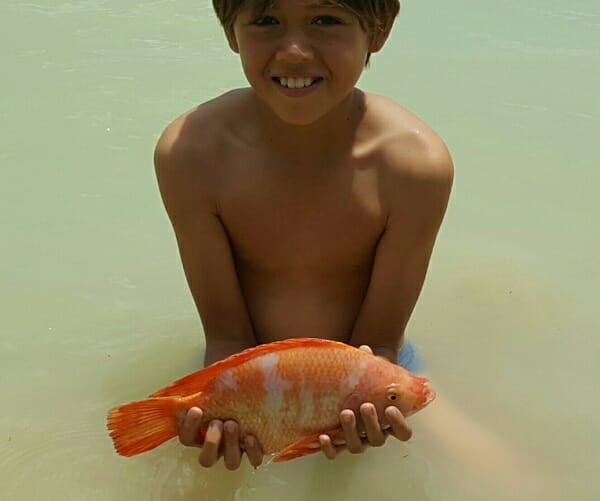 Blah Mor Tep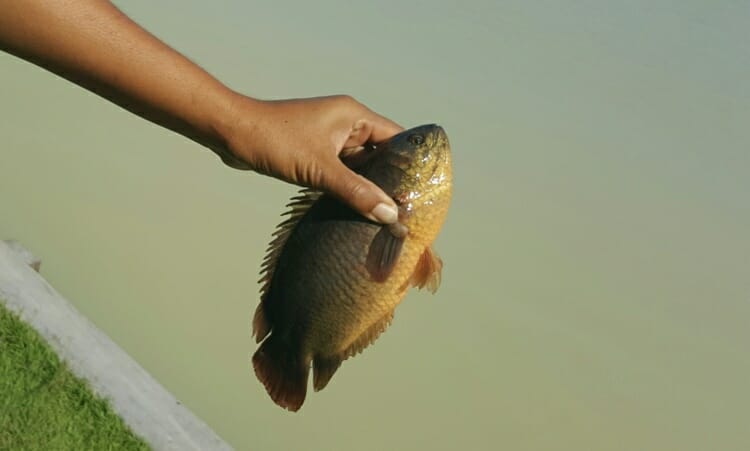 Golden Dorado
Golden Tapien – Tapien Tong
Kissing Gurami – Helostoma teminiskii,
Osphronemus goramy – Albino Silvery
ปลาสร้อยนกเขา  bla sroy Nok kow
__________
Fishing holiday in Thailand
To obtain directions to our lake you can email us for the fastest response on Facebook or call us on: 0860593028 within Thailand or +66860593028 from abroad….
Lek's Ranch & Fishing Park Udon Thani
Tel: 0860593028
Leks Ranch Udon Thani…
Website: https://fishingudonthanithailand.com/
Daily catch reports on facebook: https://www.facebook.com/fishingparkudonthani/
Instagram: https://www.instagram.com/leksfishingparkudon/?hl=en
Twitter: https://twitter.com/leks_fishing
TikTok: https://www.tiktok.com/@juniorfishingthailand
YOUTUBE Please  SUBSCRIBE: https://www.youtube.com/c/Lek%E2%80%99sFishingParkUdonThaniThailand