Giant Siamese Carp Thailand – (Giant Barb) is known as the largest carp species in the world. Found in many of Thailand's waters-ways, along the Mekong River and through Cambodia down to the Mekong Delta in Vietnam. … Fondly referred to as the 'Mother' of all Carps..
Lek's lake is very well stocked with 13 species of carp and with the Siamese Carp reaching weights to over 100 lb (many over the 85lb mark)
FISHING METHODS:
There are many different ways of catching our Giant Siamese Carp at Lek's  Try surface fishing with a large bung float and a suspended coiled method feeder.  Ledger on the bottom with a method feeder and pop up, or numerous other baits such as corn, bread, pellets, PVA feeding…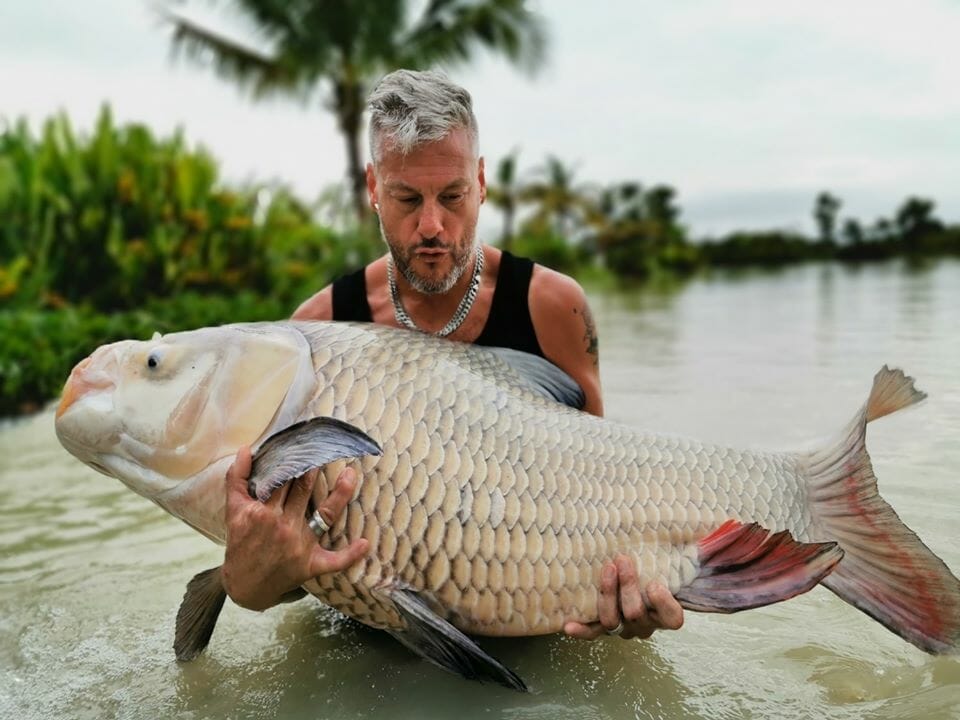 Siamese Carp Fishing in Udon Thani Thailand with Donna Pocock
Siamese Carp (Giant Barb) is a migratory fish that holds the record for being the largest freshwater-dwelling fish in the world. The Giant Siamese carp can only be fished in freshwater rivers and lakes in Thailand, Laos, Vietnam, and Cambodia.
In Cambodia, it appears in ancient temple carvings at Angkor and has been named the national fish. Determined within the Mekong, Chao Phraya, and Maeklong river basins, large barbs frequently common deep pools along the river. They can also pass seasonally into canals or floodplains searching for food.
Appearance and Diet
Recognized and known to reach a weight of 670 kilos. It's the biggest carp species worldwide,  in Southeast Asia earning the nickname of The King of All Fish. With a massive head and thick, rubbery lips, the large barb has scales nearly the size of a human palm.
A slow-moving vegetarian.  Feeding on phytoplankton, as well as algae, seaweed, and fruits of submerged terrestrial plant life.
The huge barb used to be an important food source, it was a favorite amongst people in Cambodia, Thailand, and Laos.  However in the 20th century due to overfishing, its numbers dropped dramatically.
Abdesselam Toumi and Jean Michel Chassal…Fishing in Udon Thani