Details of the 3 daily Motorcycle Rides Out, ride outs with motorcade escort to three major attractions in and around Udon Thani Province. The Trip Leader will arrange stops for food and drink, mechanical assistance and first aid care..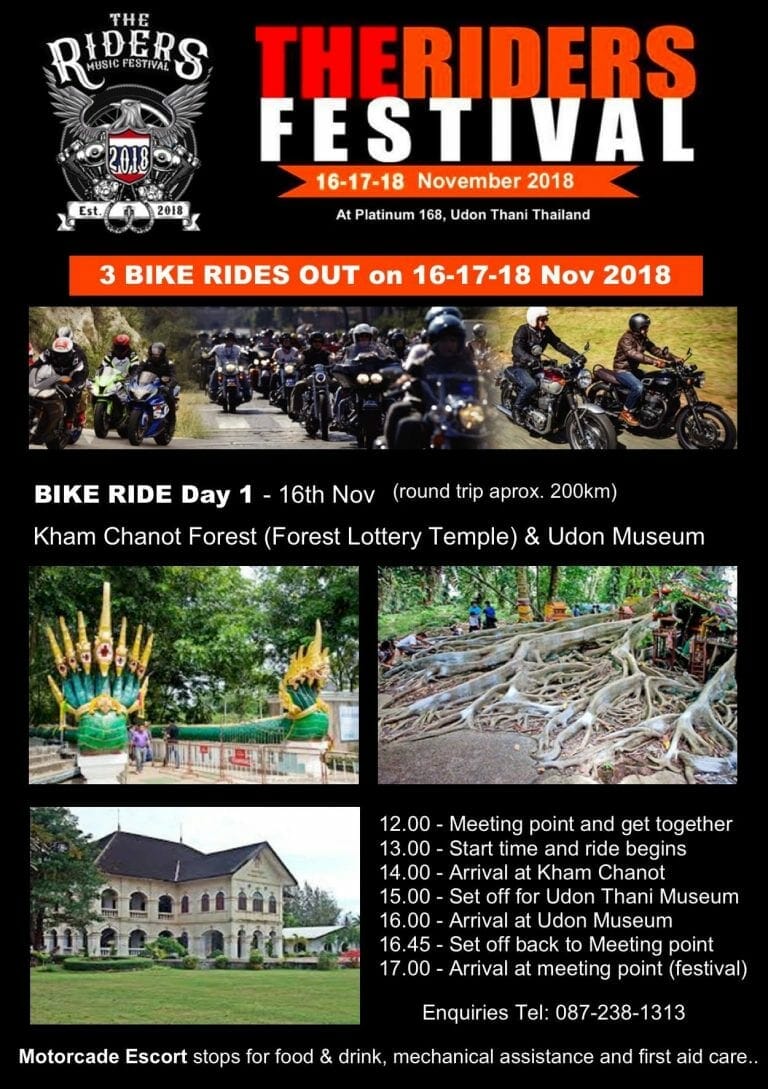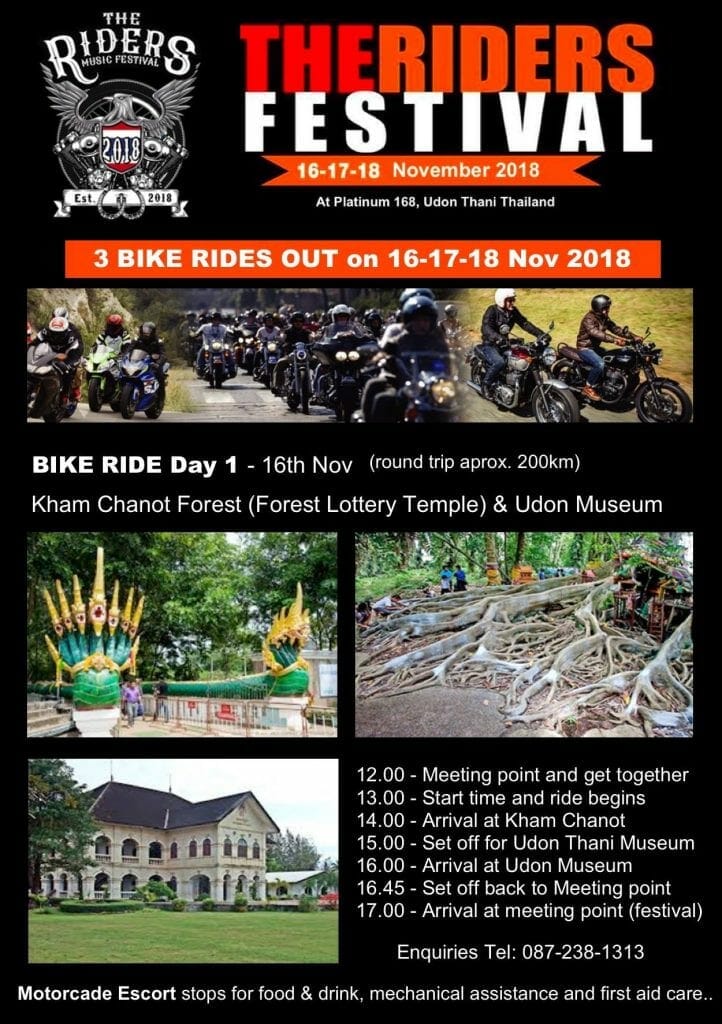 Bike Ride Out Day 1 (round trip approx 200km)
Wat Kham Chanot (Thai: วัดคำชะโนด) is a buddhist temple near Ban Kham Chanot, Amphoe Ban Dung, Udon Thani Province in Northeastern Thailand. It is located in the Wang Nakhin area at a lake where the Nāga, a mythical large snake, is supposed to be living.
Nāga worsphip is one of the main issue in this small monastery. About ten monks live here permanently. It is believed that the snake has a hideaway on the island. It is connected to the other Wat premises by a bridge. The origins of the wat are located on the island.
A small zoo with turtles has been added to the monastery. Opposite of the main temple building, a permanent (rural) market for visitors is provided.
Muang Udon Thani Museum
Stately museum showcasing provincial arts, culture & archeology, along with the town's history.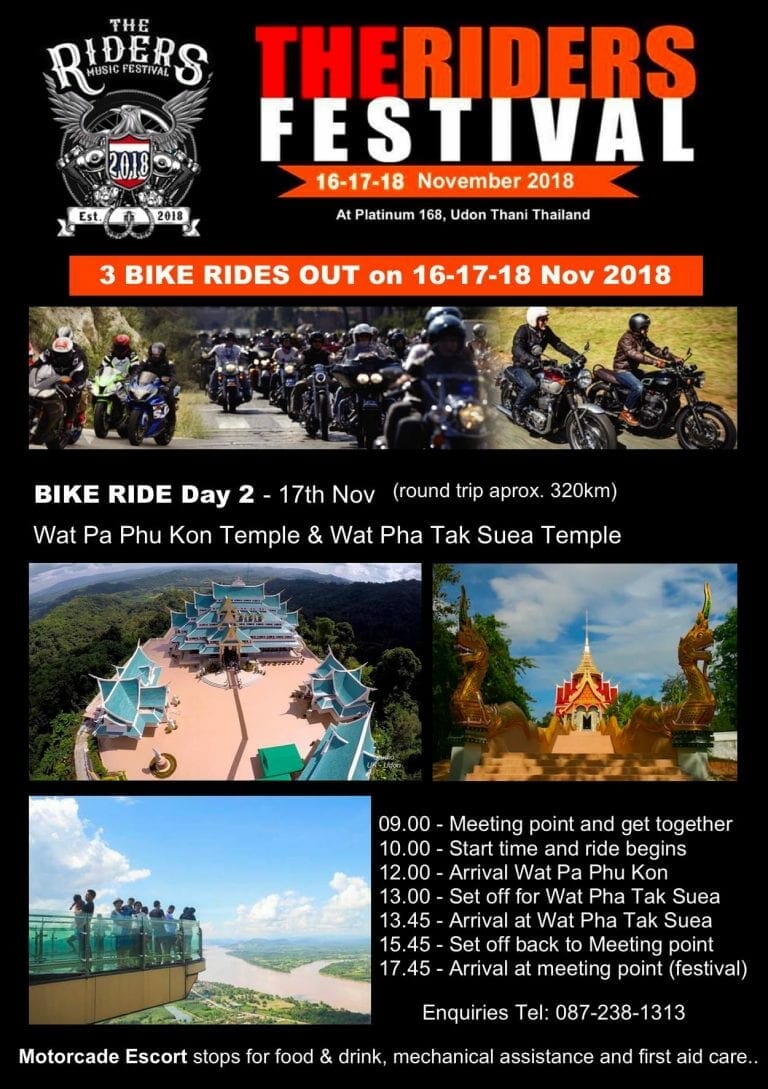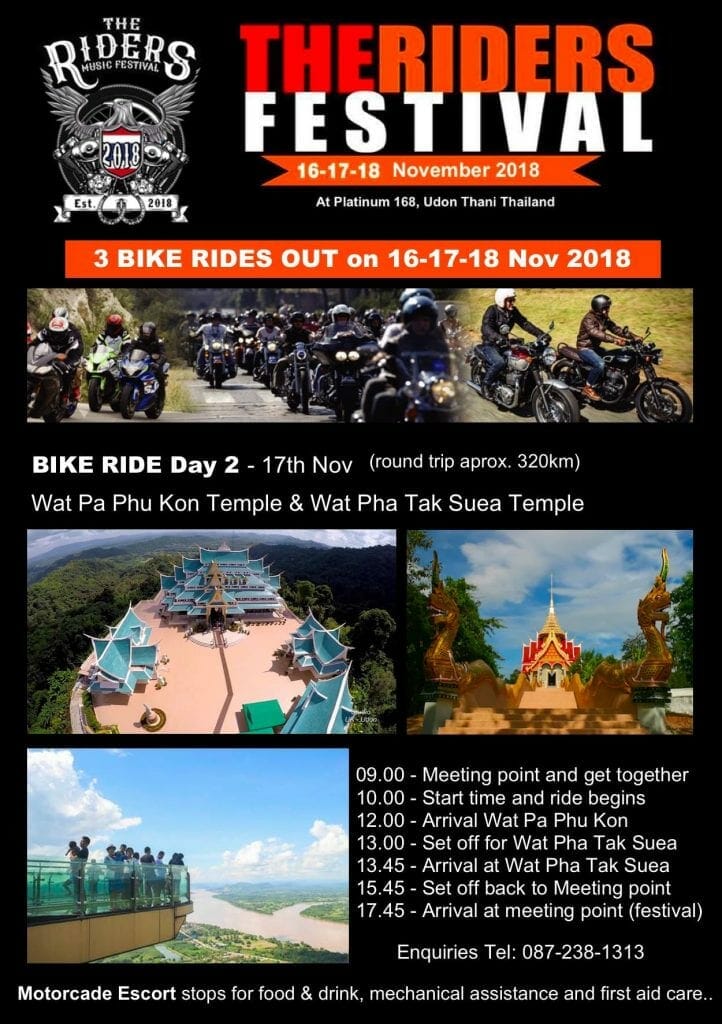 Bike Ride Out Day 2 (round trip approx 320km)
Wat Pa Phu Kon
Wat Pa Phu Kon is probably the most stunning temple in Issan; certainly the most striking with its aqua blue roof. This is not unique as you can find other temples in Thailand with the same colour on top but it is the only one I know of in the Issan region. Wat Pa Phu Kon is located in a very remote part of Issan but is very well signposted from route 2021 that heads west from ban Phue.
​Discreetly tucked away in a hilly woodland just inside the Na Yung District district boundary of the Udon Thani Province, some 126km from Udon Thani City, is Wat Pa Phu Kon and is one that is probably not seen by the single visitor too often; more the realm of the expat with a local Thai girlfriend or wife who wants to visit this rather special temple.
Wat Pha Tak Suea Skywalk – Temple
During 2016 the skywalk opened to visitors that's attracted many foreigners as well as Thai people. The 16 meter skywalk is a u-shaped platform set in the hillside on a cliff edge that's overlooking the Mekong river with beautiful panoramic views.
This was the second place i really enjoyed visiting on a three part day trip i took before visiting Wat Pa Phu Kon (another 50 km from Wat Pha Tak Suea).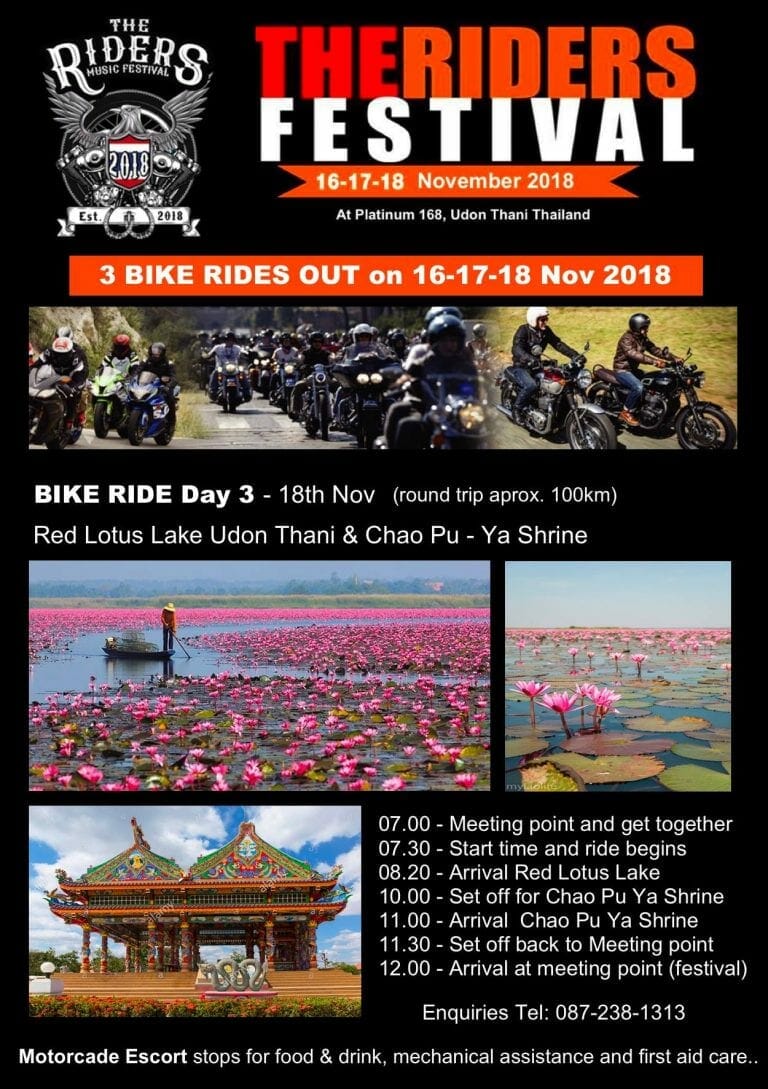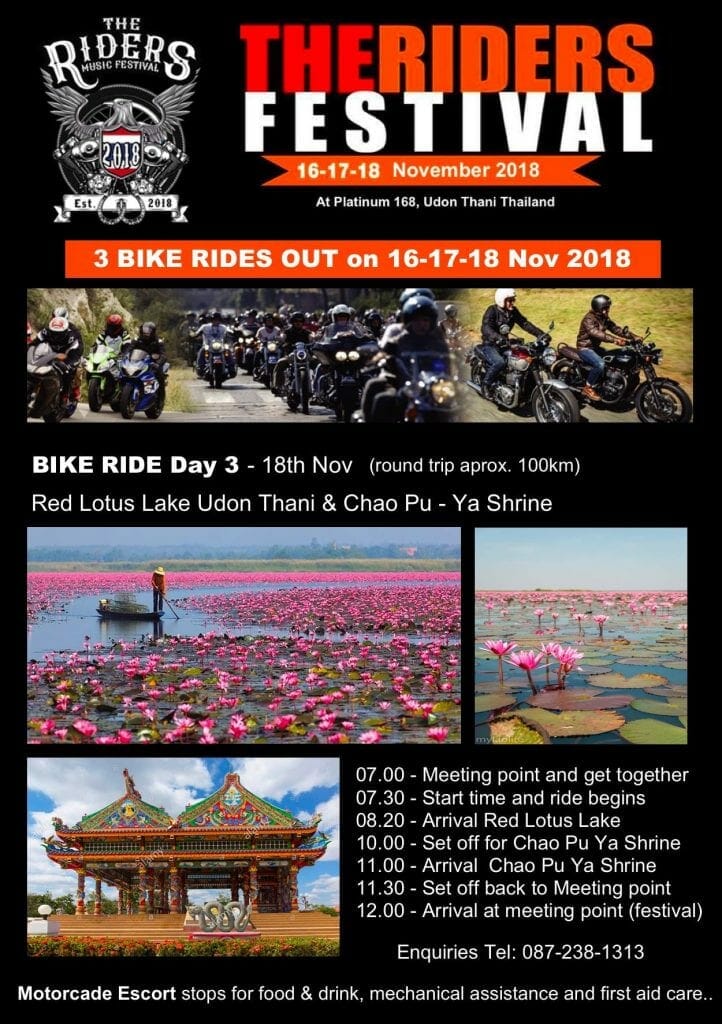 Bike Ride Out Day 3 (round trip approx 100km)
Red Lotus Lake in Udon Thani
One of the highlights of visiting Udon Thani province in northeastern Thailand is the so-called "Red Lotus Sea" or Talay Bua Daeng (ทะเลบัวแดง) in Thai. Really it is a lake and not a sea. Also, they are pink water-lilies and not red lotuses. But, regardless of these small details, it is an amazing sight that can be enjoyed during the cool season from late November until early March. The best time of day to visit is during the morning, the earlier the better when the water lilies are in full bloom. The best month is said to be in January when the lilies cover a much larger area. I went there recently at the end of November and was quite impressed with the amount of flowers. The weather was certainly perfect with a lovely cool breeze.
Chao Pu-Ya Shrine
Is located behind the railway station near the Nong Bua Market on nittayo Road It is a large beautiful Chinese shrine and has a small park by the bank of Nong Ba. The surrounding area has 2 pavilions standing in a pond where visitors can see the view of the shady atmosphere. This Shrine is also where a 99-metre-long golden dragon is kept that is displayed in the Thung Si Mueang Festival held in December of every year.
___________
Written and translated on behalf of
Col. Supat Chootinan
13th Infantry regiment
Udon Thani
3 Day Riders Festival At Platinum 168, Udon Thani Thailand
Facebook Page: https://www.facebook.com/The-Riders-Festival-1956831364327628/
For more details or to confirm attendance / numbers 087-238-1313
(promotion and sponsoring by Leks Ranch Udon Thani)