Things To Do in Udon Thani  – While you may find plenty to keep you occupied in the city, getting 'out and about' should feature during your stay, even if it is only to see a few of the many attractions scattered around Udon Thani region.
Getting away from the mayhem of the city really does help to improve a visit to Udon Thani, and gives you a reasonable insight into rural Issan life.
There are attractions as far west as Loei, which will take a full day, a truly stunning attraction at Wat Phu Thok, in the northeast of the Issan, which can easily occupy a full day, to the north we have Nong Khai with the highly popular Sala Kaew Ku, where ancient statues abound, and to the south and heading toward Khon Kaen, there is the King Cobra Village and Nam Rua National Park. Much of the scenery between Udon Thani city and the outlying regions is largely flatlands, with little more than a few villages, and many rice fields.
However, if you head west, the level of the land drops by about 100m or so, near Nong Bua Lam Phu, and beyond that city there are many limestone hills, and caves, where some wonderful views and photographs are readily available. The further west you go, the more spectacular the scenery becomes.
---
Named after Udon's founder, Nong Prajak Park covers a very large area on the west side of town, including a wide human-made lake with a giant rubber duckie and an "At Udon Thani" sign that shows up in more than a few traveller's photos.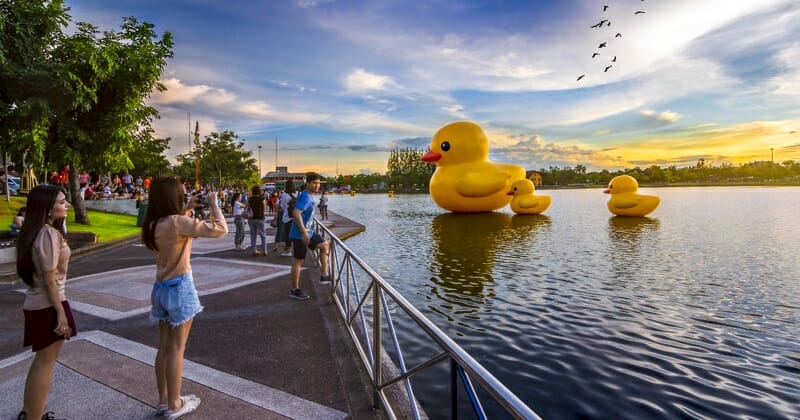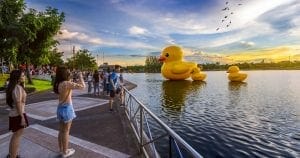 The park has a few entrances to the east, south and west, each leading to a network of footpaths that meander onto peninsulas stretching out into the water. Benches, pavilions and playgrounds abound, and kids will have fun on two suspension footbridges that move slightly up and down when you walk on them. Grab some Vietnamese food from nearby VT Namnueng for a lovely picnic amid the tree-lined landscape.
A walkway that draws a number of joggers and cyclists in the mornings and early evenings rims almost the entire park; a particularly shady stretch on the east side is perfect for an after-dinner stroll.
Also on the east side, just across Tasa Road, you'll find at least a dozen Thai massage shops (not the naughty kind) offering body and foot massages for just 180 baht per hour. The TAT office and abundant coffee shops and eateries are also located here.
---
UD Town Night Market    (Directions)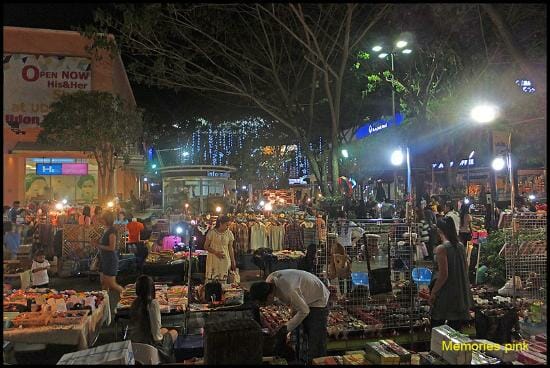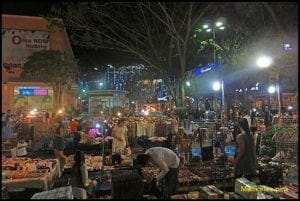 Located next to Udon Thani Railway Station you will find three night market grouped together on the crossroads where the Tongyai Road meets the Prajak Sillapkom Road.  After dark the night markets in Udon Thani are the liveliest places in the city. Things are cheap there, including food and drink. Local people and visitors to city go there to hang out and people watch as much as they do to shop. Most of Udon Thani's urban youth seems to appear at the night markets at some point during the evening along with older people and families.
---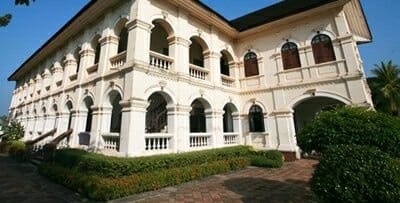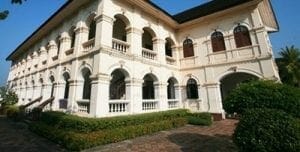 Udon Thani Museum is an important historical attraction of Udon Thani since it gathers the history of Udon Thani inside. The visitors will get to know about Udon Thani in various aspects.  The museum was founded by the then-governor of Udon Thani province, Chaiporn Ratanaka. It explores the historical, archeological, environmental, geological, and cultural aspects of the province. It also describes the life and work of the founder of Udon Thani Town, Krommaluang Prachaksinlapakhom. The museum is located in UdonThani town on Pho Si Road in Rachinuthit Building. Opening hours are from 8.30 am-4.30 pm. Admission 10 baht for adults and 5 baht for children.
---
Usotel Waterland – Water Park    (Directions)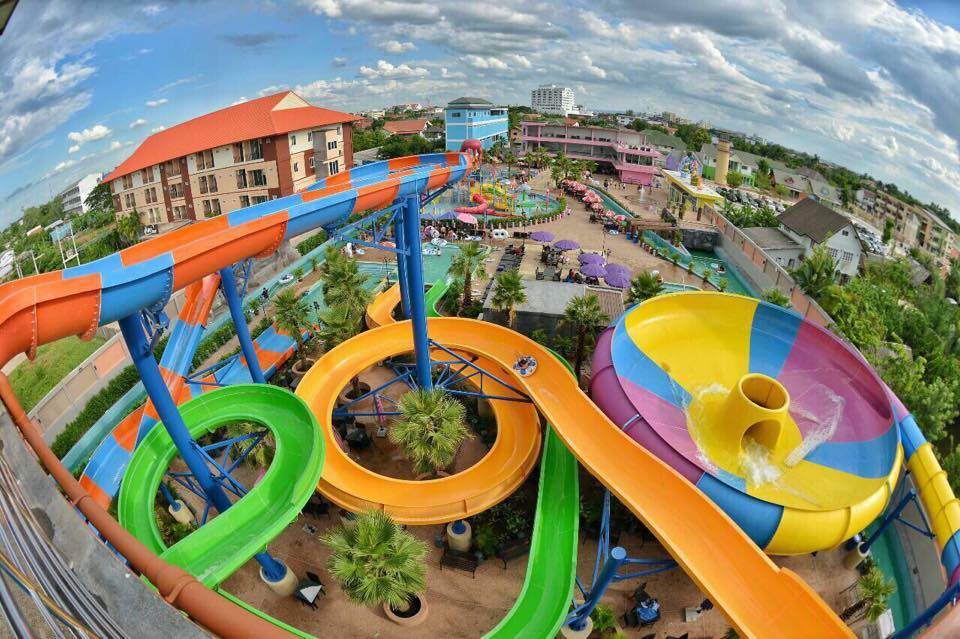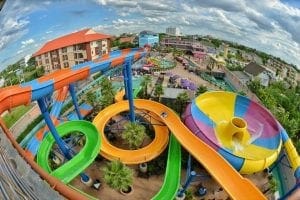 Usotel Waterland was opened in Udon Thani. Now especially the young people of Udon Thani can have fun with the many water slides and various swimming pools and water flows. Life vests and tires are available free for non-swimmers. Parents who do not wish to join their children in the water can pass the time with snacks and drinks on the ground floor of the main building. On the second floor there is a viewing platform where smoking is allowed.
---
Ban Chiang Museum & and Archaeological Site      (Directions)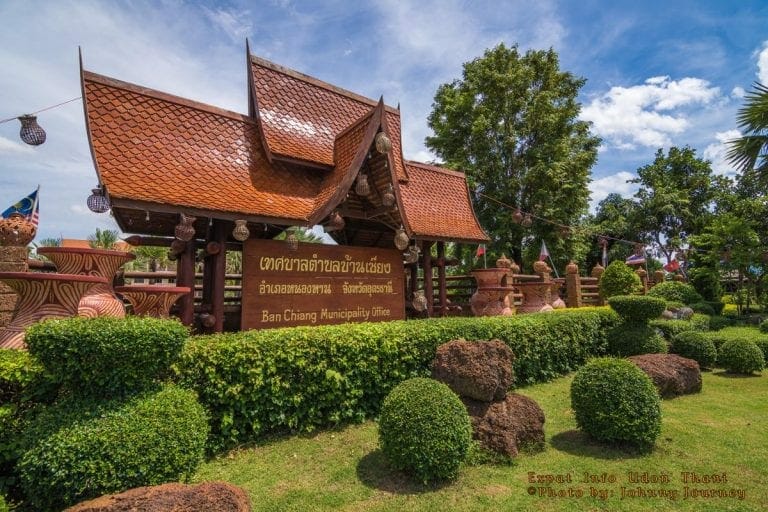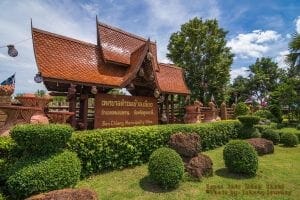 Ban Chiang Museum is an excellent archaeological site that is under the UNESCO World Heritage Act so it is funded well. It is about 45 minutes out of Udon. It is a mostly an air-conditioned museum with state of the art interpretation. Incredible artifacts and surprising history of bronze implements as well as the 6 phases of pottery.
---
Pu Foi Lom Ecotourism National Park     (Directions)
PU FOI LOM, per Wikipedia: "Phu Foi Lom (Thai: ภูฝอยลม) is an ecotourism destination in Udon Thani, Thailand.[1] Its plateau is 600 meters above sea level, and it is a part of Pan Don Pa ko National Reserve Park.[1] The name "Phu Foi Lom" is derived from the lichen named "Foi Lom"


---
Tham Erawan Cave Udon Thani    (Directions)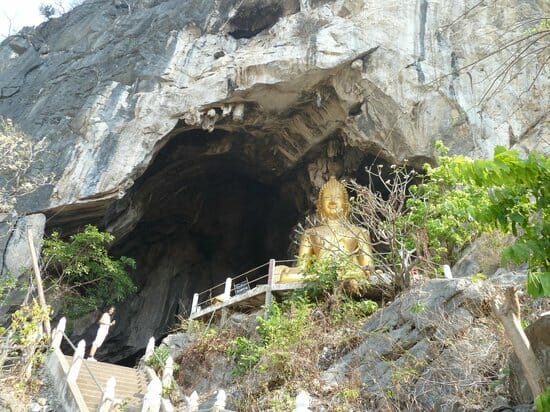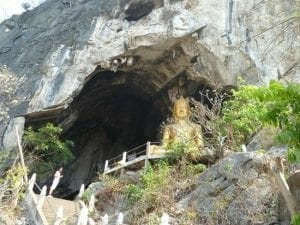 Tham Erawan is a cave inside a stone mountain called Pha Tham Chang, right on the border of Amphoe Wangsaphung of Loei and Amphoe Na Wang of Nong Bua Lamphu. Tham Erawan is accessible via a winding staircase of 600 steps. There is a large Buddha statue at the cave's entrance. The entrance leads to a huge hall decorated with various types of rock formations. A local folktale, Nang Phom Hom (The Lady with Fragrant Hair), is said to have taken place here. Local souvenir shops are available for sale at a nearby temple.
---
The Nong Khai Skywalk, LOOK OVER A SEA OF CLOUDS! Wat Pha Tak Sue   (Directions)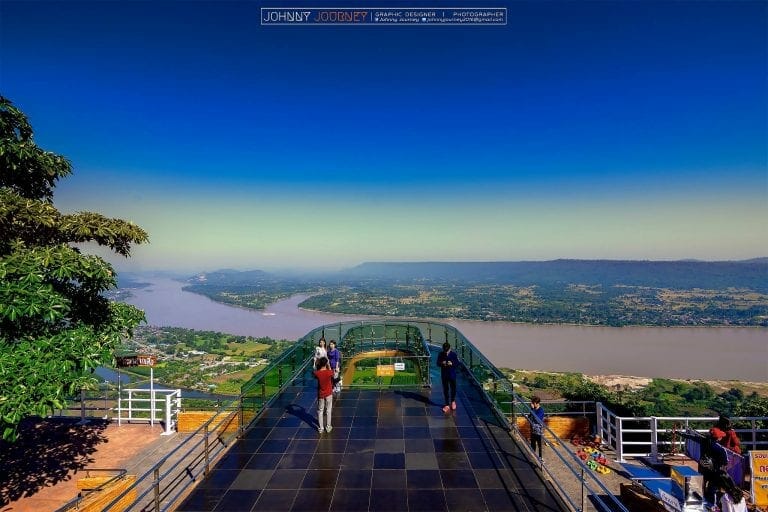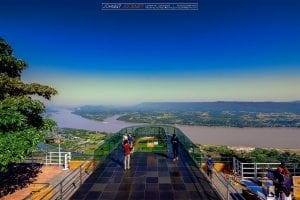 At the most maybe a 2 hour drive from Udon Thani Wat Pha Tak Suea View Point and Skywalk makes a superb day out for all the family, many tourists flock to enjoy the breathtaking views over the Mekong River and Thai-Laos borders… The U-shaped skywalk at Wat Pha Tak Suea temple in Sangkhom district of Nong Khai province was recently completed. The 16 meter long skywalk is built overlooking a cliff with has glass floors and walls.
The construction cost a total of 17 million baht. Visitors to the temple can walk along the skywalk to see a breathtaking view below.      Opening times: 8.00 am – 5.00 pm
---
Ho Chi Minh Historical Site, Museum in Udon Thani    (Directions)
During 1928 and 1929, Ho Chi Minh used the jungle around Nong Hang village as one of his bases to train soldiers and rally Isan's sizeable Vietnamese community for his resistance against the French occupation of Vietnam. This is a replica of his thatched-roof, mud-wall house, plus a very modest museum about his life.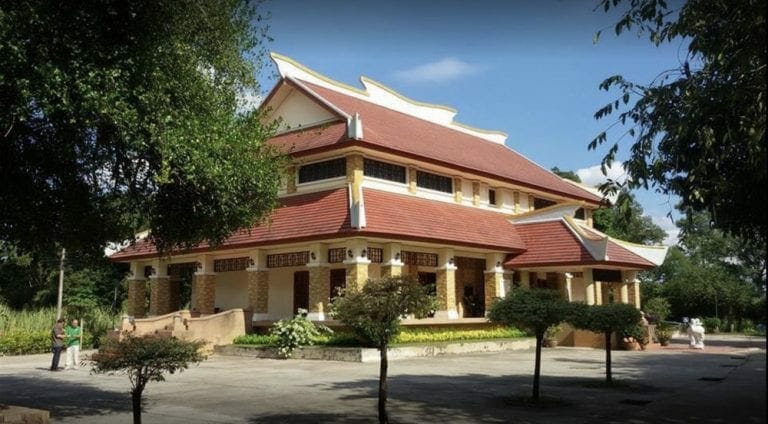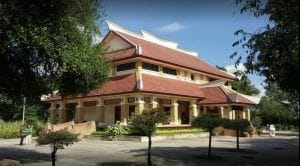 Bâhn lung hoh ('Uncle Ho's House'), as locals call it, is 10km from Udon. You can get nearby on sŏrng·tăa·ou 14 (13B, 30 minutes), which parks on Th Prajak across from Precha Night Market and runs west on Th Wattananuwong and south along Th Mukkamontri before heading out of town. It's a 750m walk from the signed junction.
---
Pony Trekking (lead rein)   
Pony rides for both adults and children,
If you have never been near a pony or horse before but always wanted to experience the sensation of horse riding?
We have now introduced ' lead rein ' pony and horse trail rides for both children and adults. Instead of riding the horse yourself, you will be safely led on the lead rein by our experienced handlers..
The trail ride lasts approx 45 minutes to 1 hour.  Which consists of at first being lead around our scenic lake to gain your balance. Then venturing out into the beautiful rural Thai countryside, enjoy strolling through local Thai villages and a temple.
We make plenty of stops to make sure of that perfect photograph…
bookings must be made in advance …
For more information please see here:http://thailandhorseriding.com/pony-rides-for-children-adu…/
Lek's Ranch Udon Thani
Tel: 0860593028
---
Previously called ' The Rink '. The Park Ice Arena has proved to be one if Udon's main attractions.  located on the 5th floor of the Central Plaza..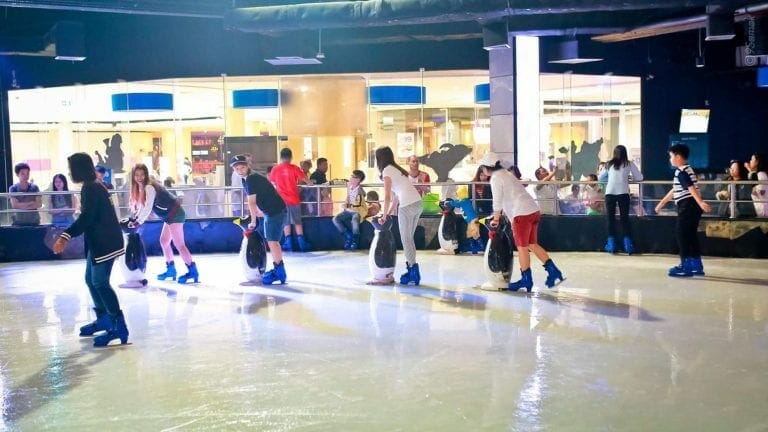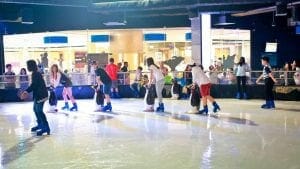 Price is 250 baht for a 2-hour session but sometimes they have special promotions at 250 baht for all day.  Skate hire is included in the price, socks an extra 50 baht, and the helping penguin 100 baht… Coaches are on hand if tuition is needed..
Location: Room No.519 address: 277/1-3 5th floor Central Plaza Udonthani Prajaksilapakom Rd. Makkaeng,  Udon Thani – Call 042 110 493
---
Pu Thai Villa Udon Thani offers a romantic and truly unique experience, the luxury lakeside villa's promise timeless escapism for couples, businessmen or families.